87-Year Old Kashmir Women Donates Hajj Pilgrimage Savings To Fight Covid-19 Pandemic
An 87-year old Muslim woman from Jammu and Kashmir has donated her savings of Rs 5 lakh, meant for the Hajj pilgrimage, to the RSS-affiliated 'Sewa Bharati' after reportedly being "impressed with the welfare work" done by the organization amid the lockdown due to the Covid-19 pandemic.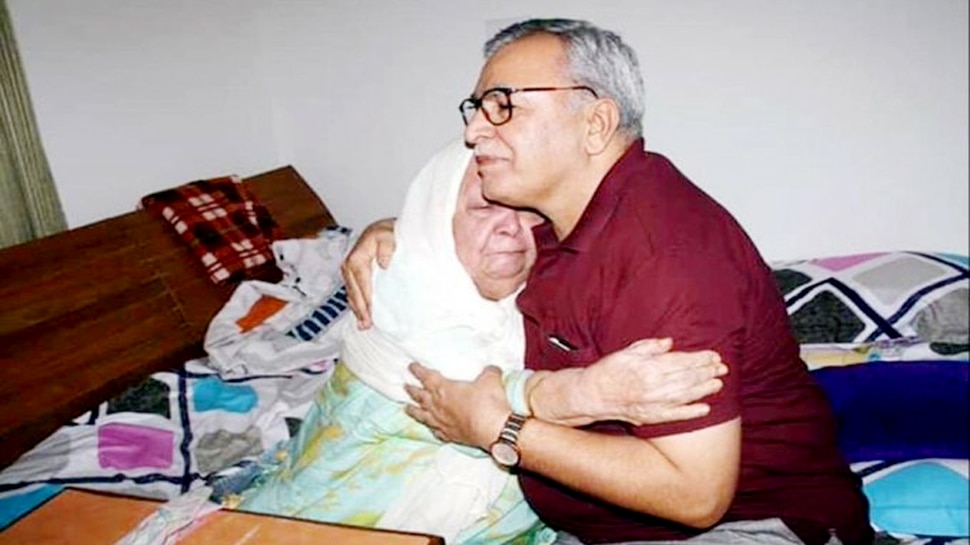 Khalida Begum, according to reports by Press Trust of India, had saved Rs 5 lakh for the Hajj pilgrimage, was forced to suspend her plans for the pilgrimage to due to ongoing lockdown.
"Khalida Begum was impressed with the welfare work done by the Sewa Bharati in Jammu and Kashmir during the troublesome time the country is passing through due to unexpected outbreak of Covid-19 and decided to donate Rs 5 lakh to the organisation," Arun Anand, head of RSS media wing Indraprastha Vishwa Samvad Kendra (IVSK), said.
From Kashmir To Andamans – Tablighi Jamaat Congregation Leaves Covid-19 Footprints Everywhere
"The woman wants that this money should be used by the community service organisation Sewa Bharati for the poor and the needy in Jammu and Kashmir. She had saved this amount for performing Hajj, plans for which she deferred due to the present situation," Arun Anand said.
"Khalida Begum was among the first few women in Jammu and Kashmir who got educated in English medium a convent. She is the daughter-in-law of Colonel Peer Mohd Khan, who was president of the Jana Sangh," he said. Jana Sangh was also an associate of RSS and later became the Bharatiya Janata Party.
After Migrant Workers, Indian Medic Staff Faces Apathy, Discrimination, Thrashings
Anand said despite her age, she had been very active in welfare works for the women in Jammu and Kashmir. Her son, Farooq Khan, a retired IPS officer, is presently serving as an adviser to the Jammu and Kashmir lieutenant governor.
Meanwhile, the number of Covid-19 patients in Jammu and Kashmir on Tuesday jumped to 55 as three more persons have been confirmed to have contracted the dreaded disease, all of them from Kashmir and include a ten-year-old boy, who had hugged a man who later tested positive for coronavirus.
From 'Azadi', Kashmiris Now Want Statehood Back For Jammu and Kashmir
"6 new positive cases confirmed in Kashmir Division.  All contacts of previous positive cases. Meanwhile, contact tracing continues in both Jammu and Kashmir Divisions.  Please cooperate. Let's #Fightittogether," tweeted Principal Secretary Information Department.
Why Do Indians Have Better Chances Of Survival From COVID-19 Panemic?
Official sources told GNS that the boy, a resident of Eidgah Srinagar, tested positive for the pathogen and he had no history of travel. "He had hugged a man who later tested positive for the coronavirus," a senior doctor at SKIMS told GNS. He also confirmed that the boy's test came out to be positive early morning.
Global Coronavirus Death Toll Crosses 400,000
Maryland, June 7 — : More than 4,00,000 people have died globally due to coronavirus and 69,16,233 people have been infected with the virus till now.
As per the latest Johns Hopkins University's tally, 4,00,135 people have succumbed to the disease so far.
Till now, the US has reported the maximum number of coronavirus cases and deaths. As many as 1,920,061 COVID-19 cases and 1,09,802 deaths have been reported in the US.
Brazil has confirmed that 6,72,846 people have tested positive and 35,930 people have died due to COVID-19.
Similarly, Russia and the UK have reported 4,67,073 and 2,86,295 cases until now. With 40,548, the United Kingdon has reported the second-highest deaths due to coronavirus.
Meanwhile, India has surpassed the COVID tally of Spain and Italy. With 2,47,678 cases, India has become the fifth country in the list of coronavirus affected countries.
Asian News International
India, China Border Meeting Inconclusive; Military & Diplomatic Engagements To Continue: MEA
After Lieutenant General-level border talks between India and China ended inconclusively, India on Sunday said that New Delhi and Beijing have decided to continue the military and diplomatic engagements to resolve the situation and to ensure peace and tranquillity in the border areas of Eastern Ladakh.
"A meeting was held between the Corps Commander based in Leh and the Chinese Commander on June 6 in the Chushul-Moldo region. It took place in a cordial and positive atmosphere," the Ministry of External Affairs (MEA) said in a statement.
India and China have agreed to peacefully resolve the situation in the border areas in accordance with various bilateral agreements and keeping in view the agreement between the leaders that peace and tranquillity in the border regions are essential for the overall development of bilateral relations, it added.
According to the MEA, both sides have also noted that this year marked the 70th anniversary of the establishment of diplomatic relations between the two countries and agreed that an early resolution would contribute to the further development of the relationship.
Saturday's meeting between senior officials of the Indian Army and the Peoples Liberation Army, China lasted for almost six hours to resolve over a month-long stalemate along the Line of Actual Control (LAC) in Ladakh.
As per sources in the defence establishment, the Indian side had pressed for restoration of status quo ante as it was existing before May 5 and pull up of heavy build-up along the LAC and follow agreements, protocols and laid down drills relating to maintaining 'peace and tranquillity' along the LAC and for the conduct of soldiers.
The Indian side was led by Leh-based 14 Corps Commander Lt General Harinder Singh while the Chinese delegation was led by South Xinjiang Military Commander Maj Gen Lin Liu at Moldo BPM point on the Chinese side, some 200 km south-east of Leh.
The meeting started around 1130 hrs, it had a break for lunch around 1430 hrs and resumed afterwards. Officials in Delhi said the meeting was on till 1900 hrs.
The two countries had held around a dozen meetings between commanders at the level of Major General and Brigadier had not succeeded, before the top commanders level.
UNI
Kashmir News: Massive CASO launched by security forces in Pulwama
Security forces launched massive Cordon and Search Operation (CASO) on Sunday at two places in south Kashmir district of Pulwama, where two Over Ground Workers (OGWs) were arrested and three youths were prevented from joining militancy on Saturday, official sources said.
They said following a tip-off about the presence of militants, Special Operation Group (SOG) of Jammu and Kashmir police, CRPF and Rashtriya Rifles (RR) launched a joint search operation at Gasoo and Wasu in Pulwama early this morning.
All exit points were sealed by the security forces, they said adding later house to house search was launched at both the places. However, so far no contact was established with the militants, they said adding the operation was going on when the reports last came in.
Security forces and police in a joint operation on Saturday arrested two OGWs in Pulwama. Three youths were arrested before they could join the militant group. Later, they were handed over to their family members after their proper counselling, they said.
UNI