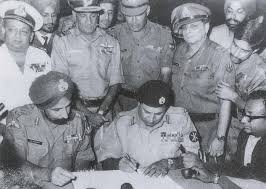 India-Pakistan War of 1971: The third war between India and Pakistan started in November 1971. The reasons for the third India – Pakistan war was different from the previous conflicts. Pakistani failed to bring autonomy in East Pakistan in 1970. In March 1971, Pakistan's armed forces started a violent movement to overpower the resistance movement in East Pakistan but they were faced with the unexpected situation of the encounter between Police and East Pakistani soldiers.
Thousands of East Pakistanis died in the encounter. Almost 10 million refugees escaped to a sanctuary in West Bengal, India. The India government, in order to answer the solution to East Pakistan situation and to provide shelter to the refugees, made an announcement for the establishment of the independent nation of Bangladesh.
Disapproving of India's initiative in the eastern sector, on December 3, 1971, Pakistan threw an air attack in the western sector on a number of Indian airfields, including Ambala, Amritsar, and Udhampur in Jammu and Kashmir. The attacks did not achieve the desired intention of Pakistan and failed in causing the considerable amount of damage to India. The Indian air force reacted the next day and quickly planned air strike on Pakistan. Karachi port was attacked by India in the beginning of December in which Pakistani destroyer PNS Khyber and minesweeper PNS Muhafiz were destroyed and PNS Shah Jahan was badly damaged. Sri Lanka helped Pakistan in the 1971 war by permitting its aircraft to refuel at Colombo airport.
Even the United States supported Pakistan in 1971 war. The US planned to send an aircraft to the Bay of Bengal in order to threaten India. The Soviet Union supported Bangladesh and helped India Army. China requested for a ceasefire because of the dominant position at the Sino-Indian border. According to the sources, Pakistan lost one-third of its force in the 1971 war. The Instrument of Surrender was signed by Lieutenant-General A.A.K. Niazi of the Pakistan Army.
He surrendered to Indian Lieutenant General Jagjit Singh Aurora, Joint Commander of the Bangladesh-India Allied Forces. The Instrument of Surrender was signed at Ramna Race Course in Dhaka in December 1971. Approximately 90,000 prisoners of war, including Pakistani soldiers and their East Pakistani civilian supporters, were taken by India.
SEE ALSO