Beijing Furious As India Joins Growing List Of Nations To Block Chinese Investments
China has accused India of violating Foreign Direct Investing (FDI) criteria after the Modi-government introduced a new FDI policy that tightened investment norms for entities or individuals of a country that shared a land border with India.
Google, Microsoft To Move Out Of China; Vietnam, Thailand Set To Benefit The Most
The move was widely believed to counter Chinese investments from taking over Indian firms at a time of falling share prices and lower asset valuations caused due to a slump in economic activity due to coronavirus pandemic.
A Chinese embassy spokesman in New Delhi said, "We hope India would revise relevant discriminatory practices, treat investments from different countries equally, and foster an open, fair and equitable business environment."
The statement asserted that the Chinese Yuan had driven India's mobile, home electrical appliances, infrastructure and automobile sectors creating employment in the country leading to a win-win relationship.
India Vows To Assist Nepal, Bhutan, B'Desh With Covid-19 Drug; What About Pakistan?
As of December 2019, "China's cumulative investment in India has exceeded $8 billion, far more than the total investments of India's other border-sharing countries," the statement said adding that the impact of the revised policy on Chinese investors is clear.
India recently revised its FDI policy which made Government approval necessary for entities of a country that shares a land border with India or where the beneficial owner of investment into India is situated in or is a citizen of any such country.
Why India or Vietnam Can Never Replace China As The World's Manufacturing Hub?
The move was seen as a counter to curb hostile and opportunistic takeover of Indian conglomerates at a time of falling share prices and lower asset valuations due to the outbreak of coronavirus pandemic by deep-pocketed Chinese investors.
However, this is not the first time a country revised its policy to prevent opportunistic takeover. Last year Germany drafted an amendment to revise its Foreign Trade Regulation to protect strategic firms from foreign takeover.
Chabahar Port No Longer A Top Priority For Modi-Government As India, Iran Drift Apart: OpEd
In 2017, Germany announced closer scrutiny of investments from non-European Union firms after industrial robotics Kuka was taken over Chinese household goods maker Midea. Berlin also came close to use its veto power last year to halt the sale of Leifield Metal Spinning to China's Yantai Taihai Corporation.
Is China Planning To Attack Taiwan When US, Europe Are Busy With Covid-19?
Some years back, Italy moved to thwart French companies from buying Italian entities after the latter bought Italy's jewelry firm Bulgari, energy company Edison and food giant Parmalat. The Italian decision came after they found a lack of reciprocity by French against Italian companies seeking to invest in French corporations.
In fact, the French Government moved to protect its company Danone from a takeover by PepsiCo in 2005. In 2010 the French Government also prevented the Japanese from buying the company's water business.
A few years back, the UK aligned with the United States, Australia, Canada, and other European nations to protect strategic companies from Chinese investments.
Russia Confirms Testing State-Of-Art T-14 Armata Tanks In Syria
China itself is accused of intentionally devaluating its currency so as to gain an unfair advantage in trade. By devaluating its currency, China is able to lower the price of its exports which makes it easier for consumers across the globe to buy Chinese products and gain an unfair advantage in the process.
China also has around 2000 listed companies out of which more than 80 percent are believed to be state-owned. With such a high stake, Beijing subsidizes the output which allows them to capture a large chunk of the market share and weed out competition.
How Radical Groups Like Hezbollah, Hamas & Taliban Are Fighting Covid-19 Pandemic?
China's communist regime is also called as red capitalist as they are believed to be the largest benefactors of stakes in such companies. In fact Rizhao, the largest private steel company was forced to sell majority equity (roughly 67%) to Shandong Iron and Steel.
China has also been accused of technology theft by a US report in 2015. One of the rules in China requires companies to set up plants in China to build joint ventures with domestic companies and share their technology with them.
China Imposes Sanctions On US Defence Giant Behind F-16s, F-22 Raptors
China has threatened to impose sanctions on US defence giant Lockheed Martin – the makers of Stealth F-22 Raptors, in response to US approving of a possible deal for Taiwan to buy parts to refurbish defensive missiles built by the company.
With China In Mind, India To 'Urgently' Acquire Heron Drones, Spike ATGM From Israel
Foreign Ministry spokesman Zhao Lijian made announced at a briefing in Beijing on Tuesday, adding that the US should cut defence ties with Taiwan "so that it doesn't do further harm to bilateral relations and damage peace and stability in the Taiwan Strait."
"China firmly opposes U.S. arms sales to Taiwan," Zhao said, adding: "China decides to take measures to protect national interests. We will impose sanctions on the main contractor of this arms sale Lockheed Martin."
Rafale jets dodge all radars, air defence systems; bombs Turkish facilities in Libya
The US State Department last week approved a possible $620 million foreign military deal for Taiwan to buy parts of Patriot Advanced Capability-3 (PAC-3) missiles so that they can last 30 years.
Beijing's actions come amid growing tensions between the US and China tensions over various issues including trade war, South China Sea dispute, COVID-19 pandemic, new security law in Hong Kong, 5G network and hostilities against key US allies including India and Australia.
Stealth vs Thrust: Why Indian Air Force needs American jets instead of Russian aircraft?
Despite it being a strategic American ally, the US has no official embassy in Taiwan nor does Australia, Canada, the UK or Germany. China calls Taiwan a 'renegade province' and has vowed it to merge it with mainland China, at all costs.
India-China Economic Romance Cannot End With A Mere Border Clash – Chinese Experts
India and China have been at each other's throat for more than a month now. Aside from the military confrontation in Ladakh, India has also moved to disengage from China economically.
While the move has got the support from the majority of Indians, Cui Hui'ao of the China Global Television Network (CGTN) writes that disengaging from China might not be a choice for India and that economic de-coupling is driven politically by Narendra Modi.
As reported by Eurasian Times consistently during last month, the feud between India and China has been a rollercoaster ride. From military buildup, deadly clashes to de-escalation and eventual withdrawal, the clash of the two Asiatic giants has seen it all.
Cui writes that apart from the military confrontation, India has retaliated in the economic sphere, referring to the decision by the Indian government to ban 59 Chinese application including TikTok, WeChat and ShareIt and the call to boycott Chinese products.
The journalist at CGTN writes that decoupling from China may be easier said than done for India. He says that India is not a manufacturing powerhouse, so in terms of bilateral trade, it actually buys much more from China than the other way around.
Cui analyses trade data to support the fact that New Delhi will find it difficult to reduce its dependence on Chinese imports. Between April 2019 and March 2020, India imported over 65 billion U.S. dollars' worth of goods from China.
Cui is of the opinion that the coronavirus pandemic has hit the Indian economy hard and in fact, the disengagement is driven by politics rather than economics. He finds it difficult to accept that India's disengagement from China would take place at a time when the Indian economy is projected to contract by 4.5% according to the International Monetary Fund (IMF).
Economic Disengagement Driven Politically 
Speaking to Cui, Cheng Xizhong, a visiting professor from Southwest University of Political Science and Law, says that the decision to de-couple from China economically is because of the domestic pressure on Prime Minister (PM) Narendra Modi.
''Since his second term began yet Indian economy is a mess. He has to find a way to shift the public attention elsewhere," he said.
The author agrees with the point made by Cheng Xizhong and writes that pressure on the Indian PM Modi comes from multiple fronts, including his own supporters, businesses, and farmers union. But this time, the nationalistic voice is even louder.
Other experts interviewed by Chui agree that New Delhi would benefit more if it partnered with Beijing. Professor Cheng, a former Chinese military diplomat in South Asia, said that since India started its opening-up in the 1990s, its economic growth has been crippled by lack of high-quality infrastructure and it would wiser if India and China work together.
Similar views are shared by Indian economist Biswajit Dhar, who says that India's decision to start producing domestically has to be strategic and it cannot take the decision to produce everything."
While India and China disengage at the battlefront in Ladakh, the Indian government is looking for solutions to reduce its dependency on Chinese imports. PM Modi has encouraged all Indians to become self-reliant (Aatmanirbhar) by producing and purchasing indigenous goods and boost the Indian economy.
US-China ties to worsen as Trump set to block all Chinese claims in South China Sea
Ties between US and China could dramatically worsen over the South China Sea after Secretary of State Mike Pompeo said Washington now regards virtually all Chinese maritime claims outside its internationally recognised waters to be illegitimate. 
Ties between the US and China are set to further deteriorate over the South China Sea as the Trump administration is set to outrightly reject almost all of Chinese maritime claims in the contentious waterbody.
The Trump government presented the decision as an endeavour to restrain China's increasing belligerence in the region with a commitment to recognising international law. This move in the South China Sea will further enrage the Chinese, who are already countering against various US sanctions and other penalties.
Previously, US policy had been to insist that maritime spats between China and its smaller neighbours be settled peacefully through UN-backed arbitration.
But in a statement released on Monday, Secretary of State Mike Pompeo said Washington now regards virtually all Chinese maritime claims outside its internationally recognised waters to be illegitimate.
"The world will not allow Beijing to treat the South China Sea as its maritime empire," Pompeo said. "America stands with our Southeast Asian allies and partners in protecting their sovereign rights to offshore resources, consistent with their rights and obligations under international law. We stand with the international community in defence of freedom of the seas and respect for sovereignty and reject any push to impose 'might makes right' in the South China Sea or the wider region."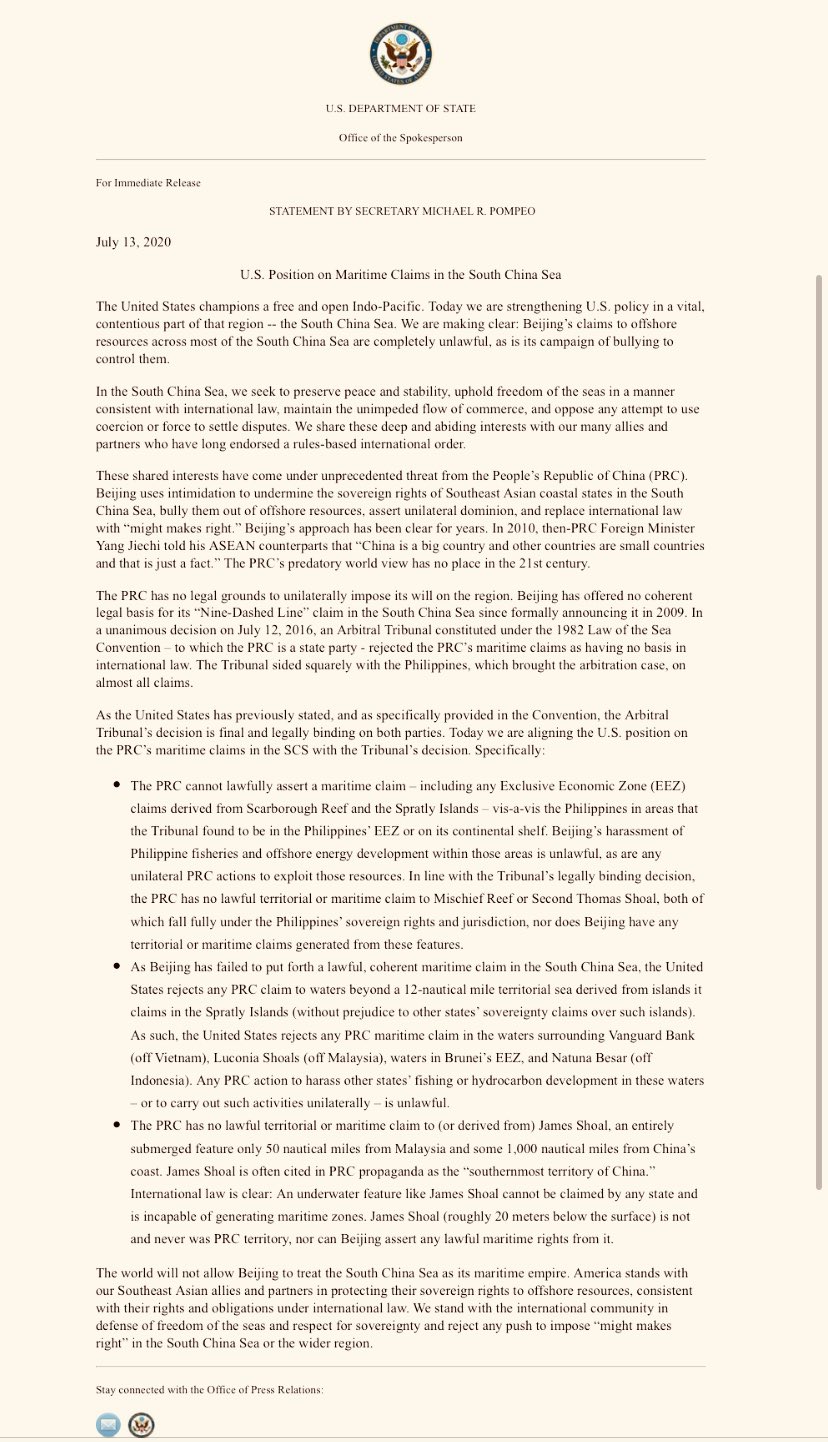 Although the US will continue to remain impartial in territorial conflicts, the announcement means Washington is now directly supporting Brunei, Indonesia, Malaysia, the Philippines and Vietnam, all of which oppose Chinese declarations of sovereignty over maritime areas surrounding disputed islands, reefs and shoals.
"There are clear cases where [China] is claiming sovereignty over areas that no country can lawfully claim," the State Department said in a fact sheet that accompanied the statement.
The announcement was released a day after the fourth anniversary of a binding decision by an arbitration panel in favour of the Philippines that discarded Chinese maritime claims around the Spratly Islands and neighbouring reefs and shoals.
China has declined to recognise that ruling, rejected it as a "sham" and withdrew from the arbitration proceedings. It has continued to oppose the decision with aggressive actions that have brought it into territorial disputes with Vietnam, the Philippines and Malaysia in recent years.
However, as a result, the administration said China has no valid maritime claims to the fish- and potentially energy-rich Scarborough Reef, Mischief Reef or Second Thomas Shoal. The US has repeatedly said areas regarded to be part of the Philippines are covered by a US-Philippines mutual defence treaty in the event of an attack on them.
In addition to reemphasising support for that decision, Pompeo said China cannot legitimately claim the James Shoal near Malaysia, waters surrounding the Vanguard Bank off Vietnam, the Luconia Shoals near Brunei and Natuna Besar off Indonesia. As such, Washington said it would regard any Chinese intimidation of fishing vessels or oil exploration in those areas as unlawful.