As Japan mourns the 75th anniversary of Hiroshima nuclear bombings, Beirut was yesterday rocked by one of the most powerful explosions that humans have ever witnessed. Hundreds were killed, thousands were injured in Beirut, Lebanon, just a day before the nuclear bombing of Hiroshima in 1945.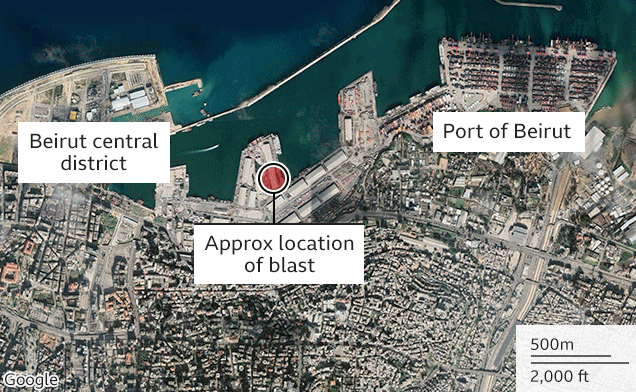 As videos of the deadly blast in Beirut got viral, netizens around the world wondered if the blast was as powerful as the Hiroshima bombing of 1945. On 6 August 1945, a US bomber dropped a uranium bomb on Japan, killing around 140,000 people and completely obliterating the city of Hiroshima.
Videos of the aftermath of deadly explosions in Beirut show wounded people staggering through dust and rubble, and extensive damage where flying debris had punched holes in walls. Hospitals were so overwhelmed that they were turning wounded people away. https://t.co/XIpqrge1J4 pic.twitter.com/zvG0uQoKYy

— The New York Times (@nytimes) August 4, 2020
Experts, speaking to Business Insider, believe that the blast in Beirut was not as powerful to the blast in Hiroshima. The explosive power would, however, be comparable to the lowest yield B61 nuclear gravity bomb, which is believed to have an explosive yield of around 300 tons.
Jeffrey Lewis, a nuclear and conventional weapons expert at Middlebury Institute of International Studies in California, estimates the yield of the blast in Beirut to be "between 200 and 500 tons, looking at blast damage, the shockwave, seismic signals and the size of the crater."
The blast yield of the Hiroshima bombing is estimated to be 15 Kilotons, thus making the Beirut blast dozens of times less powerful than the atomic bomb. However, despite being less powerful, the explosion in Beirut was registered as a magnitude 3.3 earthquake and was felt as far away as Cyprus, 240kms away from the site of the explosion.
The Beirut Blast
There were two explosions in Beirut on Tuesday afternoon (local time), which occurred barely within minutes of each other. The explosions took place in the central port area in East Beirut. The explosion has resulted in the death of 135 people while 5,000+ have also been wounded.
Reports suggest that up to 300,000 people have lost their homes and authorities are working on providing them with food, water and shelter. The death toll is expected to rise further as disaster management teams look for survivors.
While the cause of the explosion is still not clear, Lebanese officials have linked the incident to some 2,750 tonnes of confiscated ammonium nitrate that were being stored in a warehouse at the port for six years.
The blast comes at a time when Lebanon is going though and economic and political crisis. Apart from the loss of human life and destruction of property and infrastructure, a massive financial loss is also expected.
Beirut's governor told Al Hadath TV that collective losses after Beirut's blast may reach $10bn to $15bn, with the governor explaining the number includes both direct and indirect losses related to business.
Lebanon's cabinet has declared a two-week state of emergency in Beirut and handed control of security in the capital to the military. The cabinet also approved an exceptional allocation of 100 billion Lebanese pounds to deal with the crisis.
World Responds to Lebanon's Plight
As Lebanon mourned the loss of its people, the international community has responded to the country's plight. Tributes, condolences, aid and relief have been offered by many countries around the globe.
Indian Prime Minister Narendra Modi on Wednesday said he was "shocked and saddened" by the incident. In a statement, he wrote: "Our thoughts and prayers are with the bereaved families and the injured."
Shocked and saddened by the large explosion in Beirut city leading to loss of life and property. Our thoughts and prayers are with the bereaved families and the injured: PM @narendramodi

— PMO India (@PMOIndia) August 5, 2020
US President Donald Trump said his country was ready to assist Lebanon. "Let me begin by sending America's deepest sympathies to the people of Lebanon, where reports indicate that many, many people were killed, hundreds more were very badly wounded in a large explosion in Beirut. Our prayers go out to all the victims and their families. The United States ready to assist Lebanon," he said.
France was quick to send two planeloads of specialists, rescue workers and supplies to Beirut on Wednesday. French President Emmanuel Macron is also expected to visit the former French protectorate today.
Britain will provide a five million pound ($6.6m) aid package to Beirut, including search and rescue help and expert medical support, Foreign Secretary Dominic Raab said. "We are going to stand by the Lebanese people in their time of need; we are going to provide immediate response and an aid package – an assistance package – search and rescue, humanitarian assistance up to 5 million pounds, as well as expert medical support," he said.
Help was also offered from Brazilian President Jair Bolsonaro. The 65-year-old said that he was in contact with the Lebanese government as well as the Brazillian ambassador in Lebanon.
"Brazil is going to do more than a gesture, something concrete, to assist, in part, those tens of thousands of people who are in a very tough situation," Brazilian President Jair Bolsonaro said at the end of a ministerial ceremony.
Russia flew in a mobile hospital, along with 50 emergency workers and medical personnel. Another three Russian flights were scheduled to arrive within the next 24 hours, carrying equipment for a coronavirus testing lab and protective gear, among other relief supplies.
Australian Prime Minister Scott Morrison told reporters Thursday that his country pledged an initial 2 million Australian dollars ($1.4 million) to the relief effort and is considering more.
Medical aid, rescue teams and essential goods also arrived from Tunisia, Iraq, the European Union, United Nations, World Health Organization, Jordan and Egypt. Even Israel, officially in a state of war with Lebanon, offered to assist Lebanese "as human beings to human beings."