Bitta Karate, a dreaded terrorist and often referred as the 'Butcher of Kashmiri Pandits'. Karate has openly confessed to the killing of over 20 people in the Kashmir Valley during 1989 insurgency. But if Bitta Karate actually confessed to killings of Kashmiri Pandits, why was he not hanged like other terrorists?
Why People Love to Hate India in Kashmir?
Farooq Ahmed Dar or famously called Bitta Karate crossed the LoC to Pakistan-occupied Kashmir for militant training. Karate, along with other "prospective militants" received military training for over a month to conduct terrorism and insurgency activities in Jammu and Kashmir.
Upon his return from Pakistan occupied Kashmir, Farooq Dar aka Bitta Karate played a destructive part in 1990 ethnic cleansing and eventual exodus of Kashmiri Pandits. Karate in his confessional video claimed to have killed over twenty Kashmiri Pandits. His first victim was a businessman Satish Tickoo, who Karate claims was a member of the Right Wing Hindu Nationalist Party – The RSS. Tickoo was shot by Karate, after getting orders from his JKLF commander.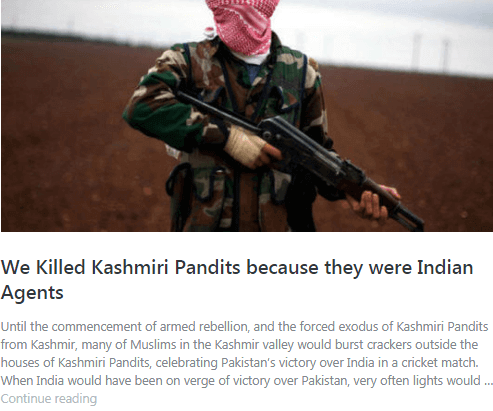 Bitta Karate would also walk armed on the streets of Srinagar, without concealing his identity, in search of Pandits and he would kill them on spotting them. It is estimated that Karate killed between 20 to 30 people during the 1989-90 Kashmiri Pandit genocide. After the Pandit genocide, around 56,000 Kashmiri Pandit families migrated from Kashmir. Out of these, around 35,000 families settle in Jammu, 19,000 in Delhi and rest in other parts of the country.
Bitta Karate along with his associates was arrested by Indian forces in June 1990 from Srinagar. He was arrested and detained under the Public Safety Act (PSA) and had over 19 terror-related cases against him. He remained under arrest for 16 years and was eventually released on indefinite bail in 2006.
Why India never Hanged "Bitta Karate" – Butcher of Kashmiri Pandits?
"It is traumatising to know that a terrorist, who publicly accepted to have killed over 20 Kashmiri Pandits, has not been sentenced to death, or even given life imprisonment. It's an irony that Afzal Guru was sentenced to death for his role in the 2001 Parliament attack case, even though he was convicted for only facilitating the terrorists and was not even present during the attack. Various Kashmiri Pandits organisations ask if Afzal Guru was sentenced to death, if Ajmal Kasab was hanged to death if Yakoob Memon was sent to gallows, then why was Bitta Karate not sentenced to death? Why is Bitta Karate roaming scot-free after killing of 20-40 Kashmiri Pandits? This is an answer that everyone wants to know!