China has lost its "neutral" stance on Kashmir as it refrains from opposing Pakistan over Prime Minister Imran Khan's proposal to turn the disputed Gilgit-Baltistan into a fifth province. 
Watch The Russian 'Sea Monster' That Remains The Biggest Threat To American Super Carriers
Unlike its strong reaction towards India over the abrogation of Article 370 from Jammu and Kashmir, China, in a weak response, said it has "noticed the reports" on Pakistan's decision and its "position on the issue of Kashmir has been consistent and clear".
India claims Gilgit-Baltistan as part of Jammu and Kashmir but it has been under Pakistan's control since 1947 under the name of Azad (Free or Liberated) Kashmir. The strategically-important area shares a border with China and Afghanistan.
"It is an issue left over from history between India and Pakistan, which should be resolved properly and peacefully in accordance with the UN Charter, relevant Security Council resolutions and bilateral agreements," said Chinese Foreign Ministry Spokesperson Wang Wenbin during a press conference on Wednesday.
China had condemned India in a strongly-worded statement when New Delhi had revoked Article 370 in August 2019. Beijing had said "any unilateral change to the status quo is illegal and invalid" and voiced its opposition over the creation of a Union Territory in Ladakh, which included the Aksai Chin region, claimed by China as its region.
However, Wang was questioned by Prasar Bharati (India's public service broadcaster) during the Presser on China's different reactions over the changing status of territories in Kashmir.
"Can it be concluded that China does not have a neutral approach on this issue as it has professed always," Wang was asked. To this he said, "What you said is not true".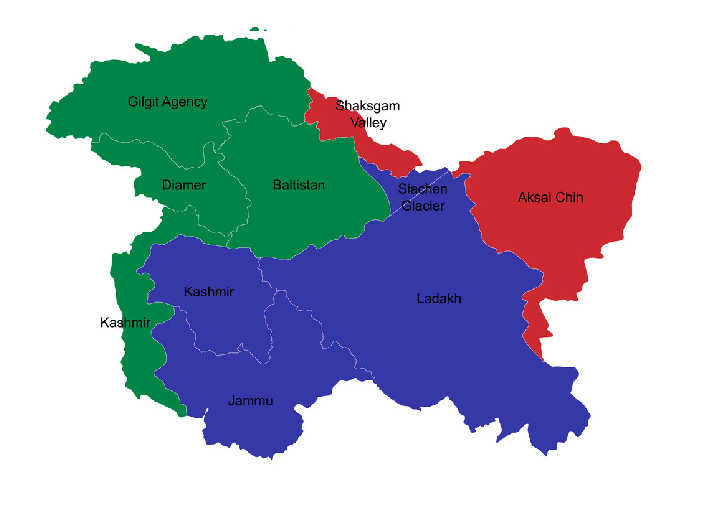 On Sunday (1 November), Pakistan Prime Minister's visit to the region was marked by the announcement to change the status of Gilgit-Baltistan, which is key to the Pakistani-Chinese infrastructure project CPEC (China-Pakistan Economic Corridor).
"The Government of India firmly rejects the attempt by Pakistan to bring material changes to a part of Indian territory," India's external affairs ministry spokesperson Anurag Srivastava had said.
India has long criticized Chinese development projects in the region as part of its Belt and Road Initiative. The US$50 billion CPEC initiative passes through the Gilgit-Baltistan region in Pakistan.
In 2018, then foreign secretary S Jaishankar had told Chinese officials in Beijing that "CPEC violates Indian sovereignty because it runs through Pakistan-occupied Kashmir."
While China had said that CPEC doesn't change Beijing's position on Kashmir, its silence over Pakistan's intentions regarding the status of the region reflects otherwise.
Media reports suggest that Pakistan's decision to merge Gilgit-Baltistan with mainland Pakistan has come in the backdrop of Beijing's pressure for stabilization of the region.
Upcoming Elections
Gilgit-Baltistan had come into existence with the Gilgit-Baltistan (Empowerment and Self-Governance) Order, 2009, which replaced the Northern Areas Legislative Council with the Legislative Assembly.
Till 2009, the region was simply called Northern Areas. People in the region do not have the same constitutional rights as Pakistanis. The provincial status is likely to change that situation.
The two million people of Gilgit-Baltistan are going to the polls for their legislative assembly, which currently has very limited powers, on 15 November.
Pakistan's Supreme Court had allowed the government to amend an administrative order to conduct general elections in the Gilgit-Baltistan region earlier this year. In September, President Arif Alvi had announced the date of elections.
Condemning the move, India's external affairs ministry had said: "The entire Union Territories of Jammu and Kashmir and Ladakh, including the areas of so-called Gilgit and Baltistan are an integral part of India by virtue of its accession in 1947. The Government of Pakistan has no locus standi on territories illegally and forcibly occupied by it."
The deputy director of the Asia Program and a senior associate for South Asia at the Wilson Center told The Guardian: "Given the depth of India-Pakistan tensions, this will certainly raise temperatures even more. Pakistan has sought to make this change for quite some time, and with both Pakistan-India and India-China relations in deep crisis, the timing makes sense from a geopolitical context."
"It's an opportunity to push back against New Delhi on two fronts: it delivers a blow to its claim to Gilgit-Baltistan, and it gives some momentum to a CPEC enterprise that India opposes," he said.