As the logical corollary of an India-Pakistan war, which is staring us in the face ever since India's PM Narendra Modi revoked  Article 370, stripping Jammu and Kashmir of its special status on August 5, 2019, New Delhi may unilaterally revoke the 60-year old "uninterrupted and uninterruptible" India-Pakistan Indus Water treaty, in which the World Bank is a third party.
China's Malacca Dream Shattered; Malaysia Expels Three Chinese Firms From $10 Billion Infra Project
Such a consequence has well been discussed in the Indian media for quite some time now. The hawks in India had been advocating to firstly starve Pakistan of water by 'stopping it' and then flooding the country by 'releasing' it.
But this plan seems to have run into rough weather, as China which has been equally irked by India's move, and which in the past one year has taken the Kashmir issue to the United Nations along with Pakistan thrice, is now hand-in-hand with Islamabad.
Their joint war against India has been brewing for around six months, after a skirmish occurred in which India lost 20 of its soldiers fighting against China on the Ladakh border on June 15.
It is learned that if India goes ahead with its plan, then China would rescue Pakistan. While India tries to choke Pakistan by blocking the waters, China will flood India by releasing the waters from Brahmaputra Dam in Tibet.
The diabolic agenda of China has been reported by The Economic Times on November 29, stating that "China will build a major hydropower project on Brahmaputra river in Tibet". Yan Zhiyong, chairman of the Power Construction Corp of China, said China will "implement hydropower exploitation in the downstream of the Yarlung Zangbo River" (the Tibetan name for the Brahmaputra) and the project could serve to maintain water resources and domestic security. 
He also commemorated the occasion by saying that "there is no parallel in history… it will be a historic opportunity for the Chinese hydropower industry," to celebrate the 40th anniversary of the founding of the China Society for Hydropower Engineering.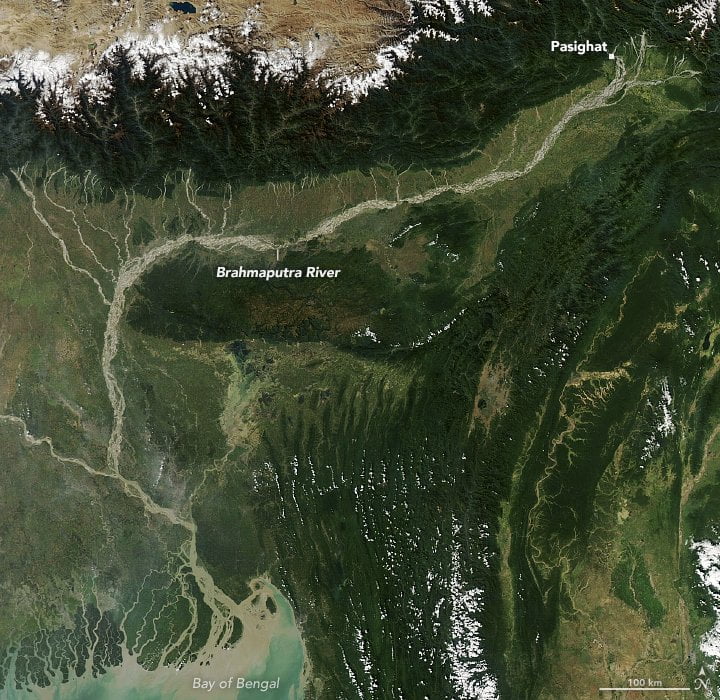 Obviously, this has set the alarm bells ringing in New Delhi, as only two days later, The Economic Times reported that India is considering building a 10 gigawatts (GW) hydropower project in a remote eastern state, purportedly in response to the reports of China constructing dams on a section of the Brahmaputra river.
The river flows from Tibet into India's Arunachal Pradesh state and down through Assam to Bangladesh. The Indian authorities are concerned that these Chinese projects could trigger flash floods or create water scarcity.
"The need of the hour is to have a big dam in Arunachal Pradesh to mitigate the adverse impact of the Chinese dam projects," T.S. Mehra, a senior official in India's Water Ministry, told Reuters.
"Our proposal is under consideration at the highest level in the government," Mehra said, adding the Indian plan would create a large water storage capacity to offset the impact of Chinese dams on flows.  
India has consistently conveyed its views & concerns on China building a dam on Brahmaputra to Chinese authorities as a lower riparian State with considerable established user rights to waters of trans-border rivers. Govt monitors all developments on Brahmaputra River: #MEAIndia pic.twitter.com/myjCzrx9AR

— All India Radio News (@airnewsalerts) December 3, 2020
"Formally, we are telling them (the Chinese) that any project you undertake, should not cause an adverse impact on India. They have given an assurance, but we don't know how long their assurance will last," Mehra said.
The war has its own portents and it is likely that droughts, destruction of agriculture through floods may be the possible likelihoods considering the belligerence of the contesting sides as India too has ganged up against China-Pakistan by signing BECA with the US.
And it can now be easily speculated that if India goes ahead to choke Pakistan, then China might engineer a drought or foment flash-floods in Arunachal Pradesh, which it calls 'South Tibet', and which might engulf the whole of India's Northeast.  
It is expected that India will very rapidly expedite its dam proposal as part of its defense strategy, and to counter China, which possesses the required technology that could even create a 'quake inside water waves' to inflict maximum damage.
The visit of Chinese defense minister Wei Fenghe to Pakistan during which both countries entered into defense agreements, on December 1, happened with an eye on India, Hindustan Times reported quoting Indian experts on December 2.
But surely it must have been also to contain elements detrimental to Pakistan from the Afghanistan side, which Pakistan would seek from the Afghan Taliban. China has already offered assistance in infrastructure development to the Taliban in exchange for peace, according to Financial Times.  
In wake of these developments, it can easily be concluded that through the latest agreement with Pakistan, China is trying to balance the growing India-US military alliance. And since India is well ahead with its proximity with Israel, being also a part of Quad, it is very plausible that China may also equip Pakistan to match up to the Indian standards.
As that would be the only guarantee for 'smooth functioning' of its China-Pakistan Economic Corridor (CPEC), the lifeline project of China, which Europe, the US, as well as India, wish to get killed at the earliest.  
Meanwhile, the Turkish defense minister Hulusi Akar on December 2 visited Pakistan to boost defense ties with the country. Turkey has in the past antagonized India for its support to Pakistan over Kashmir. India too is fiercely engaged in the Malabar naval exercises with Australia, Japan, and the US.
No wonder, all developments are leading towards the war, which may be on the anvil these winters while the US' new president Joseph Biden takes the oath in January 2021.
The writer is a former State Information Commissioner, India. He is a media analyst and writes on international politics.