China Mocks Trump, Pompeo Over Subduing Minnesota & Provoking Hong Kong Protesters
Chinese media has lambasted Donald Trump's handling of Minnesota protests over the death of an African American man by comparing the situation with Hong Kong riots.
Delivering Gasoline To Venezuela – 'A Strong Response To US Bullying': Iran
"Secretary Pompeo, please stand with the angry people of Minneapolis, just like you did with the people of Hong Kong," wrote Hu Xijin, the editor-in-chief of Chinese state-run media – Global Times (GT).
The #COVID19 death toll in the US has passed 100,000, and no official has been sacked or sent to prison for it; the #US govt and Congress are busy sanctioning China over human rights in #HongKong. This show they're putting on is disgusting: Editor-in-Chief Hu Xijin #HuSays pic.twitter.com/LSLd1lBndx

— Global Times (@globaltimesnews) May 28, 2020
Hu made this comment after violent protests erupted across cities in the US over the killing of George Floyd, a 46-year old African American man.
As reported by EurAsian Times earlier, Trump said that he wouldn't "stand back and watch this happen to a great American city", adding that he had spoken to Minnesota governor Tim Waltz and told him "the military is with him all the way". "Any difficulty and we will assume control but, when the looting starts, the shooting starts," Trump warned.
"Just three days after unrest broke out in Minnesota, Trump threatened the use of "shooting" and announced that the army can support the governor. I strongly condemn such threats. Please protect the people of Minnesota, just like you sympathize with Hong Kong thugs," tweeted Xijin.
Chinese State Media Blasts Trump For Driving A Wedge Between India & China
Hong Kong has recently seen a series of violent protest against China's new security law which is to be imposed on the city. US President Trump backed the protestors in Hong Kong by signing The Human Rights and Democracy Act, which would allow sanctions on China if it threatened the semi-autonomous status of Hong Kong.
The new law also prohibits the export of crowd-control munitions to the police in Hong Kong – including tear gas, rubber bullets and stun guns.
In his editorial, Xijin wrote that "more than 100,000 people have died (in the US) from COVID-19, most of them weak, elderly, poor and minorities. The death of George Floyd, from another perspective, reveals the desperate inequality rampant in the US.".
Donald Trump To Withdraw US Troops From Afghanistan Ahead Of Schedule
Police arrested Floyd outside a convenience store after a report of a counterfeit bill being passed. In a video recorded by a witness, an officer kneels on Floyd's neck, and he was heard pleading that he couldn't breathe until he slowly stopped talking and moving.
On Thursday night, demonstrators torched a police station in Minneapolis, Minnesota. Trump blamed "radical left Mayor, Jacob Frey" for a "total lack of leadership" after Frey came out in support of the protestors demanding for a criminal investigation of Floyd's death while requesting for calm.
US Media Attacks PM Modi Over COVID-19 Crisis But Forgets Its Own Devastation
CNN reported that its black reporter was arrested while legally covering the protests in Minneapolis," the news organisation tweeted. "A white reporter also on the ground was not."
According to Xijin, US political elites directly applauded Hong Kong's riots, calling them a "beautiful sight" of democracy. He further added that the "chaos in Hong Kong has lasted for over a year and military forces have not been dispatched. Yet after only three days of chaos in Minnesota, Trump publicly threatened the use of firepower and implied military forces could be utilized".
US Could Recognize Tibet As An 'Independent Country' As US-China Tensions Escalate
UN Human Rights Chief, Michelle Bachelet, condemned the killing of many unarmed African Americans by the Police. "I am dismayed to have to add George Floyd's name to that of Breonna Taylor, Eric Garner, Michael Brown and many other unarmed African Americans who have died over the years at the hands of the police – as well as people such as Ahmaud Arbery and Trayvon Martin who were killed by armed members of the public," she said.
Xijin concluded by saying that the incident is an example of the US's double standards.
China Imposes Sanctions On US Defence Giant Behind F-16s, F-22 Raptors
China has threatened to impose sanctions on US defence giant Lockheed Martin – the makers of Stealth F-22 Raptors, in response to US approving of a possible deal for Taiwan to buy parts to refurbish defensive missiles built by the company.
With China In Mind, India To 'Urgently' Acquire Heron Drones, Spike ATGM From Israel
Foreign Ministry spokesman Zhao Lijian made announced at a briefing in Beijing on Tuesday, adding that the US should cut defence ties with Taiwan "so that it doesn't do further harm to bilateral relations and damage peace and stability in the Taiwan Strait."
"China firmly opposes U.S. arms sales to Taiwan," Zhao said, adding: "China decides to take measures to protect national interests. We will impose sanctions on the main contractor of this arms sale Lockheed Martin."
Rafale jets dodge all radars, air defence systems; bombs Turkish facilities in Libya
The US State Department last week approved a possible $620 million foreign military deal for Taiwan to buy parts of Patriot Advanced Capability-3 (PAC-3) missiles so that they can last 30 years.
Beijing's actions come amid growing tensions between the US and China tensions over various issues including trade war, South China Sea dispute, COVID-19 pandemic, new security law in Hong Kong, 5G network and hostilities against key US allies including India and Australia.
Stealth vs Thrust: Why Indian Air Force needs American jets instead of Russian aircraft?
Despite it being a strategic American ally, the US has no official embassy in Taiwan nor does Australia, Canada, the UK or Germany. China calls Taiwan a 'renegade province' and has vowed it to merge it with mainland China, at all costs.
Comet Neowise in India: Rare Neowise Comet will be visible in North-West India from Today – NASA
NASA Comet Neowise India: NASA's Neowise infrared space telescope discovered the comet on 27 March. Scientists involved in the mission said the comet is about five kilometres across and its nucleus is covered with sooty material dating back to the origin of our solar system 4.6 billion years ago.
The Comet Neowise, or C/20202 F3  will be noticeable in the northwest sky in India from 14 July onwards. As per NASA, Neowise should be visible just before and around the time of first light till 11 July. It will again start to be visible in the evening between 15 and 16 July.
"From July 14, C/2020 F3, a comet discovered on March 27, will be clearly visible in the north-western sky. It will be visible after sunset for around 20 minutes for the next 20 days. People can observe it from naked eyes," said Subhendu Pattnaik, deputy director of Pathani Samanta Planetarium in Bhubaneswar told ANI.
"In the evenings to follow, the comet will rapidly climb higher in the sky and will be visible for a longer period," he added.
Comet Neowise swept within Mercury's orbit a week ago. Its close vicinity to the sun caused dust and gas to burn off its surface and create an even bigger debris tail. According to CNET, Neowise passed a critical point when it survived its closest brush with the sun without cracking up from the heat last week.
NASA's Neowise infrared space telescope discovered the comet on 27 March. Scientists involved in the mission said the comet is about five kilometres across and its nucleus is covered with sooty material dating back to the origin of our solar system 4.6 billion years ago.
Soon after, numerous amateur photographers began sharing stunning images of the comet just above the horizon during predawn hours. Twitter user Jeremy Perez shared the image shot from close to the Wupatki National Monument showcasing the bright celestial body.
Last night I scoured Google Earth lining up roads that would matched the bearing of where the comet would rise this morning. Finally found a spot along my favorite road in Wupatki National Monument and narrowed to this creviced bend to work with. #neowise #cometneowise 1/ pic.twitter.com/zI3TkVlv1H

— Jeremy Perez (@jperez1690) July 9, 2020
#Comet #Neowise rising over southern Germany (as seen from Austria) pic.twitter.com/b1Sa3JnFu6

— Philipp Salzgeber (@astro_graph) July 10, 2020
According to the CNET report, as the comet moves farther away from the sun and closer to Earth, it will be visible in the evening sky and not before dawn. As per NASA solar system ambassador Eddie Irizarry, Neowise should be visible just before and around the time of first light till 11 July. It will again start to be visible in the evening between 15 and 16 July.
While it's visible with the naked eye in dark skies with little or no light pollution, binoculars are needed to see the long tail, according to NASA. It will be about 7,000 years before the comet returns, "so I wouldn't suggest waiting for the next pass," said the telescope's deputy principal investigator Joe Masiero of NASA's Jet Propulsion Laboratory in Pasadena, California.
Recently, astronauts from the International Space Station managed to get a stunning glimpse of a natural light show from a comet this weekend. NASA astronaut Bob Behnken shared a tweet highlighting Neowise. He captioned the post, "Last night's fireworks, for real. Because Science."
Last night's fireworks, for real. Because Science. #NEOWISE #comet pic.twitter.com/IKcJ1wLFAl

— Bob Behnken (@AstroBehnken) July 5, 2020
US-China ties to worsen as Trump set to block all Chinese claims in South China Sea
Ties between US and China could dramatically worsen over the South China Sea after Secretary of State Mike Pompeo said Washington now regards virtually all Chinese maritime claims outside its internationally recognised waters to be illegitimate. 
Ties between the US and China are set to further deteriorate over the South China Sea as the Trump administration is set to outrightly reject almost all of Chinese maritime claims in the contentious waterbody.
The Trump government presented the decision as an endeavour to restrain China's increasing belligerence in the region with a commitment to recognising international law. This move in the South China Sea will further enrage the Chinese, who are already countering against various US sanctions and other penalties.
Previously, US policy had been to insist that maritime spats between China and its smaller neighbours be settled peacefully through UN-backed arbitration.
But in a statement released on Monday, Secretary of State Mike Pompeo said Washington now regards virtually all Chinese maritime claims outside its internationally recognised waters to be illegitimate.
"The world will not allow Beijing to treat the South China Sea as its maritime empire," Pompeo said. "America stands with our Southeast Asian allies and partners in protecting their sovereign rights to offshore resources, consistent with their rights and obligations under international law. We stand with the international community in defence of freedom of the seas and respect for sovereignty and reject any push to impose 'might makes right' in the South China Sea or the wider region."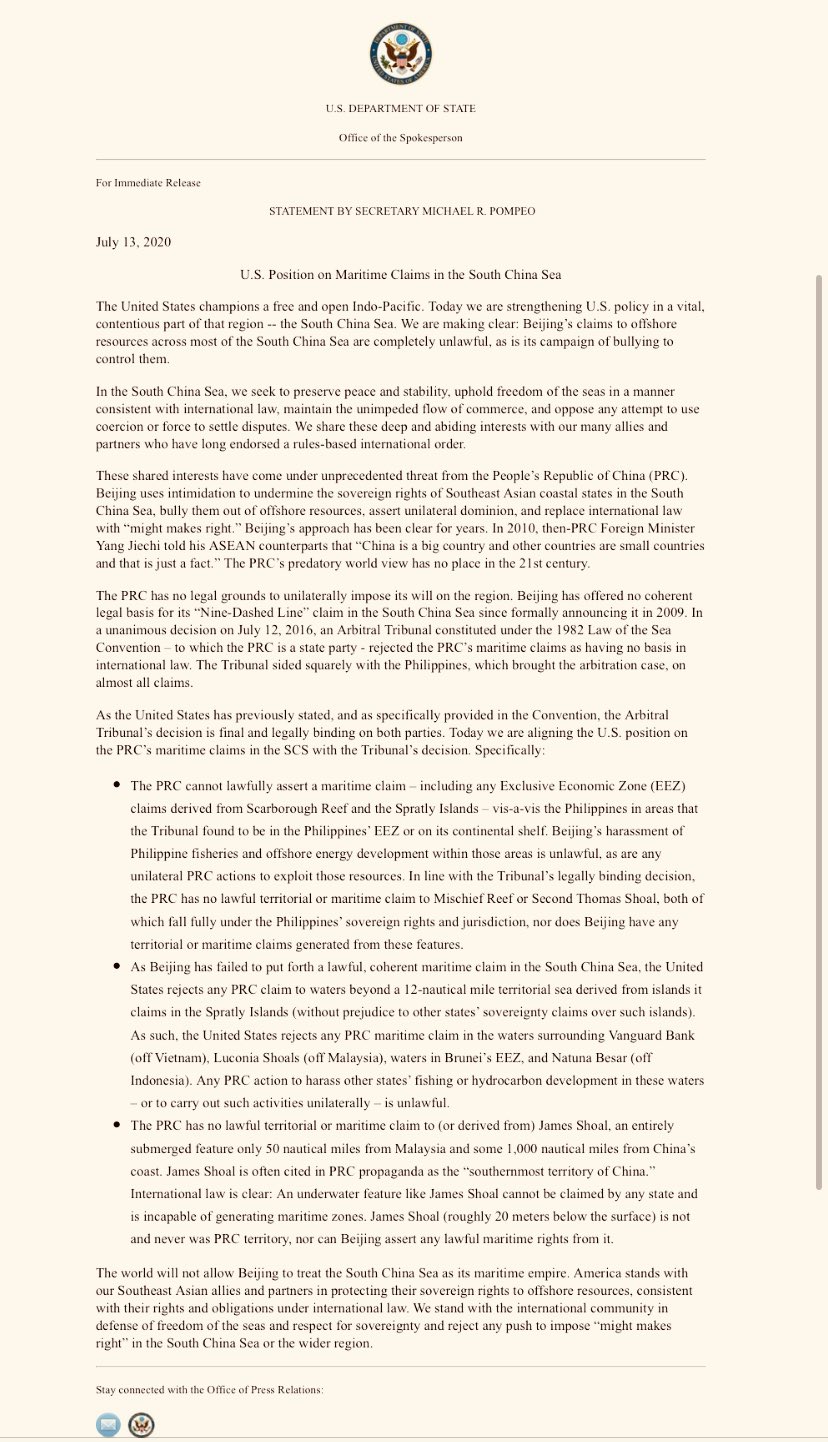 Although the US will continue to remain impartial in territorial conflicts, the announcement means Washington is now directly supporting Brunei, Indonesia, Malaysia, the Philippines and Vietnam, all of which oppose Chinese declarations of sovereignty over maritime areas surrounding disputed islands, reefs and shoals.
"There are clear cases where [China] is claiming sovereignty over areas that no country can lawfully claim," the State Department said in a fact sheet that accompanied the statement.
The announcement was released a day after the fourth anniversary of a binding decision by an arbitration panel in favour of the Philippines that discarded Chinese maritime claims around the Spratly Islands and neighbouring reefs and shoals.
China has declined to recognise that ruling, rejected it as a "sham" and withdrew from the arbitration proceedings. It has continued to oppose the decision with aggressive actions that have brought it into territorial disputes with Vietnam, the Philippines and Malaysia in recent years.
However, as a result, the administration said China has no valid maritime claims to the fish- and potentially energy-rich Scarborough Reef, Mischief Reef or Second Thomas Shoal. The US has repeatedly said areas regarded to be part of the Philippines are covered by a US-Philippines mutual defence treaty in the event of an attack on them.
In addition to reemphasising support for that decision, Pompeo said China cannot legitimately claim the James Shoal near Malaysia, waters surrounding the Vanguard Bank off Vietnam, the Luconia Shoals near Brunei and Natuna Besar off Indonesia. As such, Washington said it would regard any Chinese intimidation of fishing vessels or oil exploration in those areas as unlawful.