Days after conducting a large-scale naval exercise, the Chinese People's Liberation Army has held air combat drills amid harsh sandstorm conditions that swept China recently.
According to reports, an aviation regiment attached to the PLA Air Force (PLAAF) was conducting the drills when an unexpected sandstorm hit the airbase. Despite the unforgiving weather, the exercise took place as planned – a move commended by Chinese military experts.
While exact details of the drills were not made public, a video posted by PLAAF's Sina Weibo account showed a Y-8 transport aircraft and a J-11 (a Chinese copy of the Russian Su-27 'Flanker') fighter jet taking part in the exercise.
It is believed that PLA's Western Theater Command, which is tasked with guarding the disputed border with India, had organized the exercise.
The PLAAF pilots had to fly in low visibility conditions owing to the sandstorm. But a bigger threat came from the sand and dust particles, which could have damaged the aircraft's onboard equipment and caused the engine to malfunction.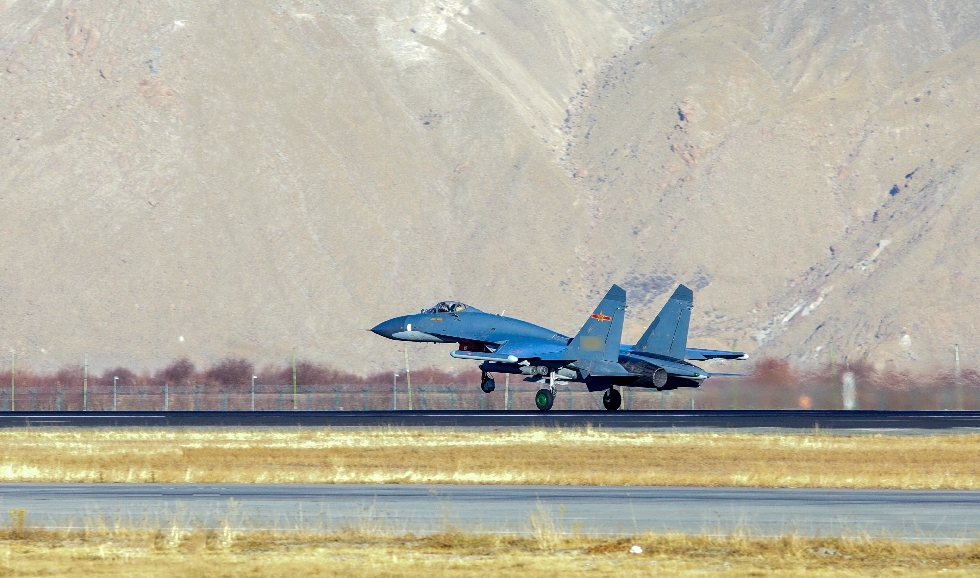 Fu Qianshao, a Chinese military aviation expert, told the state-owned Global Times on Wednesday that flying in sandstorms is challenging because of low visibility, particularly when conducting low-altitude maneuvers and landing, during which accidents could occur if the aircraft are not handled well.
"The exercises demonstrated a high training level of the PLA pilots who have mastered techniques to handle low visibility, as well as the high performance of avionics and navigation systems on the warplanes that could effectively assist the pilots," Fu remarked.
The sandstorms also pose a significant challenge to the ground maintenance and support crews, in charge of keeping the aircraft in flying condition. Their work increases in such conditions because of the possibility of damage to the avionics and engines.
Flu asserted that following the exercise, the PLA will stay prepared for offensive and defensive missions in sandstorm conditions.
Recently, the PLA's Nothern, Eastern, and Southern Theater Commands held military drills in the Yellow Sea, East China Sea, and the contested South China Sea. These exercises were aimed at thwarting the threats from the US-led QUAD bloc in the Asia-Pacific region.