The Pangong Tso Lake Area where India and Chinese troops were stationed face-to-face could be a sticking point between two nations. As the disengagement process between India and China is being worked out, there are reports that the Chinese PLA soldiers have not withdrawn from Pangong Tso Lake Area.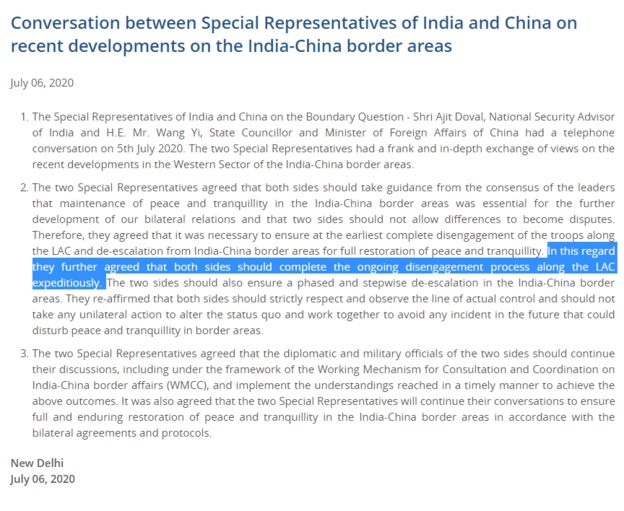 Chinese Foreign Ministry spokesman Zhao Lijian told reporters in Beijing on Monday that both sides had agreed to reduce tensions on the border and withdraw their troops from the border.
China Must Be Prepared For 'Retaliatory Attack' From Indian Border Troops Despite Peace Talks – Chinese Experts
Amidst the positive news, there is no clear answer from the Indian Ministry of External Affairs to the question – whether Indian soldiers are also retreating? And if this is happening then why is it happening while Chinese soldiers are not retreating from Pangong Tso Lake. Along with this, Chinese soldiers are also making their presence in the Depsang area.
As far as the Pangong Tso Lake area is concerned, there has been no major disengagement moves by the Chinese PLA troops. On Monday, some Chinese troops moved from Finger 4 towards Finger 5, but it was not really significant, according to reports. Pangong Tso is likely to remain a sticky point between India and China for some time.
Has China Really Withdrawn Soldiers From Galwan Valley – Chinese FM Responds
Once the buffer zones are stabilised and confirmed by both sides, both sides can meet again to discuss further steps for de-escalation. The next step will be moving out forces from the depth areas and in the final step restoring the status quo of April 2020.
According to experts –  The presence of Chinese PLA troops in Depsang suggests that they are very concerned about the Karakoram. Strategically, China has fortified its position in the Pangong Lake area and it appears that there will be no going back until a renewed understanding is developed between the two countries.
India or China: Whom Did Israel Support During The Intense India-China Border Standoff?
The experts further write – The Chinese PLA soldiers have captured Finger 4 in the Pangong Lake area on which they used to assert their claim. At the same time, India has been declaring its claim till Finger 8.
China has increased its position in the four mountain ranges which were till now considered as disputed. In such a situation, PM Modi has rightly said that the Chinese have not intruded a single inch into the Indian territory because they have actually seized the disputed region.
India-China Peace Talks – Read The 'Official Statements' Of Indian & Chinese Govt On Disengagement