FMGE Test: Why Are Indian Doctors Failing The MCI Screening Test?
The FMGE Test or Medical Council of India (MCI) Screening Test is an online test which may not be the hardest exam to crack but the Indian National Board of Examination (NBE) data shows that 84% of doctors who were foreign-educated, could not clear the FMGE test in the last 7 years. 
Before we come to an analysis, it is important to understand what is the FMGE / MCI Screening Test.
MBBS in China Attracting Thousands Of Indian Medical Students
What Is The FMGE Test?
The Foreign Medical Graduate Examination (FMGE Test) is an online test paper conducted by the National Board of Examination. FMGE is mandatory for Indians holding MBBS degrees from abroad. It is held twice a year (June & December).
Those who earn their MBBS degrees from UK, US, Australia, Canada and New Zealand are exempted from the MCI screening test. The following chart reveals the preferred foreign destinations of Indians to get their MBBS degrees from:
The findings also reveal that the majority of the doctors earned their MBBS degree from China & Russia. But in terms of success rate, MBBS from France, Kenya & Saint Marteen attained a 100 pass percentage while degrees from China and Russia were almost at the lowest.
Even though the FMGE doesn't entail negative marking, Indian students are still failing in the test. EurAsian Times brings you the reasons behind this predicament. Let's go deeper into the problem & find the answers. 
Why do Indian Students Resort To Foreign MBBS Degrees?
Supply-side problems in FMGE Test: The paucity of MBBS seats & gruelling entrance tests makes it difficult for doctors to continue learning in India. But their predicament doesn't end here as when they return to their homeland with an expectation to work in India, they fail to qualify the FMGE test. The Union Health Ministry also conceded to this fact in the Parliament. 
Demand-side problems in FMGE Test: The rate of failure in the FMGE exam reveals that Indians lack the requisite skills to practice as doctors in India. 
This explains the problem of poor learning outcomes in India, a problem that plagues not just the medical stream, but other streams of education as well.
Coupled with the fact that govt has said that foreign universities do not hold a proper assessment before recruiting the students in their universities, the problem of learning outcomes in India reflects a deeper problem that opens the pandora box.
FMGE Reveals A Deeper Crisis In Health Sector of India
As per the Wolrd Health Organisation's norms, there should be 1 doctor per 1000 patients. However, India reveals some disturbing facts. The following data is taken from the Directorate of State Health Services & the National Health Profile: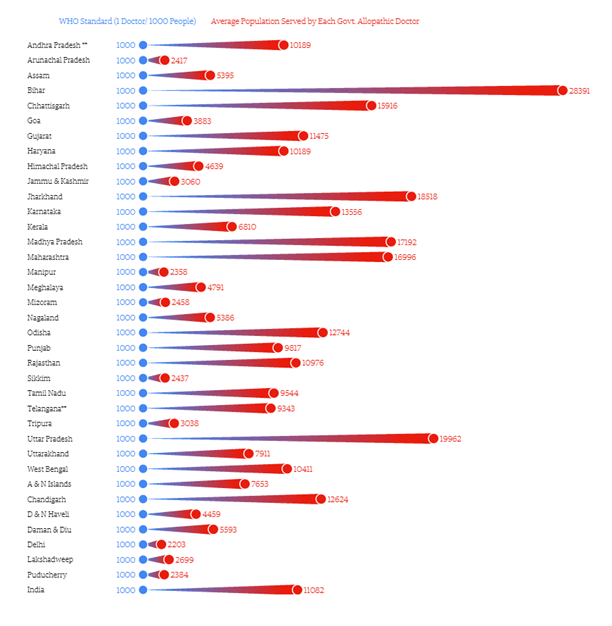 Therefore, if doctors keep failing the FMGE test, this burden of thousands of patients per doctor is going to increase which again has its negative consequences. 
Moreover, the failure of students in the FMGE test can take a toll on their mental health as well. We need to rethink our strategy toward medical education in India.
Are we aiming at producing depressed students who have put in years of hard work in studies & the money in foreign universities, yet they fail to qualify the FMGE test? We need to seriously monitor the situation. 
What Is The Solution?
We have discussed a lot about the problem. Now it is necessary that we discuss the possible solutions. The Medical Council of India has detailed some guidelines to be read before enrolling in MBBS courses abroad.
But is this enough? We need the Govt of India to undertake a two-pronged strategy such that Indian students are empowered enough to clear the FMGE test. EurAsian times suggests the following strategy for the same:
Take actions to improve the state of medical education in India so that students are well equipped to pass the FMGE test.
Sign MoUs with the foreign countries to align their courses with Indian needs. This will lead to the production of universal best practices in healthcare and promote greater cooperation among people.
List of some recent MoUs signed by the Government of India with other countries:
MoU on India-Africa Health Sciences Cooperation between the Indian Council of Medical Research and African Union
MoU between India and Cuba for enhanced cooperation in the health sector
MoU between India and Iran on cooperation  in the field of Health and Medicine
However, we need specific MoU's targeting the FMGE exam such that the learning outcomes produced by foreign universities match the requirement of the FMGE test.
Pakistan Slams US Report For Excluding India Out Of Religious Freedom Blacklist
Such a strategy is necessary for the long term. But for the short term, the govt. has undertaken certain steps. For instance, the govt. has prepared a draft Skill Training Curriculum for those who graduated from foreign universities but repeatedly failed to qualify the FMGE.
More such steps are needed so that govt can deal with the problems related to the health sector and particularly,  the FMGE crisis.
Kritika Kaushik, M.A. Political Science, JNU
Jio Institute – Mukesh Ambani's 'Institute of Eminence' To Revolutionize Indian Education System
Jio Institute, which will be located in Navi Mumbai was to hire university staff and complete the academic curriculum by October this year, however, experts believe that things might get delayed due to coronavirus
Jio Insitute, Mukesh Ambani's ambitious institute for reshaping the Indian education system is expected to commence operation in 2021. Will the 'Institute of Eminence' – Jio Institute get impacted by Covid-19 is uncertain for now.
Jio Institute – Overview
The Shailesh Kumar led Jio Insitute will start its academic session in 2021. Numerous undergraduate courses will on offer including courses in emerging technologies like artificial intelligence, data sciences machine learning, digital media and marketing.
It is also expected that Mulhern of Northwestern University will be facilitating the Marketing Communication program while Kumar would teach Artificial Intelligence courses. The modern Jio Digital Library project will be headed by Keller from Stanford.
Jio Institute of Eminence
Jio institute has also set up a seven-member global advisory board. According to media reports, the board will consist of Jean-Lou Chameau, president emeritus of California Institute of Technology (Caltech); Michael Keller, vice provost of Stanford University; Rick Levin, former president of Yale University; Subra Suresh, president of Singapore's Nanyang Technology University. Nadhmi A Al-Nasr, CEO of Saudi Arabia's futuristic habitat project NEOM; Frank J Mulhem and Vinayak P Dravis of Northwestern University.
Mukesh Ambani, his wife Nita and daughter Isha will also be on the advisory board. The institute is one of the institutes in the country to be awarded the tag of 'eminence' by the Human Resource Ministry even before its completions.
Experts at EurAsian Times believe that the tag of 'eminence' was given due to the future prospects of the Institute. As of August 2019, ten institutions have been selected by the Institutes of Eminence, which includes Banaras Hindu Univesity, Indian Institute of Science, Indian Institute of Technology (IIT) Bombay, IIT Delhi, IIT Kharagpur, IIT Madras, University of Delhi, University of Hyderabad, Anna University and Jadavpur University.
Jio Institute Location & Key Details
Jio Institute, which will be located in Navi Mumbai was to hire university staff and complete the academic curriculum by October this year, however, experts believe that things might get delayed.
Students at Jio institute would not only get an opportunity to study at the sprawling 800 acres campus in Navi Mumbai but could also be taught by professors from prominent universities across the world.
The advance studies at the institute will also provide merit-based scholarships worth 38 crores during the first academic year.
Mukesh Ambani aims to make Jio University ranked in top 500 on Times Higher Education and QS World University Rankings. To achieve this feat Jio Institute is in talks universities like Massachusetts Institute of Technology (MIT) Stanford University, Northwestern University and Nanyang Technological University and aims to recruit expert faculty and mentors for the institute.
Reliance Jio and the Telecom Revolution
Reliance Jio Infocomm Ltd popularly known as Jio in India is a mobile network operator owned by Reliance industries. Jio was the brainchild of Mukesh Ambani and was launched in 2015 in honour of the 83rd birth anniversary of Dhirubhai Ambani, the founder of Reliance Industries.
Since its launch, the network has become immensely popular with Indians as it made internet accessible and affordable. The introduction of Jio revolutionised the telecom industry and made 4G data available pan-India at the lowest rate in the world. Jio Platforms compares with large global digital ecosystem platforms that are largely debt-free like Alphabet, Tencent and Alibaba.
Success at home has caught the eye of investors abroad. With 5 confirmed deals in May and another investment incoming, Jio is now valued at over $65 billion. The investors, all based in the US, include social media giant Facebook, private equity firm Silver Lake, Global investment company Vista, American private equity firm General Atlantic and US-based private equity company KKR.
Collectively, all the deals are worth $10.3 billion or Rs 78,562 crore, which RIL plans to use in order to pay off $44 billion worth of its debt.
Microsoft, the tech giant founded by Bill Gates, is also in talks with Jio to purchase a 2.5% stake at the cost of $2 billion. Abu Dhabi state fund Mubadala, another investment company, is also in talks to invest about $1 billion in Jio platforms.
Within a short span, Mukesh Ambani and Jio have achieved what other companies have not been able to for decades. With the establishment of Jio Institute, India's most influential businessman has ensured that the company he birthed would be looked after by Jio's very own.
MBA vs PGDM: Why MBA Degree Is Better Than AICTE PGDM?
MBA vs PGDM: Experts from PGDM Colleges call MBA programs Outdated, while MBA colleges call PGDM program a mere Diploma. An MDI Gurgaon Alumni explains why MBA is Better than a PGDM.
MBA vs PGDM is an ongoing debate, but what is the difference between MBA and PGDM and which is a better program between the two remains a big question for aspiring management students.
Students aspiring to get into Top Business School are searching for the best pathway to achieve their goals. As the entrance season advances, the dilemma for the management aspirants continues – MBA vs PGDM and which Business School to opt for?
EurAsian Times analyses the difference between the two programs and analyses why an MBA Degree could have more advantages that a PGDM Program.
The confusion to select a PGDM or MBA course reaches the peak when the students start visiting the colleges for counselling and GD/PI sessions. All business schools boast about their Excellent Placements Record, Faculty from the IIM's and IIT's, International Exposure, etc leaving the management aspirant in a total state of confusion.
What adds to the confusion level are the Education Consultants who further confuse the students for their petty monetary gains. At some point in time, students get so frustrated that they stop taking all the calls for admissions. EurAsian Times crisply attempts to explain the difference between MBA and PGDM.
Which Are The Best Business Schools in Delhi, NCR For Placements Under The AICTE?
MBA vs PGDM: What's the Difference?
Master's in Business Administration (MBA) is a degree course provided by the University or colleges recognized by the Universities which are approved by University Grants Commission (UGC), and sometimes also by All India Council for Technical Education (AICTE).
Post Graduate Diploma in Management (PGDM) is also a Masters's degree program, offered by the autonomous institute or colleges, that have received their approvals from the All India Council for Technical Education (AICTE).
Some of the top business schools like IIM's and ISB's offer PGDM / PGPM program (and strangely they are not approved by the AICTE) as they do not have collaboration with any University. But these B-Schools have an outstanding placement record and great international reputation and do not bother about AICTE approvals. Neither do the organizations show any concern or preference.
China and India Dominate the List of Best Business Schools in Asia
Colleges offering the MBA program follow the academic syllabus provided by Universities (which usually cannot be easily modified or changed) while PGDM syllabus is flexible and institutes like IMT, MDI, XLRI, IIFT, SP Jain, NMIMS have the flexibility to modify their course within the AICTE approved parameters giving them a tremendous advantage.
Which Program is Better – MBA or PGDM?
MBA vs PGDM is an unending debate and honestly, a lot depends on which University or College a student is getting (based on entrance exam score like CAT / XAT / MAT etc) rather than the program itself i.e. MBA or PGDM. The PGDM program claims to follow a more practical approach to studies, compared to the MBA (which is not always true).
MBA from top institutions like FMS, IIT, DTU are equally acceptable and sought after in the market. The major difference between MBA and PGDM is that MBA course fee is usually less than the PGDM program, as PGDM comes with a variety of industrial trips, international exposure programs, besides being a revenue generation model for the institutions. (A PGDM Program at the IIM's could cost up to 28 Lacs, whereas MBA from FMS-Delhi University would only cost about 2 Lacs).
Best Business Schools in India: Check If Your B-School Is Duping You?
Corporates recognize talent from both the programs and are more interested in better brands and students, and don't really care about MBA or PGDM. Students have an apprehension that after PGDM, they would not be able to pursue higher studies like PhD but if a PGDM is AIU approved, students will be eligible for PhD programs as well.
However, be assured that having a PGDM Degree instead of MBA degree will not make any difference to your corporate career in India, as at the end, it is the student who matters!.
SP Jain Himself Reviews Global MBA / Executive MBA Program @ SP Jain School Of Global Management
The students need to be very clear about their choice of the PGDM or MBA program and institute they are opting for. Students must evaluate the brand of business school, as a business school with higher brand value will provide a good learning environment and a large network of alumni.
MBA vs PGDM: Which is Finally Better?
Both the programs i.e. MBA and PGDM are good and very similar. What matters most is the business school you are getting, based on your score. Which Business School would you choose – MBA from FMS-Delhi University or PGDM from IIM-Lucknow?
Better ROI: If I had to make a choice, I would certainly choose FMS-DU as the fee is drastically less than IIM-Lucknow and return on investment is much much faster. However, there is a dearth of top-notch Universities providing MBA Programs, and students have no option but to opt for expensive PGDM programs.
Government Jobs in India: Besides the corporate sector, many government organizations still, unfortunately, do not recognize the PGDM Diploma and Government Jobs is one area where MBA Degree holders will have an edge over others.
International Jobs: If you ever opt for immigration or overseas opportunities, chances are your PGDM will either not be recognized or valued as high as an MBA Degree. Even the IIM's have been striving to provide MBA programs rather than Diplomas and once that happens, the PGDM programs will lose the sheen and colleges would lose massive business.
AIU Approved PGDM Colleges – How Vital is the AIU Approval For PGDM Institutes In India?
Key Differences Between MBA and PGDM
Parameter

MBA from Govt. University

MBA from Private University

Indian Institutes of Management (IIMs)

Private PGDM Colleges

Programme offered

Masters of Business Administration

Masters of Business Administration

Post Graduate Programme in Management(PGP)

Post Graduate Diploma in Management (PGDM)

Award

Degree

Degree

Diploma

Diploma

Number of programme offering institutes

2000+

500

20

500

Top Institutes/colleges

FMS – Delhi University; IIFT Delhi-Deemed University; JBIMS – Mumbai University; PUMBA-Pune University

Affiliated colleges of Govt Universities like Anna University, Bangalore University etc.

Top Private Universities are NMIMS-Mumbai; Symbiosis –Pune; XIM-XUB Bhubaneswar.

More than 100 Private Universities offer MBA

IIM Ahmedabad, IIM Bangalore, IIM Calcutta, IIM Lucknow, IIM Indore, IIM Kozhikode and other 14 new and newest IIMs

XLRI, SPJIMR, MDI, IMI, IMT, TAPMI, KJ Somaiya, BIMTECH, …

Degree/Diploma recognized/approved by

University Grants Commission (UGC)

University Grants Commission (UGC)

Recognized by Ministry of HRD

All India Council for Technical Education (AICTE)

Curriculum

Rigid, because approvals required from University

The curriculum at most Government Universities and Colleges is theoretical, and not frequently updated.

The curriculum at good Private Universities like NMIMS and Symbiosis is at Par with IIMs, top PGDM B-schools.

Flexible and Frequently Updated.

Focus on Industry needs and job requirements as Placement is key student expectation.

Flexible and Frequently Updated.

Focus on Industry needs and job requirements as Placement is key student expectation.

Programme suitable for

MBA offered by Government Universities is more suitable for candidates interested in earning a Degree for higher studies, academic career.

MBA offered by top Private Universities is good for both corporate career and academics.

Students focus on enhancing their employability skills for a better corporate career, job or starting their own enterprise.

Students focus on enhancing their employability skills for a better corporate career, job or starting their own enterprise.

Fee

Fee at Government University/Colleges is low. FMS Delhi fee is just Rs 25,000 for the full MBA course.

Bangalore University prescribes 2-year fee of fewer than 200,000 lakhs.

Private University MBA fee is at par with IIMs, PGDM B-schools based on their market acceptance.

NMIMS Mumbai fee is Rs. 17.44 lakhs; SIBM Pune fee is Rs. 18.25 lakhs

IIMs have a comparatively higher fee structure.

IIM Ahmedabad fee is Rs.21 lakhs, IIM Bangalore fee is Rs.19.5 lakhs, IIM Calcutta fee is Rs.19 lakhs.

Top PGDM B-schools charge between Rs 10 lakhs to Rs20 lakhs for 2 year MBA.

SPJIMR fee is Rs. 16 lakhs, MDI Gurgaon fee is Rs.18.89 lakhs, IMI New Delhi fee is Rs. 15.41 lakhs

Fee for many good PGDM B-schools is between Rs. 5-10 lakhs also.

Programme duration

Two years

Two years

Two years

Two years

Exam conducted by

University

University

By the Individual IIM

By individual College/

Institute

Admission Process & Entrance Test

Some Govt. Central Universities and their colleges accept National level entrance tests like CAT/XAT and/or also conduct their own entrance tests.

Most Government colleges governed by State Governments, admit thru state level examination like MAHCET, PGCET, TANCET, although these colleges.

Top Private Universities conduct their own exams like NMAT, SNAP, X-GMT

Common Admission Test (CAT) conducted by IIMs, is the mandatory entrance exam for Indian residents

B-schools can choose from one or many of 6 approved exams: CAT, XAT, CMAT, MAT, GMAT, ATMA
Press Release: Striking Lack of Progress on Environmental SDGs in Asia-Pacific, Reveals New UN Report
Bangkok (ESCAP News / Press Release): There is overwhelming evidence that the Asia-Pacific region needs to accelerate action on the Sustainable Development Goals (SDGs) and substantially reverse current negative trends, especially those which are depleting and degrading its environmental resources, according to a new report released today by the United Nations Economic and Social Commission for Asia and the Pacific (ESCAP).  
The Asia and the Pacific SDG Progress Report 2020 draws attention to the region's poor performance on most of the measurable environmental targets of the 2030 Agenda for Sustainable Development. For example, the share of renewable energy has dropped to 16 per cent, one of the lowest rates globally. The region also emits half of the world's total greenhouse gas – a number which has doubled since 2000. 35 per cent of countries continue to lose their forests. 
"Our analysis finds that the Asia-Pacific region has struggled the most with two Goals: advancing responsible consumption and production, and climate action. In fact, the region is not even moving in the right direction," underscored United Nations Under-Secretary-General and Executive Secretary of ESCAP Ms. Armida Salsiah Alisjahbana. 
"These findings sound the alarm for the region to urgently foster sustainable use of natural resources, improve the management of chemicals and wastes, increase its resilience against natural disasters, and adapt to the adverse impacts of climate change through integrated policies," added Ms. Alisjahbana. 
On a positive note, many countries are moving decisively and showing remarkable progress in improving the quality of education (Goal 4) and providing access to affordable and clean energy (Goal 7). The Report suggests that achieving these two Goals is well within reach. The region is also making good progress on targets related to economic growth. Real GDP per capita growth in the Asia-Pacific was more than double the world average in 2017, and at the same time, at least 18 countries in the region are experiencing less income inequality. 
Yet, to grow more sustainably and equitably, the current economic progress of the region must be coupled with human well-being and a healthy environment. Progress has been far too slow in areas such as gender equality (Goal 5) and building sustainable cities and communities (Goal 11). ESCAP warns that the region remains unlikely to meet any of the 17 SDGs by 2030 without concerted and extra efforts from all stakeholders. 
Progress has also been uneven across the five Asia-Pacific subregions, most especially in reducing inequalities (Goal 10), responsible consumption and production (Goal 12), and peace, justice and strong institutions (Goal 16). A positive example of collective progress across all five subregions, however, is on access to electricity, where steady improvement is noticeable, particularly in rural areas.
Data availability for the SDG indicators has substantially increased over the past few years in Asia and the Pacific, from 25 per cent in 2017 to 42 per cent in 2020. But data is still lacking on over half of the SDG indicators, especially those Goals with slow progress. This, according to ESCAP, highlights the urgent need to strengthen the policy-data nexus in the region.
A flagship annual publication produced by ESCAP, in partnership with five other UN agencies, the Asia and the Pacific SDG Progress Report uses the latest data for global SDG indicators to determine where additional effort is needed in the region and where momentum for future progress is building.