India Only Gained 'Dead Soldiers' In Conflict With Chinese PLA Troops
The June-15 Himalayan-conflict between Indian and Chinese (PLA) troops has garnered criticism from both the nuclear-armed countries. Recently, the editor of the Chinese state-run Global Times (GT) has stated that "the Indian side had gained nothing from the latest clash except a large number of casualties."
Rafale vs Chengdu J-20: How Will Indian Rafale Jets Compete Against Chinese J-20?
On one hand, where Beijing has yet not officially declared the casualties on its side, New Delhi had announced about the death of 20 Indian soldiers in the violent clash.
The Chinese daily had previously accepted the casualties on the PLA side but did not specify any numbers. In another recent tweet – GT writes "At a time after the recent #China-India border clash,  #PLA soldiers, especially those who were injured, can't be forgotten. They deserve our best wishes for them and the highest respect from 1.4b Chinese people."
Experts stated that usually, the word is forgotten is used with the dead and not with injured. Critics have also wondered if the Chinese media replaced the word 'were injured, can't be forgotten' with 'were dead, can't be forgotten.
At a time after the recent #China-India border clash, #PLA soldiers, especially those who were injured, can't be forgotten. They deserve our best wishes for them and the highest respect from 1.4b Chinese people. https://t.co/9h5aOCYdHo

— Global Times (@globaltimesnews) June 25, 2020
Speculations of more than 40 Chinese PLA troops including a commander being dead post the face-off has been making rounds in the Indian media, according to sources.
However, the Chinese Foreign Ministry dismissed such claims as the ministry spokesperson said that "As for what you saw in the media, for example, some people alleged that casualties on the Chinese side amounted to 40, I can tell you for sure that this is fake news."
EurAsian Times cannot independently verify the casualties on the Chinese side and as per experts the PLA certainly had casualties, however, by looking at the mayhem in India and rampant anti-China policies, it appears the Indian Army could have suffered more.
China's View on India
Indian defence analysts believe that the Indian Army gave China's People's Liberation Army (PLA) a tough fight since China has not fought for more than 30 years.
However, the editor of the GT, a former Chinese soldier rather writes that "The PLA did not fight for the last 30 years because we love peace. Don't mess with the PLA. That is our stern warning to those who want to take advantage of changes in the international situation to challenge China's core interests."
While India questions China on encroaching Indian Territory, China rather positions that India has encroached on Chinese lands. The GT editor wrote that "In this conflict triggered by the Indian side, the Chinese People's Liberation Army (PLA) has dealt a heavy blow to India's ambition of encroaching on China's territory and demonstrated to the Indian side the iron will of the PLA in defending Chinese territorial integrity."
It continued that "The PLA has taught a lesson to the Indian side, which has always misjudged Chinese people's determination and advantages."
The newspaper has yet again challenged India's nationalism and said that "We hope that the Indian army will wake up and stop being tempted by the ultra-nationalist forces at home, and refrain from flaunting its muscles, lest its soldiers lose their lives and push the country into a serious strategic dilemma."
As previously reported by EurAsian Times, "If the boiling nationalist sentiment continues unchecked in India, it may lead to serious consequences"
India-China Economic Romance Cannot End With A Mere Border Clash – Chinese Experts
India and China have been at each other's throat for more than a month now. Aside from the military confrontation in Ladakh, India has also moved to disengage from China economically.
While the move has got the support from the majority of Indians, Cui Hui'ao of the China Global Television Network (CGTN) writes that disengaging from China might not be a choice for India and that economic de-coupling is driven politically by Narendra Modi.
As reported by Eurasian Times consistently during last month, the feud between India and China has been a rollercoaster ride. From military buildup, deadly clashes to de-escalation and eventual withdrawal, the clash of the two Asiatic giants has seen it all.
Cui writes that apart from the military confrontation, India has retaliated in the economic sphere, referring to the decision by the Indian government to ban 59 Chinese application including TikTok, WeChat and ShareIt and the call to boycott Chinese products.
The journalist at CGTN writes that decoupling from China may be easier said than done for India. He says that India is not a manufacturing powerhouse, so in terms of bilateral trade, it actually buys much more from China than the other way around.
Cui analyses trade data to support the fact that New Delhi will find it difficult to reduce its dependence on Chinese imports. Between April 2019 and March 2020, India imported over 65 billion U.S. dollars' worth of goods from China.
Cui is of the opinion that the coronavirus pandemic has hit the Indian economy hard and in fact, the disengagement is driven by politics rather than economics. He finds it difficult to accept that India's disengagement from China would take place at a time when the Indian economy is projected to contract by 4.5% according to the International Monetary Fund (IMF).
Economic Disengagement Driven Politically 
Speaking to Cui, Cheng Xizhong, a visiting professor from Southwest University of Political Science and Law, says that the decision to de-couple from China economically is because of the domestic pressure on Prime Minister (PM) Narendra Modi.
''Since his second term began yet Indian economy is a mess. He has to find a way to shift the public attention elsewhere," he said.
The author agrees with the point made by Cheng Xizhong and writes that pressure on the Indian PM Modi comes from multiple fronts, including his own supporters, businesses, and farmers union. But this time, the nationalistic voice is even louder.
Other experts interviewed by Chui agree that New Delhi would benefit more if it partnered with Beijing. Professor Cheng, a former Chinese military diplomat in South Asia, said that since India started its opening-up in the 1990s, its economic growth has been crippled by lack of high-quality infrastructure and it would wiser if India and China work together.
Similar views are shared by Indian economist Biswajit Dhar, who says that India's decision to start producing domestically has to be strategic and it cannot take the decision to produce everything."
While India and China disengage at the battlefront in Ladakh, the Indian government is looking for solutions to reduce its dependency on Chinese imports. PM Modi has encouraged all Indians to become self-reliant (Aatmanirbhar) by producing and purchasing indigenous goods and boost the Indian economy.
US-China ties to worsen as Trump set to block all Chinese claims in South China Sea
Ties between US and China could dramatically worsen over the South China Sea after Secretary of State Mike Pompeo said Washington now regards virtually all Chinese maritime claims outside its internationally recognised waters to be illegitimate. 
Ties between the US and China are set to further deteriorate over the South China Sea as the Trump administration is set to outrightly reject almost all of Chinese maritime claims in the contentious waterbody.
The Trump government presented the decision as an endeavour to restrain China's increasing belligerence in the region with a commitment to recognising international law. This move in the South China Sea will further enrage the Chinese, who are already countering against various US sanctions and other penalties.
Previously, US policy had been to insist that maritime spats between China and its smaller neighbours be settled peacefully through UN-backed arbitration.
But in a statement released on Monday, Secretary of State Mike Pompeo said Washington now regards virtually all Chinese maritime claims outside its internationally recognised waters to be illegitimate.
"The world will not allow Beijing to treat the South China Sea as its maritime empire," Pompeo said. "America stands with our Southeast Asian allies and partners in protecting their sovereign rights to offshore resources, consistent with their rights and obligations under international law. We stand with the international community in defence of freedom of the seas and respect for sovereignty and reject any push to impose 'might makes right' in the South China Sea or the wider region."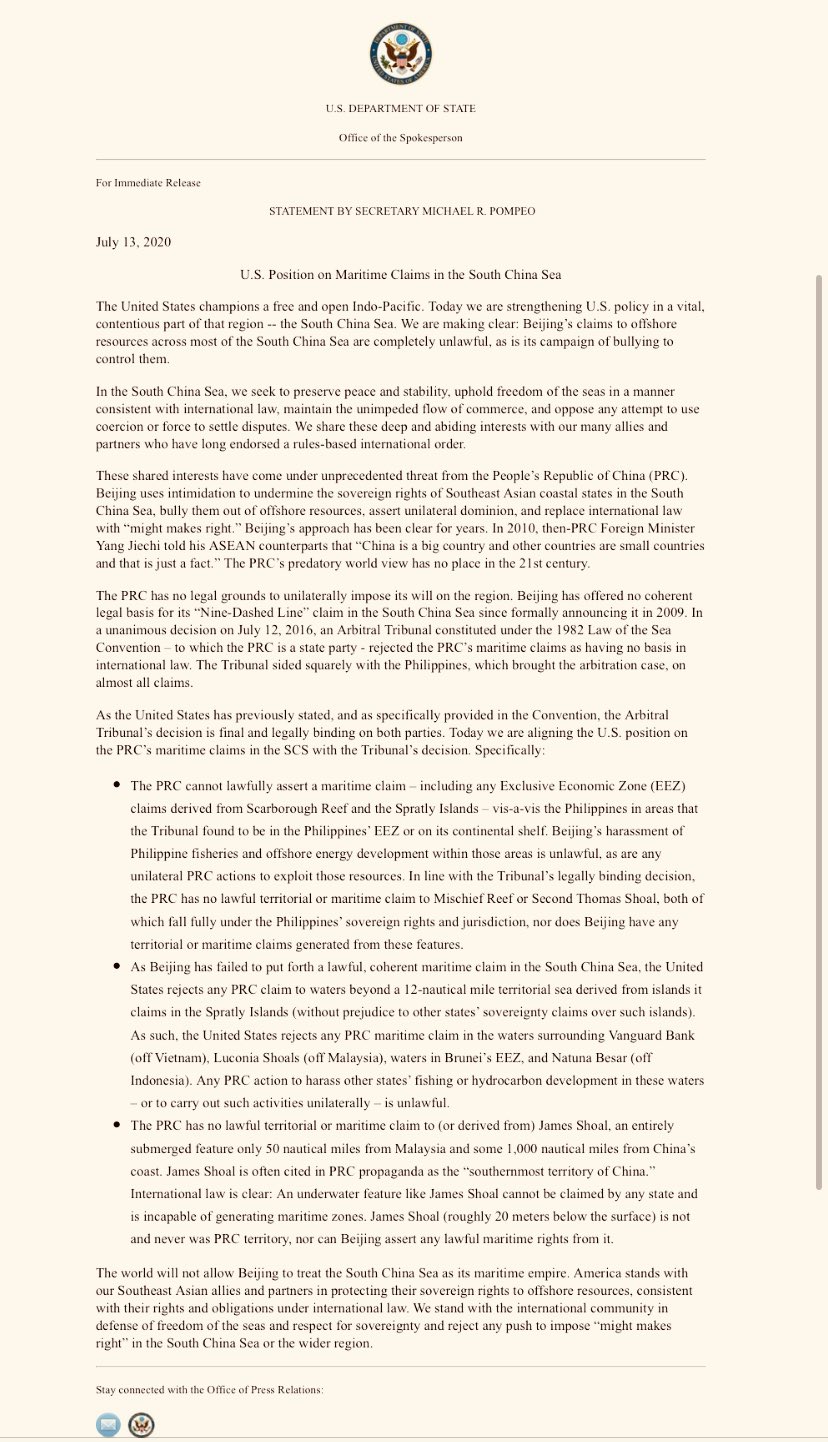 Although the US will continue to remain impartial in territorial conflicts, the announcement means Washington is now directly supporting Brunei, Indonesia, Malaysia, the Philippines and Vietnam, all of which oppose Chinese declarations of sovereignty over maritime areas surrounding disputed islands, reefs and shoals.
"There are clear cases where [China] is claiming sovereignty over areas that no country can lawfully claim," the State Department said in a fact sheet that accompanied the statement.
The announcement was released a day after the fourth anniversary of a binding decision by an arbitration panel in favour of the Philippines that discarded Chinese maritime claims around the Spratly Islands and neighbouring reefs and shoals.
China has declined to recognise that ruling, rejected it as a "sham" and withdrew from the arbitration proceedings. It has continued to oppose the decision with aggressive actions that have brought it into territorial disputes with Vietnam, the Philippines and Malaysia in recent years.
However, as a result, the administration said China has no valid maritime claims to the fish- and potentially energy-rich Scarborough Reef, Mischief Reef or Second Thomas Shoal. The US has repeatedly said areas regarded to be part of the Philippines are covered by a US-Philippines mutual defence treaty in the event of an attack on them.
In addition to reemphasising support for that decision, Pompeo said China cannot legitimately claim the James Shoal near Malaysia, waters surrounding the Vanguard Bank off Vietnam, the Luconia Shoals near Brunei and Natuna Besar off Indonesia. As such, Washington said it would regard any Chinese intimidation of fishing vessels or oil exploration in those areas as unlawful.
US-China tensions: China slaps counter sanctions on US officials over Uighur rights
Earlier, US sanctioned member of Chinese Communist Party, 3 other officials over human rights abuses of Uighurs in Xinjiang
Tensions between the US and China continue to rise after China, in a tit-for-tat move, announced sanctions on US lawmakers and an envoy over the issue of Uighur rights in Xinjiang.
China's Foreign Ministry Spokeswoman Hua Chunying said Beijing sanctioned officials at US' China Commission; Sam Brownback, Ambassador for International Religious Freedom, Florida Senator Marco Rubio, Texas Senator Ted Cruz and New Jersey Congressman Chris Smith, daily Global Times reported.
China said on Friday it would take reciprocal measures against the US for sanctioning a senior member of the Chinese Communist Party and three other officials over human rights abuses in China's Xinjiang region, home to Uighur Muslims.
"China has decided to take reciprocal measures against relevant US institutions and individuals that have behaved badly over Xinjiang," Foreign Ministry spokesman Zhao Lijian had said.
The US' China Commission is a congressional-executive commission that was created to monitor human rights and rule of law in China which submits an annual report to the US president and the Congress.
The US Treasury Department on Thursday sanctioned Chen Quanguo, Communist Party Secretary of the Xinjiang Uighur Autonomous Region.
Chen was appointed to the region in 2016, according to the US statement, with a "notorious history of intensifying security operations" in the Tibetan autonomous region to tighten control over the Tibetan ethnic minorities.
The senior government official is also known as the "architect" of mass detention camps in Xinjiang. The sanctions designations are under the Global Magnitsky Act passed by the US Congress in 2016.