India's homegrown Tejas Light Combat Aircraft once again displayed its superior flying skills, this time at the Singapore Air Show 2022 that kicked off on February 15.
This year's event has been held at a smaller scale owing to the pandemic, but it still features some of the best aircraft from all over the world.
The general public is not allowed, although over 600 exhibitors are displaying their products. This is lower than the 930 displayed in February 2020, when Covid-19 cases were only starting to surge.
The number of participants expected to attend this year's show is around 13,000, which is less than half of the 30,000 that turned up in 2020. Many Chinese firms have opted out of this year's exhibition, owing to Beijing's 'Zero-Covid' restrictions, which entail lengthy quarantines.
The show is also said to be helping the defense industry rebound from pandemic-related slumps. As evidenced by Indonesia's $8.1 billion deal for 42 Rafale fighter jets, countries are now striving to improve their capabilities.
The show's Sustainable Aviation Forum and the Aviation CEO Forum are set to largely focus on aviation recovery and sustainability, with senior executives expected to tackle the problems. Although there have been a number of things that have piqued the interest of aviation enthusiasts.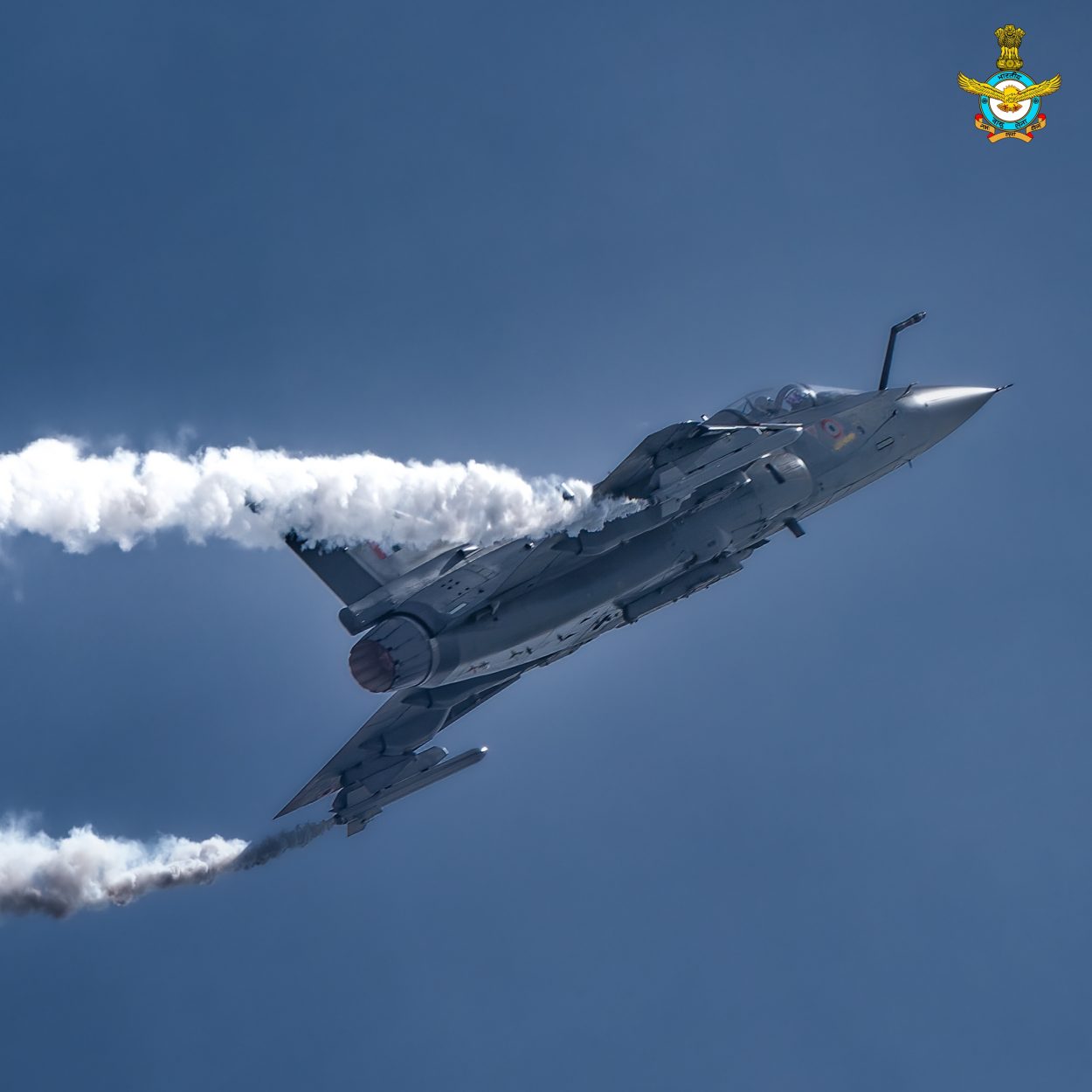 Aerial Displays And Flypasts
The flying displays are, without a doubt, the best and most exciting section of any big airshow. Flying demonstrations and flypasts from four air forces and two commercial corporations are expected in 2022, according to organizers.
Indian Air Force's Tejas LCA demonstrated its capabilities at the opening ceremony. This comes three months after Tejas displayed "superior flying skills" at the Dubai Air Show 2021. The IAF posted some highlights from the aircraft's "enthralling display" at the air show.
The Tejas' participation in Singapore is part of India's efforts to promote the jet in Southeast Asia. The Indian jet is a strong contender for Malaysia's tender for 18 light combat aircraft. 
"Like a Diamond in the Sky"

Some highlights from the enthralling display today by #IAF LCA Tejas at the #SingaporeAirShow2022.

📸 – Malcolm & Bryan pic.twitter.com/O69VZuSCja

— Indian Air Force (@IAF_MCC) February 15, 2022
"'Like a Diamond in the Sky'. Some highlights from the enthralling display today by #IAF LCA Tejas at the #SingaporeAirShow2022," the IAF tweeted along with multiple pictures from the air show. A 44-member contingent of the IAF is participating in the air show. 
Republic of Singapore Air Force's F-16C fighter and AH-64D Apache attack helicopters are also showcasing their capabilities in the air show. Jupiter Aerobatics, an Indonesian team, will fly six planes to amaze spectators on February 18.
The F-35B Joint Strike Fighter and the B-52 Stratofortress from the US Marine Corps and the US Air Force are major highlights of the event.
Sneak peek! 👀 Final preps are underway for our #777X flying display at the #SGAirshow2022.

Stay tuned for highlights. pic.twitter.com/GgkBjGpxPj

— Boeing Airplanes (@BoeingAirplanes) February 13, 2022
Airbus and Boeing will demonstrate the capabilities of their popular widebody aircraft, with flypasts of the A350-100 and B777-9 already scheduled.
Static Display
Airbus is displaying four aircraft in addition to the A350-100. Singapore Airlines' A350-900, Cebu Pacific's A330neo, and Korean Air's A220, as well as a German Air Force A400M, are also on display. The A330 MRTT (Multi-Role Tanker Transport) will also be showcased. A new H225M multirole helicopter is making its maiden appearance at the airshow.
✅ Booth (AL24) setup
✅ Static display
✅ #A350 ready to fly
Looks like we're all set for #SGAirshow2022!
See you tomorrow. pic.twitter.com/8ypUJXlNvO

— Airbus (@Airbus) February 14, 2022
The F-15 fighter, the P-8 Poseidon maritime patrol aircraft, KC-46A Pegasus, the P-8A Poseidon, and the C-17 Globemaster III, the T-7A Red Hawk Advanced Pilot Training System are among the exhibits by Boeing at the Singapore Air Show.
The Boeing Airpower Teaming System, an unmanned aerial vehicle being built and manufactured in Australia, is also on display.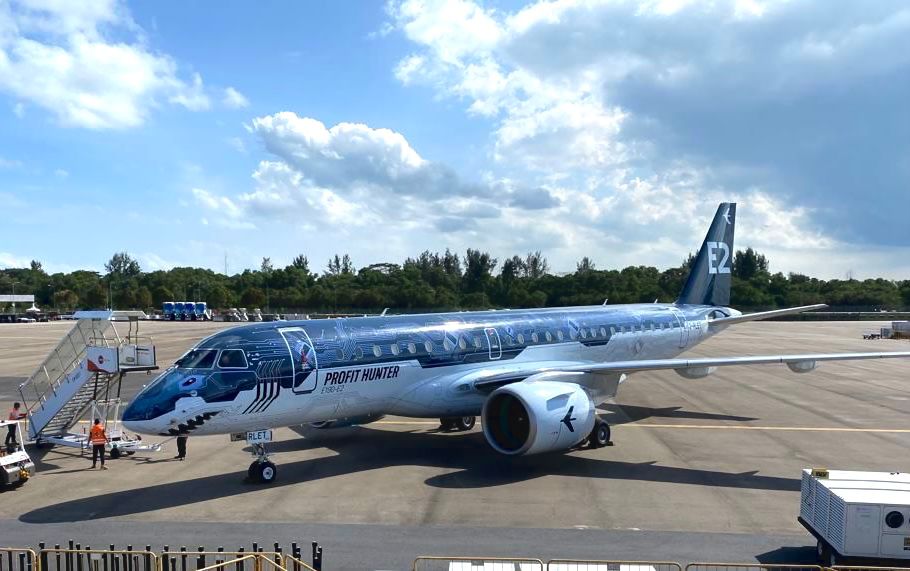 Meanwhile, Brazil's Embraer is showing its E2 Profit Hunter aircraft at the air show with a 'Tech Shark' livery. 
Presence Of Israeli Defense Industry
There is a strong presence of the Israeli defense industry in the event. The expo featured Israel Aerospace Industries' new Blue Spear missile system, as well as Rafael Advanced Defense Systems' Spyder air defense system, which is meant to protect against enemy aircraft and unmanned aerial vehicles.
However, a new product by an Israeli manufacturer grabbed headlines. Elbit Systems has presented the Skylark 3 Hybrid, a small tactical unmanned aerial aircraft with two engines. 
With a hybrid propulsion system that includes both an electric and an internal combustion engine, the drone can fly quickly to the area of interest (AOI) and then convert to the silent electrical engine when operating over it.
This triples endurance, allowing for up to 18 hours of operation with no change in size or weight, boosting mission effectiveness and cost-efficiency, according to the company. It can carry a wide range of payloads and requires no takeoff or landing infrastructure.
Major Deals Signed 
On the first day of the air show, Airbus announced two major orders totaling nearly 50 new aircraft. The Kuwait-based airline Jazeera Airways has placed an order for 20 Airbus A320neos and eight Airbus A321neos. This order was first announced in November 2021 through a Memorandum of Understanding. 
In addition, Airbus has inked an agreement with Aviation Capital Group (ACG) for 20 new A220s. This follows the leasing company's December 2021 order for 40 A320neo Family aircraft.
Boeing, on the other hand, reported that it had set a year record for e-commerce sales of airplane parts in 2021, despite not having received any orders. 
Boeing Distribution Inc. supplied nearly 70,000 aircraft parts and equipment to commercial and government operators last year, totaling more than $2 billion in online orders, according to a press release. The company's total online revenue accounted for more than $1.5 billion in commercial orders.