Joe Biden formally clinches Democratic presidential nomination
Washington D.C., June 6 — : Former vice president Joe Biden clinched the Democratic presidential nomination on Friday (local time), officially setting the stage for a contentious general election fight with President Donald Trump this November.
The former vice president hit the delegate threshold on Friday, most recently winning a series of primaries on Tuesday night across the country, The Hill reported.
"It was an honour to compete alongside one of the most talented groups of candidates the Democratic party has ever fielded — and I am proud to say that we are going into this general election a united party," Biden said in a statement.
"I am going to spend every day between now and November 3 fighting to earn the votes of Americans all across this great country so that, together, we can win the battle for the soul of this nation, and make sure that as we rebuild our economy, everyone comes along," the statement read further.
Biden has been the presumptive Democratic nominee since April when his last remaining primary rival, Senator Bernie Sanders, suspended his campaign. But delays in primaries due to the coronavirus pandemic left the former vice president short of the 1,991 delegates needed to clinch the nomination until Tuesday, when seven states and the District of Columbia held their presidential contests.
Heading into the June 2 primary contests, Biden had somewhere around 1,550 pledged delegates to his name. With 479 total delegates up for grabs on Tuesday, Biden needed to win at least 89 per cent of the available delegates to reach the minimum threshold for securing the nomination.
Biden has clinched the nomination at a time when Trump is under scrutiny over his response to a pandemic that has killed more than 100,000 people in the US and hurt large parts of the economy. It also comes as the country is convulsed by protests after the death of George Floyd, a 46-year-old unarmed black man, under police custody in Minneapolis.
"This is a difficult time in America's history. And Donald Trump's angry, divisive politics is no answer," Biden said.
"The country is crying out for leadership. Leadership that can unite us. Leadership that can bring us together. We need an economy that works for everyone — now. We need jobs that bring dignity — now. We need equal justice — and equal opportunities — for every American now. We need a president who cares about helping us heal — now," he added.
With the nomination clinched, Biden's focus will now turn to shoring up support on his left flank and his vice presidential pick.
Biden has already opened up a number of task forces on an array of issues to try to mend policy divides between centrists and progressives, tapping a several prominent liberals to serve in the groups.
The former vice president is also the focus of intense scrutiny over who he will tap as his running mate. Biden has already vowed to pick a woman, though some allies have said recent protests over Floyd's death have elevated the need for him to pick a woman of color.
Among those who have been floated are Sens. Kamala Harris (D-Calif.), Amy Klobuchar (D-Minn.) and Elizabeth Warren (D-Mass.), Rep. Val Demmings (D-Fla.) and more.
Biden will officially accept the Democratic nomination at the party's national convention in August.For any query with respect to this article or any other content requirement, please contact Editor at contentservices@htlive.com
Asian News International
Vikas Dubey Encounter: Vikas Dubey Reportedly Killed In Encounter With Police
Vikas Dubey Encounter: Vikas Dubey, on the run since he organized the massacre of eight policemen in Kanpur last Friday, was arrested yesterday at a temple in Ujjain, Madhya Pradesh.
Has Vikas Dubey been killed in an encounter with UP police? The twitter is trending and the news is flashing that one of the three police cars taking criminal Vikas Dubey to Uttar Pradesh, overturned early this morning on the highway.
Hospital confirms #VikasDubey killed in #vikasDubeyEncounter pic.twitter.com/tc9vh7uImP

— Payal Mehta/પાયલ મેહતા/ पायल मेहता/ পাযেল মেহতা (@payalmehta100) July 10, 2020
According to India Today: Vikas Dubey has been killed in an encounter in Kanpur. The encounter broke out between Dubey and the Uttar Pradesh STF (Special Task Force) when the gangster tried to escape. Vikas suffered a few bullets shots and he later dies of his injuries. His death is yet to be confirmed by the officials.
Earlier Reports on Vikas Dubey
Unconfirmed reports suggest the car that overturned had Vikas Dubey in it. Vikas Dubey, on the run since he organized the slaughter of eight cops in Kanpur last Friday, was arrested yesterday at a temple in Ujjain, Madhya Pradesh.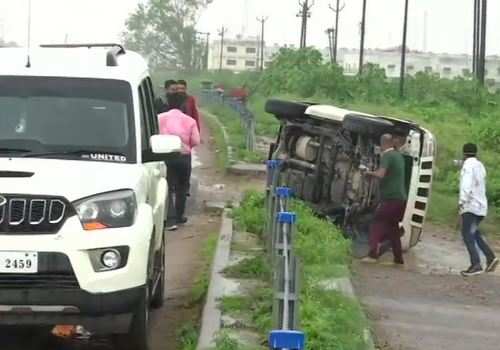 A per Times of India – One of the vehicles of the convoy of Uttar Pradesh Special Task Force (STF) that was bringing back gangster Vikas Dubey to Kanpur overturned on Friday morning. The accident happened at around 7 am. There are reports that Vikas has been injured along with an STF sub-inspector and two constables. However, an official confirmation is awaited.
Uttar Pradesh Special Task Force (STF) team along with history sheeter #VikasDubey who was arrested in Ujjain (Madhya Pradesh) yesterday, reaches Kanpur. pic.twitter.com/C405jxATZr

— ANI UP (@ANINewsUP) July 10, 2020
Questions were raised on the manner in which he was caught and whether it was an arrest or the gangster turned himself in at a time and place of his choosing. Senior UP police officer Mohit Agarwal said: "We had caught many of his associates and a few were killed. So definitely he was trying to save his life and on the run."
Vehicle of UP STF team bringing gangster #VikasDubey from MP overturns in Kanpur https://t.co/rdxAyI0FL1 via @TOICitiesNews pic.twitter.com/FTwMBf7kV0

— The Times Of India (@timesofindia) July 10, 2020
BJP Leader, Father, Brother Shot Dead in Kashmir; All Guards Were Missing
The killing of Wasim and his family comes a month after militants killed Ajay Pandita Bharti, a sarpanch in LukBhawan Larkipora area of Anantnag in Southern Kashmir. Bharti, a Kashmiri Pandit had returned to the valley only a few years ago. 
The safety of political workers has once again come under the scanner after the killing of BJP leader Sheikh Wasim and his family. The death of Wasim and his family comes a month after militants killed another political worker from the Indian National Congress in Anantnag.
A ruling BJP leader, his father and brother were shot dead in Kashmir on Wednesday. The murder took place in Bandipora district yesterday evening after suspected militants gunned down the trio at their shop. The latest killings depict a grim picture of Kashmir and raise concern over the safety of political workers.
The deceased included Sheikh Wasim, a BJP leader, his father Basheer Ahmad and brother Umar. According to police reports, the family was attacked as they stood outside their shop, just metres away from a local police station.
A media report states that Wasim and his family were shot in the head and the succumbed to their injuries en route to the hospital. The culprits were armed with a revolver (fitted with a silencer) and rode motorcycles.
Although Wasim had been granted security detail, none of the eight guards deployed were present when the terrorists attacked. Sources say the guards have been arrested for dereliction of duty and an investigation has been started.
"We are taking a tough (stand) against them for dereliction of duty and failure to protect the life," Vijay Kumar, Inspector General of Police Kashmir, said.
The killing of Wasim and his family comes a month after militants killed Ajay Pandita Bharti, a sarpanch in LukBhawan Larkipora area of Anantnag in Southern Kashmir. Bharti, a Kashmiri Pandit had returned to the valley only a few years ago.
The killing of political workers has exposed the grim reality of the current situation in Kashmir. The Narendra Modi led BJP government had made it a priority to wipe out militancy from the region and restore peace and tranquillity. However, the killings indicate that the government has a difficult at hand.
Tributes Pour-In
The cold-blooded murder of Wasim and his family led to politicians and ministers offering their condolences. Prime Minister Narendra Modi personally sought details and extended his condolences to Mr Wasim's family in a telephonic conversation with Union Minister Jitendra Singh.
Over the telephone, PM @narendramodi enquired about the gruesome killing of Wasim Bari. He also extended condolences to the family of Wasim.

— Dr Jitendra Singh (@DrJitendraSingh) July 8, 2020
Former Jammu and Kashmir Chief Minister Omar Abdullah took to Twitter to express his grief and extended condolence to the family of the victims.
Sorry to hear about the murderous terror attack on the BJP functionaries & their father in Bandipore earlier this evening. I condemn the attack. My condolences to their families in this time of grief. Sadly the violent targeting of mainstream political workers continues unabated.

— Omar Abdullah (@OmarAbdullah) July 8, 2020
Senior BJP leader Ram Madhav and BJP President JP Nadda also expressed their shock anger of the killing. Both extended condolences to the family and notes that Wasim's death was a big loss to the party
We lost Sheikh Waseem Bari,his father & brother in Bandipora, J&K today in a cowardly attack on them.This is a huge loss for the party. My deepest condolences are with the family.The entire Party stands with the bereaved family. I assure that their sacrifice will not go in vain.

— Jagat Prakash Nadda (@JPNadda) July 8, 2020
Kashmir has seen an uptick in militancy in recent months. However, Indian armed forces have enjoyed the upper hand so far thanks to their alertness and combat superiority. According to data collected by South Asian Terrorism Portal, 138 militants have been killed in 2020 so far. Meanwhile, 14 civilians and 33 members of the armed forces have also lost their lives during the same period.
Global Coronavirus Death Toll Crosses 400,000
Maryland, June 7 — : More than 4,00,000 people have died globally due to coronavirus and 69,16,233 people have been infected with the virus till now.
As per the latest Johns Hopkins University's tally, 4,00,135 people have succumbed to the disease so far.
Till now, the US has reported the maximum number of coronavirus cases and deaths. As many as 1,920,061 COVID-19 cases and 1,09,802 deaths have been reported in the US.
Brazil has confirmed that 6,72,846 people have tested positive and 35,930 people have died due to COVID-19.
Similarly, Russia and the UK have reported 4,67,073 and 2,86,295 cases until now. With 40,548, the United Kingdon has reported the second-highest deaths due to coronavirus.
Meanwhile, India has surpassed the COVID tally of Spain and Italy. With 2,47,678 cases, India has become the fifth country in the list of coronavirus affected countries.
Asian News International