Finland is reportedly set to choose Lockheed Martin F-35 fighter jets in an $11-billion tender to replace its aging fleet of FA-18 fighter jets.
The Finland Air Force (FAF) proposed to the government that the F-35 be picked as the country's next fighter jet after evaluating the contenders for the HX competition, Finnish media outlet Iltalehti reported on Sunday. 
Finland is reportedly set to pick F-35 fighter jets in its $11 billion tender to replace soon-outdated war planes that form a key defense pillar of Russia's neighbor https://t.co/Sv5F1OqZKc

— Bloomberg (@business) December 5, 2021
The F-35, manufactured by Lockheed Martin, is one of five aircraft pitched to Finland, besides the Saab Gripen, Boeing's Super-Hornet, Eurofighter, and French Rafale. According to Iltalehti, which cited a number of unnamed defense and security policy sources, a fleet of F-35s will be purchased due to their superior capability and lifespan.
The package offered for Finland was approved by the US State Department in October 2020. It includes up to 64 F-35As, plus a diverse armament package, spare parts and logistics, training, support systems.  
Finland has allowed manufacturers to build packages of aircraft and armaments that best satisfy the Air Force's operational demands — and the country's budget — rather than declaring a requirement for a specific quantity of aircraft with unique capabilities.
Despite the country's economic troubles as a result of the COVID-19 outbreak, Finland's Defense Ministry requested in August a staggering 54 percent rise in military spending to $5.8 billion in 2021 (4.87 billion Euros), with the HX competition accounting for the majority of the increase.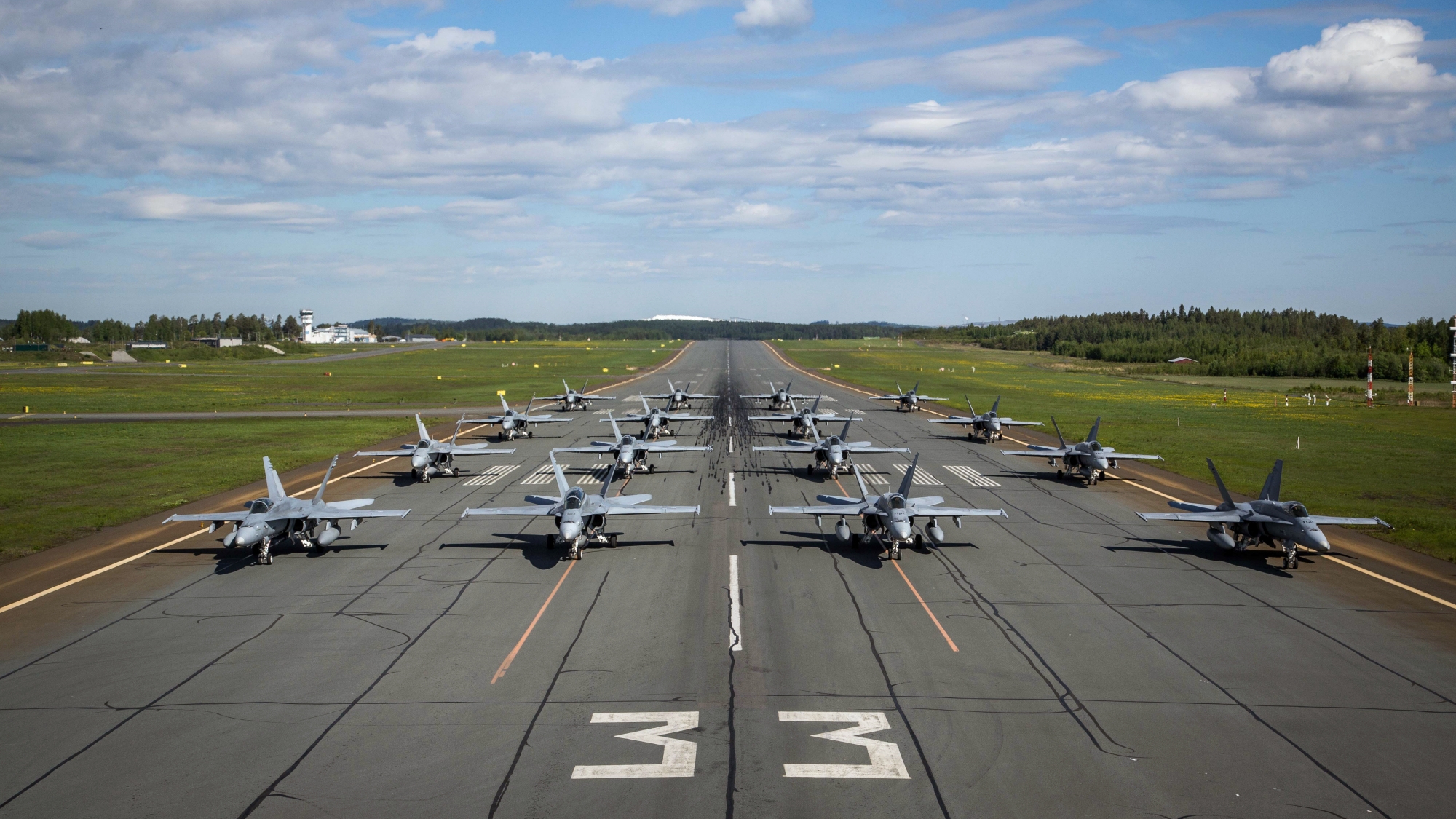 Finland has ended up spending the last five years picking a new fighter with air-to-surface and air-to-sea capabilities to protect a 1,300-kilometer border with Russia, hoping to dissuade Russian aggression. The planes will replace 64 Boeing F/A-18 Hornets that will be phased out between 2025 and 2030, with the new fighters remaining in service until the 2060s.
Tense Relations With Russia
Despite its long, strained, and often overtly contentious relationship with Moscow, Helsinki was, however, bound in many ways to the Soviet Union throughout the Cold War through the 1948 Treaty of Friendship, Cooperation, and Mutual Assistance.
Since the 1990s, the country has gotten closer to NATO and the West. There has even been discussion of Finland entering the alliance in the future, prompting harsh condemnation and threats from Russian leaders. 
Considering its distance to Russia, the Finnish Air Force would need to get as many fighter jets into the air as quickly and efficiently as possible in the event of a major confrontation between the two nations.
This would protect them from stand-off strikes on Kuopio and Rovaniemi, which would undoubtedly be primary targets, according to military analysts. Taking these factors into account, the Air Force regularly conducted exercises to use highways as runways to prepare for the worst-case scenario. 
Finland is an officially neutral country that is not a member of NATO, but it maintains close ties with the organization. By choosing Lockheed Martin warplanes, the Nordic country will possibly be aligned with the US for the next several decades, owing to industrial cooperation that contributes to nearly a third of the order price.
Why F-35 Fighter Jet?
The F-35A represents a possible technical breakthrough for Finland, as its combination of stealth and superior sensors allows it to safely infiltrate hostile airspace and, potentially, detect and attack enemy jets before being spotted in return.
Additionally, the F-35 is also in service with the Norwegian Air Force, was apparently designed and tested to perform well in cold weather.
Early in 2020, all five HX Challenge competitors completed cold weather trials in Finland, the outcomes of which are still unknown. Project manager Lauri Puranen did, however, cast some doubt in an interview, noting that only two of the four expected F-35 stealth jets arrived for inspection, with one of them breaking down and unable to participate in the testing. 
He also pointed out that Saab's Gripen-E jet is still in prototype mode, so it has a long way to go in terms of system integration compared to rivals. Puranen also indicated that the FAF thinks that its next fighter will allow Finnish pilots to attain a 10:1 kill ratio in air-to-air combat in the event of a future conflict. 
The FAF's combat capability currently includes 55 upgraded FA-18Cs and seven two-seat FA-18Ds assigned to Fighter Squadrons 31 and 11, respectively, based in central and northern Finland. In the event of a crisis, a third training squadron of BAE Hawk planes might act as light assault aircraft.
Yhteensä 32 F/A-18 Hornet -monitoimihävittäjää osoitti Puolustusvoimain lippujuhlan päivän kunniaksi Ilmavoimien valmiutta puolustaa koko Suomea. Kahdeksassa neljän koneen parvessa lentäneet Hornetit ylittivät useita paikkakuntia Helsingistä Ivaloon. #ilmavoimat #valmius pic.twitter.com/RxxsyPBsUn

— Ilmavoimat (@FinnishAirForce) June 4, 2020
Finland has deployed its Hornets to chase Russian aircraft near its land and sea borders on several instances in recent years, accusing them of breaching its sovereign airspace. Finland has also had to contend with Russian GPS jamming, as well as other offensive Russian maneuvers.
As a result, whatever aircraft Finland purchases must be capable of combating the Russian air defenses, making stealth the most important consideration. Taking these factors into account, the F-35 will be the most appropriate choice for Finland.