Malaysia Could Kick-Out Zakir Naik For His Anti Hindu, Chinese Comments
The Malaysian government could revoke the permanent resident (PR) status of controversial Islamic preacher Zakir Naik if it is proved that his speeches have negatively affected the country's serenity.
The Malaysian media quoted PM Dr Mahathir Mohamad as saying that Zakir Naik's PR status can be reversed if the Government authorities provide enough evidence to prove that his actions can disturb social harmony in the country.
This comes days after the Malaysian authorities launched an inquiry against the controversial Islamic preacher over his intention to aggravate a peace breach while making alleged and sensitive remarks on the Hindus and Chinese residing in the Muslim-majority nation.
"We have opened an investigation paper based on a report made in Gombak. Around 115 reports have been lodged on the matter so far," Federal CID director Huzir Mohamed was quoted as saying by The Strait Times during a press conference last Thursday (August 15) at the Selangor Police headquarters here.
Zakir Naik had reportedly asked the Malaysian Chinese to "go back" first as they were the "old guests" of the country during a religious talk titled "Executive Talk Bersam Dr Zakir Naik" in Kota Baru, Kelantan, in response to calls for his own deportation.
His speech at the same venue was also denounced after he compared the Hindus in Malaysia to the Muslims in India, saying that the Hindus here enjoyed more than 100% rights in Malaysia compared to Muslims in India.
In the wake of Naik`s remarks, the Malaysian Cabinet headed by PM Mahathir Mohamad decided to issue statements that Naik will no longer be allowed to stay in Malaysia. In a joint statement, Malaysia's Communications and Multimedia Minister Gobind Singh Deo and Human Resources Minister M Kulasegaran said that "action must be taken and that Zakir Naik should no longer be allowed to remain in Malaysia".
"The Prime Minister has taken note of our concerns. We leave it to him to consider the position and to decide soonest possible what will be done to deal with the problem," the joint statement said.
Naik had earlier claimed that the Hindus living in Malaysia are more loyal to PM Narendra Modi than Mahathir Mohamad.
Naik was granted permanent residency in Malaysia by the previous government and he has been living in the country for the last three years. He is wanted in India and has been accused of making provocatives speeches, inciting communal disharmony and committing unlawful activities.
Chinese Ambassador 'Honey-Trapped' Nepal PM KP Sharma Oli – Indian Reports
On Thursday, displeased with Indian reports, Nepal government spokesman Yubaraj Khatiwada announced that some Indian media outlets made baseless and shameful allegations against PM Oli and  Kathmandu will take legal and political action against the Indian media.
Nepal recently banned all India media channel except Doordarshan over what experts called 'fictitious claims and concerted stories' aimed to derail Nepal-China ties and see the ouster of PM KP Sharma Oli.
Instigated by China, Sri Lanka could end port deal with India?
The Indian media is taking a keen interest in the ongoing uprising within Nepal Communist Party against PM KP Sharma Oli. The way in which the entire matter has been covered in the Indian media, there is a massive outrage within the ruling communist part of Nepal.
A story was run on a Hindi news channel in India about China's Ambassador to Nepal Hou Yanqi and PM KP Sharma Oli hinting at 'honey-trapping' attempts by Beijing. Nepal's government says that sensational claims that were made about a foreign diplomat and PM Oli has no connection with the reality.
On Thursday, displeased with Indian reports, Nepal government spokesman Yubaraj Khatiwada announced that some Indian media outlets made baseless and shameful allegations against PM Oli and  Kathmandu will take legal and political action against the Indian media.
He said, "The government has every right to take action against the Indian media who are trying to hurt Nepal's image, national sovereignty and the dignity of Nepalis." We have asked to stop such broadcasting. "
The ruling party, PM Oli's advisor and the Federation of Nepalese Journalists have also expressed concern about this. The Nepalese government said that its embassy in New Delhi has raised strong objections to unruly coverage in India's print and electronic media.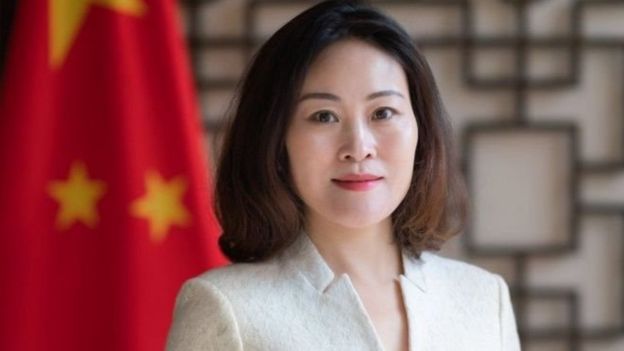 Nepal's Ambassador to New Delhi Nilambar Acharya told the Kathmandu Post that some media houses of India are determined to derail the Nepal-India ties. Acharya said that such report is sad and objectionable.
Surya Thapa, the press advisor to Prime Minister Oli, said that the PM himself has taken notice on this matter. Thapa also said that the cable operators will stop broadcasting the Indian news channel as their responsibility towards the country. Nepal TV Association has confirmed that some Indian news channels have been banned.
According to Article 9 of Nepal's National Broadcasting Rules 1995, the government can ban such broadcasts which hurts the security, peace, dignity and morality of Nepal.
In this interview, the anchor asked Upendra Yadav – the former deputy prime minister of Nepal that PM Oli is being accused of being 'Honey Trapped'. Do you agree with this? On this, Yadav said that this cannot be denied and it needs to be analyzed. However, later Upendra Yadav told Nepali media that his interview could have tampered.
upendra yadav ko interview pani herau na. yenlai kasle karbahi garni ? pic.twitter.com/jnPsNO3Qm4

— Rakesh (@rakeschaulagain) July 8, 2020
However, questions were also raised in Nepal about why the Chinese ambassador is taking so much interest in Nepal's domestic politics? According to Nepali media, this interview of Upendra Yadav was aired when the Chinese Ambassador was meeting several leaders of the ruling party and PM Oli.
The Kathmandu Post commented on this matter and wrote  –  Ever since Nepal updated its political map, new stories are being created in the Indian media about ties between PM Oli and China. Every day new propaganda appears in the Indian media. Journalists sitting in Delhi and Mumbai tell the date and time of Oli's resignation. Some people have even started demanding his resignation. Oli has become a means of collecting TRPs for the Indian media. "
We have serious differences with PM @kpsharmaoli on many issues, including his conduct of international relations.
But deliberate/sustained campaign of mudslinging against PM Oli by some Indian media cannot be acceptable.That doesn't do Nepal-India relations any good. pic.twitter.com/bdJMN80y5Y

— Kamal Thapa (@KTnepal) July 9, 2020
Former Deputy Prime Minister of Nepal – Kamal Thapa tweeted a cartoon of Times of India and wrote – We have serious differences with PM Oil on many issues, including his conduct of international relations. But deliberate/sustained campaign of mudslinging against PM Oli by some Indian media cannot be acceptable. That doesn't do Nepal-India relations any good.
COVID-19: WHO experts in China to probe origins of Coronavirus
Two World Health Organization (WHO) experts are travelling to China to talk to scientists to investigate the transmission of COVID-19 or coronavirus pandemic from animals to humans, WHO chief said on Friday.
Addressing a webinar, the WHO Director-General Tedros Adhanom Ghebreyesus said the global health experts will also prepare a scientific plan with their Chinese counterparts to identify the zoonotic source of the COVID-19 virus.
"As we continue to tackle the pandemic, we are also looking into the origins of the virus," he said.
Adhanom said the scientists want to learn about the progress made in understanding the animal reservoir for COVID-19 and how the disease jumped between animals and humans.
"This will help lay the groundwork for the WHO-led international mission into finding the origins," he said.
The team comprising an epidemiologist and an animal health specialist are flying to China to try and identify the pandemic's animal source, WHO spokesperson Margaret Harris said a UN press conference in Geneva.
Harris said the aim is also to examine from which species of animal the virus originated and then transmitted to humans.
On April 20, WHO spokesperson Fadela Chaib had said that so far, all available evidence suggests the virus has an animal origin, and it was not manipulated or manufactured in a lab, or somewhere else. She was responding to allegations that the virus spread from the Wuhan Institute of Virology.
"It most probably has its ecological reservoir in bats, but how the virus came from bats to humans is still to be discovered," she said.
Missing intermediary host
"There was certainly an intermediary host or another animal that transmitted this virus from bats to this other animal, to humans, "she said.
Adhanom told international diplomats on Thursday that the member states at the 73rd World Health Assembly held in May had adopted a landmark resolution urging the WHO to initiate an independent and comprehensive evaluation of the lessons learned from the international health response to COVID-19.
"This is a time for self-reflection, to look at the world we live in and to find ways to strengthen our collaboration as we work together to save lives and bring this pandemic under control," said the chief of WHO.
"The magnitude of this pandemic, which has touched virtually everyone in the world, clearly deserves a commensurate evaluation," he said.
The WHO had waited for seven months to investigate the source of the virus and this has led to criticism of the organization and American officials accused Adhanom of being too lenient to China.
An earlier WHO mission led by a Canadian doctor Bruse Aylward that went to China in February was criticized in the US for praising China's in its fight against COVID-19.
Indian Rafale Jets Would Have Been Useless Against Chinese Airforce – Russia Experts
Rafale jets would have been useless against the Chinese Airforce (PLAAF) – Russian aviation experts have claimed. Rafale fighter jets belong to the 4 ++ generation would not have been of much use had an aerial conflict broken out in Ladakh again the PLAAF.
JF-17 vs Rafale: Why Pakistani JF-17 Thunder Poses A Serious Threat To Indian Rafale Fighter Jets?
As reported by EurAsian Times, India and China had been engaged in a brutal conflict in the Himalayan region of Ladakh. Troops of both countries have exchanged blows and even lost soldiers in the conflict that began more than a month ago.
Chinese Ambassador 'Honey-Trapped' Nepal PM KP Sharma Oli – Indian Reports
Keeping in mind the situation in Ladakh, France said that it would accelerate the delivery of Rafale fighter jets to India. Aviation experts believe that the arrival of Rafale fighter jets will significantly boost the combat capability of the Indian Air Force (IAF). However, according to Russian experts, who did not wish to be named, the French fighter would not help India much incase the conflict turns hot.
Instigated by China, Sri Lanka could end port deal with India?
The astronomical cost of Rafale fighter jets is one of the reasons the French 4++ fighter jet would not help India. In the deal struck with Paris, New Delhi agreed to purchase 36 Rafale Jets. The total cost of the deal was an estimated Rs 59,000 crore with each jet costing around Rs 1,646 crore.
The cost of a Rafale is about three times higher than the Chinese J-20 stealth fighter jets. In other words, for 36 French-made Rafale fighters that will appear in the Indian Air Force, China can respond with three times as many of its fifth-generation J-20 fighters – for the same money.
CPEC Project A 'Trillion-Dollar Blunder', Pakistan Calls It 'Outstanding Initiative'
Even if, in some ways, the characteristics of the Chinese combat aircraft lag behind the French 4 ++ fighter jet, then the Indian air force could get overwhelmed by what is called "capable of crushing by quantity".
And the cost is not the only reason why Rafale jets would not help India much. Compared to another Chinese jet – J-16 (an analogue of the Russian Su-35) which Beijing is also using in its airforce, the Rafale jets will find it extremely challenging to outgun the Russian Su-35s operated by the Chinese.
Rafale vs Chengdu J-20: How Will Indian Rafale Jets Compete Against Chinese 'Stealth' J-20s?
The maximum speed of the Rafale jet is about Mach 1.8 and the J-16 is Mach 2.2. The Rafale's practical ceiling is also lower than the J-16s. Even in engine thrust, the Chinese J-16s aka Russian Su-35s are far superior to the French combat aircraft.
Even if the IAF was to deploy all 36 of its newly acquired jets, the technical superiority would still be on the side of China, claims the Russian expert.
China Fighting India With 'Sticks & Stones' Cheaper, But Confronting The US Can Bankrupt China: Experts
The IAF has been on high alert in Ladakh and is closely monitoring all Chinese activity near the Line of Control.  As reported by EurAsian Times, New Delhi has inked a deal with Moscow to buy 33 new fighter aircraft including 12 Su-30MKIs and 21 MiG-29s along with up-gradation of 59 MiG-29s. The addition and up-gradation of jets have been approved to strengthen India's air power.
Rafale vs F-16: Can The Indian Rafale Jets Overpower The Pakistani F-16s In Aeriel Showdown?
The air defence systems of both the Indian Army and the IAF have been deployed in Ladakh to prevent any misadventure by the Chinese Air Force fighter jets or the People's Liberation Army choppers there.