Credit rating agency Moody's Investors Service has changed its outlook for India's sovereign rating from stable to negative, saying that the domestic economic downturn could be structural.
China Effect : India Commits $200 Million To Tiny African Nation, Rwanda
The agency's action does not amount to a rating downgrade, but comes as a caution against policy inaction. Moody's credit rating of Baa2, the second-lowest investment grade score, is better than those of other agencies, such as S&P and Fitch, who have assigned the lowest investment grade to India with a stable outlook.
The rating agency said that this outlook partly reflects the government's inability to overcome the economic slowdown, due to which the burden of debt has already increased on India, which is already under heavy debt.
Two years ago, Moody's had rated India's rating as Baa3 to Baa2 but in its new report Moody's wrote –  "Despite the Indian government's measures to deepen the economic slowdown in the country and prevent this period from being prolonged, rural households long-term effects on income, weak job creation and growing credit crisis in non-banking financial institutions increased the possibility of economic slowdown Land."
India To Emerge 3rd Biggest Economy Surpassing Japan and Germany by 2030
The agency wrote that "If the nominal increase in GDP rate does not return to its high rate, the government will face significant hurdles in reducing difficulties such as budgetary deficit and curbing mounting debt."
India's economy grew by only 5% between April and June. The reason for this has been attributed to differences in global trade, consumer demand and decrease in government spending. Moody's dropped the rating to Baa3 during the UPA government in 2004 but it was raised to Baa2 in the first term of the Modi government in November 2017.
However, Moody's has been raising questions about GDP, demonetisation, non-performing assets (NPAs) in the past. And during the last few days, Moody's reduced the projected growth rate of India's Gross Domestic Product (GDP) for the year 2019-20 to 5.8 per cent from 6.2 per cent earlier.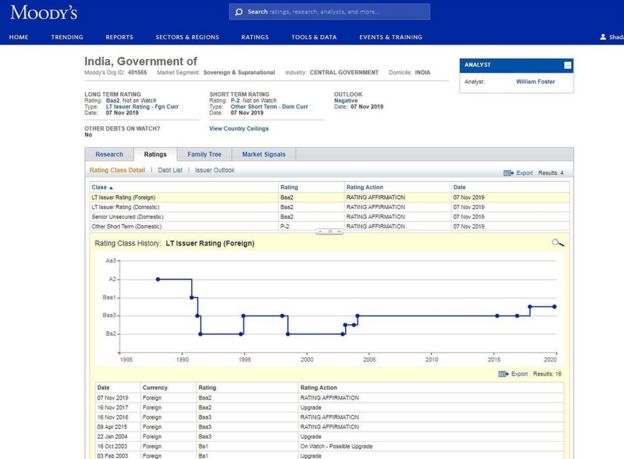 What is Credit rating?
It is difficult for any foreign or domestic company to assess what is the fundamental state of the economy in India or any other country. In such a situation, companies make their investment plans depending on the credit rating of that country.
It is believed that the credit rating agency gives a rating in every particular country, looking at every dimension there. They make this rating based on the political situation, policy framework, import-export and their ability to compete internationally.
Credit rating agencies then give different tags to those countries. Moody's gives an A, B and an estimated C rating. Aaa is considered the best and C is the worst rating. Based on this rating, companies make their investment plans. However, these ratings are only a factor of assessment for investing.