By Amb. Gurjit Singh
The Russian decision to grant independence to Ukrainian provinces, Luhansk and Donetsk, and 'conquer' Ukraine has tipped the scales. The nuanced Europe-US differences on how to deal with Russia are diminished.
Strategically, Europe seeks autonomy on Russia and China and does not want to follow US policy. Russian and Chinese actions reduce such autonomy.
The completion of the Nord Stream 2 gas pipeline (NSPL2) created a sense of economic cooperation with Russia for Germany. For the US it was a sense of economic dependency.
The US sought a geopolitical response. Germany preferred a geoeconomic response. So long as Russia did not breach frontiers, the issues were diplomatically handled. Germany was willing to provide economic partnership guarantees to Russia for strategic congruence.
Now, with Russia having decided to invade Ukraine, Germany has abided by the US lead. Its overtures to Russia are unsuccessful. Due to this, Chancellor Scholz suspended the certification process of NSP2 delaying indefinitely its operationalization.
Footage of the airport bombing in Ivano-Frankivsk. #Ukraine #Russia pic.twitter.com/MLVuNyPItI

— Ω (@W4RW4ATCHER) February 24, 2022
Germany and the US have sparred over Russia. Germany preferred diplomacy. When German Foreign Minister Annalena Baerbock met US Secretary of State Antony Blinken, she explained that NSPL2 was an economic concept whose geopolitical impact was limited. Her Green Party consistently opposed NSPL2.
Vice-chancellor Robert Habeck also from the Greens, while meeting the Polish Deputy Prime Minister conceded that, given the situation, NSPL2 was now a geopolitical factor. Chancellor Scholz when he visited the White House for a summit with Biden remained silent as Biden told the media that the NSPL2 would be put on hold if Russia transgressed its responsibilities.
Vinnytsia. Warehouses of the Ukrainian Armed Forces . #Ukraine #Russia pic.twitter.com/9LXOAjHVIb

— Ω (@W4RW4ATCHER) February 24, 2022
Evidently, there were backroom discussions on graduated responses to Russian moves, including sanctions. In this NSPL2 plays an important role. The Russian recognition of Ukrainian provinces as independent led to an immediate German halt of the certification process. Thus, the operationalization of the NSPL2 has been delayed from 2022 to at least 2023.
What Is Nord Stream-2 Pipeline
The NSPL2 is a parallel line to the NSPL1, laid in 2011. The 1222-kilometer NSPL1 carries 55 billion cubic meters and became a major supplier of Russian gas to Germany and Europe. NSPL2 was constructed in 2018- 2021, It will double the capacity to 110 billion cubic meters.
NSPL2 is 50% owned by the Russian Gazprom. BASF Wintershall,  PEG Infrastructure AG, a subsidiary of E.ON Beteiligungen,,  N.V. Nederlandse Gasunie and Engie invested in the 1230-kilometer pipeline which costs about Euro 9.5 billion. NSPL runs through the EEZ of Finland, Estonia, and Sweden.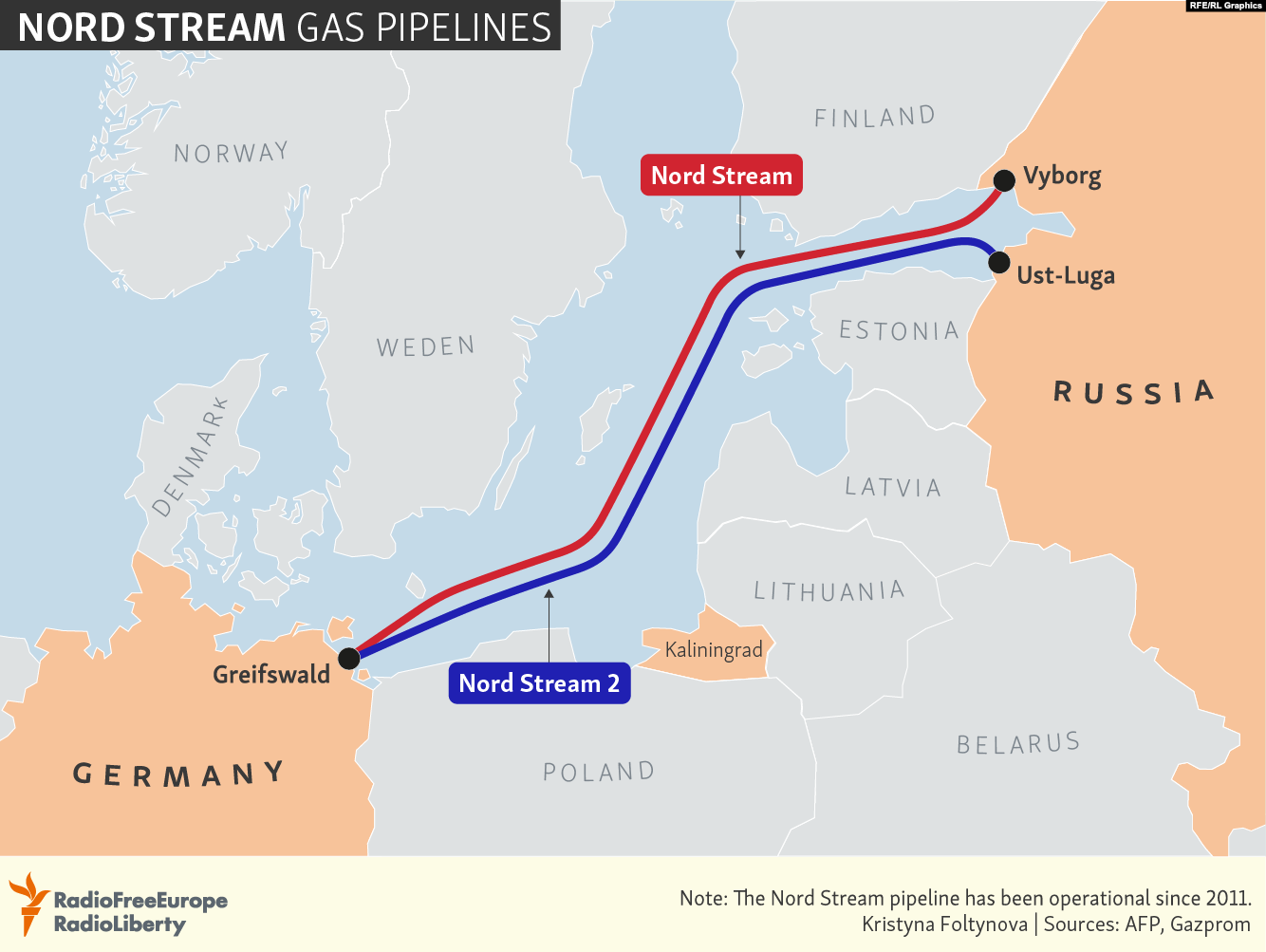 Till August 2021, the Russian and German Foreign Ministers agreed the pipeline would reach fruition despite US objections. The German Green Party urged Chancellor Merkel to withdraw from NSPL2 as they believe that the pipeline counters the objectives of the European Energy Union and increases Europe's energy dependency on Russia, providing it an unnecessary strategic advantage.
Other politicians including from within Merkel's CDU had also opposed NSPL2, but the reasoning was always based on Russia's political actions. As finance minister Olaf Scholz tried to enhance the NSPL2 prospects by offering to US Treasury Secretary Minuchin two new LNG terminals built for imports of US natural gas provided the US spared NSPL2 from sanctions which impacted Gazprom. The difference in approach between geopolitics and geo-economics stems from the dependence of Europe and Germany on imported energy.
EU A Major Energy Importer
60% of EU's energy is in 2020 was imported. Germany's import dependency was higher at 63.7%. In the integrated European energy market, the importance of a country-based analysis of import dependence would be reduced and a European focus will emerge. However, nuances remain.
In 2021, energy prices in Europe increased with increasing demand, particularly for natural gas. In the post-pandemic period, this gained importance. Russia's geopolitical antics created problems for Europe, as stability as a gas exporter was in question.
There is anticipation that the rapid emergence of renewable energy in Europe could alter the nature of energy requirements and rebalance the import dependency and consequently, the geopolitics of energy imports. However, this is evidently some time away.
Even if a transition to green fuels takes place, Germany will remain a major importer of green fuels be they hydrogen, methane, or synthetic petrol.
Its capacity for generating renewables within Germany and converting them to fuel is still limited. 60% of the EU's energy is still imported. 66% of energy imports were petroleum products in 2020 with gas and coal at 25% and 5%, respectively.
What is significant is that Russia was the main non-EU supplier in all three sectors, providing 26% of the EU's petroleum 44% of its gas, and 54% of solid fossil fuel imports.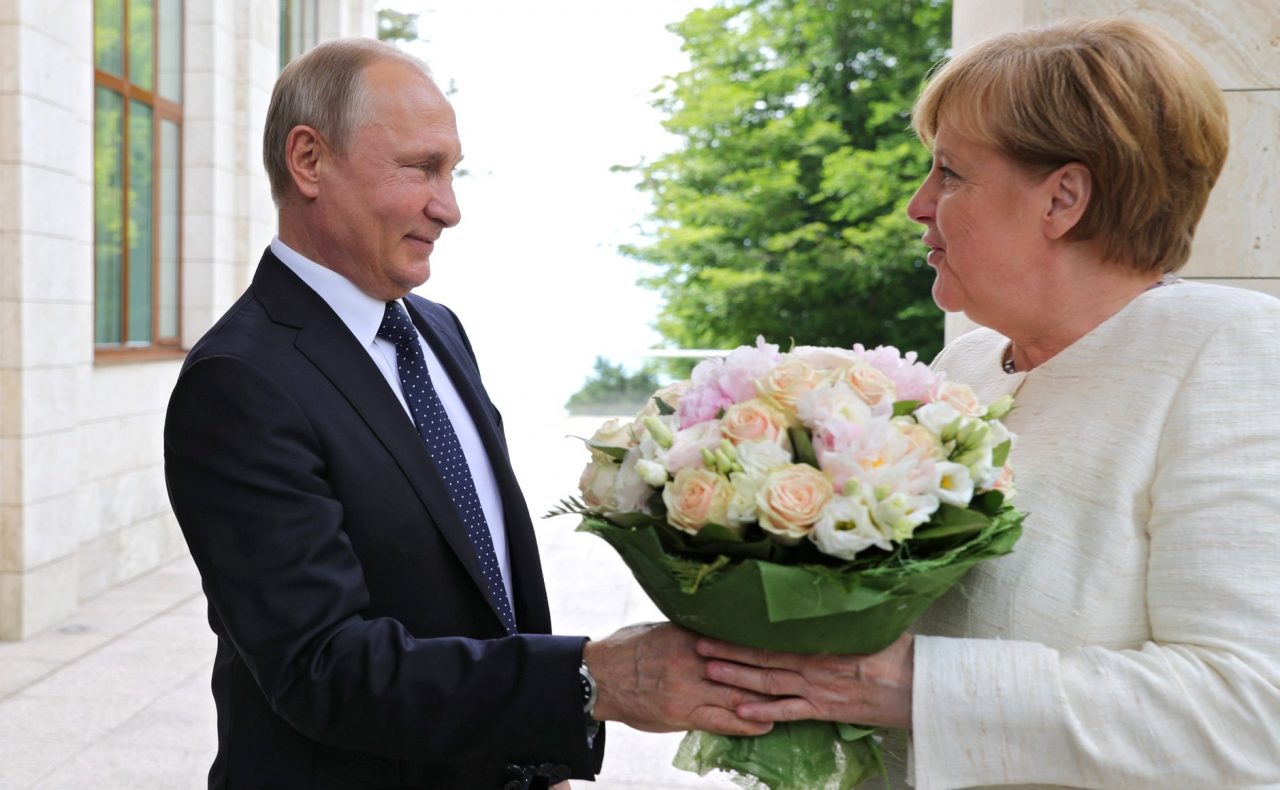 Last year, Germany imported 32% of petroleum for primary energy use for the transportation sector. Russia supplied 34% of this to Germany. 25% of Germany's energy imports were gas and it is among the globe's largest consumers.
His domestic gas fields are almost depleted. Since 2016, the Federal Office for economic affairs and export control has stopped publishing country WISE data of imports. But Russia and Norway remain major exporters of gas to Germany in 2015 35%, or Germany's gas came from Russia.
Currently gas from Russia comprises over 40% of Germany's imports. Germany has exclusive pipelines even before NSPL2. Germany has no infrastructure for the direct import and processing of LNG.
Why Germany Desperately Needs Gas
Gas is seen as part of a low carbon economy and will allow Germany to meet its climate goals by 2025 faster. Russian gas helps Germany's planned exit from nuclear and coal power generation.
Germany is keen on NSPL2 because it removes transit fees as it bypasses Ukraine and Poland to whom operating costs are paid as they maintain the compressor stations. Ukraine was getting close to $720 million per annum from overland pipelines. NSPL2 can deprive Ukraine of $3 billion per annum in transit fees.
Gazprom indicated that 20 billion cubic meters of gas will be transported by avoiding Ukraine and using NSPL2. NSPL2 is suspended, but Russian gas flows over the overland pipeline through Ukraine; it means Ukraine will get financial sustenance and will not be choked immediately.
The issue of Russian gas and European and German dependence on it also means that Russia could choke these supplies, raise prices, and disrupt the gas market as it wished.
The German belief is the pipelines over Ukraine, and subsequently, NSPL, would create a matrix of a cooperative partnership with Russia, which gave them economic benefits. While Russia could have an advantage in suppressing supplies, the stability of such supplies would, in the German view, give them a sense of responsibility towards a cooperative relationship with Europe.
Evidently, this idea has not succeeded. Despite Germany and France in particular, pushing the Minsk agreements and the Normandy process to engage Russia outside the domain of the US, Russia has still gone ahead and poked them in the eye on Ukraine. Russian gas is now be seen as a strategic geopolitical asset rather than an economic issue.
Impacts Of NSPL2 Suspension
In May 2021, 75% of Germans were found to be in favor of NSPL2, and only 17% opposed it in a survey. What was significant was that the Greens had a 69% support of NSPL2, the ruling SPD had 75% the CDU 81% and the FDP 82%.
This was when in a post-Merkel scenario, Germany wanted to have an independent strategic autonomy based on its independent relations with China and Russia.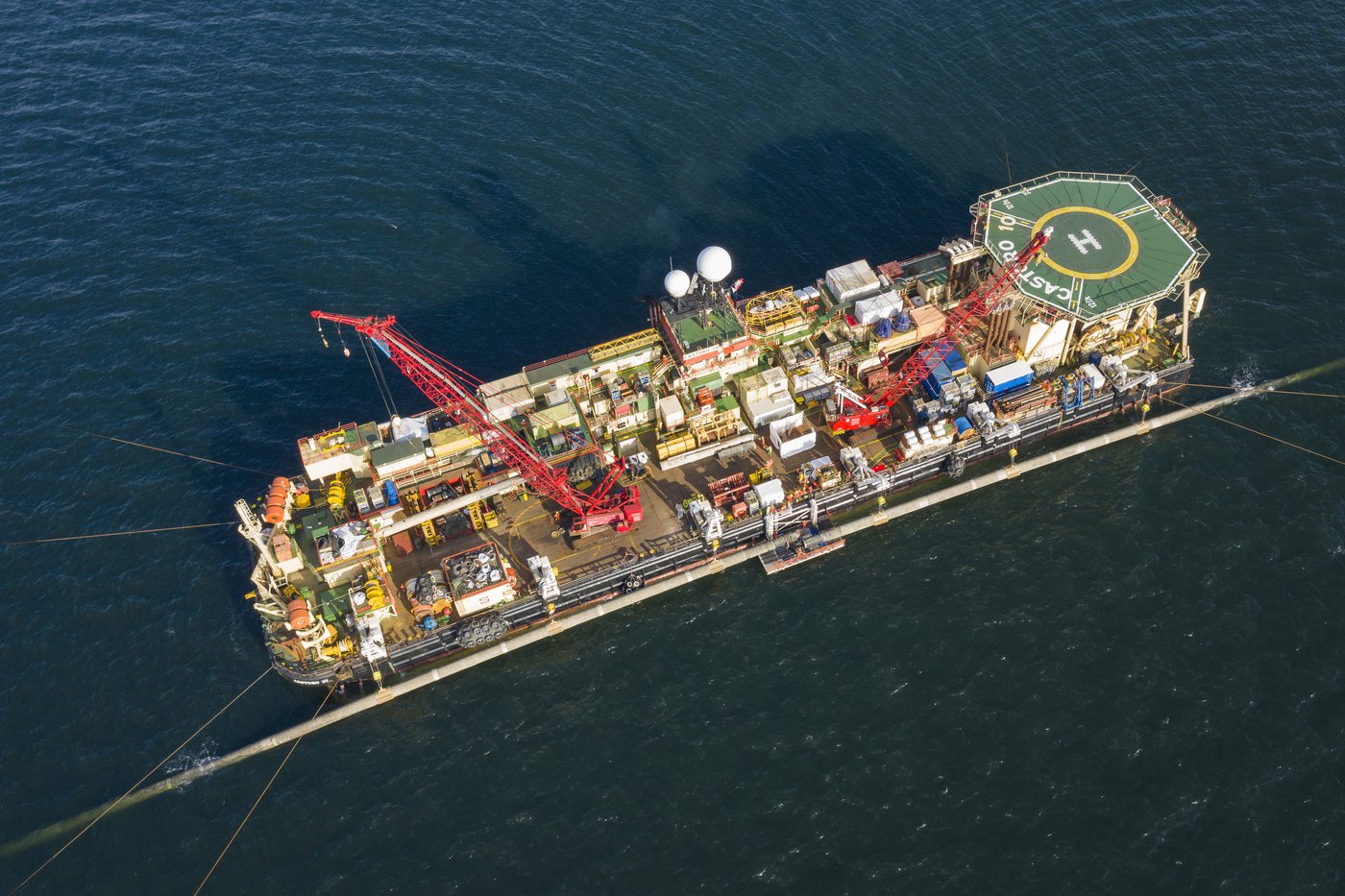 In the dismal reality today, NSPL2, could unite energy supply to Europe but divide Europe politically. It is important that the NSPL2 suspension may be seen as that. The pipeline is already constructed and large amounts of investment have gone into it.
It will impact the fate of Gazprom which has 50% investment and has suffered from sanctions by the US which are now further tightened by several European countries. NSPL2 may not start again soon, but there does not seem to be an effort to curtail NSPL1 or the existing pipeline overland, like the Yamal Europe 4000 kilometers pipeline.
Europe is a major market for Gazprom. Revenue supports the Russian budget. Europe requires gas because it's replacing polluting options before renewable energy sources are sufficiently developed. Germany will need to strategize how to deal with a Russia that is seeking to reorder European security and use its market access more effectively.
(The author is the former Ambassador to Germany, Indonesia, Ethiopia, ASEAN and the African Union. He is the Chair, CII Task Force on Trilateral Cooperation in Africa, and a Professor, IIT Indore.)