After the United Arab Emirates (UAE), Bahrain and Sudan agreed to normalize their relations with long-standing enemy, Israel, through a peace deal brokered by the United States, is Saudi Arabia next in line?
UAE Visa Ban Starts To Pinch Pakistan; 3000 Jobs Lost In First Week As Indian Workers Rejoice
In a secret meeting on November 22, Israeli Prime Minister Benjamin Netanyahu met Saudi Crown Prince Mohammed bin Salman (MBS) and US Secretary of State Mike Pompeo in Saudi Arabia, the Israeli media reported. Israeli Education Minister Yoav Gallant confirmed the reports of the meeting and called it an "amazing achievement".
"The very fact the meeting happened and was outed publicly, even if half-officially right now, is a matter of great importance," Gallant told Army Radio. 
However, Saudi Arabia Foreign Minister Faisal bin Farhan al-Saud said in a tweet that no such meeting happened and denied the presence of any Israeli official during Pompeo's visit.
I have seen press reports about a purported meeting between HRH the Crown Prince and Israeli officials during the recent visit by @SecPompeo. No such meeting occurred. The only officials present were American and Saudi.

— فيصل بن فرحان (@FaisalbinFarhan) November 23, 2020
While there is no official confirmation of a peace deal to be signed between Saudi Arabia and Israel, there has been speculation that the deal may be signed in the near future. 
In September, Riyadh allowed all flights to and from Israel to use the kingdom's airspace after the UAE requested to Saudi Arabia's aviation authority following the landmark peace deal.
However, Channel 12 News quoted a "senior Israeli source" as saying that the "flights from Israel's national carrier El Al will not overfly Saudi Arabia in the near future," according to The Times of Israel.
While the source confirmed Prime Minister Benjamin Netanyahu and Saudi Arabia's Crown Prince Mohammed bin Salman had a "very warm meeting", he said that "Israel understands that there will not be a breakthrough with the Saudis in the near future" because King Salman "takes a diametrically opposite stance." The "progress will only be possible after King Salman has gone." 
There have been reports of a split between the Saudi Arabia royal family as King Salman remains firm on his stance of the boycott of Israel unless Palestinians receive a separate state. However, the crown prince is in favor of normalizing the kingdom's relations with Israel, said a report in the Wall Street Journal.
Before the peace deal signed by the UAE, Sudan and Bahrain, no Arab country except Egypt and Jordan had any formal ties with Israel. Others have been reluctant to accept Israel unless a two-state solution is reached.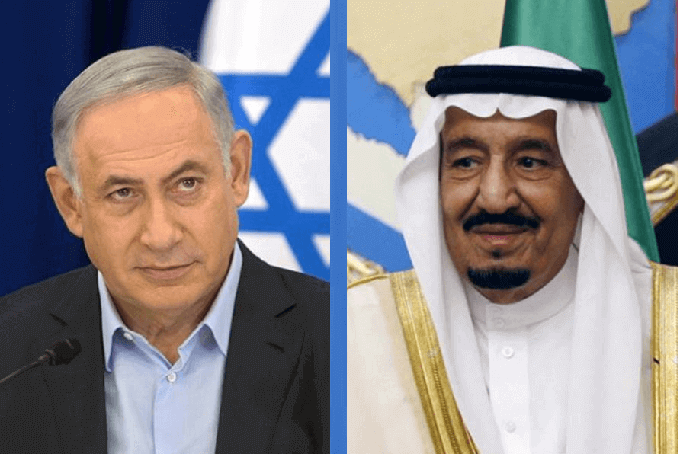 Palestinian leaders have also rejected the peace deal. "The Palestinian leadership rejects and denounces the UAE, Israeli and US trilateral, surprising announcement," said Nabil Abu Rudeineh, a Palestinian politician, adding that the peace deal is s "betrayal of Jerusalem, Al-Aqsa and the Palestinian cause."
On the other hand, former Saudi intelligence chief and longtime ambassador to Washington, Prince Bandar Bin Sultan al-Saud in an interview with Al Arabiya, raised the possibility of the normalization of ties between the kingdom and the Jewish state. He criticized the Palestinian leaders saying that their "reprehensible discourse is entirely unacceptable."
"This low level of discourse is not what we expect from officials who seek to gain global support for their cause," he had said during the interview. "The Palestinian cause is a just cause, but its advocates are failures and the Israeli cause is unjust, but its advocates have proven to be successful."
The Channel 9 source also said that while there may be no breakthrough in normalizing relations between Saudi Arabia and Israel, the "cooperation against the joint enemy Iran" and the bilateral trade will grow. Despite, having no formal relations, concerns about their common foe, Iran, have managed to bring them together.
"It's Iran, Iran, Iran," Israeli cabinet minister Tzachi Hanegbi told Israel's Army Radio on being asked about the secret meeting. "It is very, very important to create the axis which isolates Iran."