The  5.6-magnitude earthquake which jolted Pakistan-administered Kashmir(PaK) has left at least 30 people dead and over 350 wounded, according to disaster management officials of Pakistan. The toll figure is expected to go-up as per reports from the National Disaster Management Authority of Pakistan.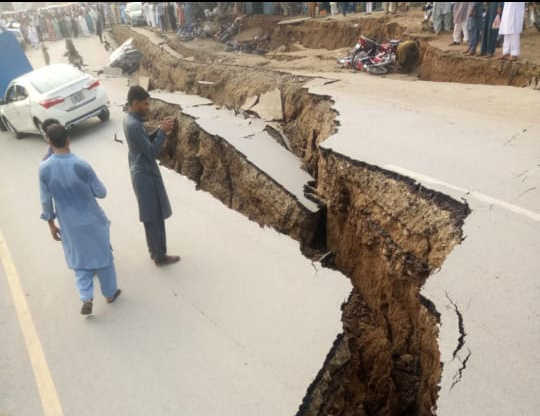 Kashmir Is The Biggest Prison Cell On Planet; UN Must Launch International Probe – Pakistan
Pakistan straddles a part of the boundary where the Indian and Eurasian tectonic plates meet, making the country susceptible to earthquakes.
In October 2015, a 7.5-magnitude quake in Pakistan and Afghanistan killed almost 400 people, flattening buildings in rugged terrain that impeded relief efforts. Pakistan was also hit by a 7.6-magnitude quake on October 8, 2005, that killed more than 73,000 people and left about 3.5 million homeless, mainly in PaK.
The epicenter of the earthquake, which occurred at around 4 pm at a depth of only 10 kilometers, was near Mirpur city in PaK, roughly 20 kilometers north of Jhelum in Punjab, according to the US Geological Survey.
The areas worst hit were Mirpur city, a small town Jatlan and two villages Manda and Afzalpur, where buildings and homes collapsed, trees were uprooted and cracks appeared on roads large enough to swallow cars.
"Thirty people have died and over 370 others have suffered injuries," Azad Jammu and Kashmir (AJK) State Disaster Management Authority (SDMA) Secretary Shahid Mohyiddin said. "Eleven deaths have been reported in Jatlan and nine in Mirpur alone," he added. Other people died in the areas located between Mirpur and Jari Kas."
The SDMA official said the number of casualties was likely to increase as around 100 of the injured were admitted to different hospitals in a critical condition.
Ramzan Ahmad, 65, who suffered a head injury and bleeding nose, said he was with his family of seven when his house collapsed. "We all got injuries," he said. "I saw dozens of houses razed on my way to the hospital."
Naeem Chughtai, a Mirpur resident living near the city's main hospital, told AFP that area's infrastructure, including roads, mobile phone towers, and electricity poles, had been badly damaged by the quake.
According to reports, a breach in the Upper Jhelum Canal caused by the earthquake inundated a number of villages along the Jatlan Road, around 140 kilometers south of Islamabad. The earthquake also damaged two pedestrian bridges over the canal, making it difficult for the locals to cross over.
Wide ruptures appeared on roads in Jatlan, plunging several vehicles on the road into the fissures, while large cracks appeared in the adjoining fields. Many vehicles also fell into the canal. Many people were injured when a building collapsed in Mirpur and shifted to a nearby hospital, the city's deputy commissioner told reporters.
"Various government departments, relief organisations and people from the adjoining areas of Bhimber, Kotli, and Dina in Jhelum have started rescue and relief activities in affected places," said Sajid Dilawar, the manager of the Kashmir Relief Trust.
"But there is not enough heavy machinery and that is hampering rescue operations," he added.
Army chief General Qamar Javed Bajwa has directed the armed forces to begin urgent rescue and relief efforts in the quake-hit areas, according to Inter-Services Public Relations (ISPR), the military's media wing.
In an update issued later in the day, the ISPR said the damage assessment based on the aerial and initial physical survey had been completed. Quoting the civil administration's record, the military's media wing placed the death toll at 22 and the number of the people injured at 160. It added that an army soldier was among the casualties.
"Three communication bridges near Jatlan have been damaged and the Jatlan-Mangla has become unusable. Medium to minor damages to weak/old structures in Mirpur, Jatlan and Jari Kas have been observed," it noted.
"Army teams are continuing rescue and relief efforts in coordination with other stakeholders. Teams of army engineers with equipment are undertaking immediate repair work on Jatlan- Mangla Road and the bridges in Jatlan. Doctors and paramedics are providing necessary medical care. Rescue efforts will continue through the night."
National Disaster Management Authority (NDMA) Chairman Lt Gen Mohammad Afzal said at a briefing in Islamabad that trucks loaded with relief items, including 200 tents, 800 blankets, 200 kitchen sets, and 100 medical kits would reach the people affected by the earthquake soon.
"The NDMA is already providing medicines, food items and tents, which were in its stock in the affected areas, to the victims," he added.
"The AJK / PaK State Disaster Management Authority teams were the first to reach the affected areas while teams of other rescue institutions, engineers of the Pakistan Army and the NDMA, have also arrived there to take part in the rescue operation."
Prime Minister Imran Khan has directed all departments concerned to provide immediate assistance in carrying out relief activities in the quake-hit areas.