Pakistan 'Furious' With India Over Construction Of Hindu Temple At Babri Masjid Site
Pakistan continues to attack India left, right and centre and Babri Masjid is the latest issue to join the growing list of concerns that Islamabad is not happy about. 
While ? is grappling with unprecedented #COVID19, RSS-BJP combine is busy unabashedly advancing "Hindutva" agenda. The commencement of construction of a Mandir at the site of Babri Masjid is another step in this direction & Govt & people of ?? condemn it in the strongest terms. pic.twitter.com/1V4iWW7tvi

— Spokesperson ?? MoFA (@ForeignOfficePk) May 27, 2020
Denouncing the construction at Babri Masjid site, Pakistan Foreign Office spokesperson said while the world is fighting with COVID-19, the RSS-BJP due in India are busy with promoting the "Hindutva" agenda.
The Pakistan FO said that the construction of a Hindu Temple at the site of the historic Babri Masjid is another regrettable and people of Pakistan denounce it in the strongest way.
The FO statement noted that the work of the Temple construction is a continuation of the contentious judgment given by the Indian Supreme Court on 9 November 2019, which totally failed to uphold the demands of justice.
The Supreme Court's ruling destroyed the fabric of so-called 'secularism' of India by confirming that minorities are not safe in India and that they have to worry for their lives, religion and places of worship.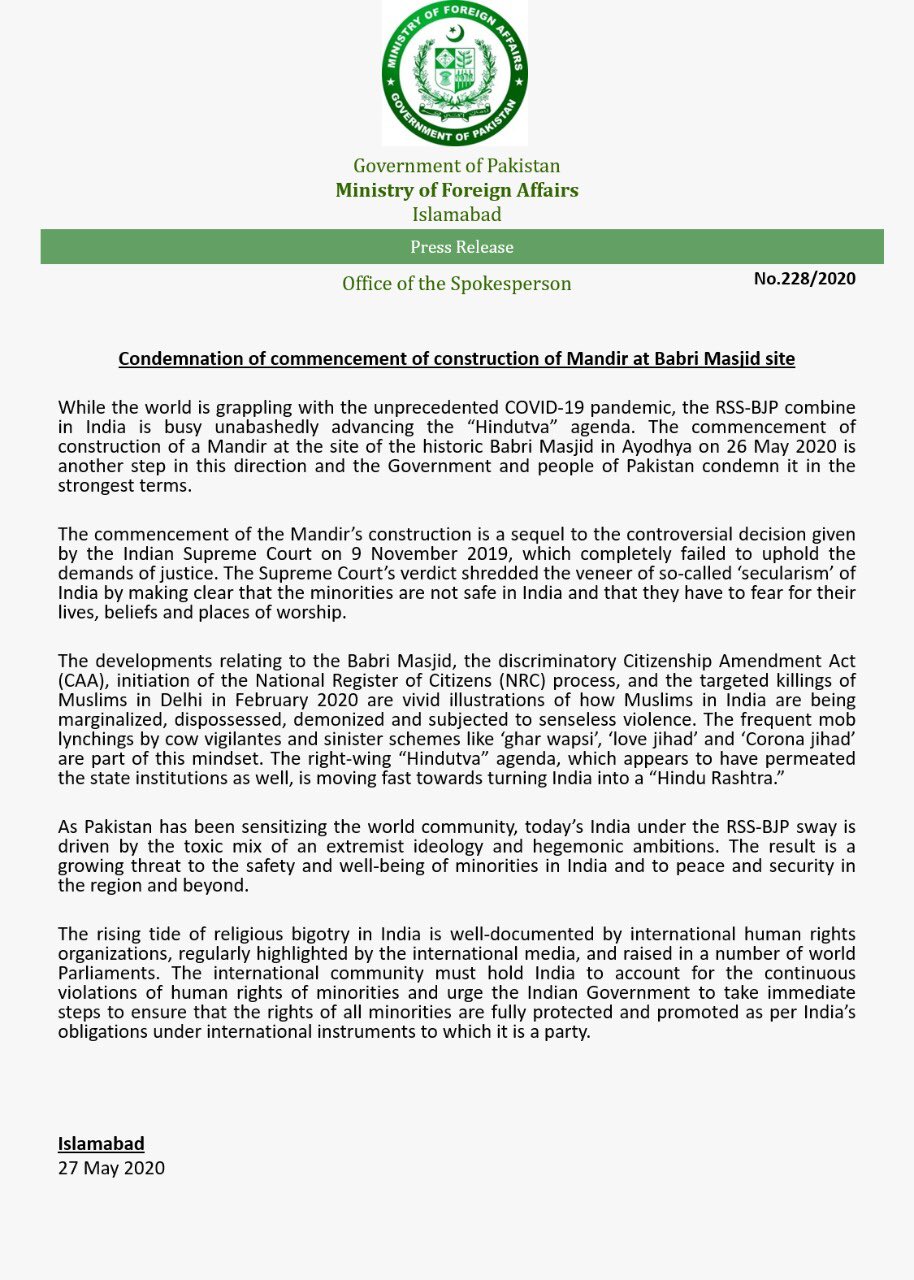 The spokesperson added the developments relating to the Babri Masjid, the Citizenship Amendment Act, initiation of the National Register of Citizens process, and the slaying of Muslims in Delhi are clear instances of how Muslims in India are being marginalized, dispossessed, demonized and subjected to pointless violence.
The now-common mob lynching and wicked schemes like 'ghar wapsi', 'love jihad' and 'Corona jihad' are part of this evil design. The right-wing "Hindutva" agenda, which appears to have penetrated the government as well, is moving fast towards transforming India into a "Hindu Rashtra (Hindu Nation)."
The FO further added that the increasing tide of religious fascism in India is well-documented by global human rights watchdogs, frequently covered by the foreign media, and raised in a number of world Parliaments.
China Must Stay Vigilant, Prepare For Retaliatory Attacks From Indian Troops Despite Peace Talks – Chinese Experts
India-China peace initiative might have cooled the matter but not really diffused the tensions. China has to stay vigilant and prepare for reckless attacks from the Indian side, especially after reports that India has changed its rules of engagement in the border area – Experts
As the India-China border dispute is being gradually resolved, Governments of both India and China have issued official statements on the disengagement process. Despite the peace initiatives, Chinese Experts say that they are uncertain for how long the India-China peace deal will hold. 
India-China Peace Talks – Read The 'Official Statements' Of Indian & Chinese Govt On Disengagement
As per the editorial in Chinese state mouthpiece, Global Times (GT), it is still unclear how India's rising nationalism affect the two countries. "Taking a step back does not represent a weak concession on the part of China – it is for the consideration of the big picture," said Song Zhongping, a military expert and TV commentator.
He further said that some forces in India have long wanted to boycott "Made in China" products, but couldn't find an excuse to do so. Thus, they are taking advantage of the tensions on the border, hyping the "China threat" theory and boycotting Chinese products.
Despite Chest Thumping, India Could Take Years To Reduce Economic Dependence On China – US Experts
Moreover, another expert interviewed by GT, Lan Jianxue, deputy director of the Department for Asia-Pacific Studies at the China Institute of International Studies, states that New Delhi has made efforts to expand its divergence with Beijing.
It has upgraded border confrontations and is now trying to antagonize other dimensions of bilateral relations which work as a block to ease the tense border disputes.
As reported earlier by EurAsian Times, India and China saw the worst face off in the last 45 years on the border. After the troops of the two neighbouring countries clashed on the LAC in the Galwan valley leaving 20 Indian troops dead and an unknown number of Chinese casualties.
Hong Kong Today, Taiwan Tomorrow – Hong Kong's Security Law Could Be China's Blueprint For 'Taiwan Problem'
The efforts to defuse border tensions were somewhat resolved after a telephonic conversation between India's National Security Advisor Ajit Doval and China's Foreign Minister Wang Yi.
Jianxue also stated that the Indian "nationalistic forces" are trying to influence the military and economy against China. However, undermining India's military and industrial capabilities, he said that India doesn't "have the ability to actually confront China".
Zhongping takes the criticism a step further saying that the rising nationalism has led to building "blind confidence in the military" resulting in countries supplying India with various weapons. "But this is limited to selling weapons, not technology transfer. These gestures won't help India improve its military capabilities," he said.
India, Philippine Ready To Work Together In The South China Sea To Check Chinese Belligerence
On one hand, Zhongping's words display provocation even when the diplomacy and military channels are working to disengage on the LAC, Jianxue's words reflect more subtlety and confidence. He states that instead of launching a war of words with India, China should maintain peace along the LAC.
"China should also agree to total de-escalation for peace and tranquillity along the LAC," he said. "In the meantime, China has to stay vigilant and prepare for the potential reckless attacks from the Indian side, especially after reports that India has changed its rules of engagement in the border area," he added.
Jianxue's concluded saying that both countries have always managed to resolve these incidents through dialogue on the ground as well as through diplomatic channels. "This shows that India and China are both mature countries, capable of peacefully resolving our differences," he said.
Afghanistan, Pakistan, China Hold Trilateral Meet; Keen To Commence Intra-Afghan Talks
Afghanistan, Pakistan and China held a trilateral virtual meeting and Pakistani and Chinese officials again urged the Taliban to decrease violence so that intra-Afghan talks could be initiated, Tolo News quoted the Afghan Ministry of Foreign Affairs.
India-China Peace Talks – Read The 'Official Statements' Of Indian & Chinese Govt On Disengagement
"On July 7, 2020, the 3rd round China-Afghanistan-Pakistan Trilateral Vice Foreign Ministers' Strategic Dialogue was held via video link. Chinese Vice Foreign Minister Luo Zhaohui, Afghan Deputy Foreign Minister Mirwais Nab and Pakistan's Foreign Secretary Sohail Mahmood co-chaired the dialogue," Foreign Ministry said in a statement.
According to the statement, Afghanistan, Pakistan and China held comprehensive discussions and agreed to collaborate against COVID-19, the Afghan peace talks and trilateral cooperation.
The statement also reads – China and Pakistan praised the efforts by the Afghanistan government and relevant parties in facilitating the exchange of the prisoners to pave the way for the start of the Intra-Afghan Negotiations and call for violence reduction and humanitarian ceasefire.
China and Pakistan will improve cooperation with the Afghan government in support of the "Afghan-led, Afghan-owned" peace reconciliation process, the launch of Intra-Afghan Negotiations at an early date, support the preservation of the gains since 2001, and looked forward to the early restoration of peace and stability in Afghanistan."
"Afghanistan and Pakistan agreed to further strengthen dialogue and work for continuous improvement of bilateral relations including through the effective implementation of the Afghanistan-Pakistan Action Plan for Peace and Solidarity (APAPPS). China will continue to play a constructive role in improving Afghanistan-Pakistan relations," the statement said.
"The Afghan government should release the Taliban prisoners based on the peace agreement and avoid sabotaging the peace process," said Sayed Akbar Agha, a former Taliban commander.
The Afghan government expects that the intra-Afghan talks can soon, but sources close to the Taliban have said that they do not see the possibility for talks unless the Afghan government guarantees the release of remaining 5,000 prisoners a per the pact signed between the US and the Taliban.
"With consideration of the measures taken by the Afghan government, the hope is that these talks start during July," said Geran Hewad, a spokesman for the Ministry of Foreign Affairs. 
Despite Chest Thumping, India Could Take Years To Reduce Economic Dependence On China – US Experts
Bilateral trade between India and China was estimated at $88 billion in the 2018-19 fiscal year, but India recorded a massive $53.5 billion deficit with China — the biggest trade deficit India has with any nation.
Anti-China sentiments in India are at an all-time high. Recently India banned 59 Chinese-owned apps, including TikTok, while Chinese firms are being obstructed from participating in highway and other major tenders and projects. 
Has China Really Withdrawn Soldiers From Galwan Valley – Chinese FM Responds
The Indian hotel industry group also issued a blanket ban on Chinese tourists. "In view of the nefarious activities of China, it has been decided that no Chinese will be accommodated in Delhi's hotels and guest houses from now onwards," the Delhi Hotel and Restaurant Owners Association said in a statement in late June.
Reports suggest that goods from China are being delayed at Indian ports, and the Indian government are planning to impose higher tariffs and rigorous quality controls on shipments.
"Trade frictions, even symbolic ones, are obviously bad for business," Pravin Krishna, professor of International Economics and Business at Johns Hopkins University, told DW. "As of now, it is not quite clear which goods are being held up at the ports and what the extent of the delay is.
The exact impact on businesses will clearly depend on their inventory positions and so on and this will vary quite widely across sectors and firms," he said. "I imagine most businesses can manage delays, but perhaps not complete blockades."
Bilateral trade between India and China was estimated at $88 billion in the 2018-19 fiscal year, but India recorded a massive $53.5 billion deficit with China — the biggest trade deficit India has with any nation.
China is also India's biggest source of imports and exports more than 3,000 products to India at very competitive prices. Moreover, India has become a major destination for Chinese investment with key Indian startups like Zomato, Paytm having received millions of dollars' worth of funding from China.
The total planned and current Chinese investments in India are estimated to be about $26 billion, according to the US think tank Brookings. Experts say – there is no easy pathway for India to reduce its current dependence on China and decoupling from China will be a slow, gradual process.
Observers believe that a trade conflict will likely be costly for both sides, especially given the timing of the current tensions. Both India and China have already been hit hard by the COVID-19 pandemic, which has created massive challenges for both the governments.
Their economies are undergoing a sharp devaluation. In India's case, the rigorous lockdown has resulted in severe economic losses and the International Monetary Fund (IMF) now expects India's GDP to shrink 4.5% this year.
To counter the economic collapse, Indian PM Narendra Modi launched "Atmanirbhar Bharat," a campaign for a self-reliant India that aids businesses to make products in the country instead of relying on imports. This is in addition to the "Make in India" initiative.
Sumit Ganguly, professor of Political Science at the Indiana University Bloomington told DW – "Frankly, I think it amounts to foolish, anachronistic and pointless sloganeering," adding that this is a "populist cry" and "will amount to little or nothing." "The initial emphasis on self-reliance was coupled with rampant protectionism and had terrible consequences for Indian industry not to mention the hapless consumer," he argued.
After India gained independence, import substitution industrialization, a policy centring on displacing imported goods with domestically produced ones, was the guiding principle of economic experts in the country.
Successive Indian governments from 1947 to 1991 followed this inward-looking model of economic development, but it chained private organizations and eventually proved disastrous in turning India into an industrial and economic power.
As a balance of payments crisis in 1991 pushed New Delhi on the verge of bankruptcy and the Indian government was compelled to introduce significant reforms and liberalize the economy.
If 'self-reliance' is merely an appeal to organizations to become more resourceful — that is fine," Krishna said. On the other hand, if it is an appeal for import substitution, I would be worried: India's experience with this in the past has been calamitous.
"Regarding the dispute with China, I sincerely hope it is not used as a pretext for a generalized return to protectionism."
Via: DW May Not Reflect The Views Of The EurAsian Times