The ninth most-followed leader on Twitter with over 12 million followers, Pakistan Prime Minister Imran Khan, does not follow anyone on the microblogging site.
Watch: Is China Selling A 'Replica' Of Mahindra SUVs – Thar & Bolero In Pakistan?
Khan has unfollowed all the 12 Twitter accounts that he was following earlier. The PM used to follow Foreign Minister Shah Mahmood Qureshi, Education Minister Shafqat Mahmood, Human Rights Minister Shireen Mazari, Planning Minister Asad Umar, estranged PTI leader Jahangir Khan Tareen, and late Naeemul Haque, according to news website The Current.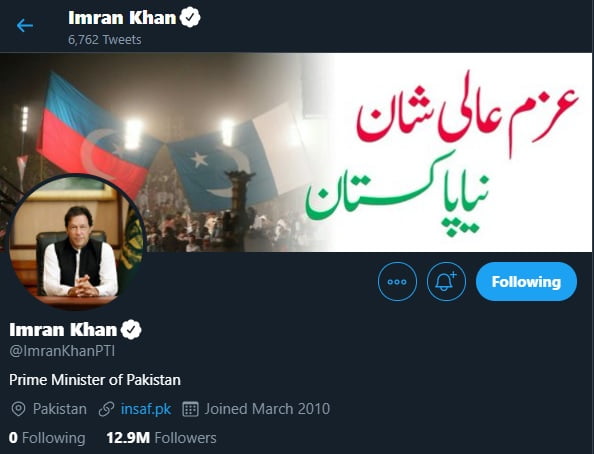 He was also following organizations that he had founded, i.e. Shaukat Khanum Memorial Hospital and Namal University. Even after parting ways with his first wife and getting married after the divorce, he was following ex-wife Jemima Goldsmith on Twitter. It's hard to figure out what made Khan change his mind and stopped following the 12 accounts but members of the Twitterati have their own take as they trolled the prime minister.
They are asking: "Khan sahab, what is this behavior?" or "Khan sab ab bare bande hogae hain (Khan is a big man now)". Some mocked him for taking the celebrity feel by unfollowing everyone.
Lol Khan saab what is this behavior?

— aymen (@vlonenokia) December 7, 2020
Khan sab ab bare bande ho gaie hain

— ejaz gul (@ejazgul) December 7, 2020
celebrity ban'ne ka shoq

— ❄️ (@brownienew) December 7, 2020
Some netizens are speculating that Khan is following in Nawaz Sharif's footsteps. He probably stumbled upon Sharif's timeline, saw he is not following anyone, and decided to copy him by unfollowing the accounts he was following.
Imran Khan visited Nawaz Sharif's @NawazSharifMNS twitter timeline, realised NS does not follow anybody. Got angry that this might reflect poorly on him. Went back to his own timeline and unfollowed all his MNAs and ex-wife. ???

— A.Kiyani (@Andromeda_JY) December 7, 2020
There are some Pakistani netizens who are also encouraging his 12.9 million followers to unfollow him on the social media platform to make him feel what it feels like to be unfollowed. He is also being called a "narcissist" for such behavior.
Would be amazing if all those follows him will unfollow him and see how does it feel like , I don't know about others but Friday onwards I'm unfollowing Imran Khan , the man who has no respect for his own ppl wouldn't have respect for public – #letsunfollowimrankhan new trend

— Abbasi (@abbasi76pak) December 7, 2020
Everybody knew the narcissism of @ImranKhanPTI but today he has just proved the same by unfollowing all. The message is loud snd clear. I know it all. You follow me. I follow no one.

— Murtaza Solangi (@murtazasolangi) December 7, 2020
Mocking the Prime Minister, a Twitter user said that maybe he is now shutting Twitter, Facebook, and YouTube in Pakistan.
But Pakistani netizens are left heart-broken on Khan unfollowing his ex-wife Jemima Goldsmith. They are surprised that Khan unfollowed her. She was called a gem of a person who shouldn't be unfollowed. Jemima continues to enjoy popularity among Pakistanis.
The British TV, film and documentary producer was a journalist when she married Khan, then a cricketer, in 1995.
She had converted to Islam a few months before marrying Khan and shifted to his hometown Lahore. In order to be accepted into the "new and radically different culture" of Pakistan, as she wrote in an article in The Times in 2008, she learned Urdu and wore traditional Pakistani clothes. They have two sons and parted ways in 2010 in a peaceful manner.
Khan Sahb @ImranKhanPTI, if there's one person you must never unfollow… It's Jemima the gem.

— Mariam's Madness (@MaddyForLabour) December 7, 2020
A Twitter user expressed his disappointment over Khan's move to unfollow his ex-wife. He said, "unfollow whoever you want but how could you unfollow Jemima?"
@ImranKhanPTI HOW COULD YOU UNFOLLOW JEMIMA???
How could you do this???
I mean how?
You've disappointed me khan sahab…..
Sab ko karden Beshak unfollow but how could you unfollow Jemima? ???

— Tehreem Shabbir (@TehreemShabbir1) December 7, 2020
Even though @ImranKhanPTI unfollowed everyone but I am sure something inside Jemima just broke. ?

— Shaz Malik (@shaz_Insafiyan) December 7, 2020
On his Instagram profile, Khan only follows two accounts – including the verified accounts of the ruling PTI and the Shaukat Khanum Memorial Cancer Hospital and Research Centre (SKMCH&RC).
In the past, Khan had unfollowed journalist Hamid Mir, presumably due to the criticism of his government by the anchor and his news channel.