Call it apathy or incompetence, Pakistan again uses the wrong photo to express their support for the Kashmir cause. The foreign ministers of India and Pakistan were supposed to meet on the sidelines of the UN General Assembly, but the meeting was cancelled by India due to Pakistan's provocative actions, including the issuance of postal stamps commemorating Kashmiri "icons". Just that, Islamabad again used the wrong picture

The stamps carry 20 different images of what Islamabad calls "atrocities in Indian-occupied Kashmir". They include images of victims of alleged chemical weapons, pellet guns, "police encounters" and "braid chopping", besides other pictures of brutalities by the Indian army.
However, the picture titled "Missing Persons" is actually an image of Kashmiri Pandits protesting against the brutalities of Pakistan and terrorism in Kashmir. The protest was organized by "Roots in Kashmir" demanding a homeland for the minority community who were driven out in 1990 by Islamic fundamentals.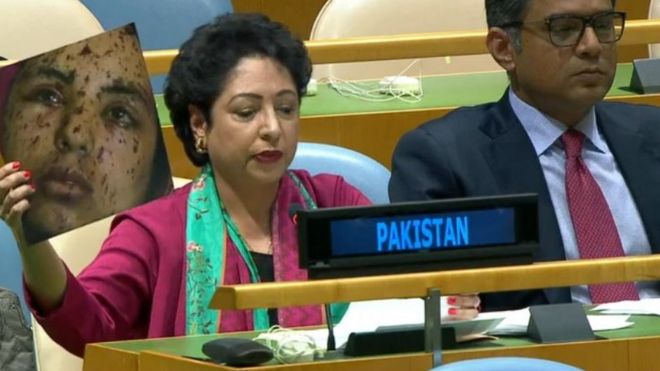 Earlier, India blasted Pakistan for using an image of a Gazan girl at the United Nations to depict Indian violence in Kashmir. Pakistan's Permanent Representative to the UN Maleeha Lodhi held up the photo a Kashmiri teenage girl (actually a girl from Gaza) whose face bore the marks of Indian pellet gun wounds. "This is the face of Indian democracy," she said as she held up the "wrong" picture.
The Exodus of Kashmiri Pandits
According to the Indian government, more than thousands of families are listed as Kashmiri refugees including some Sikh and Muslim families. These families were resettled in Jammu, Delhi-NCR, and other neighbouring states. Only a few hundred families of Kashmiri Pandits continued to live in the Kashmir valley.
The violence further increased after the Exodus of Kashmiri Pandits. The militants destroyed the properties of Kashmiri Pandits after their exodus. Kashmiri Hindus are still fighting for their return to the valley and many of them still live as refugees. They had hoped to return after the situation improved. They have not been able to take such a step as the condition in the Valley remains erratic and they fear a danger to their lives.
More News at EurAsian Times