Pakistan To Dilute COVID-19 Lockdown For Ramadan; Medics Warn Of Catastrophe
Pandemic or no pandemic, Pakistan's hard-line religious clergy have frequently used their influence in the deeply religious country to tow over the country's affairs and this has once again been proven ahead of Ramadan. 
Pakistan Has Become The Epicentre For Spreading Coronavirus To Other Islamic Nations – Israel Media
The Imran-Khan led Pakistan government has caved to the demands of the top clerics who gave a clarion call to faithful to attend Friday prayers in greater numbers during Ramadan.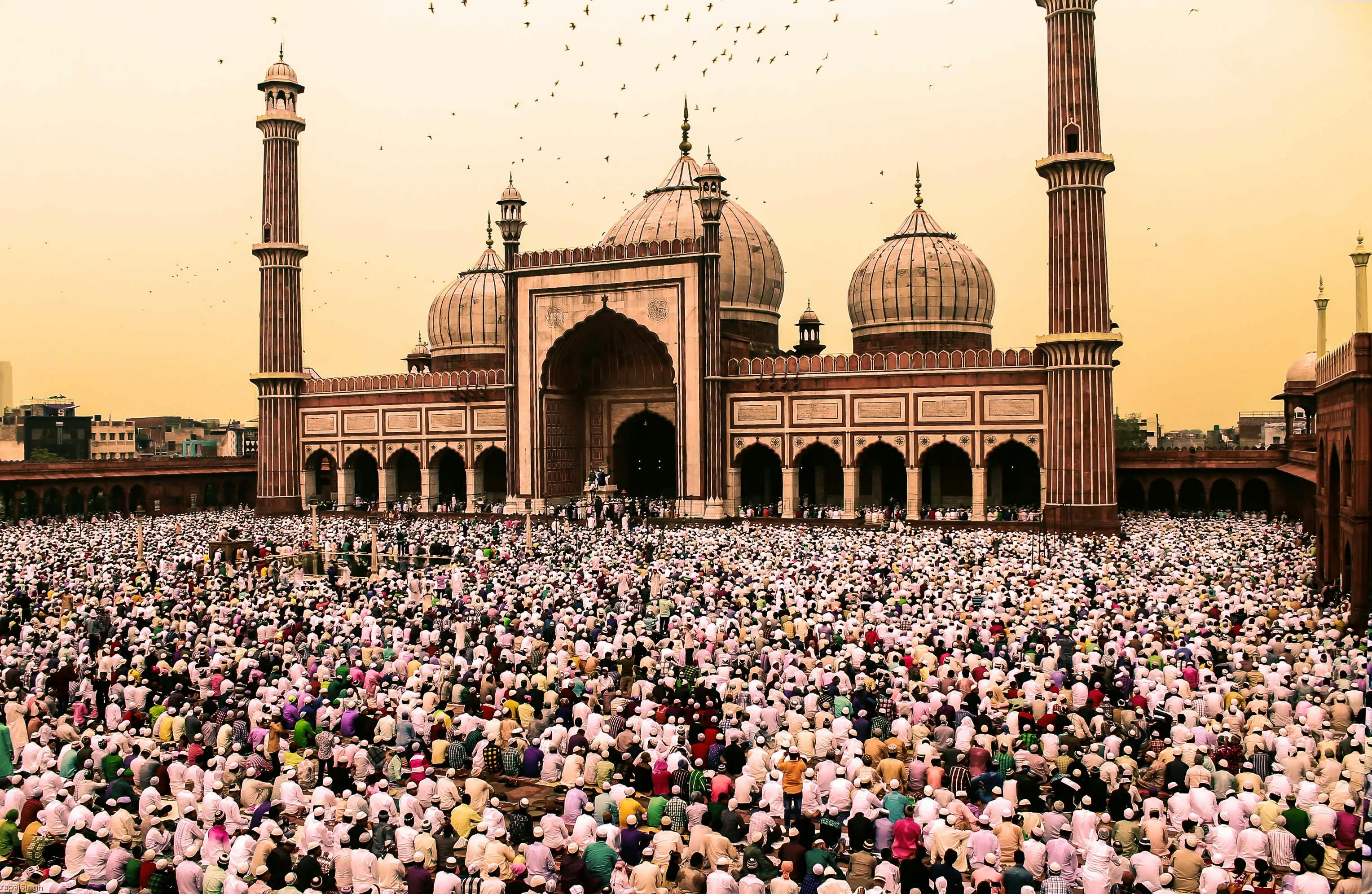 The Pakistani Government who had been able to enforce a lockdown ever so spottily was facing an increasing backlash as Ramadan kept nearing and some of the country's top religious clerics pressurized the Imran Khan government. It was later decided to allow some businesses to reopen amidst the lockdown and growing cases of COVID-19.
As reported by NPR, one of Pakistan's most prominent clerics Mufti Taqi Usmani said, "Muslims must be in the mosques in Ramadan and pray in congregation during this time of trial." Perhaps there, he said, "worshippers may pray to God to end the outbreak that was sent by him."
RAW, ISI Take India-Pakistan Rivalry, Proxy War To Next Level?
Another worshipper Mohammad Zubair questioned the rationale behind the opening of business places and asked if coronavirus was prevalent only in mosques?
The Imran Khan government finally buckled and went back on its own decision to curb religious congregation after various mosques openly defied lockdown measures and several instances of devotees attacking police officers were reported in the country.
With Ramadan Approaching & Covid-19 Looming, Is India Headed Towards Stage-3?
The Imran Khan-led Government issued 20 precautionary measures which included wearing masks, bringing personal prayer mats, prohibiting elderly and vulnerable to the congregation and maintaining social distance among others to be followed during the festival.
This decision came after the Imams demanded that the mosques be exempted from shutdown during the holy month, refusal of which would invite the wrath of God.
Prime Minister Imran Khan said that stopping people from worshipping ad putting them in prison instead was not a sign of a free nation and urged them to pray from home or else follow the safety measures if they want to go to mosques.
Bill Gates Applauds Indian PM Narendra Modi's War On Coronavirus
However, the populist move has not gone down well with the medical community in the country who have raised doubts regarding the effective implementation of the new measures in the light of the half-hearted enforcement of lockdown provisions.
Doctors have urged PM Khan to roll back the new exemption fearing a catastrophic increase in COVID-19 infections.
The medics have warned that high attendance in mosques especially at the time of Ramadan wherein Muslims fast all day and hold feasts with family and friends from sundown are ripe conditions for the virus to spread in a country that has already recorded over 10,000 infections mostly due to religious congregations.
Iran Was Ready To Hit 400 American Targets Had Donald Trump Not Kept His Calm
At a news conference on Wednesday, doctors urged Pakistan Government to reconsider its decision.  One of the doctors to speak at the news conference Saad Niaz warned that ICU beds and isolation facilities in Karachi, Pakistan's largest city, were already at capacity from a recent surge in coronavirus cases, and would be overwhelmed in a few days unless drastic measures were taken.
While countries across the world including Saudi Arabia which has the holiest shrines in Islam have kept mosques shut to prevent further spread of the virus, it seems to have worked exactly opposite in Pakistan.
Israeli Air Force Unveils New 'Special Forces Squadron', Experts Call It Blue Print For Indian Air Force
Could Israel's Revolutionary Air Force Unit become the blueprint for future Indian Air Force (IAF) squadrons? Aviation experts suggest it could happen and much like the Israeli Air Force, it would revolutionize the IAF as well.
Israel's Air Force has unveiled a revolutionary unit which contains all the special forces of the aerial warfare branch, consolidating them under one command.
The 7th Aerial Special Forces Wing will combine all Israeli Air Force's special forces under one command. Aviation experts in India believe that the revolutionary squadron from Israel could become a blueprint for future Indian Air Force (IAF) squadrons.
S-400 vs Rafale: Turkey to deploy Russian S-400 Missile to counter French Rafale Jets
According to an army press release, the 7th Aerial Special Forces Wing was established to meet operational needs and respond to changing and growing threats in the various arenas. The 7th Aerial Special Forces Wing will include search-and-rescue Unit 669, Shaldag commando unit and outfit that builds airfields behind enemy lines.
The move aims "to increase the operational effectiveness of the units. The wing will function as a complementary and unique component to Israeli Air Force activities through special depth, routine and emergency operations."
The Israeli Air Force routinely carries out military operations in the Gaza Strip, typically targeting installations of Hamas, as well as carrying out airstrikes against Iranian targets in Syria, as part of the effort by Israel to ensure Tehran does not expand its military presence in the war-torn country.
The new wing will contain the air force's Unit 669, the elite search-and-rescue group; the Shaldag commando unit; the Frontal Landing Unit, which builds ad hoc landing strips behind enemy lines; a dedicated intelligence unit for the wing; and a special forces school.
IAF Commanding Officer Maj. Gen. Amikam Norkin has hailed the introduction of the 7th Aerial Special Forces Wing and has described it as moving into a new era in the history of Israeli Air Force.  "We are standing on the shoulders of our predecessors, who were courageous and took action, and now we are leading the way."Today we move forward to a new chapter," he said.
The introduction of 7th Aerial Special Forces Wing has generated a buzz amongst aviation experts and enthusiast in India who feel that this squadron could be the blueprint for future IAF squadrons.
Surrounded by adversaries Pakistan and China, IAF is looking to increase its squadrons from 28 to 40. An IAF squadron modelled after the 7th Aerial Special Forces Wing would be ideal for India to counter any aggression by Islamabad or Beijing. It would also prepare India for a two-front battle, should that scenario ever become a reality, experts talking to EurAsian Times argue.
India-China Economic Romance Cannot End With A Mere Border Clash – Chinese Experts
India and China have been at each other's throat for more than a month now. Aside from the military confrontation in Ladakh, India has also moved to disengage from China economically.
While the move has got the support from the majority of Indians, Cui Hui'ao of the China Global Television Network (CGTN) writes that disengaging from China might not be a choice for India and that economic de-coupling is driven politically by Narendra Modi.
As reported by Eurasian Times consistently during last month, the feud between India and China has been a rollercoaster ride. From military buildup, deadly clashes to de-escalation and eventual withdrawal, the clash of the two Asiatic giants has seen it all.
Cui writes that apart from the military confrontation, India has retaliated in the economic sphere, referring to the decision by the Indian government to ban 59 Chinese application including TikTok, WeChat and ShareIt and the call to boycott Chinese products.
The journalist at CGTN writes that decoupling from China may be easier said than done for India. He says that India is not a manufacturing powerhouse, so in terms of bilateral trade, it actually buys much more from China than the other way around.
Cui analyses trade data to support the fact that New Delhi will find it difficult to reduce its dependence on Chinese imports. Between April 2019 and March 2020, India imported over 65 billion U.S. dollars' worth of goods from China.
Cui is of the opinion that the coronavirus pandemic has hit the Indian economy hard and in fact, the disengagement is driven by politics rather than economics. He finds it difficult to accept that India's disengagement from China would take place at a time when the Indian economy is projected to contract by 4.5% according to the International Monetary Fund (IMF).
Economic Disengagement Driven Politically 
Speaking to Cui, Cheng Xizhong, a visiting professor from Southwest University of Political Science and Law, says that the decision to de-couple from China economically is because of the domestic pressure on Prime Minister (PM) Narendra Modi.
''Since his second term began yet Indian economy is a mess. He has to find a way to shift the public attention elsewhere," he said.
The author agrees with the point made by Cheng Xizhong and writes that pressure on the Indian PM Modi comes from multiple fronts, including his own supporters, businesses, and farmers union. But this time, the nationalistic voice is even louder.
Other experts interviewed by Chui agree that New Delhi would benefit more if it partnered with Beijing. Professor Cheng, a former Chinese military diplomat in South Asia, said that since India started its opening-up in the 1990s, its economic growth has been crippled by lack of high-quality infrastructure and it would wiser if India and China work together.
Similar views are shared by Indian economist Biswajit Dhar, who says that India's decision to start producing domestically has to be strategic and it cannot take the decision to produce everything."
While India and China disengage at the battlefront in Ladakh, the Indian government is looking for solutions to reduce its dependency on Chinese imports. PM Modi has encouraged all Indians to become self-reliant (Aatmanirbhar) by producing and purchasing indigenous goods and boost the Indian economy.
Iran-India Chabahar Port Deal: Iran Kicks-Out India from Chabahar Rail Project citing funding delays
Iran-India Chabahar Port Deal: The railway project was meant to be part of India's vow to the trilateral deal between India, Iran and Afghanistan to develop an alternate trade route to Afghanistan and Central Asia bypassing a hostile Pakistan.
The Iran-India Chabahar port deal has run out of fuel. Iran has reportedly expelled India from the Chabahar rail project according to a report by The Hindu.
According to the report – four years after India and Iran signed a deal to construct a rail line from Chabahar port to Zahedan, Tehran has decided to proceed with the project by itself citing delays from New Delhi.
The report writes – The Iranian Transport and Urban Development Minister — Mohammad Eslami inaugurated the track-laying process for Chabahar-Zahedan line, which will be extended to Zaranj in Afghanistan. Iranian officials told The Hindu that the complete project would be finished by March 2022 and that Iranian Railways will proceed without India's support, using nearly $400 million from the Iranian National Development Fund.
The railway project was meant to be part of India's vow to the trilateral deal between India, Iran and Afghanistan to develop an alternate trade route to Afghanistan and Central Asia bypassing a hostile Pakistan.
Chabahar Port No Longer A Top Priority For Modi-Government As India, Iran Drift Apart: OpEd
In May 2016, during PM Modi's visit to Iran to sign the Chabahar pact President Rouhani and Afghan President Ashraf Ghani, IRCON had signed an MoU with the Iranian Rail Ministry. The MoU was to construct the Chabahar-Zahedan railway as "part of transit and transportation corridor in a trilateral agreement between India, Iran and Afghanistan".
However, according to the Hindu, despite several site visits by IRCON engineers, India never commenced the work, apparently due to apprehensions that these could attract U.S. sanctions.
The U.S. had provided a sanctions waiver for the Chabahar port and the rail line to Zahedan, but it has been difficult to find equipment suppliers and partners due to concerns they could be targeted by the U.S., according to key officials.
US-China ties to worsen as Trump set to block all Chinese claims in South China Sea
Iran wanted India to accelerate the acquisition of heavy equipment and expedite work on a railway link to the Afghan border to boost the economic viability of the Chabahar port, according to experts.  As per earlier reports, – there was a written assurance from the US that will make it easier for banks to provide funds for the procurement of heavy equipment" said an expert.
In late 2018, the US had approved a waiver for Chabahar and the construction of a railway line from the port to the Afghan border from sanctions under the Iran Freedom and Counter-Proliferation Act of 2012. However, banks had been reluctant to provide loans for buying heavy equipment due to US sanctions.
S-400 vs Rafale: Turkey to deploy Russian S-400 Missile to counter French Rafale Jets
Iranian President Hassan Rouhani had earlier raised the Chabahar-Zahedan rail link at a meeting with Indian external affairs minister S Jaishankar in Tehran and asked India to expedite work on it to "benefit regional trade relations".
During that visit, India and Iran had agreed to boost Chabahar's economic viability, including steps such as providing higher subsidies to merchant shipping using the port.