The ambassadors of Pakistan and Turkey resolved on Thursday to work more for enhancing bilateral trade besides cooperation in other fields.
They were speaking in a webinar on "Pakistan-Turkey relations, opportunities to enhance cooperation," organized by the Muslim Institute, an Islamabad-based think tank.
Pakistan's ambassador to Turkey Syrus Sajjad Qazi said bilateral trade, despite deep political and cultural relations, hovers between $600- $800 million, which is not "very impressive."
"During President Recep Tayyip Erdogan's visit to Pakistan this February, the two sides decided to take a fresh and out of the box approach toward trade issues," he said, adding that 100 Turkish companies are operating in Pakistan in fields such as construction, consumer goods, services, and infrastructure development.
Turkey and Pakistan inked several memorandums of understanding aimed at boosting bilateral trade, economic engagement and cultural and communication.
Turkish ambassador to Pakistan Ihsan Mustafa Yurdakul said they were working to enhance bilateral relations in the field of economics.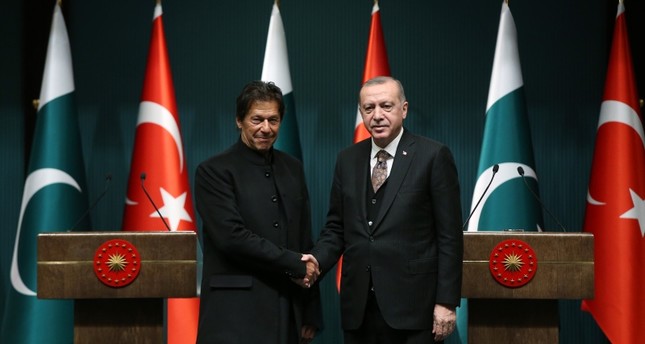 "We have perfect political relations but there is gap in our economic relations which needs to be filled," he said. "There is good cooperation in many sectors, including defense."
Highlighting the standard of Turkey's higher education system, Yurdakul said the number of Pakistani students in Turkish universities were steadily increasing.
He also briefed on joint efforts between Ankara and Islamabad at international forums, saying both sides will continue to raise voice against growing Islamophobia in the world.
"We are very satisfied with this level of cooperation," he concluded.
Chairman Muslim institute Sahibzada Sultan Ahmed Ali, former vice chief of Pakistan Navy Khan Hasham Bin Saqqique, Director Middle East Studies Centre Turkey Prof. Ahmet Uysal, Islamabad-based defense analyst Shabana Fayyaz, former ambassador Arif Kamal and others also talked about the historical Pakistan-Turkey ties.
They suggested to further enhance collaboration in education, health, tourism, culture, industries and halal food sectors.