Plane, Train or Car: What is the Best Transport to Dodge Coronavirus?
Since the outbreak of novel coronavirus in the city of Wuhan in China almost a month back, Governments across the world have restricted travel to contain the spread of the pandemic. However, there are people who still have to travel because of unavoidable circumstances.
Japanese Man Detected With Coronavius Goes To Bar To Spread The Infection
The source of the coronavirus is not yet known, but it definitely is highly contagious and spreads from person to person through respiratory droplets when an infected person coughs or exhales.
It can also spread through contaminated surface. Coronavirus is more likely to spread if a person is in close proximity of an infected person for more than 10 minutes. So, what is the best way to travel and avoid the infection – Air, Train or Car?
Trains and Buses
So a lot of potential risk of infection on trains and buses depends on how crowded they are. In train routes that are more crowded and those people who travel through such busy routes are likely to catch the virus. Also, people who have to change routes or use multiple modes of transport to reach their destination are more vulnerable to contact the infection.
The spread of the virus will also depend on how well the mode of transportation is ventilated and the travelling time. Another important factor is how well and frequently cleaning and disinfestation is undertaken.
Chinese Officials Blame The US Army For Spreading Coronavirus : AFP Reports
The more likely risk of catching the virus comes from touching the surface where the virus has been lingering for 48-72 hours such as the handrails. If you avoid touching the handrails, buttons, counters and so on, it is best if you do it with just one hand or wear gloves.
Railway systems across the world are closely monitoring the situation. They are ensuring that rail staff is kept aware of the latest advice to maintain good hygiene and keep surfaces clean, particularly in customer-facing locations. In fact in India, the Government is regularly sanitizing the Delhi metro and Mumbai's local trains.
All catering staff has been mandated to wear hand gloves, a facemask, headgear, etc. while dealing with food production. Also, they have been advised to wash their hands frequently, avoid touching their eyes, nose and mouth, avoid contact with persons coughing or sneezing, change the hand gloves frequently and dispose them off in closed dustbins.
Can Iraq Acquire Russian S-400 Missiles With Looming Threats Of US Sanctions?
All the employees have been directed to wash their uniforms on a regular basis and asked to maintain proper cleanliness, use of disinfectant on frequently touched objects and surfaces such as door handles, POS machines, coffee machines, billing machine, countertop, freeze handles, tables, chairs, stall frames, etc. by using cleaning sprays like Dettol, Lizol, Collin.
Cars
A study back in 2018 found that car interiors had more bacteria than the inside of a dustbin lid. The car steering, gear, dashboard and handle, window buttons other car interiors carried more germs than a kitchen sink.
Antibacterial surface cleaning medicines like Dettol can kill all bacteria and viruses including coronavirus. So it's important to clean the car thoroughly after every drive.
Pakistan Pleased, India Unnerved By The Success Of Chinese, Turkish Drone Technology?
Taxi aggregator like Ola is providing its drivers hand-sanitisers and face masks and training them to maintain personal and cab hygiene. "If drivers notice customers displaying flu-like symptoms, they will immediately reach out to 24×7 Ola Care helpline," Ola said in a statement on March 10. Uber is consulting an epidemiologist to help with its efforts, a company statement on March 16.
Planes
It's a common belief that if you are travelling by plane you are more likely to get affected by some disease including Covid-19 since passengers breathe stale air in the plane. However, the air quality in the plane may well be better than in the average office and considerably better than the train.
There are more people per square foot in a plane which can increase the risk, but the air is also changed at a faster rate. A study on air quality in passenger vehicles estimates that the air on a plane is changed every 2-3 minutes compared with every 10-12 minutes in an air-conditioned building.
That's because while you are on a plane, the air you breathe is being cleaned by something called a high-efficiency particulate air filter (Hepa). This system can capture smaller particles than ordinary air-conditioning systems, including some viruses.
Chinese President Xi Jinping Arrives In Panic-Hit Wuhan To Reassure People
The filter sucks in fresh air from outside and mixes it with the air already in the cabin, meaning that at any given time, half the air is always fresh. Many ordinary air-conditioning systems merely re-circulate the same air to save energy.
As well as breathing in droplets from someone coughing or sneezing, infections like coronavirus can be transmitted through touching contaminated surfaces with infectious droplets on them – whether that's a person's hand or a door handle.
Plane samples taken from surfaces on flights found nothing notable in them as compared with tests they undertook in buildings and other types of transport.
SU-35 vs MIG-35: Two Russian Jets Compete Against Each Other Under Lucrative MMRCA Contract
On March 13, Ronojoy Dutta, CEO of India's largest private airline, IndiGo, informed customers about plans to reduce the risks of Covid-19 in the company's aircraft. "At every stage of your journey with IndiGo, we're taking every measure possible to ensure compliance with the best advice from medical authorities and the government," he said in a note.
On the same day, Vinay Dube, CEO of low-cost carrier GoAir, too, wrote a similar letter to customers. Airlines like Vistara and SpiceJet are also doing their bit. The airlines have intensified the cleaning of their respective aircraft and have instructed the staff to wear protective equipment like masks and gloves before boarding the plane, in order to prevent the virus.
However, even if the mode of transportation differs, it is best to follow the precautions –washing hands, cleaning surfaces and sneezing or coughing into a tissue.
COVID-19: WHO experts in China to probe origins of Coronavirus
Two World Health Organization (WHO) experts are travelling to China to talk to scientists to investigate the transmission of COVID-19 or coronavirus pandemic from animals to humans, WHO chief said on Friday.
Addressing a webinar, the WHO Director-General Tedros Adhanom Ghebreyesus said the global health experts will also prepare a scientific plan with their Chinese counterparts to identify the zoonotic source of the COVID-19 virus.
"As we continue to tackle the pandemic, we are also looking into the origins of the virus," he said.
Adhanom said the scientists want to learn about the progress made in understanding the animal reservoir for COVID-19 and how the disease jumped between animals and humans.
"This will help lay the groundwork for the WHO-led international mission into finding the origins," he said.
The team comprising an epidemiologist and an animal health specialist are flying to China to try and identify the pandemic's animal source, WHO spokesperson Margaret Harris said a UN press conference in Geneva.
Harris said the aim is also to examine from which species of animal the virus originated and then transmitted to humans.
On April 20, WHO spokesperson Fadela Chaib had said that so far, all available evidence suggests the virus has an animal origin, and it was not manipulated or manufactured in a lab, or somewhere else. She was responding to allegations that the virus spread from the Wuhan Institute of Virology.
"It most probably has its ecological reservoir in bats, but how the virus came from bats to humans is still to be discovered," she said.
Missing intermediary host
"There was certainly an intermediary host or another animal that transmitted this virus from bats to this other animal, to humans, "she said.
Adhanom told international diplomats on Thursday that the member states at the 73rd World Health Assembly held in May had adopted a landmark resolution urging the WHO to initiate an independent and comprehensive evaluation of the lessons learned from the international health response to COVID-19.
"This is a time for self-reflection, to look at the world we live in and to find ways to strengthen our collaboration as we work together to save lives and bring this pandemic under control," said the chief of WHO.
"The magnitude of this pandemic, which has touched virtually everyone in the world, clearly deserves a commensurate evaluation," he said.
The WHO had waited for seven months to investigate the source of the virus and this has led to criticism of the organization and American officials accused Adhanom of being too lenient to China.
An earlier WHO mission led by a Canadian doctor Bruse Aylward that went to China in February was criticized in the US for praising China's in its fight against COVID-19.
The Curve Of Coronavirus Cases In India All Time High Despite Stern Lockdowns
The cases of coronavirus India has reported the large single-day hike with 24,879 new coronavirus cases in the last 24 hours, the Health Ministry said on Thursday.
The total tally of COVID-19 cases in India stands at 767,296 and death toll rose to 21,129 with 487 new fatalities.
Meanwhile, the tally of casualties in the financial capital Mumbai — the capital of Maharashtra — crossed 5,000 on Wednesday with 62 new casualties, said a statement by the Municipal Corporation.
Maharashtra is still the worst-affected state in the country with 6,603 news cases recorded in the last 24 hours. The west Indian now has over 223,724 coronavirus cases and 9,448 deaths.
Patna, capital of Bihar, will be put under strict lockdown from Friday due to the rising number of coronavirus cases in the city. "The state capital will be under strict lockdown for a week from July 10," said Kumar Ravi, Patna district magistrate.
India continues to remain the third worst-hit nation by the coronavirus in the world after the US and Brazil and the curve of the graph only appears to be rising.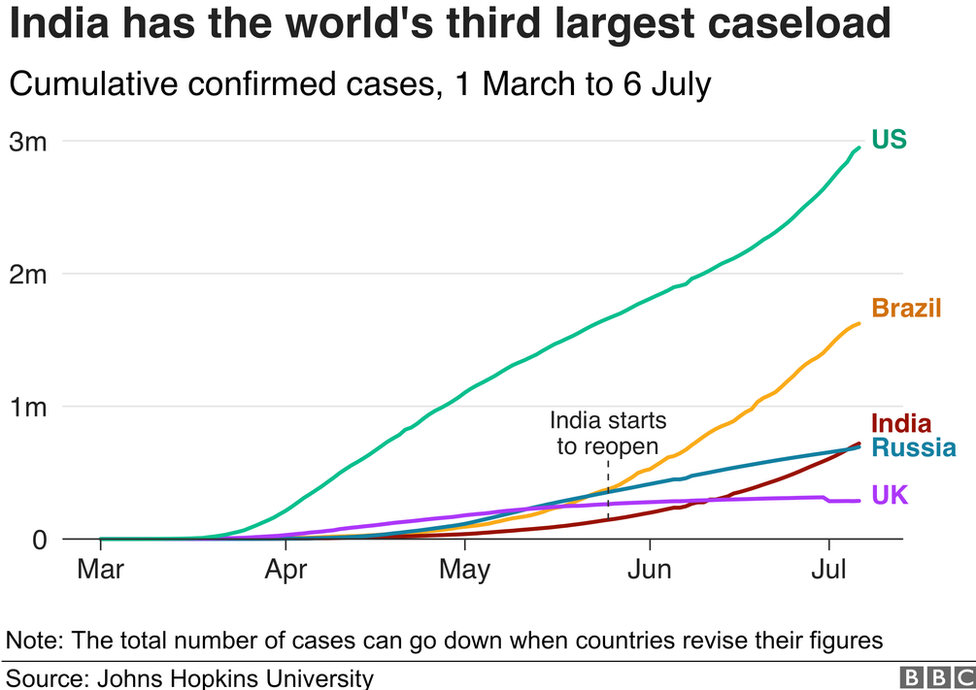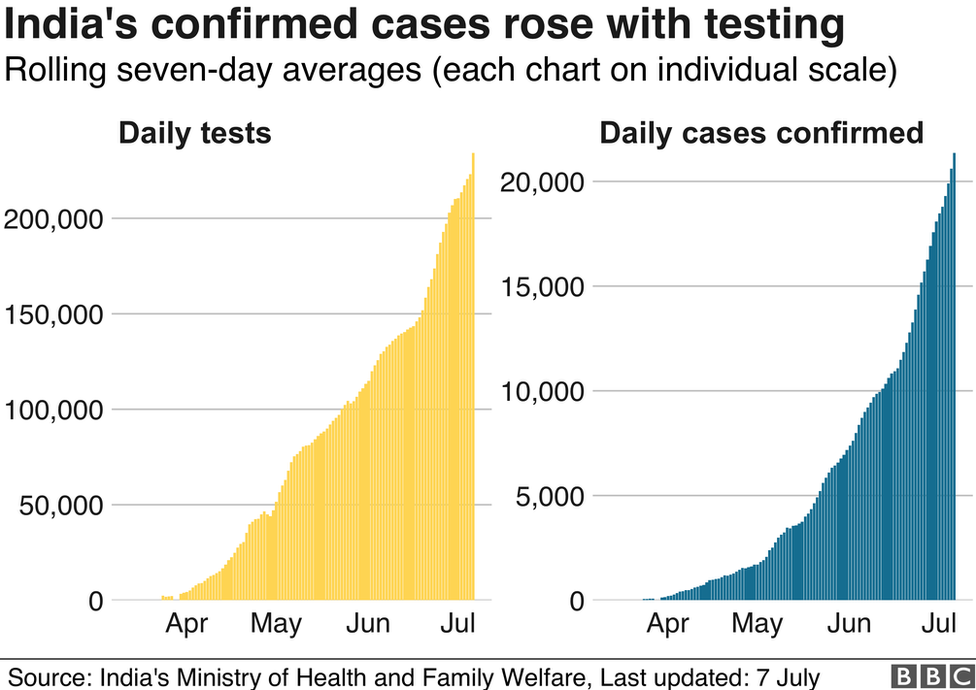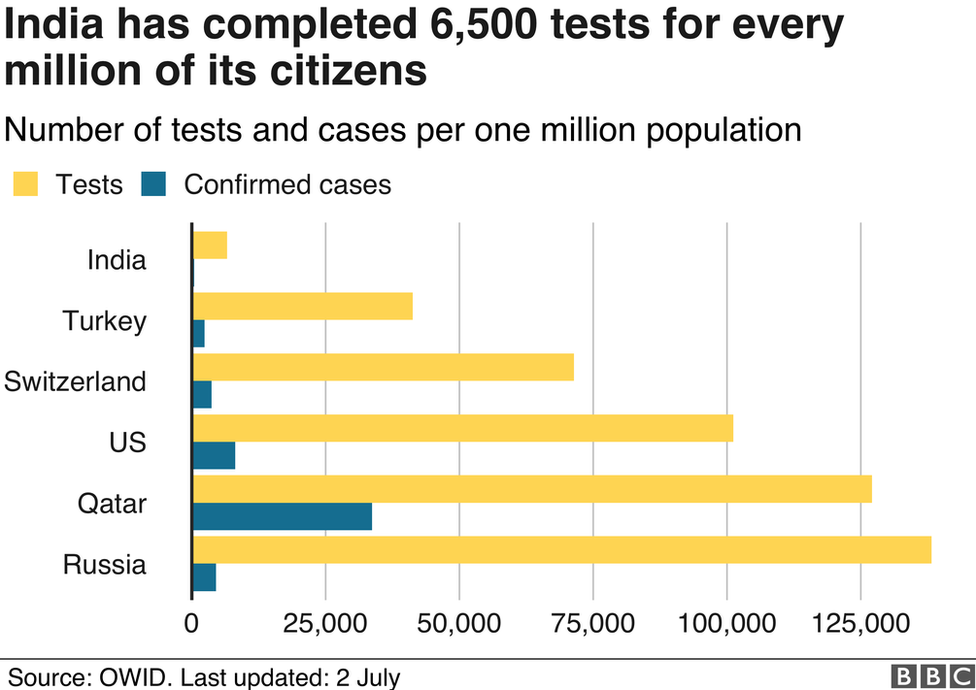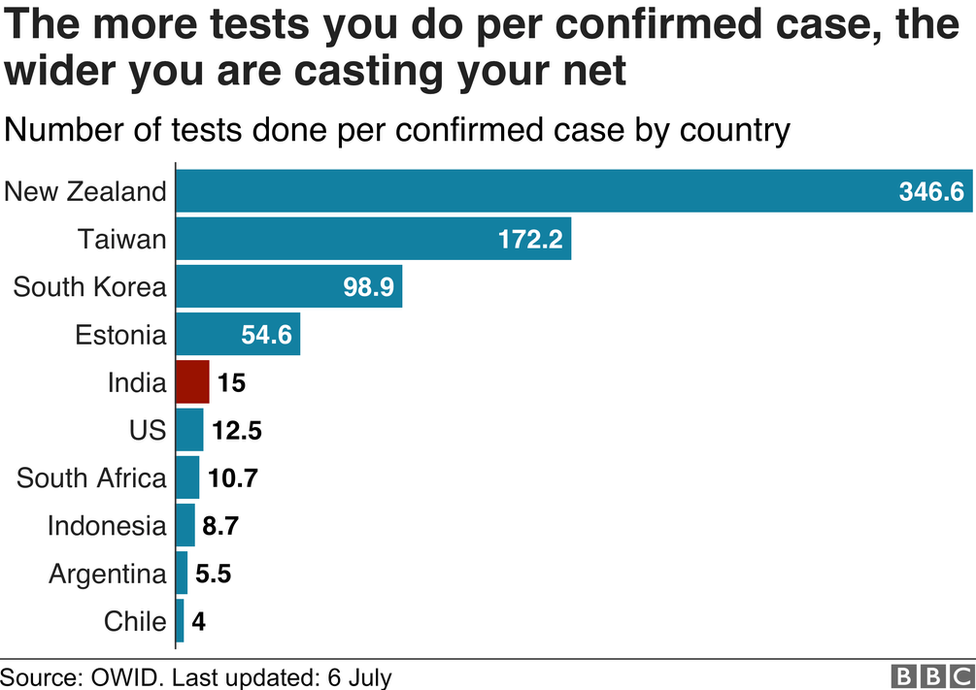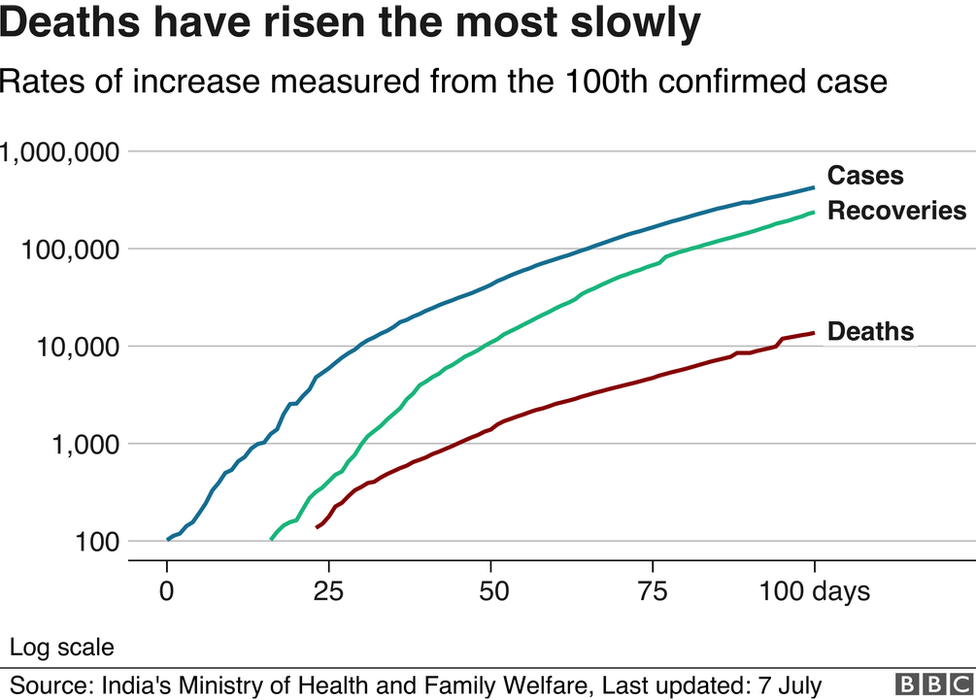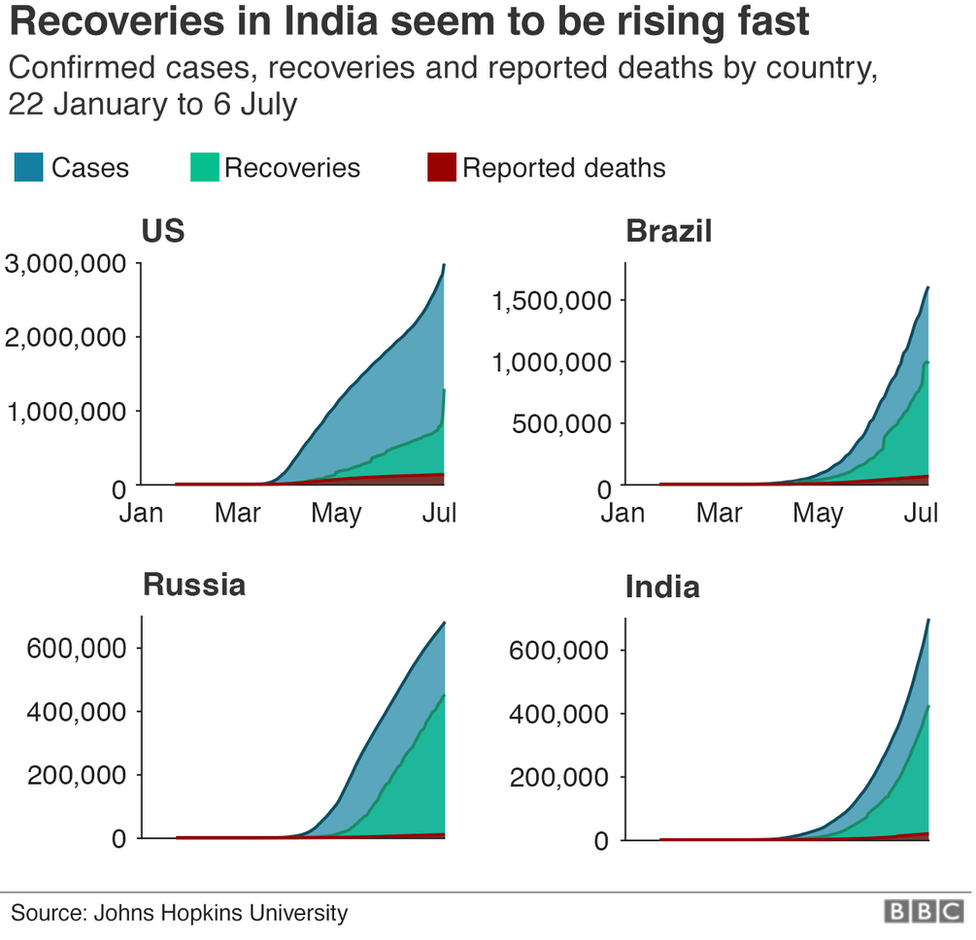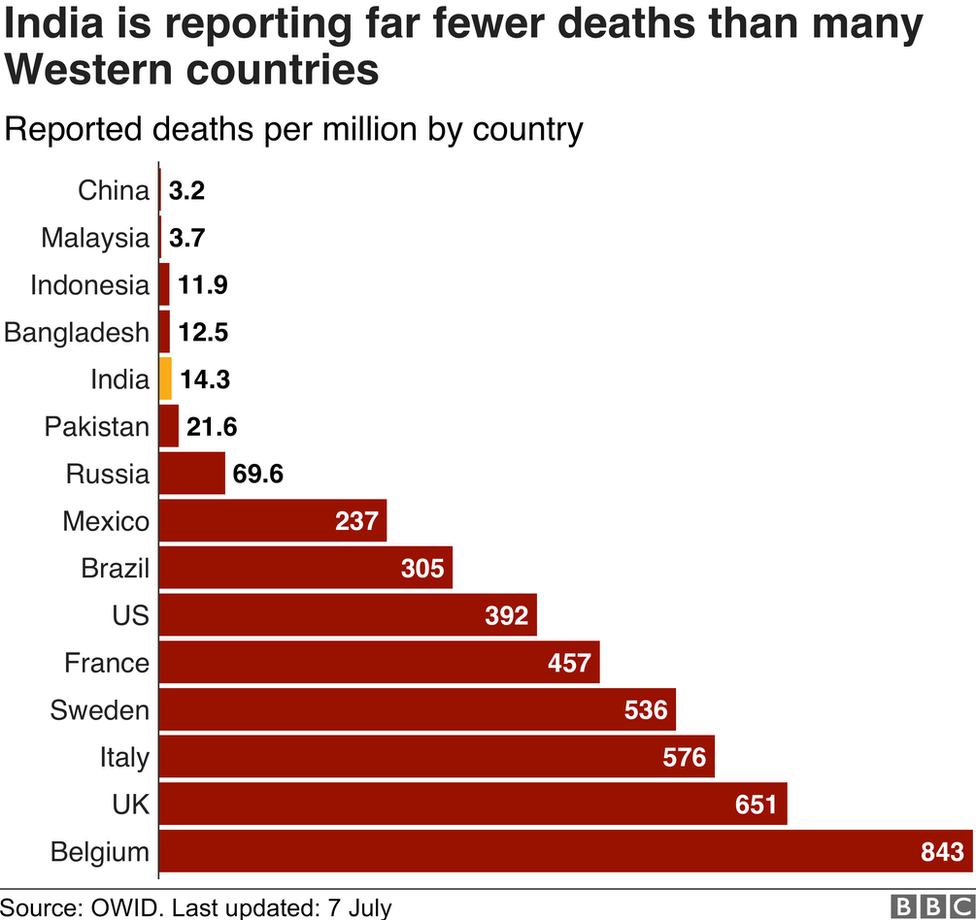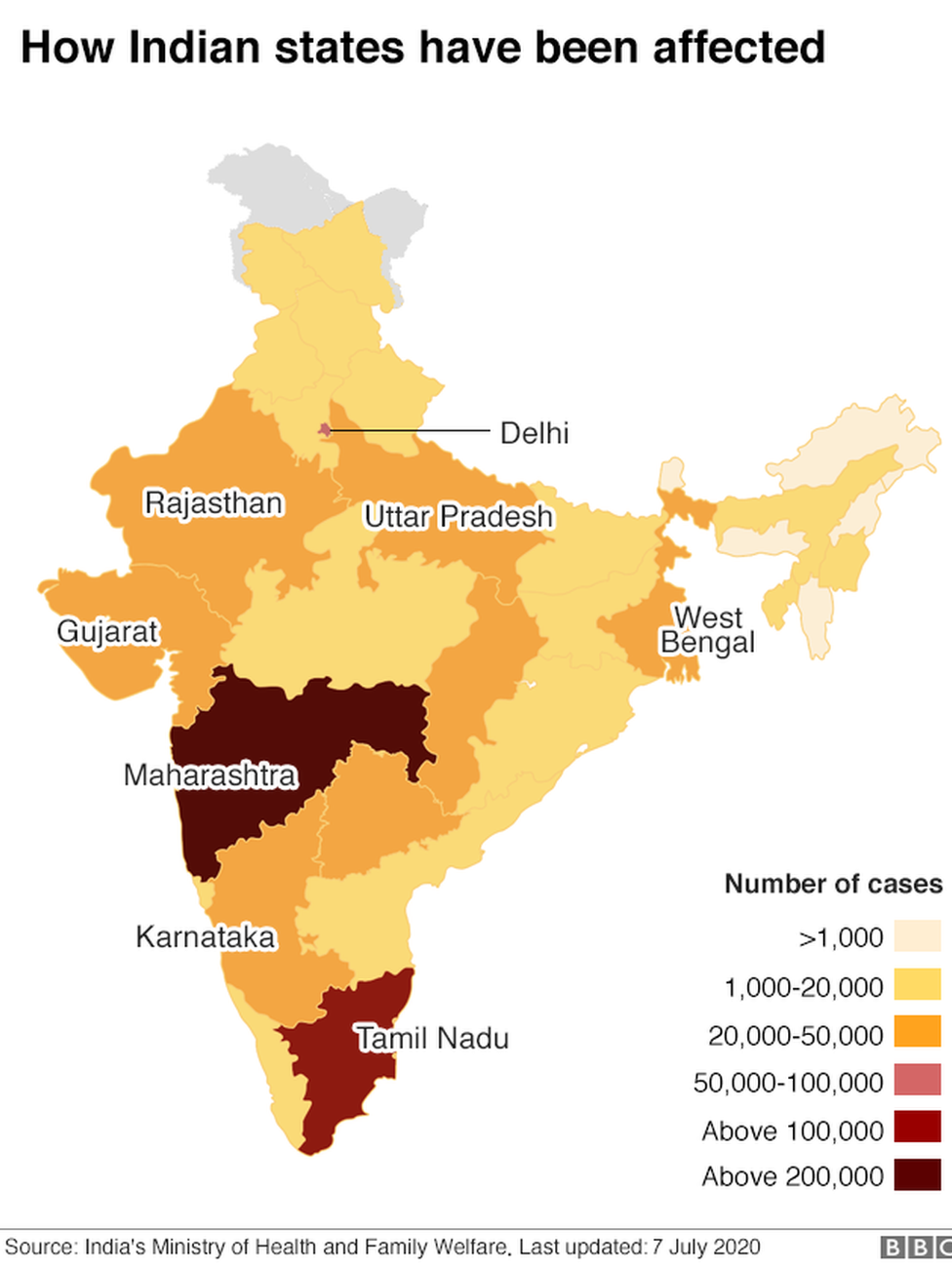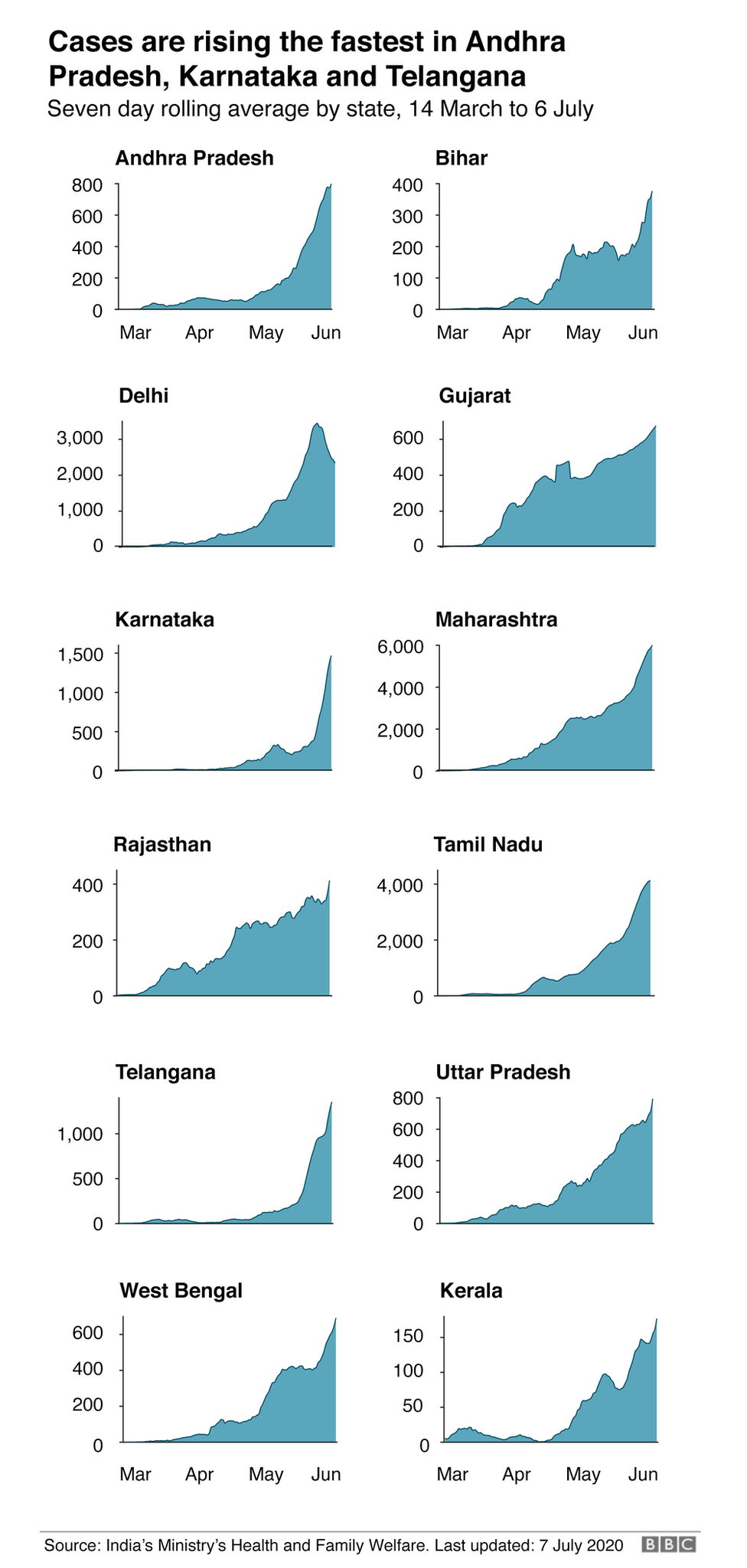 Via: BBC
Coronavirus In Tibet: Limited Impact Of COVID-19 In High Altitude Regions Like Tibet?
Scientists are now investigating the link between COVID-19 and high altitude regions like Tibet after a study published in the journal Respiratory Physiology and Neurobiology suggested that there is a decrease in prevalence and impact of COVID-19 in populations living at higher altitudes. 
The study takes into consideration the COVID-19 cases in Tibet and high-altitude regions of Bolivia and Ecuador in comparison to the low lying regions. It suggested that the population in Bolivia, Ecuador and Tibet living above 3,000 meters (9,842 feet) reported significantly lower levels of confirmed infections than their lowland counterparts.
In the plateau region of Tibet, Qinghai and part of Sichuan, with a population of 9 million, there are only 134 confirmed cases which are drastically low in comparison to the number of cases in rest of China.
Ecuador is one of the worst-hit countries by COVID-19 in South America with more than 40,000 confirmed cases and over 3,000 deaths. The centre of the virus is the Pacific port of Guayaquil. There are fewer infected cases in the capital Quito, which is about the same size but is 2,800 metres above sea level.
Similarly, Bolivia has over 10,000 positive cases with over 300 deaths. The cases are concentrated in Santa Cruz which is 400 metres above sea level. It is home to about 15% of the population of the country but accounts for two-thirds of the virus cases. Whereas, in La Paz and its surrounding area, which is a highland area in Bolivia, has about 500 positive cases.
The reason explored by the study includes environmental factors including dry mountain air, high levels of UV radiation and the possibility that lower atmospheric pressure reduces the virus's ability to linger in the air.
"The reason for decreased severity of the global COVID-19 outbreak at high altitude could relate to both environmental and physiological factors," states the study.
"At sea-level, when people get coronavirus and their lungs get destroyed, it is as if they are climbing Mount Everest in just a couple of days, without oxygen," said Gustavo Zubieta-Calleja, one of the authors of the study published in the journal Respiratory Physiology & Neurobiology. But "the low rate of infection in Bolivia's high-altitude population is remarkable and clearly does not follow the often exponential infection rates reported in many countries", concluded the scientists.
However, experts have questioned these factors. "The virus likes people. It doesn't care about altitude," says Peter Chin-Hong, who studies infectious diseases at the University of California at San Francisco. "But we're still learning so much about this disease, and this does provide us with some good clues to try and understand its progression," he added.
According to Clayton Cowl, a pulmonologist at the Mayo Clinic and a former president of the American College of Chest Physicians, that the trend might be related to acclimatization, the body's ability to adjust temporarily to altitude, than to DNA.
Just three populations in the world have been found to have genetic adaptations to altitude: Himalayans, Ethiopian highlanders and Andeans. This is why the coronavirus is exploding on Peru's Pacific coast, particularly Lima, where most residents descend from Andean ancestors, while the country's mountain communities are thus far not greatly affected by the virus.
Andrew Luks, professor of medicine at the University of Washington, said that while the proposed link was "intriguing", it "by no means establishes that high-altitude residence or high-altitude locations are protective against coronavirus".