Princess Basmah In Jail For Questioning Women, Minority Rights In Saudi Arabia?
Why is Princess Basmah in high-security jail and allegedly lodged with criminals and terrorists? There have been mounting concerns regarding Princess Basmah after allegations emerged that she was being detained without charge in a notorious prison used to house al-Qaeda militants, reports the Independent.
Xi Dreading US, Japan Exit From China As Vietnam, Thailand, Indonesia Vie For Opportunities
In a series of tweets, Princess Basmah bint Saud bin Abdulaziz al-Saud said her health was failing inside a maximum-security prison near Riyadh.  "I am currently being arbitrarily held at al-Ha'ir prison without criminal, or otherwise any, charges against my person," her tweet said. "My health is deteriorating to an extent that is [severe] and that could lead to my death."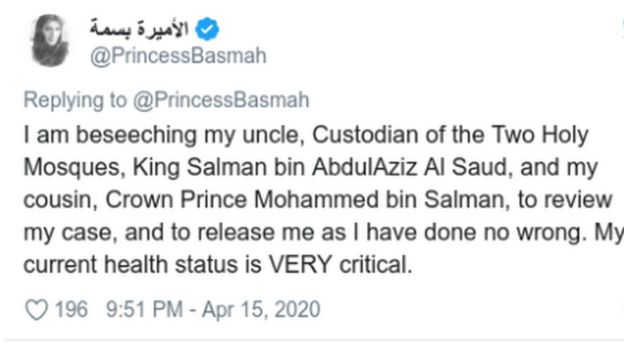 Princess Basmah tweeted that she has been "abducted without an explanation" with one her daughters and "thrown into prison", and had been denied medical care.
"I am beseeching my uncle, Custodian of the Two Holy Mosques, King Salman bin Abdulaziz al-Saud, and my cousin, Crown Prince Mohammed bin Salman, to review my case, and to release me as I have done no wrong. My current health status is VERY critical."
Rift Between Turkey & Saudi Arabia Spit-Wide-Open As Riyadh Bans Turk Media
Princess Basmah had also tagged US president, Donald Trump, and the French foreign minister, Jean-Yves Le Drian in her tweet, but were deleted later on.  However, two sources close Princess Basmah family established the authenticity of the tweets and confirmed that she was indeed housed in a high-security lock-up with criminals and terrorists.
Israel The Best, India Surprisingly 'Very Good' For Handling Covid-19 Pandemic: Research
"Someone in Saudi Arabia hacked the account and deleted the tweets," a former business partner of the princess told The Independent. "We are trying to get them back as we speak right now." Two sources affirmed that Princess Basmah was suffering from various health issues that have only deteriorated during her time in jail, where two cases of Covid-19 also emerged.
Harpoon Missiles For The Indian Navy – Efficient, But Not Really A Game-Changer: Experts Analysis
"She has some preconditions of a respiratory nature and that's why we are worried," one source said.
The princess, allegedly, is a brazen critic and descendant of the kingdom's founder, and the youngest daughter of former king Saud bin Abdulaziz al-Saud, who was deposed in 1964. In a 2012 interview with The Independent, Basmah criticized the religious police, questioned the restraints on women, and denounced indifferent treatment towards KSA's religious minorities.
Russian Anti-Satellite Test Shocks The US; Seeks Weapons To Jam Russian, Chinese Satellites
"It is such a non-tolerant atmosphere, even of other sects," she said. "Any other sect that doesn't actually belong to our community is thought to be – I'm not going to be sharp but very specific – not the true Islam."