Rafale vs F-16: Can The Indian Rafale Jets Overpower The Pakistani F-16s In Aeriel Showdown?
Indian Rafale Jets vs the Pakistani F-16 Jets – Which one of the two fighter planes would you put your money on? India is set to procure the first batch of Rafale Jets while Pakistan Air Force is equipped with mighty F-16s.
India Keeping An Eye On Su-57 Jets As Russia Displays Its Export Version At MAKS-2019 Air Show
Both F-16 and Rafale Jets have never come face to face in any aerial combat (except for NATO drills) and with mounting tensions between India and Pakistan over Kashmir, you could soon witness a showdown between F-16 and Rafale Jets.
But the question remains, can the US-made F-16 jets that Pakistan Air Force operates match the advanced Dassault Rafales Jets that Indian Air Force is set to operate? EurAsian Times analyses the strengths of both the fighter jets and evaluates which air-force – Indian or Pakistani will dominate the skies.
In the contemporary era of cold warfare, a country's superiority is rated in terms of the fighter jets it operates. Most of the global powers in the modern era have nuclear options to win wars and to deliver that, they need the latest generation of fighter jets.
The Rafale vs F-16 rivalry goes beyond the India- Pakistan comparison and actually strikes a competition between the US and French defence manufacturers. As EurAsian Times reported earlier, Pakistan is placing its fighter jets near the Ladakh border and if tensions continue to flare an ariel showdown between Indian and Pakistani Air Force is imminent. The only difference being that India would be added Rafale jets to its fleet, which are expected very soon.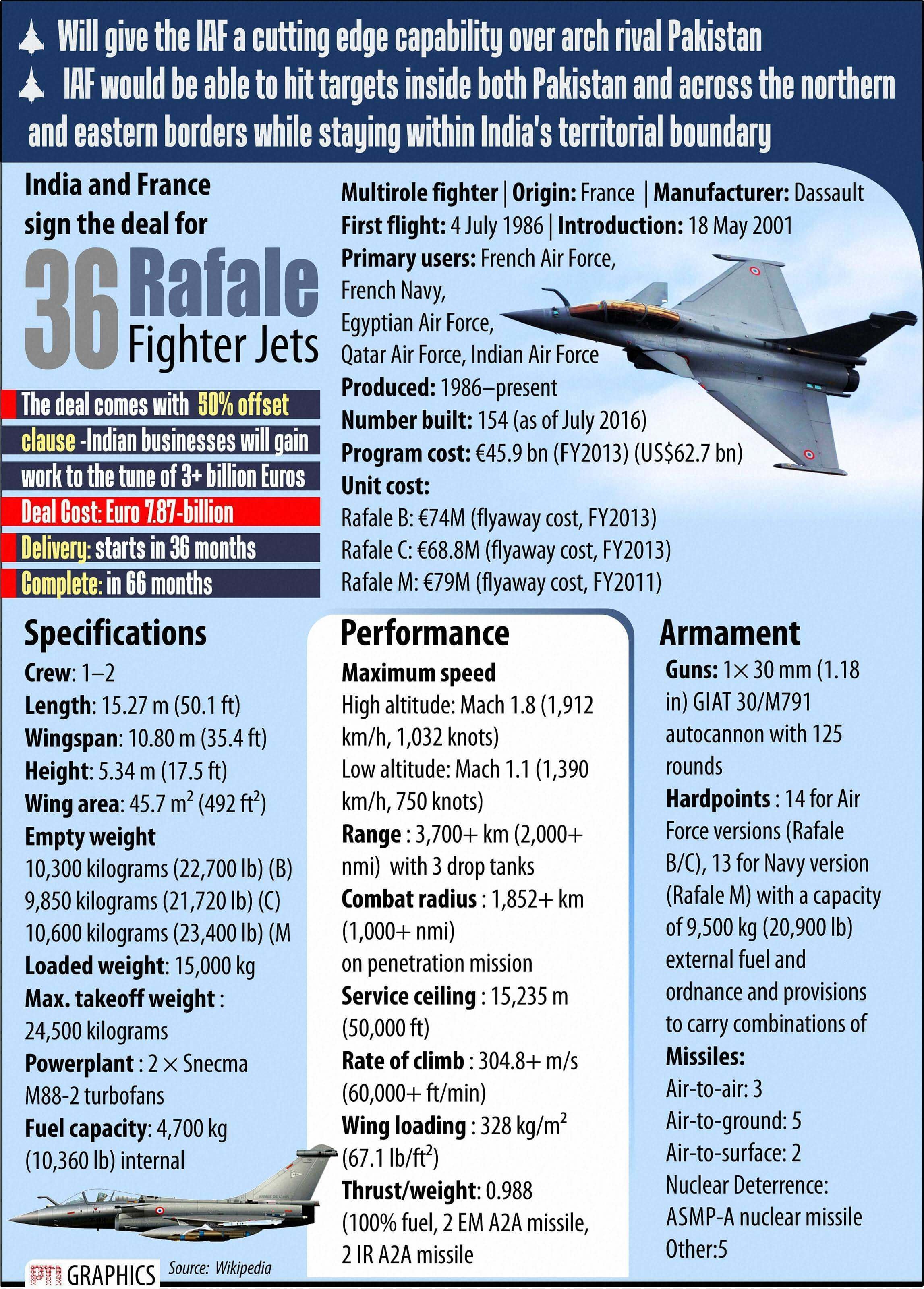 Indian Rafale Jets vs F-16 of Pakistan Air Force
Rafale fighter jet is a twin-jet fighter aircraft manufactured by French-based Dassault Aviation. Rafales are able to operate form both, shore bases and aircraft carriers. On the other hand, the US-based Lockheed Martin developed F-16s are fourth-generation, single-engine supersonic multirole fighter aircraft. As far as the F-16s are concerned, there are approximately 3,000 operational F-16s in service across 25 countries.
The Rafales have a wingspan of 10.90 metres while the F-16s have a wingspan of 9.96 metres. Taking about the length, the length of a Rafale aircraft is 15.30 metres while that of F-16 is 15.06 metres. So, the two aircraft are almost similar when it comes to the dimension of length.
Indian Air Force To Buy More Su-30 MKI Fighter Jets From Russia
When it comes to weight, an empty Rafale weighs 10 ton while an empty F 16 weighs 9.2 ton. The maximum take-off weight a Rafale can carry is 24.5 ton while an F-16 can carry a maximum of 21.7 ton.
So, clearly in a dogfight between the two, the Rafales have a slight edge given the fact that it can load more weapons than the F-16s.
Strike Capabilities – Rafale vs F-16 Jets
When it comes to striking capabilities, the F-16s have a slight edge over the Rafales. While the F-16s have a range of 4220 kilometres, the Rafales have a range of 3700 kilometres only.
In terms of speed, Pakistani F-16s have a slight advantage over Indian Rafales. While the Rafale aircraft has the maximum speed of 2130 kilometres per hour, the F16s have the maximum speed of 2,414 kilometres per hour. Both aircraft, however, have an identical service ceiling of 50,000 feet.
How Special Forces Of India, MARCOS & Para SF Compete Against US Navy SEALs?
Weapons: F-16 vs Rafale Jets
The Rafale comes equipped with the MICA air to air missiles, SCALP long-range missiles, laser-guided bombs, AM39 anti-ship missiles, GIAT 30 internal cannon, METEOR long-range air to air missiles and air to ground precision-guided weapons.
On the other hand, the F16s come armed with Penguin Anti-Ship missiles, cluster bombs, runway denial bombs, AIM-9 sidewinder short-range air to air missiles, AIM -120 medium-range air to air missiles, GPS guided monks and conventional drop bombs including Nuclear drop internal 20 mm Vulcan cannon.
Indian Military Base In Sabang, Indonesia Can Strangle China At The Strait of Malacca
So, both these state of art jets have their own strengths and edges over each other. To predict a clear winner is a hard task and pilot skills will play a crucial part to decide the winner.
However, one must also take into account that the Rafale Jets, which have been specifically customized as per the Indian requirements are considered as 4.5 generation fighter jets compared to the F-16's of Pakistan Air Force (categorized as 4th Generation Jets).
Rafales are nuclear-capable fighter jets and are believed to be equipped with semi-stealth technology which is clearly missing in the ageing fleet of Pakistani F-16's jets.
What gives India a decisive advantage will be the deadly combination of SU-30 MKI's and Rafale Jets which not only overwhelm Pakistani F-16's in numbers but also in armoury and radar. Backed with soon-to-be procured S-400 Missiles from Russia, Indian airspace would be near impregnable and become a no-fly zone for the Pakistani F-16 jets.
Israel-China Relations: How Israel Is Getting Caught Between US-China Rivalry? Analysis
Israel knew the drill even before US Secretary of State Mike Pompeo boarded his flight to Tel Aviv earlier this month four days after the death of his father. It was Pompeo's first and only overseas trip since March.
Israel Media Blames Turkey, Iran For Supporting 'Violent Riots' In The US
Echoing a US warning two decades ago that Israeli dealings with China jeopardized the country's relationship with the United States, Pompeo's trip solidified Israel's position at the cusp of the widening US-Chinese divide.
Two decades ago the issue was the potential sale to China of Israeli Phalcon airborne warning and control systems (AWACS). Israel backed out of the deal after the US threatened withdrawal of American support for the Jewish state.
This month the immediate issue was a Chinese bid for construction of the world's largest desalination plant and on the horizon a larger US-Chinese battle for a dominating presence in Eastern Mediterranean ports.
Within days of his visit, Pompeo scored a China-related success even if the main focus of his talks with Prime Minister Benyamin Netanyahu was believed to be Iran and Israeli plans to annex portions of the West Bank, occupied by Israel since 1967.
Israel signalled that it had heard the secretary's message by awarding the contract for the Sorek-2 desalination plant to an Israeli rather than a Chinese company.
The tender, however, is only the tip of the iceberg.
China's interest in Israel is strategic given the fact that the Jewish state is one of the world's foremost commercial, food and security technology powerhouses and one of the few foreign countries to command significant grassroots support in the United States.
China Mocks Trump, Pompeo Over Subduing Minnesota & Provoking Hong Kong Protesters
If there is one thing Israel cannot afford, it is a rupture in its bonds to the United States. That is no truer than at a time in which the United States is the only power supportive of Israeli annexation plans on the West Bank.
The question is whether Israel can develop a formula that convinces the United States that US interests will delineate Israeli dealings with China and reassure China that it can still benefit from Israeli assets within those boundaries.
"Right now, without taking the right steps, we are looking at being put in the situation in which the US is telling us we need to cut or limit our relations with China. The problem is that Israel wants freedom of relations with China but is not showing it really understands US concerns. Sorek-2 was a good result. It shows the Americans we get it." said Carice Witte, executive director of Sino-Israel Global Network and Academic Leadership (SIGNAL) that seeks to advance Israeli-Chinese relations.
Analysts, including Witte, believe that there is a silver lining in Israel's refusal to award the desalination plant to a Chinese company that would allow it to steer a middle course between the United States and China.
"China understands that by giving the Americans this win, China-Israel relations can continue. It gives them breathing room," Witte said in an interview.
Chinese Military Commission Leaves Door Open For 'Forceful Takeover' Of Taiwan
It will, however, be up to Israel to develop criteria and policies that accommodate the United States and make clear to China what Israel can and cannot do.
"In order for Israel to have what it wants… it's going to need to show the Americans that it takes Washington's strategic perceptions into consideration and not only that, that it's two steps ahead on strategic thinking with respect to China.  The question is how."  Witte said.
Ports and technology are likely to be focal points.
China is set to next year takeover the management of Haifa port where it has already built its own pier and is constructing a new port in Ashdod.
One way of attempting to address US concerns would be to include technology companies in the purview of a still relatively toothless board created under US pressure in the wake of the Haifa deal to review foreign investment in Israel. It would build in a safeguard against giving China access to dual civilian-military use technology.
That, however, may not be enough to shield Israel against increased US pressure to reduce Chinese involvement in Israeli ports.
US Could Recognize Tibet As An 'Independent Country' As US-China Tensions Escalate
"The parallels between the desalination plant and the port are just too close to ignore. We can't have another infrastructure divide," Witte said.
The two Israeli ports will add to what is becoming a Chinese string of pearls in the Eastern Mediterranean.
China already manages the Greek port of Piraeus.
China Harbour Engineering Company Ltd (CHEC) is looking at upgrading Lebanon's deep seaport of Tripoli to allow it to accommodate larger vessels.
Qingdao Haixi Heavy-Duty Machinery Co. has sold Tripoli port two 28-storey container cranes capable of lifting and transporting more than 700 containers a day, while a container vessel belonging to Chinese state-owned shipping company COSCO docked in Tripoli in December 2018, inaugurating a new maritime route between China and the Mediterranean.
Major Chinese construction companies are also looking at building a railroad that would connect Beirut and Tripoli in Lebanon to Homs and Aleppo in Syria.  China has further suggested that Tripoli could become a special economic zone within the Belt and Road Initiative (BRI) and serve as an important trans-shipment point between the People's Republic and Europe.
Why Are Australia's Most Critical Allies – The US & China Furious With Canberra?
BRI is a massive infrastructure, telecommunications and energy-driven effort to connect the Eurasian landmass to China. Potential Chinese involvement in the reconstruction of post-war Syria would likely give it access to the ports of Latakia and Tartous.
Taken together, China is looking at dominating the Eastern Mediterranean with six ports in four countries, Israel, Greece, Lebanon, and Syria that would create an alternative to the Suez Canal.
All that is missing are Turkish, Cypriot and Egyptian ports.
The Chinese build-up threatens to complicate US and NATO's ability to manoeuvre in the region.
The Trump administration has already warned Israel that Chinese involvement in Haifa could jeopardize continued use of the port by the US fifth fleet.
"The writing is on the wall. Israel needs to carve out a degree of wiggle room. That, however, will only come at a price. There is little doubt that Haifa will move into the firing line," said a long-time observer of Israeli-Chinese relations.
James M. Dorsey is an award-winning journalist and a senior fellow at Nanyang Technological University's S. Rajaratnam School of International Studies in Singapore.
Israel Media Blames Turkey, Iran For Supporting 'Violent Riots' In The US
Israeli media has accused Turkey and Iran of supporting violent demonstrations in the US over the killing over the Afro-American person. Turkey is one of the world's biggest detainers of journalists while Iran butchered over 1,500 protesters last year, but leaders in both nations cynically attempted to exploit recent protests in the US, writes the JPost. 
The report writes that Iran's Ayatollah Khamenei tweeted that "if you're dark-skinned walking in the US, you can't be sure you'll be alive in the next few minutes."  Former Iranian president Mahmoud Ahmadinejad said that the killing of George Floyd was "deeply disturbing and upsetting' and that it was part of a scheme by global powers and the "current world order."
JPost says that It was hard to gauge the writers who penned the tweets for Ahmadinejad and Khamenei in English, some of them seem to be inspired from college activists in the US as it drifted from the standard vocabulary of the Iranian regime.
Even as Iran's regime was backing the violent demonstrations in the US, Tehran was gunning down peaceful Kurdish "kolbars" or people who move goods across the border, claims the report.
Turkish President Erdogan, who championed in ethnically wiping-off the Kurds in northern Syria and whose army carried out a drone strike that killed two civilians recently Iraq, also supported the US demonstrations.
Erdogan also declared that Turkey denounces the "inhuman mentality" in the US and that Ankara stands against all attacks targeting humanity.  Despite these assertions, Turkey invaded Syria last year resulting in horrendous persecution of Kurds and not to forget the lynching a young female Kurdish activist -Hevrin Khalaf.
Over the weekend Kurdish and Yazidi women were found to be held in clandestine confinement cells run by Turkish-backed Syrian radicals in Syria. Almost every week in Turkey journalists and activists are arrested writes the Jpost while taking a dig at nations that oppose Trump and his policies.
Turkey claimed that it wished that  "perpetrators of this inhuman act shall receive the punishment they deserve" and that Ankara would be watching the US. Ankara's remarks are in contradiction to how the US State Department does not critique Turkey for its extensive human rights violations including the mass detention of media professionals and persecution of Kurdish people.
Turkey has recently attempted to imprison and eliminate more opposition mayors in Kurdish areas. Ankara carries out drone strikes frequently and systematically massacring innocent people in Iraq and even bombing refugee camps.
Yet Turkish media is rejoicing the violent demonstrations and looting in the US over the weekend. It is in contradiction to how Turkey's pro-government calls any demonstrators or critics in Turkey "terrorists."
The decision by Turkey and Iran to engage themselves in the protests is part of their scheme to project themselves as tolerant and liberals to the international audience. The same Iranian regime that killed over 1,500 protesters last year, pretends to show compassion with US demonstrators, the report says.
The hypocritical remarks by Ankara and Tehran and their use of the term "world order" appear to be a form of similar messaging that describes a view that Iran and Turkey could work together to reduce the US role in the world.
When Erdogan said that there is an "unjust order we stand against across the world" and Ahmadinejad wrote that there is a "current world order which we all must unite against," Jpost says that either both the tweets were written by the same person or a systematic propaganda is being flamed in Turkey and Iran to exploit US demonstrations.
Pakistan Could Induct JH-7 Deep Strike Jets To Counter Indian Rafales, S-400s – Experts
Pakistan's financial woes leave the country stripped of an advanced air defence system, however, its old friend China can lend a helping hand to the Pakistan Air Force to somewhat counter the Indian capabilities. 
JF-17 vs Rafale: Why Pakistani JF-17 Thunder Poses A Serious Threat To Indian Rafale Fighter Jets?
Experts write that Pakistan's close relationship with China coupled with the economic problems that the Islamic Republic is encountering, getting hold of the JH-7 heavy strike fighter from Beijing can equip the Pakistan Air Force with the much needed, offensive and defensive capabilities.
It is reported that China also intends to sell a large part of their JH-7 fleet to Pakistan as it has repeatedly been showcasing the fighter bomber at air shows such as the China International Aviation and Aerospace Exhibition.
Chinese Military Commission Leaves Door Open For 'Forceful Takeover' Of Taiwan
With a relatively old frame, the JH-7 is still one of the most successful aircraft for deep strike operations. Along with a longer combat range and heavy payload capacity, the aircraft's ability to fly under the enemy radar can allow it to target many coastal regions of its neighbours.
Built with technological superiority, the JH-7 can launch long-range anti-ship missiles from as far as 100 miles from their targets, therefore adding to the strategic aura of the aircraft. This characteristic was best-made use of by the Argentine Air Force during the 1982 Falklands War, as French Super Etendard strike aircraft armed with Exocet missiles sank two British warships.
How Special Forces Of India, MARCOS & Para SF Compete Against US Navy SEALs?
Apart from its other mechanical specializations, since Pakistan already has experience in successfully operating and maintaining Chinese-built aircrafts such as the H-5, J-6, and F-7, the JH-7 presents itself as "an ideal "stop-gap" solution for the PAF until sufficient numbers of the JF-17 Block 3 are inducted," believes Ammad Malik, a defence and security analyst from Lahore.
PAF against IAF
Post the independence from the British rule, India and Pakistan have engaged in four bloody wars and many conflicts including few military standoffs and one publically known airstrike.
How China Is Using Technology And Tourism To Assert Claims On Mount Everest?
Both the nuclear-armed nations continue strengthening their defence systems. The global defence experts believe that the Indian Air Force (IAF) is equipped with aircraft that are both qualitatively and numerically superior to much of the Pakistan Air Force's (PAF) inventory.
According to the latest numbers from Global Firepower Index 2019, PAF has airpower of 1,342 aircraft as compared to IAF's 2,082. While the IAF includes superior-quality aircrafts such as the Russian Sukhoi Su-30MKI and upcoming Rafale Jets, Pakistan still depends largely on its limited fleet of US's F-16 Fighting Falcons.
Indian Para SF vs Pakistani SSG Commandos – Whom Would You Bet-On In A Rescue Operation?
With the possession of about 75 F-16 jets that were delivered way back in the 1980s, PAF also includes over 100 JF-17s of the Block 1 and Block 2 variants, along with a huge operational fleet of the 1960s-era Mirage 3 fighter jets.
India even wins the brownie points as the Indian Navy is also capable of operating a significant and independent air arm of its own which can effectively target Pakistan's coastal hub of Karachi. Pakistan's Navy, on the other hand, is relatively much smaller than India's and does not have capabilities to deploy fighter jets and depends flat out on the PAF for aerial maritime strike operations.
Why India Took Almost 30 Years To Charge Yasin Malik For The Murder Of IAF Officials?
Meanwhile, critics from Pakistan often point out that the PAF enjoys far greater serviceability of its jets than that of IAF due to maintenance-friendly nature of its aircraft. The expert writers that "India's present Russian/Soviet technology is generally less reliable and less effective and a large part of their fleet of MiG-21s and MiG-27s are outdated," while calling the MiGs as 'flying coffins'.
However, just recently, the Indian Air Force (IAF) had announced that it will receive the first 4 of the total 36 Rafale fighter jets from France by the end of July 2020 and the full delivery by May 2022.
Aksai Chin Is No Doklam; Indian Army Will Pay 'Heavy Price' For Aggravating Border Dispute – Experts
The twin-engine, canard-delta wing, multirole fighter aircraft is categorized as a 4.5 generation aircraft that can perform numerous roles including Air dominance, interdiction, aerial recce, precision long-range strikes including in the maritime environment.
India's retired Air Marshal M Matheswaran had said that "Pakistan has the multi-role F-16 in its inventory. But it is only as good as the Mirage 2000 of India. There is nothing equivalent to the Rafale in Pakistan."
 Penned by Ammad Malik, Edited by Vipasha Kaushal