Russian Defense Ministry said that the southern and western military units have started returning their troops to places of permanent deployment while the Navy says it is launching massive drills in the Barents sea.
"We have always said that after the exercise ends, those stages that must be completed within a certain time frame, the troops return to their places of permanent deployment, this is happening this time as well. There is no novelty here. It's a normal process," Peskov told reporters.
There is nothing out of the ordinary in the return of some troops to their bases after completing drills, Kremlin spokesman Dmitry Peskov said on Tuesday when asked if the return of military units means de-escalation.
Meanwhile, Russia's Northern Fleet announced on Tuesday that it began military exercises in the Barents Sea with the participation of about 20 ships, including the Pyotr Veliky (Peter the Great) missile cruiser and the Admiral Gorshkov frigate.
"In the Barents Sea, the diverse forces of the Northern Fleet have begun to conduct a planned exercise under the leadership of the commander of the Northern Fleet … which is taking place in accordance with the training plan for the Russian armed forces for 2022," the fleet told reporters.
In total, up to 20 ships and support vessels of the Northern Fleet are involved in the exercise in the Barents Sea, more than 10 aircraft of the air forces and air defense forces of the Northern Fleet are also involved in the drills.
The purpose of the maritime maneuvers is to practice the actions of the Northern Fleet forces to protect Russian national interests in the world ocean, as well as to counter military threats to Russia from sea and ocean.
"As part of the exercise, it is planned to practice measures to check the absence of tracking and search for foreign submarines, establish control over navigation in the Barents Sea and the flight of aircraft over it," the fleet said.
Russia-Ukraine Crisis
The crisis at Ukraine's border, triggered by the huge Russian military build-up, seems to have worsened further as some western experts had said that the latter could invade the neighboring state as early as this week.
Russia and its close ally Belarus are conducting drills close to the Ukrainian border. Similarly, Ukraine and its Western allies have started amassing troops and bringing weapons into this part of Europe to prepare for the worst.
Meanwhile, US President Joe Biden and UK Prime Minister Boris Johnson have said not all hope is lost for a diplomatic solution to the Ukraine crisis, but warn that the situation remains fragile, BBC reported.
A similar gesture was expressed by Moscow as Kremlin Spokesman Dmitry Peskov told CNN that Russian President Vladimir Putin is willing to hold talks on security guarantees. "Ukraine is just a part of the problem, it's a part of the bigger problem of security guarantees for Russia and of course, President Putin is willing to negotiate," he said.
Interesting items that popped up in @maxar & @planet satellite imagery over the weekend: A new field hospital and deployment of more ground-attack aircraft in #Belarus; arrival and movement of equipment at a site close to #Ukraine's border. #Russia https://t.co/jFoVVZKUpU pic.twitter.com/E2wIgbcFTG

— Christoph Koettl (@ckoettl) February 14, 2022
Analysts believe that Russia is on the path to building the military architecture that it will need for significant intervention in Ukraine. This development is noted even though it has not been made completely clear whether Russian president Vladimir Putin has any plans to initiate an attack. Moscow is still stressing that it does not have any such plans.
Alongside roughly 130,000 troops stationed around Ukraine, Moscow has also brought along its tanks, airpower, artillery, and ammunition. Officials from the US have estimated that Putin has already collected 70 percent of the forces required for a full-scale invasion of its anxious neighbor.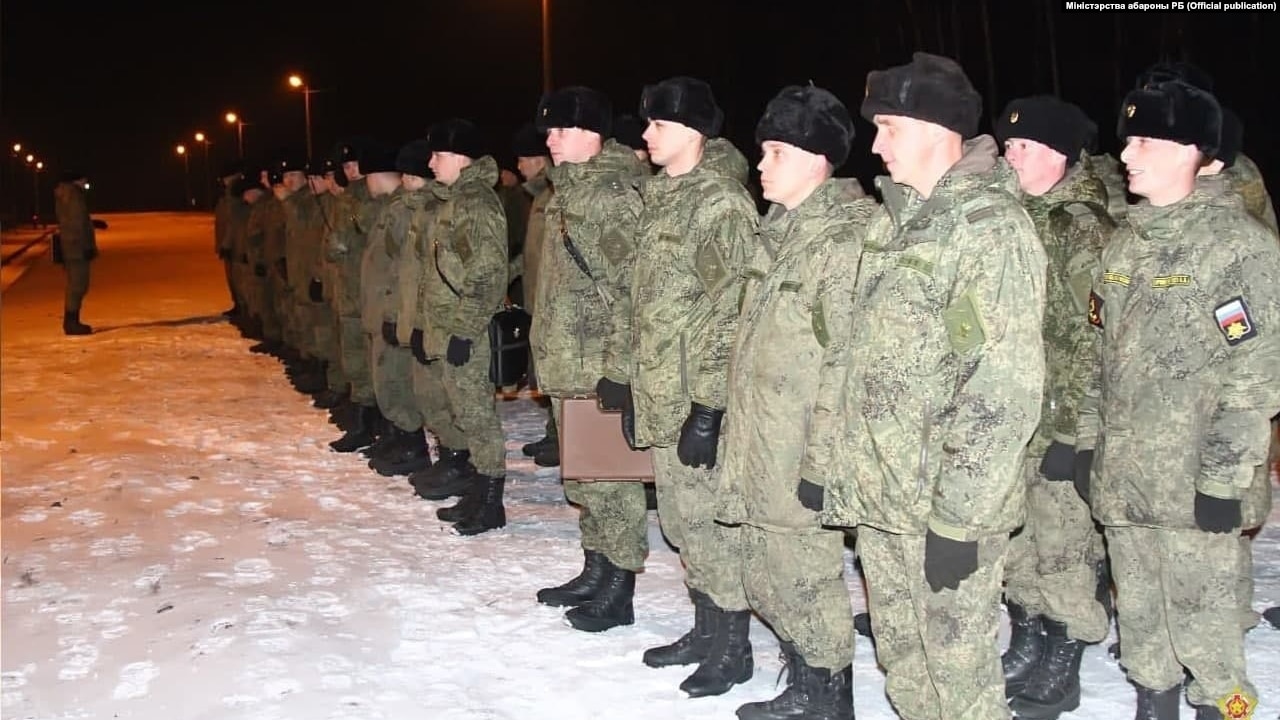 It is interesting to note that the troops put on Ukraine's border also include about 100 battalion tactical groups (BTGs). BTGs are fighting formations of 600 to 1,000 troops that have their own artillery, air defense, and logistics. In comparison to the 100 BTGs deployed now, the 2014 conflict had no more than a dozen BTGs. The same year, Russia annexed Crimea from Ukraine.
In addition, Russia has positioned 10 of its total 11 Combined Arms Armies near Ukraine. These are high-level formations that usually contain several divisions. It has redeployed its Su-35s from its far eastern regions to Belarus. It has also stationed a MiG-31K 'Foxhound' fighter jet armed with a Kinzhal hypersonic land-attack missile in Kaliningrad along the Baltic Coast.
Ukraine Surrounded On Three Sides
Ukraine is effectively surrounded on three sides due to a large Russian military exercise that is taking place in Belarus. The two countries' joint military exercises close to the Belarusian border with Ukraine are a part of 10-day drills. West has viewed this as the added element to the invasion threat.
An estimated 30,000 Russian troops, alongside almost all of the Belarusian armed forces, are participating in the drills. A lot of the equipment required for the drills has been transported thousands of miles across Russia. The country's defense ministry said one of its S-400 missile defense systems has also been activated in Belarus, quite close to the Ukrainian border.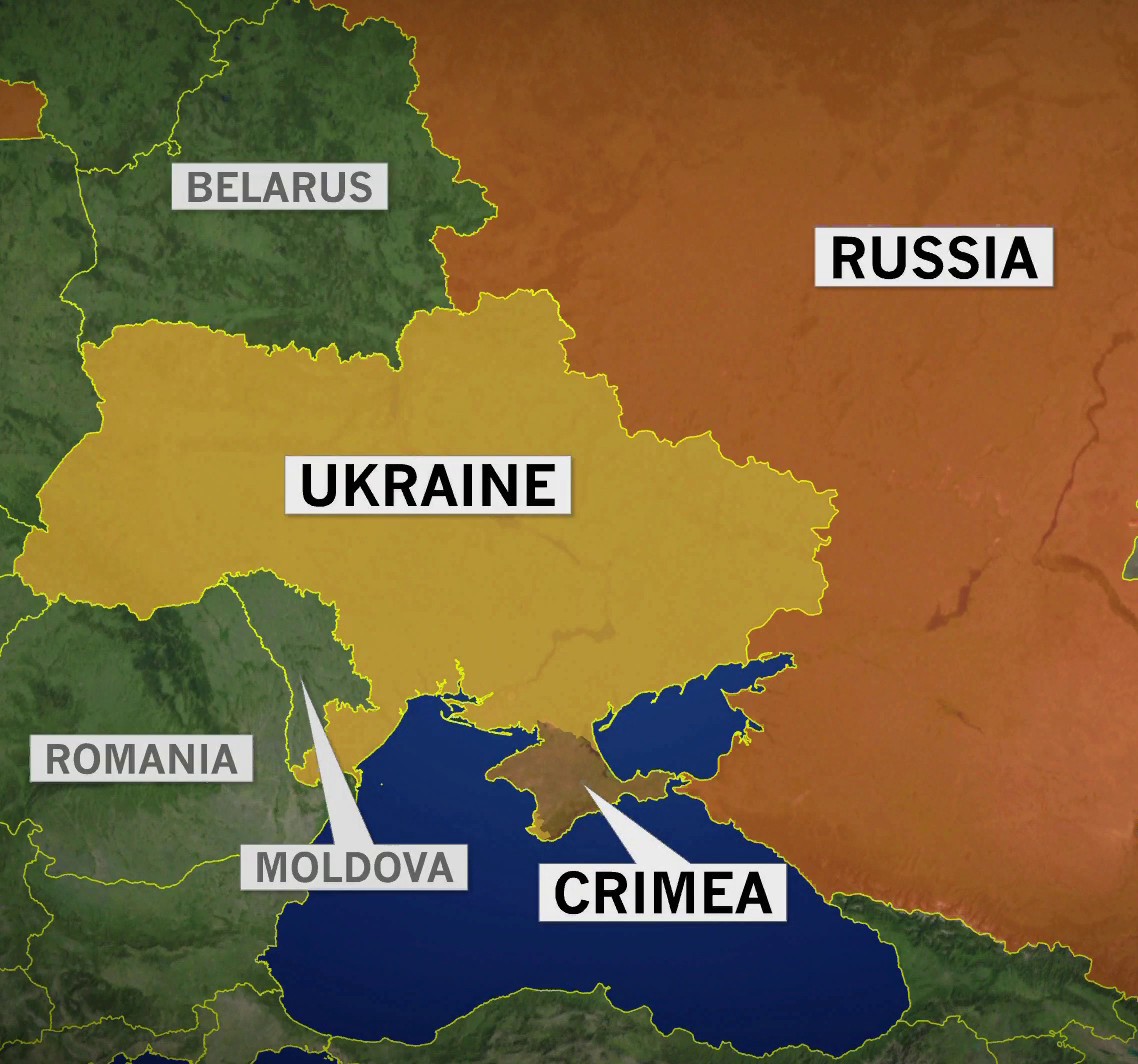 The defense ministry noted that Russia will be conducting drills in January and February. These will include over 140 warships and support vessels and see the involvement of 10,000 personnel. Russia is also preparing for missile tests in the Black Sea — a move that Ukraine said is bound to make shipping impossible in the Sea of Azov and the Black Sea.
Warships from Baltic and Northern Fleets have already been seen traveling towards the Black Sea. Important ships from the Pacific Fleet are also moving towards the Mediterranean.
In response, Ukraine declared that it will conduct 10 days of drills of its own. Commander of the Ukrainian land forces, General Oleksandr Syrskyi, told the media that about 10,000 troops were involved in Ukraine's exercises. "We have specifically moved training of the armed forces towards the most dangerous lines of possible enemy offense," he noted.
The defense minister of Ukraine has said that the drills will feature Javelin anti-tank missiles that have been recently provided to Kyiv by the US. Javelin has been touted as the world's premier shoulder-fired anti-armor system that can automatically guide itself to the target after being launched.
Ukraine's drills will also feature British Next Generation Light Anti-Tank Weapons (NLAW), which can reportedly destroy certain tanks in just one shot.
Support From West
Furthermore, western nations have mobilized weapons in Europe for Ukraine's support. The US Air Force F-15C and F-15D Eagle fighter jets arrived at Łask Air Base in Poland last week. The warplanes have been sent to take part in a mission designed to "enhance NATO's collective defense posture," while also supporting the permanent Baltic Air Policing (BAP) mission.
It is interesting to note that the F-15s that landed in Poland came equipped with live AIM-120 Advanced Medium-Range Air-to-Air Missiles (AMRAAMs).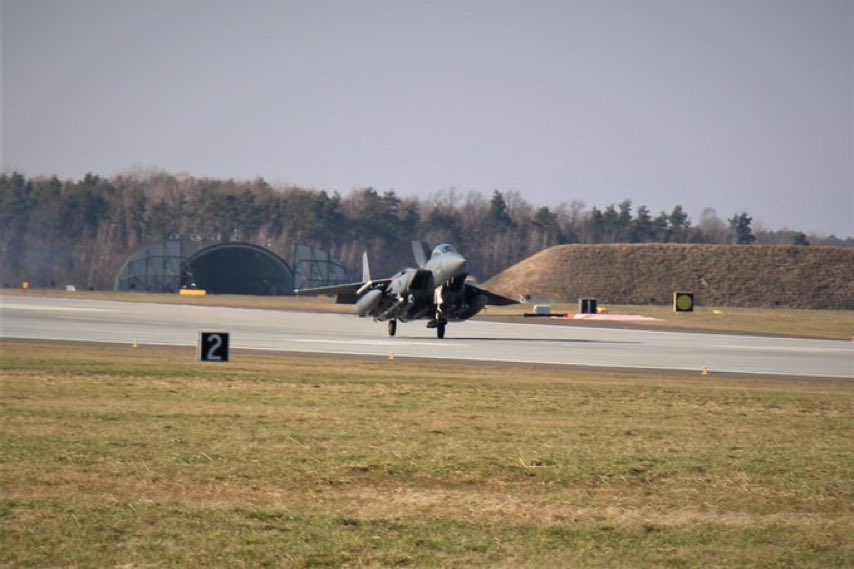 In the present context, some quarters have hinted that these forward-deployed forces could take part in such an operation. Otherwise, it could also serve as a distraction.
The eight F-15C/Ds will work side-by-side with Polish and Danish F-16s that are already flying from Šiauliai Air Base in neighboring Lithuania.
"The extra fighters will bolster readiness and allied deterrence and defense as Russia continues its military build-up in and around Ukraine," an Allied Air Command statement read. "The aircraft plan to work with other allies throughout the region practicing air-to-air and  air-to-ground training maneuvers in addition to the supporting the enhanced Air Policing (eAP) mission."
The USAF deployed B-52H nuclear-capable bombers from North Dakota to the UK. The bombers can engage targets across a large expanse of Russia with nuclear warheads without moving a significant distance from the British airspace.
🇷🇺⚡️🇺🇦Russian Military Night Movements #Russia #Ukraine pic.twitter.com/c2r58cAQ8r

— The Rage X – Conflict News (@the_ragex) February 14, 2022
Earlier this month, the huge C-17 Globemaster III transport planes left the US for Ukraine.
It appears that the trend of greater military deployments will not stop anytime soon, despite diplomatic talks to end the impasse.