China is showcasing its military prowess by stepping up its combat training exercises involving J-20 stealth fighter jets amid the existing tensions in the South China Sea and along the border in the Himalayan region.
US Looks To Unleash Its Latest B-21 'Stealth Bombers' In-Tandem With F-35 Jets As Tensions Escalate With China
As per The South China Morning Post, China's state-owned media CCTV broadcasted footage from a drill showing the two warplanes firing dozens of decoy flares, which are typically used during dogfights to counter heat-seeking missiles by the adversary that target aircraft engines.
The broadcast and military drill of the single-seat, twinjet, all-weather fifth-generation fighter aircraft was not only aimed as a show of force to foreign eyes but also targeted the domestic audience to highlight the capabilities of the aircraft.
China's military air force has a fleet of 2500 fighter jets, cargo planes, and drones, which includes recently inducted new fifth-generation stealth fighter jets, the Chengdu J20, making them deadlier than ever in neutralizing threats.
The Chengdu J20 is the same size as the United States' F-22 and F-35C. Capable of housing a number of short-range missiles but the J20 lacks in terms of maneuverability due to its nature of being a large fighter jet.
Amid escalating tensions, China is stepping up its military forces with new attack drones, upgraded cargo planes, and the Russian S-400 and S-500 air defense systems.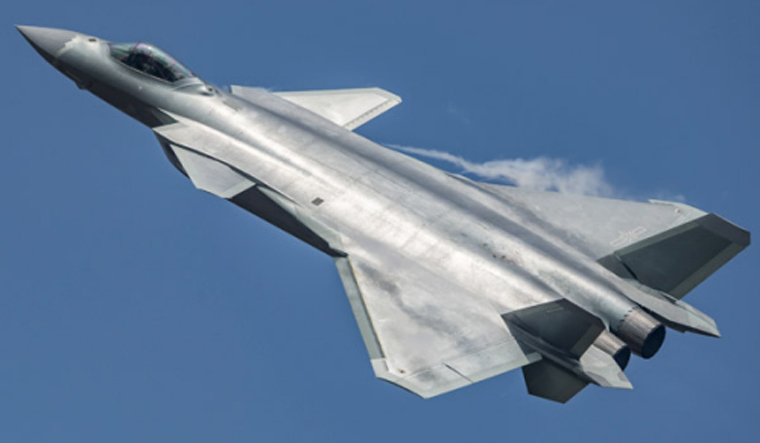 China has been threatening to prepare for war and has announced that it would not stop from using force to make Taiwan, which claims to be an independent country, part of its mainland. In case a conflict occurs between the two, the J-20 would be up against Taiwan's advanced F-16 fighter jets.
Fearing an Chinese invasion, Taiwan has sought military support from the US. Within a week, Taiwan and the US have signed two arms deals worth multi-million dollars.
In a recent deal, the self-ruled island is buying 100 Harpoon Coastal Defence Systems and up to 400 surface-launched missiles worth a total of around £1.83B. The earlier deal, worth £1B, comprises a High Mobility Artillery Rocket System (HIMARS) and the Standoff Land Attack Missile-Expanded Response (SLAM-ER) air-to-ground missiles.
On the Himalayan front for China, a Forbes report citing satellite images reported in August that two J-20s were seen at Hotan airbase in China's far western Xinjiang – close to the disputed region. The airbase is China's closest, about 320km (200 miles), to the disputed Aksai Chin region.
India has deployed its five new Dassault Rafale fighter jets to Ladakh after their induction to the Golden Arrow squadron in September. India is set to receive three Rafale fighter jets on 5 November from the Bordeaux-Merignac facility.
As earlier reported by The EurAsian Times, the Indian Air Force will get a major boost as 16 of the 36 fighter jets will be inducted into the force by April 2021.
With this, the Golden Arrows Squadron will be equipped with 18 of these fighter jets and the remaining three will be sent to the Hashimara air base in north Bengal's Alipurduar to protect the northeastern border with China.
Experts in Beijing believe that China's J-20 fighter jet could gain air supremacy because of its stealth – it can evade radar detection and reach supersonic speeds. While China claims air superiority over India, experts in New Delhi suggest that Rafale is far superior to Chengdu-J20.
"Even though it's believed to be a 5th generation fighter (the J-20) it is probably at best a 3.5 generation aircraft. It's got a third-generation engine as we have in the Sukhoi," Air Marshal R Nambiar (retd), who flight-tested the Rafale fighter jets for India, told BusinessToday.
Overall, a Russian aviation expert, who did not wish to named said in case a conflict breaks out between India and China, New Delhi will put its Rafales into actions straight away and it is highly unlikely that the J-20s will ever be used.
It will be a Russian-origin fighter that will battle Indian Rafales and Sukhois and it may end up being a battle between Russia vs Russia. The pilots will decide the winner!