As Russian President Vladimir Putin ordered a full-scale military assault on Ukraine and demanded that Kyiv's forces lay down their weapons, Ukraine appears to be fighting alone despite all the support.
Russian bombardment began early on February 24, hours after Putin announced his decision to "conduct a special military operation" to "demilitarization and denazification" of the neighboring country. He also warned the US and NATO not to interfere or they would face "consequences you have never seen".
Russian troops attacked Ukraine with artillery, missiles, and small arms from Ukraine's northern border with Belarus, across its eastern border with Russia, and in the south from Crimea, which Russia annexed in 2014.
Later, Moscow's tanks and armored vehicles poured into Ukraine from all three fronts. Meanwhile, fighter aircraft and dozens of helicopters bombed a crucial airfield outside of Kyiv.
Russian forces began standoff missile attacks against command and control facilities, air defense installations, air bases, and other vital targets. 
Several videos are circulating on social media as the invasion is taking place. The weapons and their wreckage used by Russian and Ukrainian soldiers can easily be seen in these shots.
Russian Forces Wreak Havoc
Footage showing Russian missile strikes and shells retrieved from various sites in Ukraine was shared on social media. While Russia claims to be carrying out precision strikes, reports from the ground indicate that civilian areas have been targeted as well. 
The Russians deployed the Smerch, a powerful multiple launch rocket system (MLRS) that is also used by the Indian Army. The Smerch is installed on vehicles and can fire 12 rounds in 38 seconds.
Russia already shooting entirely unguided missiles at Ukrainian cities. https://t.co/hyBDVf8p1O

— Nathan Ruser (@Nrg8000) February 24, 2022
The Urgan multi-rocket launcher system, which has 16 tubes in each unit but only about half the range of the Smerch, is also believed to have been used by the Russian troops. In addition, the Kalibr cruise missiles and Iskander tactical ballistic missiles are also being employed.
With a range of up to 2,500 kilometers, the Kalibr cruise missile appears to be their preferred weapon in this operation. The weapon was previously deployed in Syria in 2015. Ukrainian officials also confirmed that during the initial stages of the invasion, Russian soldiers fired at least 30 Kalibr cruise missiles at Ukrainian sites.
#war The SS-N-27 Sizzler land attack cruise missile (LACM) above the coast of the Kherson region of 🇺🇦#Ukraine. pic.twitter.com/cuWRuGK3l0

— Capt(N) (@Capt_Navy) February 24, 2022
The Iskander tactical ballistic missile has a range of 300 to 400 kilometers. The missile is equipped with the latest Russian radar systems and is designed to evade enemy missile defenses by changing course mid-flight.
Last month, The EurAsian Times had reported that Russia has deployed a large number of Iskander-M short-range ballistic missile (SRBM) systems in areas bordering Ukraine. 
For aerial assaults, Russian forces are believed to be using MiG-29, Su-35, and Su-24 fighter jets, in addition to Ka-52 Alligator attack helicopters. 
If videos circulating on the internet prove to be true, two Russian Aerospace Forces Ka-52 helicopters were shot down by Ukrainian forces. In one video, a helicopter armed with anti-tank guided missiles and carrying external fuel tanks can be seen on the ground. It is likely that the chopper suffered damage due to a detonation by a proximity-fused anti-aircraft missile.
.Один із збитих під Гостомелем російський гелікоптер pic.twitter.com/K8xlGU1KI8

— ВТОРАЯ ВОЛНА Covid-19☢️ ОДЕССА 🇺🇦 (@Odessa8436) February 24, 2022
The damaged Ka-52 shows markings of the Russian Aerospace Forces and an individual code on its airframe, but it does have a white V symbol, which is purportedly used to identify Russian military assets landing in Ukraine from Belarus.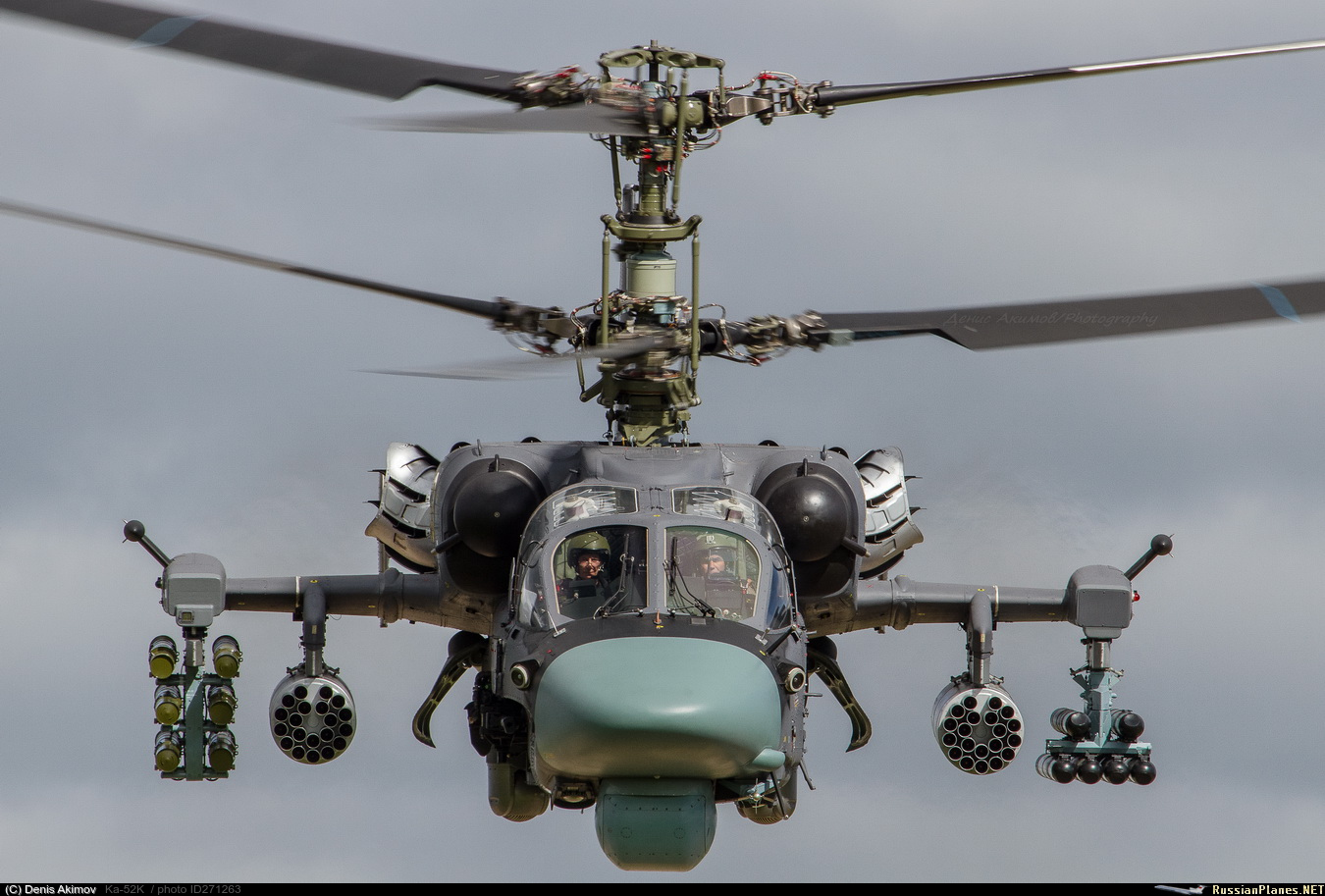 Another video shows the debris of a crashed helicopter falling into a waterbody near Vyshhorod, north of Kyiv. A crew member used a parachute and was retrieved from the water by a boat.
Video pic.twitter.com/3s6HldT3xC

— OSINTtechnical (@Osinttechnical) February 24, 2022
Ukraine Says It Killed 50 Russian Soldiers
While Russia is unleashing destruction, Ukraine has been able to inflict some damage on Russian forces. Kyiv claims nearly 50 Russian and 40 Ukrainian soldiers were killed; seven planes were shot down, and a few tanks were destroyed. Ukrainian soldiers reportedly shot down one Su-24, two Ka-52, and one An-26 aircraft. 
Despite the fact that Ukraine's aerial combat assets have been a major target of Russia's activities thus far, the Ministry of Defense claims that at least some of its Turkish-made TB2 armed unmanned aircraft are still being used against the invading forces. However,  the Russian Defense Ministry claims it has knocked down at least four TB2s.
Bayraktar TB2s are active according to the Ukrainian MoDhttps://t.co/C9mXp3bsOl

— Oryx (@oryxspioenkop) February 24, 2022
Latvian Defense Minister Artis Pabriks stated that the US-made Stinger short-range surface-to-air missiles that Latvia recently delivered to Ukraine have already been used successfully against Russian soldiers. 
Ukraine also claims that guided anti-tank missiles, known as Next Generation Light Anti-tank Weapons (NLAW), given by the United Kingdom in January were used against Russian armored vehicles. The use of US-made Javelin anti-tank guided missiles in operations against Russian soldiers has been acknowledged by Ukraine's Ministry of Defense. It claims to have destroyed an entire column of Russian T-72 tanks by using this weapon. 
В районі Глухова військові застосували ПТРК «Javelin» та знешкодили колонну техніки РФ.
15 танків Т-72https://t.co/MiD9k8RbYH pic.twitter.com/rQ83FPX1bD

— ЗС УКРАЇНИ (@ArmedForcesUkr) February 24, 2022
Russian airstrikes targeted Ukrainian Air Force MiG-29, Su-27, and L-39 squadrons, as well as anti-aircraft missile units operating S-300 systems, according to a statement from Ukraine's Ministry of Defense. It was also believed that the Ukrainian S-300 system, which it inherited following the collapse of the Soviet Union, was relatively effective against aerial attacks.
In the first few minutes of the Russian onslaught, one Ukrainian Su-27 appeared to be fleeing to Romania. The Ukrainian fighter jet was escorted by two Romanian F-16s to the 95th Air Base in Bacau in northeast Romania, according to a news statement from the Romanian Ministry of Defense.