Indian and top Chinese army officials are set to hold another round of border meetings to diffuse the flaring tensions along the India-China border. Both sides will meet for the third time on Tuesday in Ladakh's Leh district to diffuse tension along the contested Line of Actual Control (LAC).
India Deploys Israeli SPYDER Missiles Along With Akash Air Defence System Near China Border?
The meeting between corp commanders of India and China is the third—first was held on June 6 and second on June 22 in Moldo on the Chinese side of the Line of Actual Control (LAC)—after border tensions erupted between both the nations.
Meanwhile, satellite images reveal that construction on both the Indian and Chinese sides is continuing swiftly. The images appeared to show that the Indians have constructed a wall on their side while Chinese have extended an outpost camp at the end of a long road connected to Chinese army bases farther from the poorly demarcated border.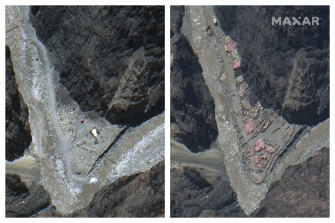 The images released by Maxar, a Colorado-based satellite imagery company, displays the new construction along the Galwan River Valley, despite India and Chinese military commanders meetings to de-escalate.
The Maxar satellite images of the river bend revealed that construction had expanded up the Galwan Valley toward the Line of Actual Control from Chinese bases.  Maxar Vice President Steve Wood said that since May 22, satellite images showed "convoy after convoy of heavy trucks, diggers, bulldozers and some military armoured equipment" rolling down the Galwan Valley toward the contentious border.
US-India Military Alliance Would Be A Strategic Nightmare For China – Chinese Experts Admit
Prior and post the deadly border clash, China was shifting construction equipment, soldiers and military hardware toward the LAC, said Chris Biggers, a senior analyst at the geospatial intelligence company HawkEye 360.
The satellite imagery appears to show that India has built a stone wall there facing the new Chinese post, with a layered set of barriers wrapped in camouflage netting and tarps that "could also function as fighting positions."
India Should Be Prepared For A Two-Front War With China & Pakistan – Army Chief
With China staking claim to Galwan Valley, going against its own position in the past, Indian media quoting their sources say that China is "trying to reach its 1960 claim line" at some of the points on the LAC.
By claiming the entire Galwan Valley, China wants Indian troops not to cross the convergence of the Galwan river and Shyok river. It is about 5 km west, as the crow flies, of Patrolling Point 14 (PP-14) where the June 15 clashes took place