A mountain infantry regiment of the Chinese People's Liberation Army (PLA) recently launched a multi-arms coordinated mountain offensive exercise simulating complex battlefield conditions in which some of the new equipment were used to check the PLA's advances in Military Engineering.  
In an exercise in the Central Asian Karakoram Desert, synthetic, or combined, battle groups from the Xinjiang Military Region (XMR) stationed in the hinterland of Kunlun Mountains used new equipment to break through a series of obstacles and difficulties such as anti-tank ditches, missile, and chemical weapon attacks and electronic jamming, state broadcaster CCTV reported on March 3rd.
The CCTV video footage showcased assault bridge vehicles extending a trench to help light infantry tanks cross and then keep moving while under simulated long-range missile attacks.
"The mobile assault bridge was designed to accompany light infantry to overcome man-made and natural barriers, such as tank trenches, ditches, and bomb craters, to ensure the fast passage of … all military vehicles," said Zhang Shifeng, commander of a synthetic regiment in Xinjiang.
These assault bridge vehicles appear to be the Type 09/VN1 light impact bridge based on the 09-type wheeled armored transport vehicle. According to experts, the vehicle can erect a light mechanized bridge of up to 15 – 20 meters.
The drill also involved chemical warfare scenarios in which the battles groups are hit by chemical weapons. The video footage showed a temporary disinfection site in which a huge decontamination vehicle opened its gantry to wash and disinfect all military vehicles.
The CCTV reported that the combined forces arrived at their destination after overcoming obstacles and the Intelligence force carries out drone reconnaissance missions on the enemy before launching a full-scale attack. There was also an electronic jamming unit that carried out the electromagnetic suppression.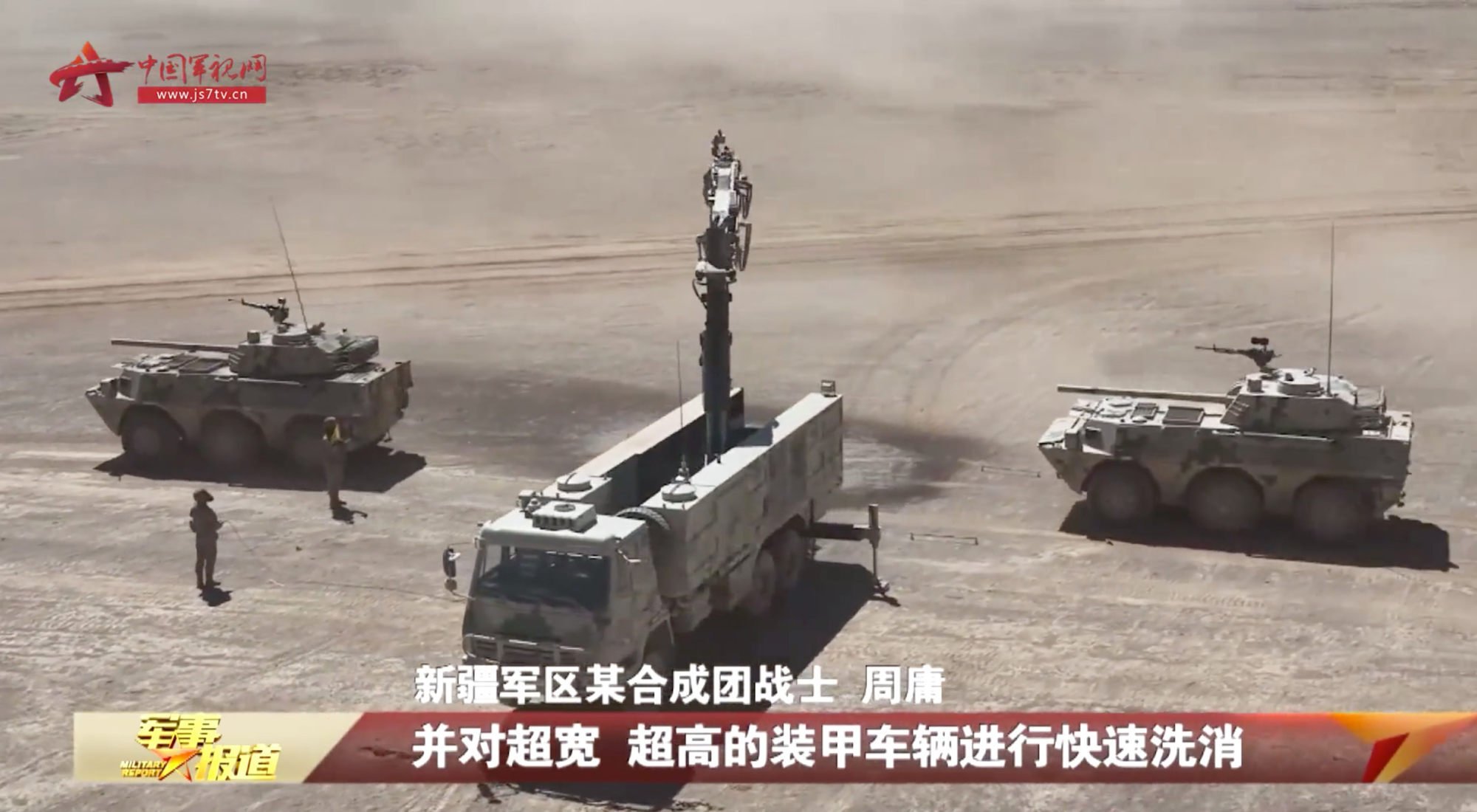 Liu Jiang, a division head of equipment management in the XMR told CCTV that the purpose of the training was to test unit commanders' capability to effectively use the new equipment while in a complex joint operation.
"We've set up complex battlefield situations based on actual combat needs, needing all fighting forces in various units to break out [from bureaucratic] obstacles and 'connect' with each other to improve combat capabilities," Liu said.
According to a former PLA instructor and a military commentator, Song Zhongping this recent drill demonstrated that the PLA commanders had planned for bigger challenges that were closer to real combat situations.
"Reality has shown us that in today's modern war – including the ongoing Ukraine war and other military conflicts outside China – all soldiers need to face unpredictable attacks and complicated difficulties, which need different fighting units to work together under a joint operation system," Song said.
The Xinjiang region poses three-fold challenges to the PLA dubbed as 'three forces' – terrorism, separatism, and religious extremism that have prompted the infantry forces in this region to intensify their mechanization efforts over the last two decades at the same time the PLA was modernizing the overall Chinese military.
According to Lu Li-shih, a former instructor at Taiwan's Naval Academy the recent joint training is aimed at preparing the troops for annual large-scale military drills at the Zhurihe Combined Tactics Training Base in Inner Mongolia later this year.
"The PLA leadership announced that they completed military mechanization [in 2020]," Lu said. "The multi-arms joint drill is not only a good demonstration to test the achievements of new equipment development, but also the joint operation capabilities between machines and troops."
The Zhurihe base is the PLA's most prominent military facility that hosts key annual exercises figuring significantly in continued Chinese efforts to upgrade combat readiness and modernize its armed forces. It is also the largest military training base in Asia.
Last year's edition of the annual exercise saw 200 senior military commanders from all Theatre Commands – and key regions such as Xinjiang and Tibet participated in combined forces military drills that lasted for three days.
These drills, typically involve mock battles between 'Red' and 'Blue' forces. The Blue force is PLA's 195th Mechanised Infantry Brigade officially set up at Zhurihe in 2014 which has adopted a command system and tactics similar to those of NATO forces.
Colonel Xia Minglong, the first commander of the 195th Mechanised Infantry Brigade had said that its job was to "study the enemies and act as the enemies".
So, every year, PLA troops from different regions are organized into Red Force units to battle the Blue Force units so that the soldiers are prepared to fight with more skillful and better-equipped adversaries.
In 2015, CCTV aired a footage of military exercise at Zhurihe that involved the PLA troops conducting a military assault on a building that closely resembled Taiwan's Presidential Office Building in Taipei.