The US Army has shortlisted five small business innovators to work on increasing the rate of fire of self-propelled howitzers based on a demonstration last month, reports said.
The idea is to move towards automation in the entire chain of handling ammunition, loading, and reloading in order to fire faster.
According to Defense News, the five small businesses shortlisted for the SPARTN Fire Faster Project are — Texas-based ARM Automation, California-based Dynovas, Michigan's H.A. Eckhart, and Pennsylvania's Carnegie Mellon Robotics (CR) Tactical and RE2 Robotics.
SPARTN stands for Small Business Innovation Research-based (SIBR) Special Program Awards for Required Technology Needs.
With a history of anti-trust law, the US had brought about the project to break down "long-standing barriers small businesses have faced in working with the Army: transparency, access, and capital," according to an August 25 US Army service statement.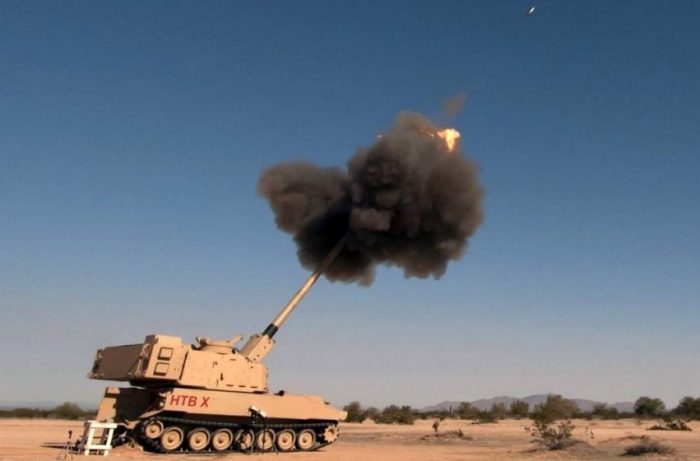 The companies were provided $200,000 for a four-month period of performance in SBIR Phase I which ended with a demonstration last month. In Phase II, the funds will be increased up to $2.5 million for a 24-months period to advance concepts and delineate designs.
The companies will also get to collaborate with stakeholders, especially the soldiers who will be operating the machinery.
Brig. Gen. John Rafferty, who is in charge of the Army's Long Range Precision Fires modernization efforts, stressed on efficiency being the goal, stating that, "It's also about asking, "where do we spend all of our time? We spend a lot of our time handling unpacking, unloading and downloading ammunition. If we can do that more efficiently we will become a more combat-effective unit".
The original, full-capacity design as demonstrated at Yuma Proving Ground, Arizona, last month, was found to be too unwieldy, compromising on mobility, survivability, and reliability for capacity. The US Army had to prioritize between range and the rate of fire.
The prototype has thus been reduced to a 23-round autoloader which will be demonstrated later this year. But the hardware and the software remain the same.
Leaked photos show new #US Army super cannon in stunning detail

It's a 155mm gun, 58 caliber, 70km+ range, eventually 100km. 👍 @Aryanwarlord @Ninja998998 https://t.co/YJROgJyEMq pic.twitter.com/YjPn9grFz0

— Indo-Pacific News – Watching the CCP-China Threat (@IndoPac_Info) December 12, 2019
What About The Range?
In 2018, Gen. John M. Murray, then head of Army Futures Command, had admitted that "the Russians, and in many ways, the Chinese as well, are able to outrange most of our systems," such as the M109A7 howitzers currently used by the US Army.
Russia supposedly outpaces the US in terms of quantity and range. The Russians claimed in 2017 that their 2S35 Koalitsiya-SV has a range up to 49 miles, way more than double of M109A7's 18 miles. The 2S35 also reportedly can fire 16 rounds per minute (rpm) though 10 rpm is the official rate of fire.
The US Army's modified M1299 howitzer, a part of the Extended Range Cannon Artillery (ERCA) program, can now fire up to 43 miles, 3 rpm, with the support of advanced technologies – an XM1113 rocket-assisted projectile and a longer 58 caliber tube. The goal is to increase the range to over 60 miles and the rate of fire up to 10 rpm with an autoloader in the next four years.
Follow EurAsian Times on Google News