Treatment For Coronavirus By Chinese Doctor Goes Viral – How True Are The Claims?
Is there a treatment for coronavirus yet? With India under a 21-day lockdown to prevent the spread of the coronavirus pandemic, there has been plenty of information shared on the internet which has gone viral for the treatment of coronavirus.
China Thanks India For Help During Covid-19 Crisis In Wuhan; Ready To Help Back Now
A post has gone absolutely viral on various social media platforms claiming that the Chinese doctor who first identified the highly contagious virus had proposed treatment for the disease.  The chemical compounds required to treat coronavirus can be found in tea, the doctor had suggested, according to the claims. It went on to claim that the news was first published by CNN.
They claim, 'Breaking News from CNN:- Dr Li Wenliang, China's hero doctor who was punished for telling the truth about coronavirus and later died due to the same disease, had documented casefiles for research purposes and had in the case files proposed a cure that would significantly decrease the impact of the Covid-19 on the human body… What's more shocking is that these complex words that were so difficult for people in China to understand is actually called tea in India, YES, our regular tea has all these chemicals already in it.'
THE COMPLETE CLAIM
Does Drinking Tea Help?
This claim asserts that the Chinese doctor had documented evidence that substances commonly found in tea can decrease the impact of the virus – these are known as methylxanthines. And those hospitals in China started giving Covid-19 patients tea three times a day.
Indian Minister Warns Of 'Shoot At Sight' Orders If Lockdown Violated
It's true that methylxanthines are found in tea, as well as in coffee and chocolate. But there's no evidence Dr Li Wenliang was researching their effect – he was an eye specialist, rather than an expert on viruses. Or that hospitals in China were specifically treating coronavirus patients by offering them tea.
News reports in China in February also picked up on the claim that tea could be used to stop the virus but said it was not true.
In India, there are more rumours that consuming cow urine can treat coronavirus. There has been a long tradition in India of promoting cow urine and dung as traditional remedies for various diseases. An Indian MP from the ruling party – Suman Haripriya, has suggested they could be used against the Covid-19.
US Group Sues China For $20 Trillion Over Using Coronavirus As Bio Weapon
But Dr Shailendra Saxena, of the Indian Virological Society, told BBC: "There is no evidence to show that cow urine or tea has anti-viral characteristics. "Moreover, using cow-dung could prove counter-productive as the bovine faecal matter could contain a coronavirus which might replicate in humans."
COVID-19: WHO experts in China to probe origins of Coronavirus
Two World Health Organization (WHO) experts are travelling to China to talk to scientists to investigate the transmission of COVID-19 or coronavirus pandemic from animals to humans, WHO chief said on Friday.
Addressing a webinar, the WHO Director-General Tedros Adhanom Ghebreyesus said the global health experts will also prepare a scientific plan with their Chinese counterparts to identify the zoonotic source of the COVID-19 virus.
"As we continue to tackle the pandemic, we are also looking into the origins of the virus," he said.
Adhanom said the scientists want to learn about the progress made in understanding the animal reservoir for COVID-19 and how the disease jumped between animals and humans.
"This will help lay the groundwork for the WHO-led international mission into finding the origins," he said.
The team comprising an epidemiologist and an animal health specialist are flying to China to try and identify the pandemic's animal source, WHO spokesperson Margaret Harris said a UN press conference in Geneva.
Harris said the aim is also to examine from which species of animal the virus originated and then transmitted to humans.
On April 20, WHO spokesperson Fadela Chaib had said that so far, all available evidence suggests the virus has an animal origin, and it was not manipulated or manufactured in a lab, or somewhere else. She was responding to allegations that the virus spread from the Wuhan Institute of Virology.
"It most probably has its ecological reservoir in bats, but how the virus came from bats to humans is still to be discovered," she said.
Missing intermediary host
"There was certainly an intermediary host or another animal that transmitted this virus from bats to this other animal, to humans, "she said.
Adhanom told international diplomats on Thursday that the member states at the 73rd World Health Assembly held in May had adopted a landmark resolution urging the WHO to initiate an independent and comprehensive evaluation of the lessons learned from the international health response to COVID-19.
"This is a time for self-reflection, to look at the world we live in and to find ways to strengthen our collaboration as we work together to save lives and bring this pandemic under control," said the chief of WHO.
"The magnitude of this pandemic, which has touched virtually everyone in the world, clearly deserves a commensurate evaluation," he said.
The WHO had waited for seven months to investigate the source of the virus and this has led to criticism of the organization and American officials accused Adhanom of being too lenient to China.
An earlier WHO mission led by a Canadian doctor Bruse Aylward that went to China in February was criticized in the US for praising China's in its fight against COVID-19.
The Curve Of Coronavirus Cases In India All Time High Despite Stern Lockdowns
The cases of coronavirus India has reported the large single-day hike with 24,879 new coronavirus cases in the last 24 hours, the Health Ministry said on Thursday.
The total tally of COVID-19 cases in India stands at 767,296 and death toll rose to 21,129 with 487 new fatalities.
Meanwhile, the tally of casualties in the financial capital Mumbai — the capital of Maharashtra — crossed 5,000 on Wednesday with 62 new casualties, said a statement by the Municipal Corporation.
Maharashtra is still the worst-affected state in the country with 6,603 news cases recorded in the last 24 hours. The west Indian now has over 223,724 coronavirus cases and 9,448 deaths.
Patna, capital of Bihar, will be put under strict lockdown from Friday due to the rising number of coronavirus cases in the city. "The state capital will be under strict lockdown for a week from July 10," said Kumar Ravi, Patna district magistrate.
India continues to remain the third worst-hit nation by the coronavirus in the world after the US and Brazil and the curve of the graph only appears to be rising.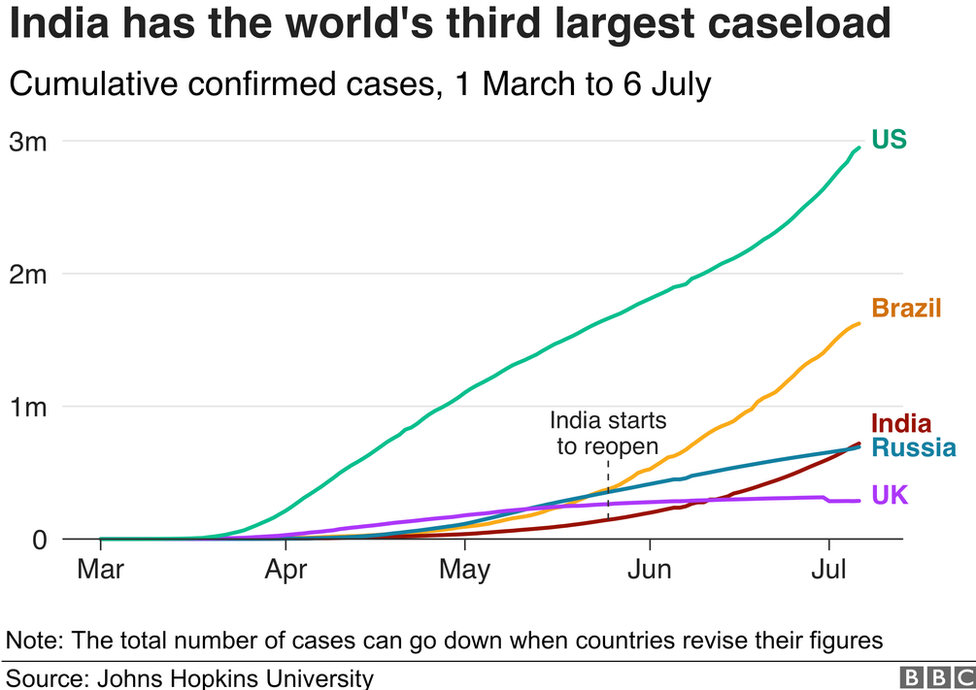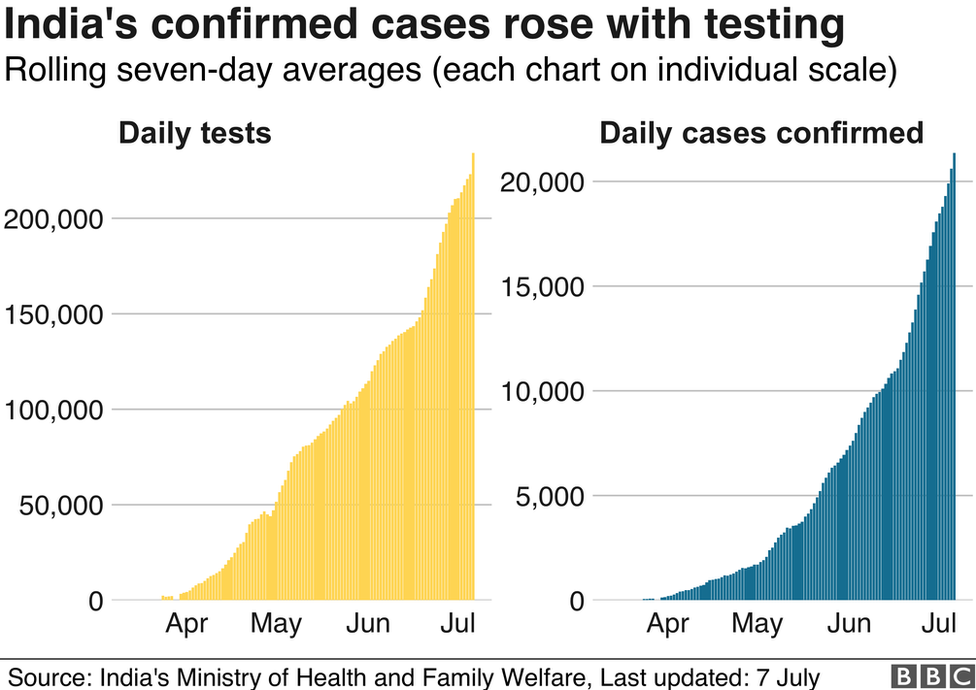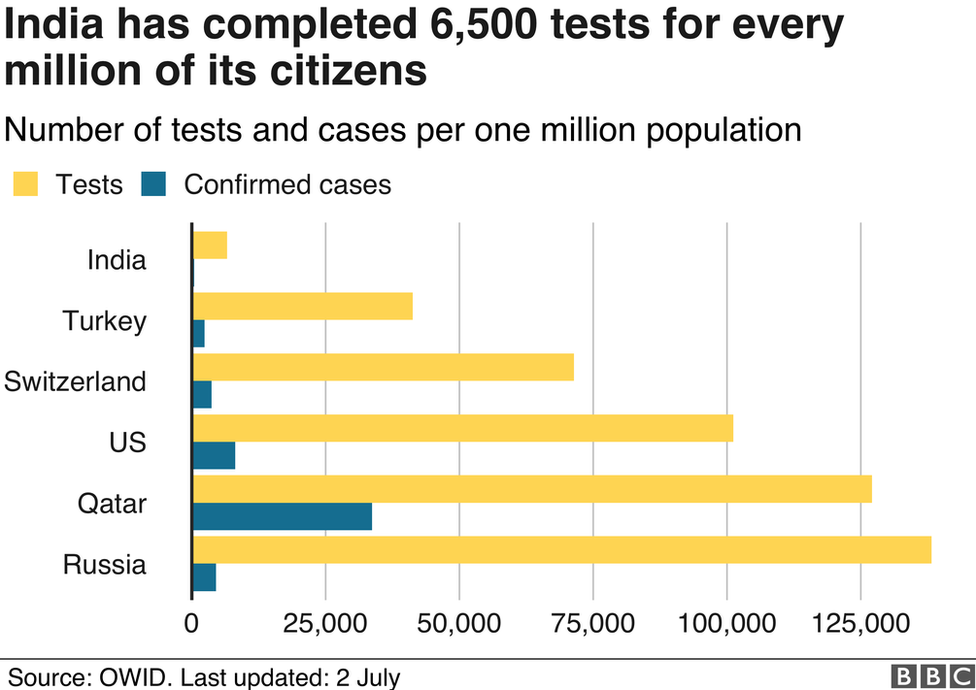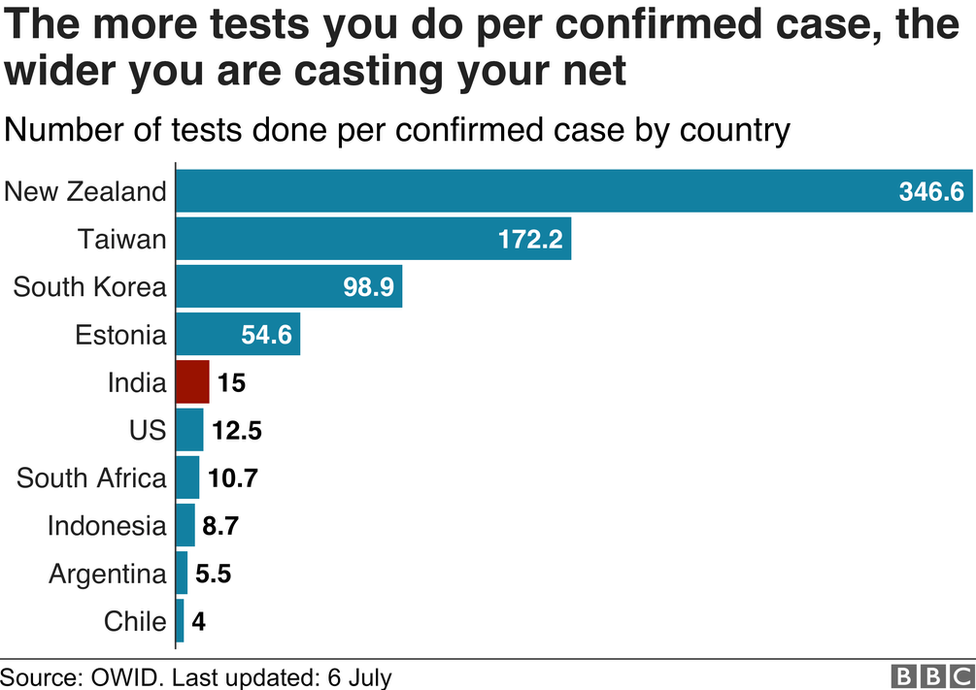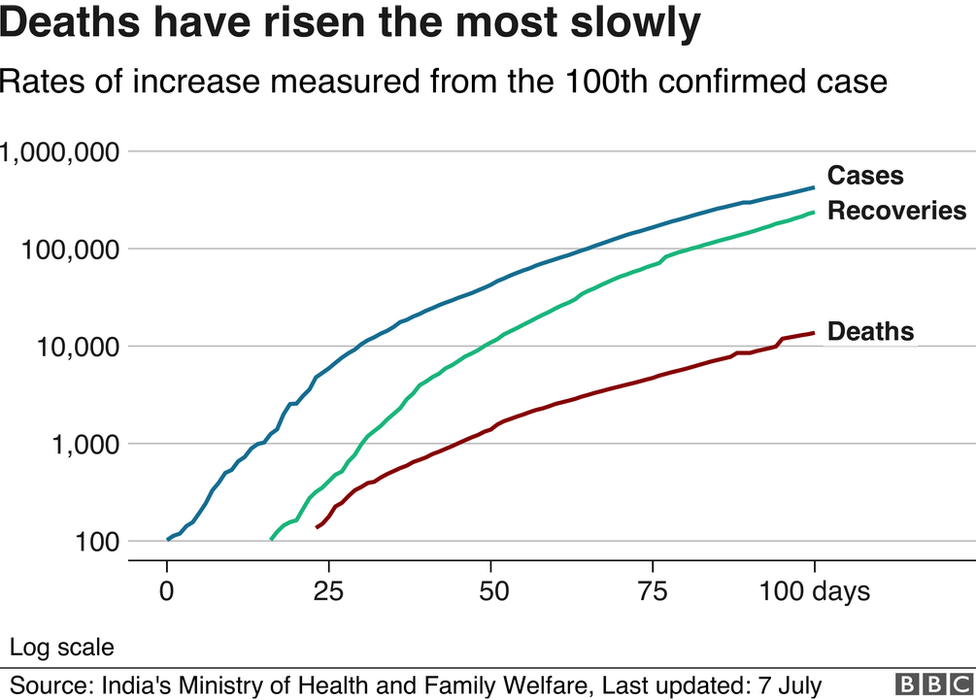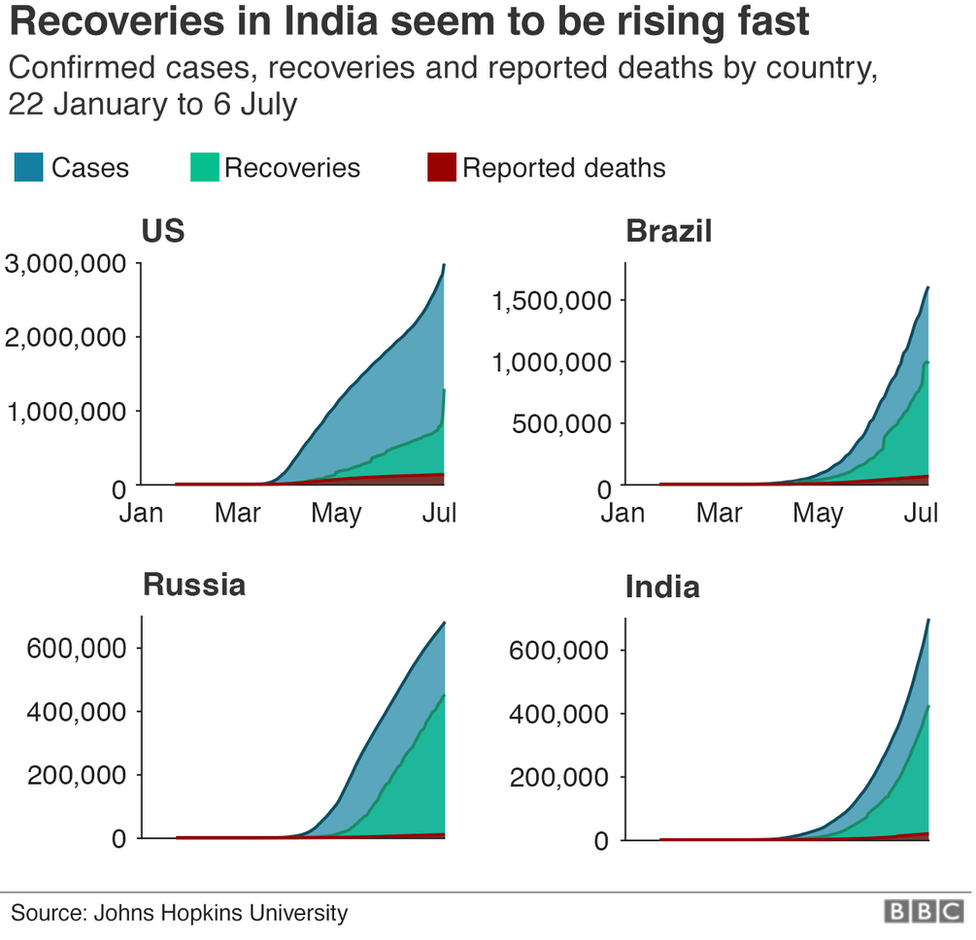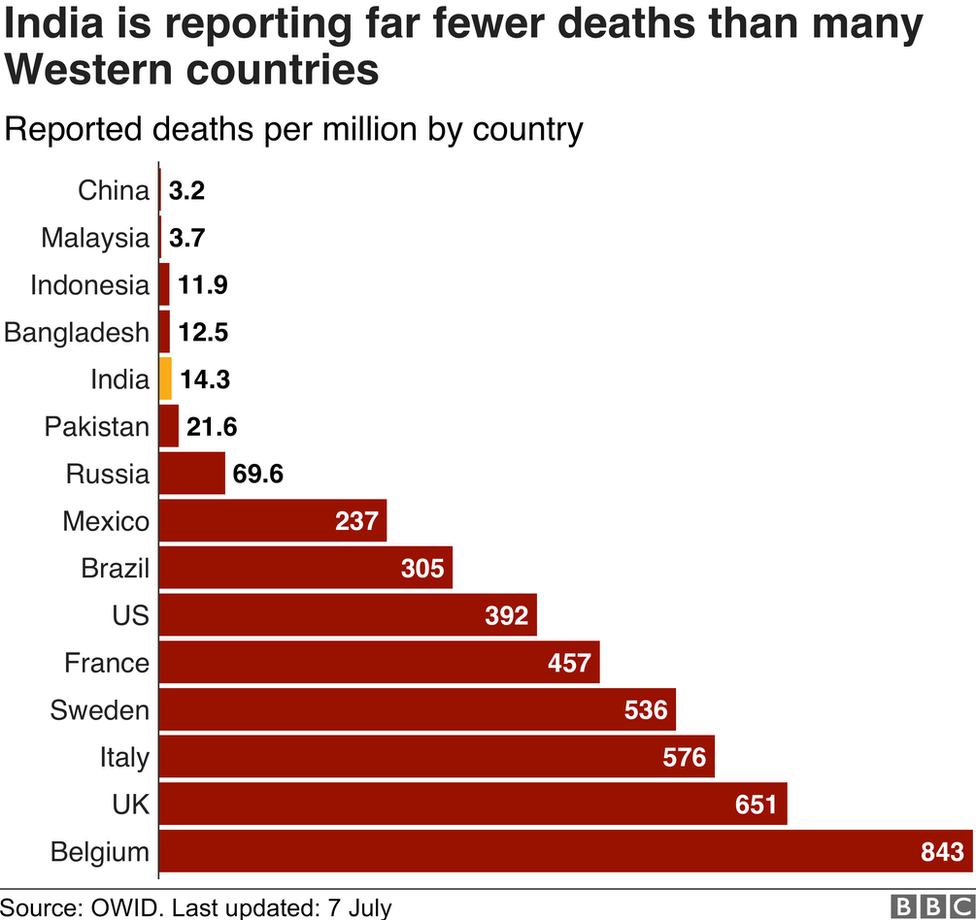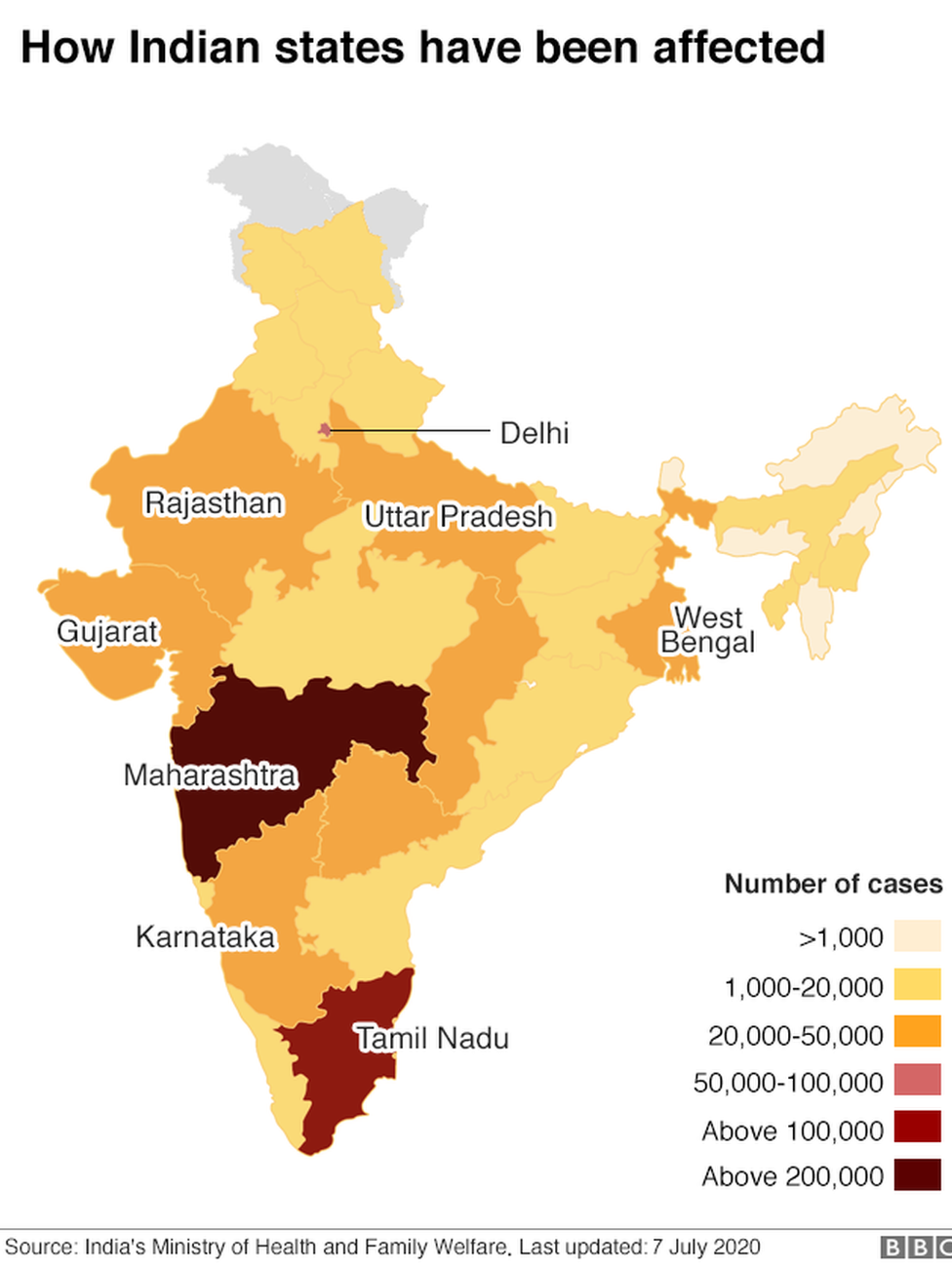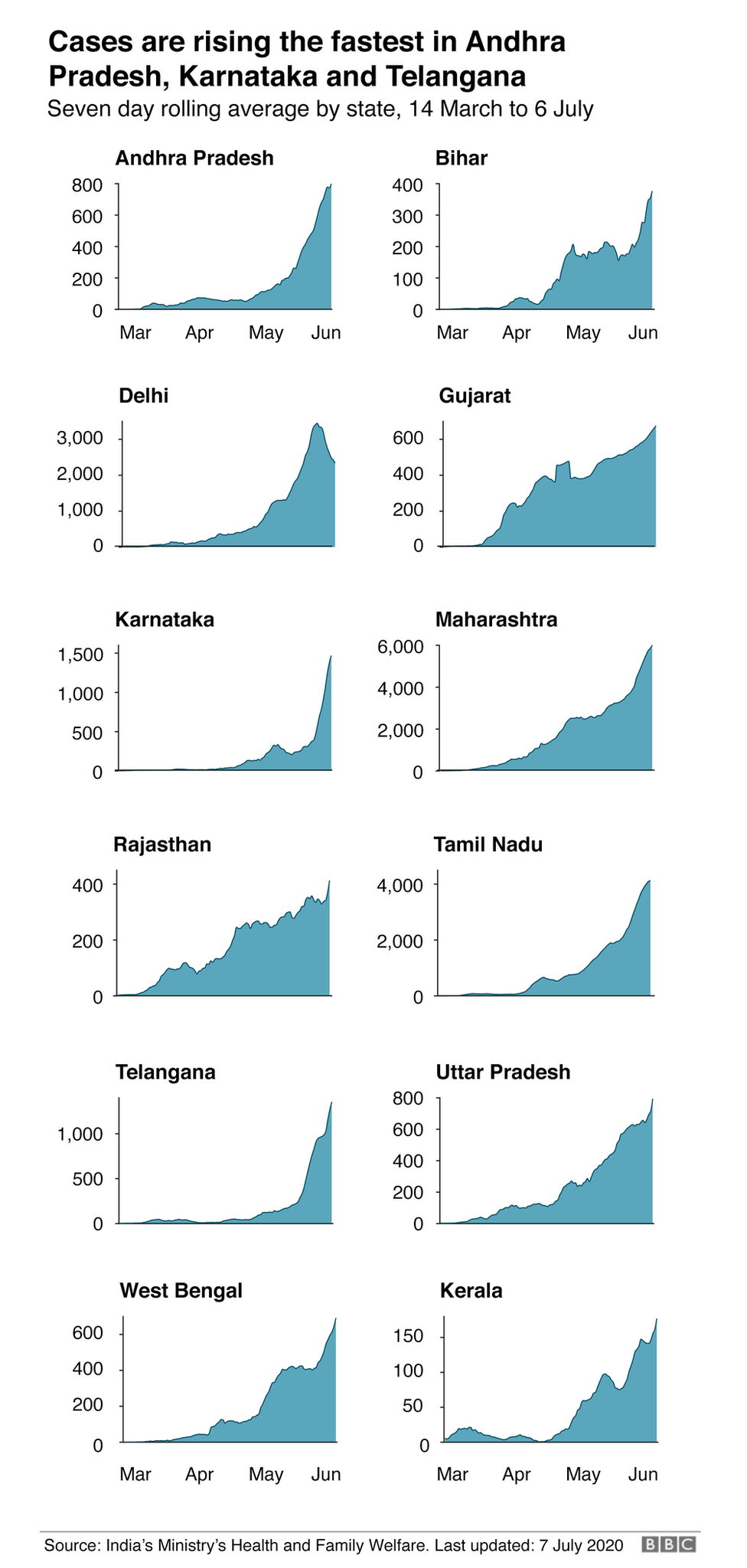 Via: BBC
Coronavirus In Tibet: Limited Impact Of COVID-19 In High Altitude Regions Like Tibet?
Scientists are now investigating the link between COVID-19 and high altitude regions like Tibet after a study published in the journal Respiratory Physiology and Neurobiology suggested that there is a decrease in prevalence and impact of COVID-19 in populations living at higher altitudes. 
The study takes into consideration the COVID-19 cases in Tibet and high-altitude regions of Bolivia and Ecuador in comparison to the low lying regions. It suggested that the population in Bolivia, Ecuador and Tibet living above 3,000 meters (9,842 feet) reported significantly lower levels of confirmed infections than their lowland counterparts.
In the plateau region of Tibet, Qinghai and part of Sichuan, with a population of 9 million, there are only 134 confirmed cases which are drastically low in comparison to the number of cases in rest of China.
Ecuador is one of the worst-hit countries by COVID-19 in South America with more than 40,000 confirmed cases and over 3,000 deaths. The centre of the virus is the Pacific port of Guayaquil. There are fewer infected cases in the capital Quito, which is about the same size but is 2,800 metres above sea level.
Similarly, Bolivia has over 10,000 positive cases with over 300 deaths. The cases are concentrated in Santa Cruz which is 400 metres above sea level. It is home to about 15% of the population of the country but accounts for two-thirds of the virus cases. Whereas, in La Paz and its surrounding area, which is a highland area in Bolivia, has about 500 positive cases.
The reason explored by the study includes environmental factors including dry mountain air, high levels of UV radiation and the possibility that lower atmospheric pressure reduces the virus's ability to linger in the air.
"The reason for decreased severity of the global COVID-19 outbreak at high altitude could relate to both environmental and physiological factors," states the study.
"At sea-level, when people get coronavirus and their lungs get destroyed, it is as if they are climbing Mount Everest in just a couple of days, without oxygen," said Gustavo Zubieta-Calleja, one of the authors of the study published in the journal Respiratory Physiology & Neurobiology. But "the low rate of infection in Bolivia's high-altitude population is remarkable and clearly does not follow the often exponential infection rates reported in many countries", concluded the scientists.
However, experts have questioned these factors. "The virus likes people. It doesn't care about altitude," says Peter Chin-Hong, who studies infectious diseases at the University of California at San Francisco. "But we're still learning so much about this disease, and this does provide us with some good clues to try and understand its progression," he added.
According to Clayton Cowl, a pulmonologist at the Mayo Clinic and a former president of the American College of Chest Physicians, that the trend might be related to acclimatization, the body's ability to adjust temporarily to altitude, than to DNA.
Just three populations in the world have been found to have genetic adaptations to altitude: Himalayans, Ethiopian highlanders and Andeans. This is why the coronavirus is exploding on Peru's Pacific coast, particularly Lima, where most residents descend from Andean ancestors, while the country's mountain communities are thus far not greatly affected by the virus.
Andrew Luks, professor of medicine at the University of Washington, said that while the proposed link was "intriguing", it "by no means establishes that high-altitude residence or high-altitude locations are protective against coronavirus".