Two Biggest Critics Of Pakistan Army Eliminated On Same Day & It Cannot Be A Coincidence
The body of missing Pakistani journalist and editor-in-chief of Balochistan Times — Sajid Hussain was found dead by Swedish authorities in a river near the city of Uppsala. This was nearly two months after the disappearance of Sajid Hussain.
Police authorities verified that the body found was of Sajid Hussain and are yet to confirm the exact cause of his death. However, Reporters without Borders (RSF), a press freedom organization have pointed the finger of suspicion at Pakistan's intelligence agency ISI whom they believe to be behind the abduction.
Earlier in the day, Arif Wazir, the leader of the Pashtun Tahaffuz Movement (PTM) was killed after being attacked a day ago outside his home in Wana, South Waziristan. The attack on Arif Wazir also drew immediate condemnations from Amnesty International.
The Pakistani journalist had been critical of the Pakistani Army's counterinsurgency operations in the southwestern province of Balochistan.
Sajid (39) was a prominent journalist from Balochistan province and had to leave Pakistan in 2012 because authorities did not like his reporting of documented human rights abuses, including forced disappearances in the uneasy Balochistan region.
After living in the Middle East and Africa for years, Hussain arrived in Sweden in September 2017 to seek asylum. Before his escape from Pakistan, Hussain's wife had said that her husband had a sense that he was being followed.
She also told that Hussain's house in Quetta was also ransacked and his laptop other documents were reported missing.
Balochistan Times has extensively reported on the two-decade-long separatist conflict in Balochistan where thousands have died, disappeared or displaced due to operations by the Pakistani security forces.
Hussain was last seen boarding a train to Uppsala from Stockholm but was never reported to deboard at Uppsala. He is also said to have been planning to bring his family to Sweden and had enrolled for a Masters degree in Iranian languages at a university in Uppsala, according to reports.
Sajid's family has refrained from accusing anyone and has asked media and readers to avoid speculation pending police investigation, according to Balochistan Times.
Global watchdogs have demanded an investigation into the death of Hussain. "As long as a crime is not excluded, there is still a risk that his death could be related to his job as a journalist and editor-in-chief for the Balochistan Times," said Erik Halkjaer, president of Reporters Without Borders.
Daniel Bastard, the Asia Pacific head of Reporters Without Borders, said that Hussain could be a victim of enforced disappearance, given the circumstances of his case and testimony by his family and colleagues. He added that suspicion automatically points towards Pakistan's security agencies as they have an interest in suppressing the dissident journalist.
In fact, the case of Hussain is just one out of the many who have disappeared or had to flee Pakistan. Hussain's uncle Ghulam Mohammad Baloch was killed in 2011 while heading a nationalist movement.
In February, Ahmad Waqass Goraya, a Pakistani blogger living in Rotterdam, was allegedly attacked and threatened outside his home at the behest of by two personnel of Pakistan intelligence agency.
Baloch human rights activist Rashid Hussain has been missing ever since he was abducted in the United Arab Emirates allegedly by the secret security officials of United Arab Emirates.
Another known Pakistani human rights activist, Gulalai Ismail currently exiled in the US who expressed her condolences on the death of Hussain said that she too escaped Pakistan fearing for her life but could not disclose all the details regarding her travel as it would jeopardize the lives of many. She only said that she did not fly to the US.
Many Balochistan leaders such as Gulzar Imam of the Baloch Republican Guard, Khalil Baloch chairman of Baloch National Movement and Dr. Allah Nizar Baloch, head of Balochistan Liberation Front all have been living in exile.
Pakistan ranks 145 in the latest world press freedom index. In 2019 four journalists and a blogger were killed in connection with their reporting of Balochistan.
Balochistan is Pakistan's largest province bordering Afghanistan and Iran and has been in the midst of nationalist insurgency since the last 15 years and has witnessed the disappearance of thousands political activists.
TikTok – Chinese Social Media App To Leave Hong Kong Over New Security Laws
TikTok app is owned by China-based ByteDance has made the decision to quit Hong Kong following China's new national security law.  
TikTok – the Chinese social media platform and mobile app has announced it would pull out of Hong Kong within days, as global tech giants struggle to figure out how to operate in the city under new security rules set by China.
After India, US Looking To Ban Chinese Mobile Apps Including TikTok
TikTok app is owned by China-based ByteDance has made the decision to quit Hong Kong following China's new national security law.  "In light of recent events, we've decided to stop operations of the TikTok app in Hong Kong," a TikTok spokesman said late on Monday in response to a Reuters question about its commitment to the market.
Major US social media companies including Facebook, Microsoft, Google and Twitter have declared they have rejected the processing of requests for user data from the Hong Kong authorities while they study the new law.
Hong Kong Today, Taiwan Tomorrow – Hong Kong's Security Law Could Be China's Blueprint For 'Taiwan Problem'
The US companies' social media platforms are mostly banned in China, where access is blocked by Beijing's "great firewall". Most have operated freely in Hong Kong but will now have to evaluate how to meet the new rule, which rights groups say endanger freedoms enjoyed for decades.
Facebook, which also owns WhatsApp and Instagram, said in a statement on Monday it was suspending reviews of user data requests for all of its services "pending further assessment of the National Security Law."
Google and Twitter said they had suspended their reviews of data requests from Hong Kong authorities immediately after the law went into effect last week. Zoom and Microsoft's LinkedIn issued similar statements later.
Apple said it does not receive requests for user content directly from Hong Kong, but requires authorities there to submit requests through the US department of justice under a legal assistance treaty. "We're assessing the new law, which went into effect less than a week ago, and we have not received any content requests since the law went into effect," Apple said in a statement.
U.S. Secretary of State Mike Pompeo said on Monday that the US was considering banning TikTok in the country Asked if Americans should download it, he told Fox News: "Only if you want your private information in the hands of the Chinese Communist Party."
India-China Peace Talks – Read The 'Official Statements' Of Indian & Chinese Govt On Disengagement
India-China Peace talks: In the first sign of de-escalation, the Chinese PLA troops have removed tents and started to withdraw its troops from Galwan Valley as decided during high-level talks between the two militaries, government sources said today.
After the India-China border clash, efforts began towards disengagement and restore peace on both sides of the border. The efforts to defuse border tensions were somewhat resolved after a telephonic conversation between India's National Security Advisor Ajit Doval and China's Foreign Minister Wang Yi.
Has China Really Withdrawn Soldiers From Galwan Valley – Chinese FM Responds
Statements were issued by both countries.
Indias Official Statement
The Special Representatives of India and China on the Boundary Question – Shri Ajit Doval, National Security Advisor of India and H.E. Mr. Wang Yi, State Councillor and Minister of Foreign Affairs of China had a telephone conversation on 5th July 2020. The two Special Representatives had a frank and in-depth exchange of views on the recent developments in the Western Sector of the India-China border areas.
The two Special Representatives agreed that both sides should take guidance from the consensus of the leaders that maintenance of peace and tranquillity in the India-China border areas was essential for the further development of our bilateral relations and that two sides should not allow differences to become disputes. Therefore, they agreed that it was necessary to ensure at the earliest complete disengagement of the troops along the LAC and de-escalation from India-China border areas for full restoration of peace and tranquillity. In this regard, they further agreed that both sides should complete the ongoing disengagement process along the LAC expeditiously. The two sides should also ensure a phased and stepwise de-escalation in the India-China border areas. They re-affirmed that both sides should strictly respect and observe the line of actual control and should not take any unilateral action to alter the status quo and work together to avoid any incident in the future that could disturb peace and tranquillity in border areas.
The two Special Representatives agreed that the diplomatic and military officials of the two sides should continue their discussions, including under the framework of the Working Mechanism for Consultation and Coordination on India-China border affairs (WMCC), and implement the understandings reached in a timely manner to achieve the above outcomes. It was also agreed that the two Special Representatives will continue their conversations to ensure full and enduring restoration of peace and tranquillity in the India-China border areas in accordance with the bilateral agreements and protocols.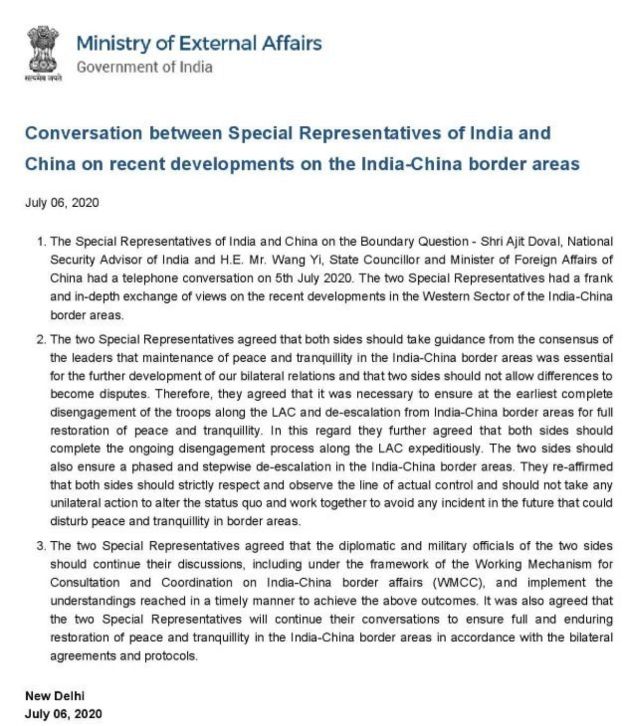 Chinese Official Statement
On the evening of July 5, the Chinese Special Representative of the China-India Boundary Question, State Councilor and Foreign Minister Wang Yi spoke on the phone with the Indian Special Representative, Indian National Security Adviser Ajit Doval.
Wang Yi noted that this year marks the 70th anniversary of the establishment of diplomatic ties between China and India. Our bilateral relations have withstood tests and made hard-won progress. The right and wrong of what recently happened at the Galwan Valley in the western sector of the China-India boundary is very clear. China will continue firmly safeguarding our territorial sovereignty as well as peace and tranquillity in the border areas.
As Wang Yi stressed, for both China and India, achieving development and revitalization is the top priority where we share long-term strategic interests. Both sides should adhere to the strategic assessment that instead of posing threats, the two countries provide each other with development opportunities. Both sides should pay great attention to the current complex situation facing China-India bilateral relations, and work together to overcome and turn it around as soon as possible. We hope India can work with China to guide public opinion in the right direction, keep and advance bilateral exchanges and cooperation, and avoid amplifying the differences and complicating matters so as to jointly uphold the big picture of China-India relations.
Both sides had candid and in-depth discussions over easing the current border situation and reached positive common understandings.
First, both sides agreed to follow the important consensus reached by leaders of the two countries. Both believed that maintaining peace and tranquillity in the border areas matters significantly to the long-term development of the bilateral relationship, that the boundary question should be placed properly in the bilateral relations, and that an escalation from differences to disputes should be avoided.
Second, both sides reiterated adherence to the agreements signed by the two countries and making joint efforts to ease the situation in the border areas.
Third, both sides agreed to strengthen communication through the mechanism of the Special Representatives' Meeting, hold Meetings of the Working Mechanism for Consultation and Coordination on China-India Border Affairs without interruption, consistently improve and strengthen confidence-building measures and prevent more incidents that undermine peace and tranquillity in the border areas.
Fourth, both sides welcomed the progress achieved in the recent military and diplomatic meetings, agreed to stay in dialogue and consultation and stressed the importance to promptly act on the consensus reached in the commander-level talks between Chinese and Indian border troops, and complete disengagement of the front-line troops as soon as possible.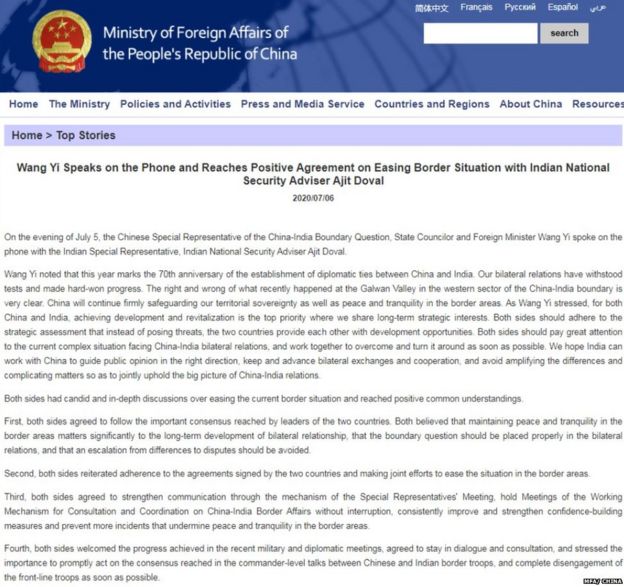 Indian Opposition Questions The Statement
Congress leader Rahul Gandhi surrounded the Indian government with questions. In this tweet, Gandhi asked three questions while sharing a screenshot of the statement of both the countries.
National interest is paramount. GOI's duty is to protect it.

Then,
1. Why has Status Quo Ante not been insisted on?
2. Why is China allowed to justify the murder of 20 unarmed jawans in our territory?
3. Why is there no mention of the territorial sovereignty of Galwan valley? pic.twitter.com/tlxhl6IG5B

— Rahul Gandhi (@RahulGandhi) July 7, 2020
1. Why has Status Quo Ante not been insisted on?
2. Why is China allowed to justify the murder of 20 unarmed jawans in our territory?
3. Why is there no mention of the territorial sovereignty of Galwan valley?
On the statement issued by both the countries, the BBC spoke to Nirupama Rao, former foreign secretary of India.  Nirupama does not believe that there is any dispute in the statements.  Nirupama Rao is also writing a book on India-China relations.
Rao said – It is true that after a long conversation between the representatives of the two countries, no common statement was issued. Both countries need to work closely to improve the conditions on the border.
Hong Kong Today, Taiwan Tomorrow – Hong Kong's Security Law Could Be China's Blueprint For 'Taiwan Problem'
Hong Kong's security law has laid down the new 'normal' for the city. Free speech is now limited, extradition to the mainland is legal and support for Hong Kong's freedom anywhere in the world is a criminal offence.
The implementation of the draconian national security law in Hong Kong has spread fears in Taiwan that it could be the blueprint to deal with the 'Taiwan problem'. Hong Kong and Taiwan seem to be headed in the same direction, with the national security law clearly indicating what the future holds for Taiwan.
China Warns UK, Canada Of Dire Consequences For Meddling In Hong Kong
Hong Kong's security law has laid down the new 'normal' for the city. Free speech is now limited, extradition to the mainland is legal and support for Hong Kong's freedom anywhere in the world is a criminal offence. But for China, the buck does not stop here.
Writing for the Washington Post, John Pomfret suggests that Hong Kong security law could be China's blueprint to deal with the 'Taiwan problem'. According to Pomfret, with the passage of the national security law on Hong Kong, China has arguably moved a step closer towards war with the island democracy that sits 90 miles off its coast.
China considers Taiwan a 'renegade' province and has denounced any country that supports its independence. China and Taiwan split in 1949 after nationalist forces lost a civil war to Mao Zedong's communists, fleeing to the island which Beijing has since vowed to seize one day, by force if necessary.
To make his point, Pomfret uses the example of Li Su, the president of the Modern Think-Tank Forum and a prominent hard-liner in Beijing. After the passage of the security law in Hong Kong, Li took to Chinese social media to hail the law as a critical step in "liberating Taiwan."
Li is a staunch supporter of an armed solution to the 'Taiwan problem'. Li never minces his words when it comes to Taiwan and was even barred from entering the country by Taipei for making speeches that advocated the use of force in April 2019.
In June 2019, when Li led a team of academics to the United States, not only did he assert Beijing's intention to take over the island, he also predicted how China would launch its current crackdown in Hong Kong.
In his recent lecture on the social media application, Weibo, Li said he interpreted the Hong Kong security law as a "test case" on which China will model its takeover of Taiwan. "We will learn how to control Taiwan by experimenting with this law on Hong Kong," he declared.
He asserted that China's experiment in Hong Kong is a message for Taiwanese people that they will be forcefully united i.e., independence activists, democracy activists, students who cause trouble and bring them to the mainland to be sentenced. He concluded by asking "who would dare oppose us?"
Opposition to the national security law has already led to the arrest of pro-democracy and pro-independence supporters in the erstwhile British colony. According to SCMP, 10 people have been taken into custody and could face trial in mainland courts.
Prominent pro-democracy activists such as Nathan Law have fled the autonomous region altogether. Citing fear of arrest, Law said that he had left Hong Kong for an unknown destination. Others are expected to follow-suit and according to experts at EurAsian Times, Beijing seems to have weakened the pro-democracy wave to a great extent.
Hong Kong- A test Case For Taiwan
In the opinion of Pomfret, China has used Hong Kong as a test case for its dealings with Taiwan. The model of "one country, two systems" is a case in point. China proposed the same system to be used by Taiwan when the United Kingdom handed back control of Hong Kong to Beijing in 1997.
In Taipei, the idea of Taiwan unified with China has found no support amongst Taiwanese. In fact, a record 67% out of 23 million people in Taiwan now self-identify as "Taiwanese" instead of either Taiwanese-Chinese or Chinese, according to a poll conducted by the National Chengchi University.
However, this has not stopped the Chinese Communist Party (CCP) from abandoning the threat of force to take over the island. Just last year, President Xi Jinping declared that China would "retain the option of taking all necessary measures" to absorb the island.
Taiwanese President Tsai-Ing Wen has become a thorn in the side for Beijing in recent times. Tsai views Taiwan as a de facto independent nation and not part of "one China" and has ramped up the military, economic and diplomatic support to counter increased Chinese pressure on the island.
There has been speculation amongst experts that that Xi wants to solve "the Taiwan question" sometime near July of next year when the Chinese Communist Party will celebrate its centenary. According to Li, the passage of the national security law in Hong Kong has confirmed this theory and has set the date for the 'liberation of Taiwan' to sometime around 2021.
While 27 countries including the US, UK, Canada, and Australia have condemned Chinese actions in Hong Kong, Li and other hardliners have played down the reaction. Li even mocked China's enemies and referred to them as a ''group of dragons without a head.''
Aiming primarily at Washington, Li questioned how the hooligan nation of America, making a reference to domestic unrest after the killing of George Floyd, can be a leader. ''America doesn't even qualify to be China's opponent. … What are they going to do, fight a war over Hong Kong?" he said.
Fear amongst the Taiwanese is justified. Although U.S. law requires the U.S. government to provide for Taiwan's defence, the question remains whether Washington would send its troops to die for Taipei.
Armaan Srivastava