On August 11, mysterious explosions occurred at a military airbase in Belarus close to the Ukrainian border. The Russian Air Force allegedly uses this airport to attack Ukrainian territory. 
---
A flash of light was visible over residential structures about 20 kilometers from the Zyabrouka airbase in a video that Belarusian media outlet Belaruski Hajun published on July 11. 
The base is about 30 kilometers from the Ukrainian border. Locals were reported as saying they felt a strong blast wave and saw at least eight flashes in the sky during the night. 
ЗМІ показали відео вибухів на аеродромі в Білорусі та назвали можливі причини. Відео з Telegram "Беларускі Гаюн" pic.twitter.com/qwkMMNsa2P

— Українська правда ✌️ (@ukrpravda_news) August 11, 2022
The Belarusian defense ministry quickly dismissed rumors that Ukraine had attacked the airbase. This occurs two days after massive explosions at a Crimean airfield where Russia is believed to have lost at least seven fighter jets, including three Su-30 and four Su-24 Fencers.
"On August 10, at around 23:00 (2000 GMT), during a test run, a piece of equipment that had its engine replaced caught fire," the Belarusian defense ministry said. The ministry further stated that there were no casualties and that the fire was put out "in a timely manner."
Mikhailo Podolyak, an advisor to Ukrainian President Volodymyr Zelensky, tweeted on Thursday (August 11), "the Russian military should consider the epidemic of technical accidents at military airfields in Crimea and Belarus as a warning: forget about Ukraine, take off your uniforms, and leave." 
The epidemic of technical accidents at military airfields of Crimea and Belarus should be considered by 🇷🇺 military as a warning: forget about Ukraine, take off the uniform and leave. Neither in occupied Crimea nor in occupied Belarus will you feel safe. Karma finds you anywhere.

— Михайло Подоляк (@Podolyak_M) August 11, 2022
"Neither in occupied Crimea nor occupied Belarus will you feel safe. Karma finds you anywhere," he added. The incident follows a string of explosions at a crucial military airbase on the Russian-annexed Crimea peninsula.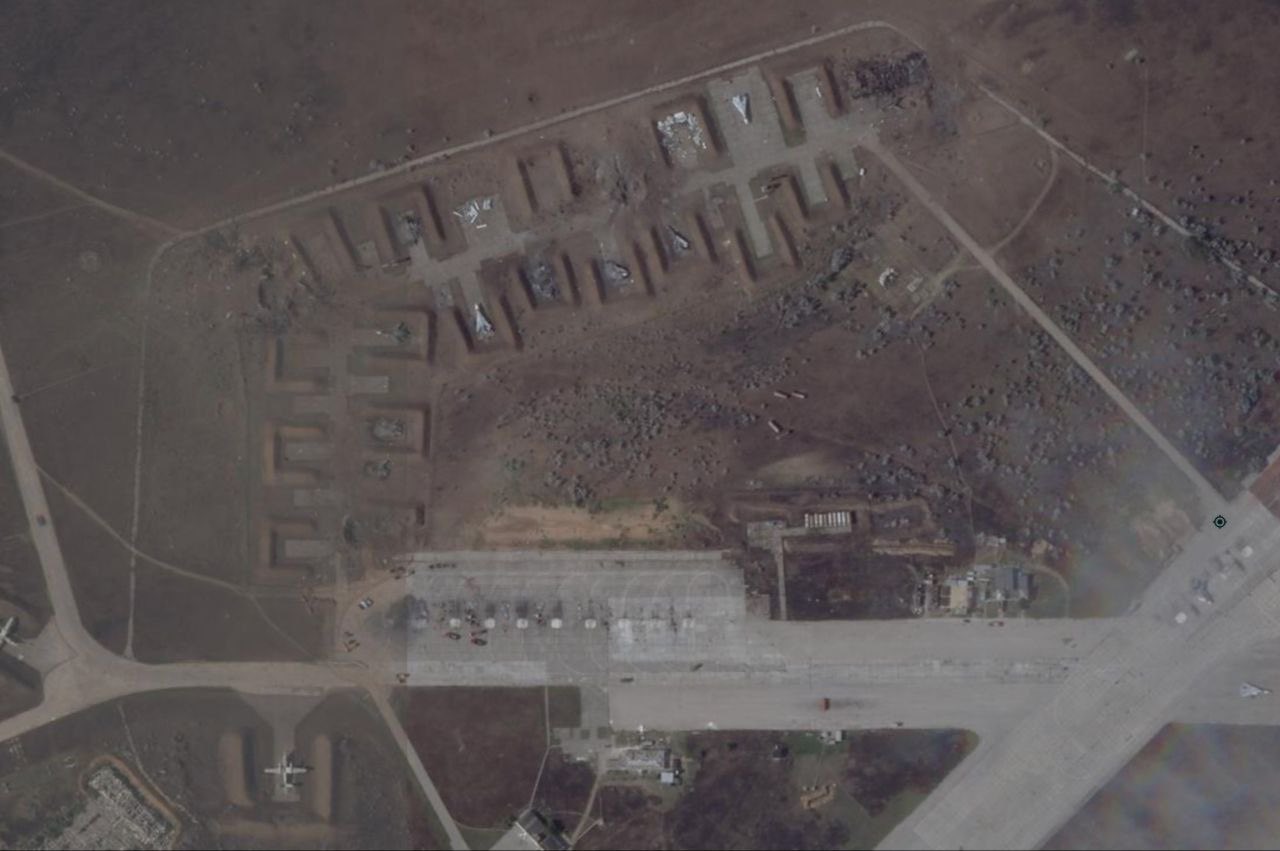 Kyiv has made no public claims of responsibility for the attack. However, the Russian defense ministry said that the Saky base in Crimea was not attacked, blaming the explosions on a "violation of fire-safety requirements."
Zyabrauka Air Base
According to Ukrainian officials, the Russian Air Force has been operating out of the Zyabrauka base in Belarus throughout Moscow's ongoing, unprovoked conflict with Ukraine, which began in February. 
Oleksiy Hromov, the deputy chief of the main directorate of the general staff of the Ukrainian armed forces, insisted on July 7 that Belarus had handed over the Zyabrovka airfield to the Russians.
On the same day, Belarusian Hajun reported that the government had extended the flight restriction zone for civil aviation for a further three months. That means the possibility of missile attacks from Belarus against Ukraine will remain for another three months.
The Belarusian military claimed in July that Russia had stationed Iskander-M and S-400 mobile missile systems at the airport in Belarus and was planning to use them to attack Ukraine. Defense analyst Kondar Muzyka recently posted satellite images on Twitter, showing a slight increase in military hardware at the airfield. 
At the time, satellite images showed a division of ten units of S-400 "Triumph" anti-aircraft missile systems and two "Pantsir-S1" anti-aircraft systems on earthen embankments as illumination and guidance radars, and radars. 
In addition, dug-in and camouflaged armored infantry vehicles and tanks were also displayed at the airfield. The experts then conclude from the photo that the location of the equipment has not changed significantly since April 2022. However, the S-400 increased by two units.
Meanwhile, a joint military training exercise between Russia and Belarus ended on August 11. The drill began on August 9 and aimed to train their air forces and missile defense.
The second phase of the exercises will take place on August 22–25 at the Ashuluk military training base in southwest Russia, close to the border with Kazakhstan, according to Belarusian authorities.  
Alyaksandr Lukashenka, the leader of Belarus, has publicly backed Russia's invasion of Ukraine. Minsk permitted Russia's military to enter Ukraine and shell Ukrainian towns and cities even though Belarusian troops did not participate in the attack.
This year, the West imposed new sanctions on Belarus for participating in Russia's February 24 offensive in Ukraine. Russian forces entered Ukraine from several points, including from Belarusian land. 
Alexander Lukashenko even leaned on Vladimir Putin to quell 2020 protests against his election to a sixth term. In the months leading up to Moscow's military operation, he welcomed Russian troops under the guise of military drills.