The United States Air Force is reportedly sending its strategic bombers to Europe, close to Russia, when there is an uptick in military operations against Russian-occupied Ukrainian territory.
The United States intends to deploy its B-52 strategic bombers close to the Russian borders. According to local Russian media reports and speculations on social media, four American strategic bombers are expected to arrive in Europe in the coming days.
There are reports the B-52s have already arrived.
The B-52 bombers will first need to be stationed at a military air base in the United Kingdom. According to Gloucestershire Live, the American long-range bombers deployed in the UK earlier this year will return to Fairford Air Force Base next week.
Fairchild feeling a bit nostalgic today with the arrival of 4 B-52. pic.twitter.com/C1QFYHGvPN

— Dylan Rogers (@sporky22) August 17, 2022
These reports come a day after Russian Defense Minister Sergei Shoigu said that the United States and Britain were planning the Ukrainian military operations and that NATO had increased its troop deployment in Eastern and Central Europe "several times over."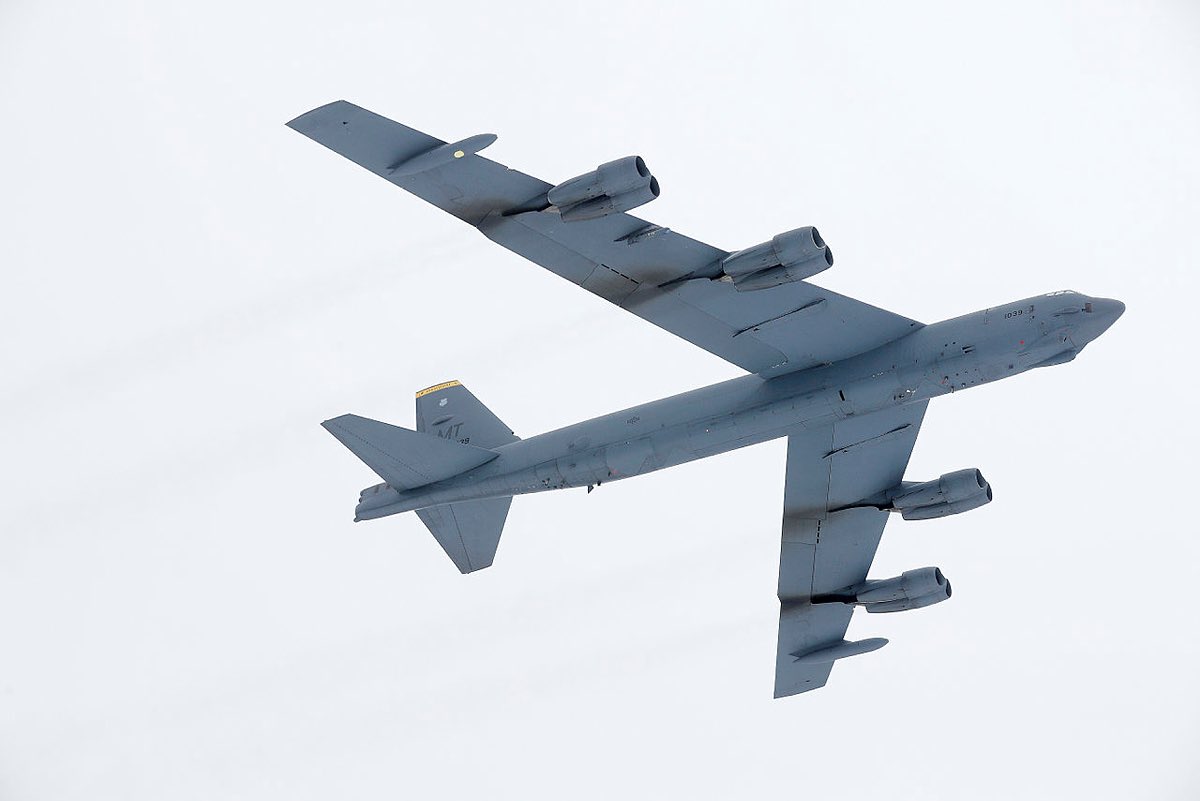 American B-52 strategic bombers could be deployed to Europe from the Minot Air Force Base in the United States. Minot Air Base in North Dakota is where the 5th Bomb Wing operates 26 B-52s from.
Further, the nuclear bombers are being sent to Europe when Russia has categorically ruled out the use of nuclear force against Ukraine.
Notably, no special exercises have been scheduled for which the nuclear bombers are making a long journey to the UK. Thus, it is anticipated that the deployment will strengthen the military alliance, and the bombers could stay in Europe for a long time.
EurAsian Times could not independently verify these claims.
Alert ⚠️: US deploys four B-52 strategic bombers to Russian borders.  In the coming days from the US to Europe should arrive 4 of 🇺🇸 strategic bombers, which, in advance, will have to be located at a military air base in the UK. (1/2)

— Pacific Geopolitics (@PacGeopolitics) August 17, 2022
However, there seems to be a concerted effort on the part of the United States, which is actively using its Bombers to create deterrence with its adversaries.
For instance, it sent its B-1 Lancers and B-2 Spirit Bombers to Australia to conduct Bomber Task Force exercises. The American bombers have been in Australia for more than a month, as reported by EurAsian Times.
The B-52H Stratofortress is a long-range, heavy bomber that can perform a variety of missions. The bomber can fly at high subsonic speeds at altitudes of up to 50,000 feet (15,166.6 meters). It can carry nuclear or precision-guided conventional ordnance with top-class precision navigation capability.
Not A First Nuclear Bomber Deployment
In February this year, before Russia even launched an invasion of Ukraine, the US Air Force sent B-52 Stratofortress bombers to Royal Air Force (RAF) Fairford to participate in a long-planned Bomber Task Force mission.
At the time, the crew of the bombers conducted integration missions and landed in the Czech Republic to exercise quick-turn sortie regeneration and theatre familiarization.
Then in March, the bombers flew across Central Europe and nations bordering the Black Sea to practice close-air-support operations with ground troops. They also traveled to the Arctic to participate in the NORAD-led Noble Defender exercise over Canada and Norway's NATO-led Cold Response.
The Bomber flights are regular over Europe and the Pacific. The Barents Sea to the north of Russia, the Sea of Okhotsk off the coast of Russia's Far East, and the Black Sea close to Crimea are among the critical areas that US bombers have been flying over more frequently in recent times.
During the February deployment, there was close integration between the bomber aircraft and British Joint Terminal Attack Controllers (JTAC) for the performance of cross-border close air support exercises. The aim was to improve the controllers' interoperability and preparedness as they planned airstrikes to support ground forces.
Since Russia increased its nuclear alert level, the B-52s have continued to be stationed on NATO's eastern front.
After the United States sent the B-52s to the United Kingdom, Putin ordered a drill of Russia's strategic deterrence forces, which included intercontinental ballistic missiles (ICBMs), submarines, and heavy bombers—nuclear Russia's triad.
On August 28, 2020, six US Air Force B-52 bombers from Minot Air Force Base in North Dakota flew over all 30 NATO countries in a single day.
Six B-52 Stratofortress bomber aircraft arrived this morning at RAF Fairford for a long planned training mission where the aircraft will conduct theater & flight training across Europe & Africa as part of #BomberTaskForceEurope. #ReadyAF

Read: https://t.co/fjMcdoPzsL pic.twitter.com/xhrmZxrkbv

— USAFE-AFAFRICA (@HQUSAFEAFAF) August 22, 2020
This is not the first time America's nuclear-capable bombers will be in Europe. However, this time it is more significant due to the opacity surrounding the purpose of its visit to the British Air Force base.
Earlier, about 45 B-52s were stationed at Fairchild AFB in 1957; they stayed there until the base's official re-designation as the 92nd Air Refueling Wing in the mid-1990s. This wing is the largest tanker wing in the Air Force and can maintain an air bridge across the globe in support of US and allied forces.