Uyghur Asylum Seeker Puts International Community To Shame For Not Helping
Ablikim Yusuf, a 53-year old Uyghur Muslim seeking a safe haven from potential Chinese persecution, landed this week in the United States, his new home.
But Mr Yusuf's perilous search that took him from Pakistan to Qatar to Bosnia Herzegovina where was refused entry and back to Qatar highlighted China's inability to enforce its depiction of the brutal clampdown on Turkic Muslims in its troubled, north-western province of Xinjiang as a purely domestic matter.
Mr Yusuf's case also spotlighted the risk of increased mass migration in a world in which ethnic and religious minorities increasingly feel existentially threatened by civilizationalist policies pursued by illiberal and authoritarian leaders as well as supremacists, racists and far-right nationalist groups.
By choosing Qatar Airways and making Doha his first point of landing after leaving his residence in Pakistan, Mr. Yusuf further underscored the fragility of Muslim acquiescence in the Chinese clampdown and called into question application of Qatar's asylum law. With the adoption of the law, Qatar last year became the first Arab state to legalize asylum.
While Mr. Yusuf is fortunate to have ended his ordeal with his arrival in the United States, his case accentuated the hypocrisy of the Trump administration that has demonized migrants and refugees and "weaponized" US human rights policy.
Mr. Yusuf's plight serves the United States as it fights an escalating trade war with China and has made the clampdown in Xinjiang one of the opportunistically selected cases of human rights violations it is willing to emphasize.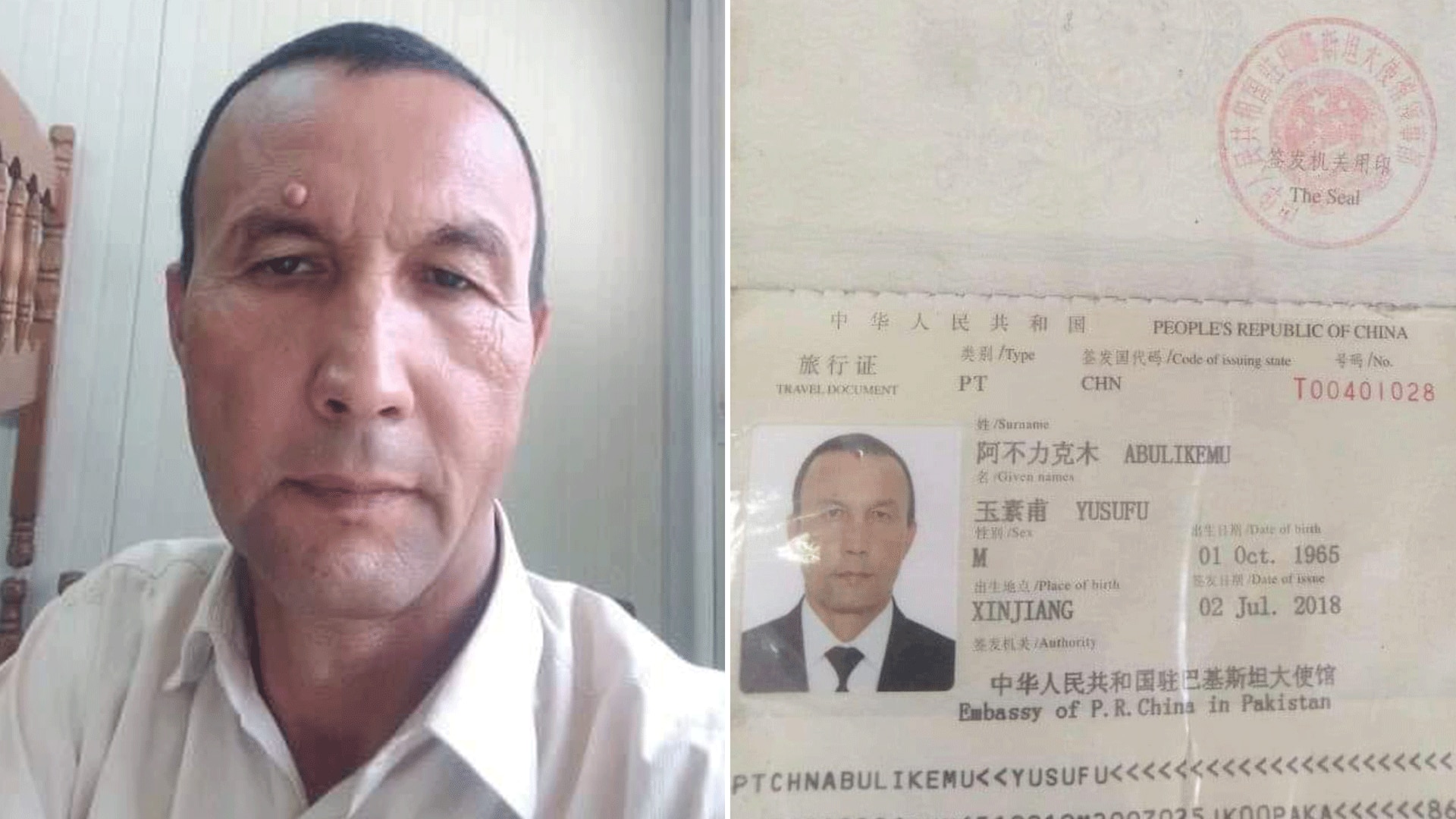 Mr Yusuf put Qatar and the international community on the spot when he last weekend posted online a mobile phone video pleading for help hours before he was slated to be deported from Doha's Hamad International Airport to Beijing.
The plea generated thousands of retweets by Uyghur activists and won him assistance from an American human rights lawyer and ultimately asylum in the US.
If deported to China, Mr. Yusuf would have risked being incarcerated in a re-education camp which has been an involuntary home for an estimated one million Uyghurs in China as part of what amounts to the worst assault on a faith in recent history.
China said last month that the majority of the detainees in what it describes as vocational training facilities had been released and "returned to society" but independent observers say there is no evidence that the camps are being emptied.
Mr. Yusuf decided to leave his home in Pakistan for safer pastures after Pakistan became one of up to 50 countries that signed a letter in support of the clampdown.
Concerned that Pakistan, the largest beneficiary of Chinese Belt and Road-related investment, could deport its Uyghur residents, Mr. Yusuf travelled on a Chinese travel document rather than a passport that was valid only for travel to China. China's issuance of such documents is designed to force Uyghurs to return.
The travel document provided cover for Qatar's initial decision to return him to China rather than potentially spark Chinese ire by granting him asylum. International pressure persuaded Qatar to give Mr. Yusuf the opportunity to find a country that would accept him.
China's clampdown in Xinjiang is but the sharp edge of a global trend fuelled by the rise of leaders across the globe in countries ranging from the United States to China, Russia, India, Hungary, Turkey and Myanmar who think in civilizational terms, undermine minority rights, wittingly or unwittingly legitimize violence, and risk persuading large population groups to migrate in search of safer pastures.
Hate crimes have gripped the United States with critics of President Donald J. Trump charging, despite his explicit condemnation this week of white supremacism, that his hardline attitude and language when it comes to migrants and refugees has created an enabling environment.
Violence against Muslims in India, home to the world's second largest Muslim community, has increased dramatically with 90 percent of religious hate crimes in the last decade having occurred since Narendra Modi became prime minister.
Some 750,000 Rohingya linger in Bangladeshi refugee camps after fleeing persecution in Myanmar while Islamophobia has become part of US, European and Chinese discourse and Jews in Europe fear a new wave of anti-Semitism.
Italy took efforts to counter migration that are likely to aggravate rather than alleviate a crisis a step further by adopting a law that would slap fines of up to US$1.12 million on those seeking to rescue migrants adrift at sea.
The Chinese clampdown that bars most Uyghurs from travel and seeks to force those abroad to return has so far spared the world yet another stream of people desperate to find a secure and safe home. The risk of an eventual Uyghur exodus remains with the fallout of the Chinese re-education effort yet to be seen.
Mr Yusuf could well prove to be not only the tip of the Uyghur iceberg but of a future global crisis as a result of an international community that not only increasingly has turned its back on those in need but also pursues exclusionary rather than inclusionary policies.
Dr James M. Dorsey is a senior fellow at Nanyang Technological University's S. Rajaratnam School of International Studies, an adjunct senior research fellow at the National University of Singapore.
India can 'no longer' choke China at the Strait Of Malacca as Beijing finds solution
The Strait of Malacca is a strategic waterway between Indonesia and Malaysia through which the majority of Chinese imports pass. The narrow waterway also makes the perfect chokepoint from the perspective of India, and should tension between Beijing and New Delhi rise, the Malacca Strait can be blocked easily by India. 
Could the advantage that India enjoys over China due to the Strait of Malacca be coming to an end? Does China have a way to tackle the Indian plans of chocking Beijing at the Malacca Straits – the strategic waterway, in case of a war?
Instigated by China, Sri Lanka could end port deal with India?
India's position at the mouth of the Malacca Strait has created panic amongst Chinese officials as they try to find an alternative route, writes the Forbes.
The Strait of Malacca is a strategic waterway between Indonesia and Malaysia through which the majority of Chinese imports pass. The narrow waterway also makes the perfect chokepoint from the perspective of India, and should tension between Beijing and New Delhi rise, the Malacca Strait can be blocked easily by India.
India's natural position in the Indian Ocean, with basing capabilities in the Andaman and Nicobar Islands at the mouth of the strait, would allow its navy to cut it off in the event of a crisis or war with China.
Keeping in mind the recent flare-up between India and China, Larry Bond, renowned naval author and creator of the Harpoon war game series, says that if India wanted to block trade with China, all it has to do is its park ships at the mouth of the Malacca Strait.
The vast majority of China's oil imports, from the Persian Gulf, Venezuela and Angola, pass by this route. Due to the strategic importance of the waterway, there is fear amongst Chinese officials that India could block the Malacca Strait in case of war.
Experts at EurAsian Times believe that the strategic importance of the Malacca Strait and the advantage it gives to India will likely reduce over time as Beijing find alternative routes.
Bypassing the Malacca Strait
The fact India enjoys a strategic advantage over China because of the Malacca Strait has forced Beijing to explore other options and find ways around the waterway.
One such option is Gwadar Port in Pakistan. As part of the China Pakistan Economic Corridor (CPEC), Beijing has developed the port in Gwadar so that goods unloaded there will be shipped overland to China.
On June 8 the Pakistani government approved a $7.2bn upgrade to a railway which will connect Gwadar to Kashgar, China. The port is not yet operating at capacity, but the direction seems clear.
While Gwadar is still susceptible to an attack by the Indian Air Force (IAF), it adds political and military risks as it is in a third country's territory. The Indian Navy could try and block this port but it would require ships to move away from the Malacca Strait.
The other option Beijing is exploring is Northern Sea Route in the Arctic which could create a 'Polar Silk Road.' The importance of this is underlined by China's 2018 Arctic policy. It asserts, "Geographically, China is a "Near-Arctic State", one of the continental States that are closest to the Arctic Circle."
The policy statement goes on to say, "China hopes to work with all parties to build a "Polar Silk Road" through developing the Arctic shipping routes."
Due to accelerated global warming, ice sheets are receding, thus making it possible for ships to travel via this route. Having sent its first ship through the region in 2013, Beijing is now investing in port infrastructure in the Arctic which connects to Europe.
China is also investing in designing ice breakers, vessels that would ease navigation through the Arctic. With help from Finnish Aker Arctic, China launched its first locally built ice breaker the Xue Long 2 in 2018.
Apart from exploring new waterways and developing strategic ports, Beijing is developing a land route directly to Europe, as part of the Belt and Road Initiative (BRI), mainly as a way to export goods.
Thousands of trains are transversing across Asia in recent times, the modern-day version of the ancient Silk Road. Land routes are one way China can reduce the criticality of Chinese sea routes.
The strategic importance of the Strait of Malacca to China will lessen over a period of time. India will still be in a position to throttle Chinese supply lines there, but it will not have the same impact that it once had.
India Bets Big On Nikki Haley To Emerge As Vice Presidential Candidate Under Trump
Nikki Haley has echoed some of the same arguments Donald Trump has made on national topics such as cancel culture, defunding police forces and statue removal, although the tone and frequency between Trump and Haley differ dramatically.  
India has pinned hopes on Nikki Haley to become the US Vice President (VP) should Donald Trump get re-elected this November. Haley, a first-generation Indian American, is expected to strengthen Indo-American relation and also attract a lot of voters including women and minorities.
According to the reports, there is speculation that Trump might switch out Vice-President Mike Pence for Nikki Haley as his running mate in the hopes of boosting his lagging approval numbers among the broader electorate.
Despite resigning as US Ambassador to the United Nations, Haley has been active in politics. She has been fundraising for Republican congressional candidates as well as in the Senate and gubernatorial arena.
She has set up a non-profit organization to boost her policy priorities and has continued to pen editorials on foreign policy. And Hailey has retained a small, tightly knit orbit of advisers.
The former governor of South Carolina, Haley is one of the people who left the Trump Administration on good terms. She has even promised to campaign for the President for his re-election bid.
Haley has echoed some of the same arguments Donald Trump has made on national topics such as cancel culture, defunding police forces and statue removal, although the tone and frequency between Trump and Haley differ dramatically.
According to experts at EurAsian Times, Haley's recent moves can be seen as a carefully executed plan to stay involved in key Republican policy circles and the national discourse. Haley has fundraised for almost a dozen Republican Senate candidates, many of them in tough re-election races, and has been a special guest at Republican Governors Association (RGA) events.
While Haley has dismissed reports about her running for VP, her being an influential person of colour could help Trump win constituencies he is currently losing.
India pinning hopes on Nikki Haley
The US Presidential elections are a spectacle observed globally and India would be hoping Trump wins and Haley gets elected as the VP. Haley enjoys nationwide popularity amongst Indian-Americans and her election as VP could lead to stronger ties between Washington and New Delhi.
She has natural links to India with her parents having emigrated to the US in the 1960s from Punjab. Haley has often pointed out that India is an example of a free government and recently even applauded New Delhi's decision to ban 59 Chinese applications and for standing up to China.
Good to see India ban 59 popular apps owned by Chinese firms, including TikTok, which counts India as one of its largest markets. India is continuing to show it won't back down from China's aggression. https://t.co/vf3i3CmS0d

— Nikki Haley (@NikkiHaley) July 1, 2020
With an Indian-American at the helm of affairs, New Delhi would see it as an opportunity to get closer to Washington. It could lead to India benefitting in the areas of trade, defence and investment and would be a huge blow to neighbours China and Pakistan.
US Presidential elections are scheduled to take place in November and will be contested between Donald Trump and Joe Biden. While Biden's re-election does not mean that India and the United States will have weak relations, having Trump in the White House and Haley as VP would definitely lead to stronger Indo-American ties.
Armaan Srivastava. Views Personal
Russian T-14 Armata Tanks Now On Sale; Hopes To Challenge US' M1 Abrams
The T-14 is part of the Armata's heavily tracked standardized platform, which serves as the basis to develop the main battle tank, an infantry fighting vehicle, an armoured personnel carrier and other armoured vehicles.
Russia's T-14 Armata tank will be up for sale from 2021. This was announced by Denis Manturov – Industry and Trade Minister of Russia. He said that they are already receiving requests for the deadly T-14 Armata tanks from several foreign customers.
Russian Technicians Keeping INS Vikramaditya Battle Ready Amid Flaring Regional Tensions
The T-14 is part of the Armata's heavily tracked standardized platform, which serves as the basis to develop the main battle tank, an infantry fighting vehicle, an armoured personnel carrier and other armoured vehicles. It has fully digitized equipment, an unmanned turret and an isolated armoured capsule for the crew.
"Russian producers are ready to offer potential buyers both air defence systems, such as the S-300 and the S-400 and advanced aircraft and helicopters," explained Dmitry Shugayev, Head of Russia's Federal Service for Military and Technical Cooperation.
"We are preparing the MiG-35 light fighter for sale and are promoting the latest T-14 'Armata' tank," he added.
The Armata T-14 was first demonstrated during the Victory Day Parade in May 2015 in Moscow. The actual production of the tanks was delayed. The first nine T-14 Armatas were originally planned to be handed over to the Russian Ground Forces (RGF) in 2018. This date then got pushed to 2019 and then to 2020.
Russia hopes that the T-14 Armata tank will give a tough competition to America's M1 Abrams that destroyed thirty-seven of the Soviet-designed T-72s during the 1991 Gulf War.
T-72s remain Russia's primary battle tank, supplemented by turbine-engine T-80s and four hundred more advanced T-90s. According to Sébastien Roblin, an expert on security and military, while Russia may finally have a 125-millimetre sabot round that can threaten Western main battle tanks at the range, only its handful of new T-14s tank are capable of actually using it.
Experts claim that the 2A82 gun could be retrofitted to numerous older T-90s and T-72s so far appear not to have materialized.
Despite Russia's defence spending, the Russian military has continued with the production of the new tank. The production is overseen by Rostec Corporation, the Moscow conglomerate that specializes in consolidating strategically important companies in Russia's defence sector.
It has undergone field testing in Syria. Although the extent of testing and the results are still unclear, a Russian media outlet suggested that "one Armata was completely destroyed." There's no confirmation on that but it might not look good to its buyers.
"It [the T-14 Armata tank] is expensive because it is still undergoing extra trials and modernization after the defence ministry requested additional technical solutions in order to begin serial supplies starting from the next year under the existing contract," said Manturov in April this year.
He further said that next year, when serial supplies of these tanks to the defence ministry are launched and an export certificate is obtained, they will begin to work with foreign clients. "Preliminarily, bearing in mind that we cannot provide all the documentation to our foreign clients. We do have preliminary orders," he added.