Vladimir Putin Awards 'Dead' Kim Jong Un With World War-2 Medal
Russian President Vladimir Putin has awarded Kim Jong Un, once presumed dead, a commemorative World War II medal for his role in maintaining the memory of USSR troops martyred in North Korea, Russia's Embassy in Pyongyang said Tuesday.
The event took place at the Mansudae Assembly Hall, where Kim Jong Un reshuffled North Korea's highest decision-making body last month.
The presumed dead – North Korean leader – Kim Jong Un recently made his public appearance after it was widely speculated that he was either dead or seriously unwell.
Russia's ambassador handed the commemorative medal dubbed "75 Years of Victory in the Great Patriotic War 1941-1945" to Kim's foreign minister, according to a statement and photographs published on the embassy's Facebook page.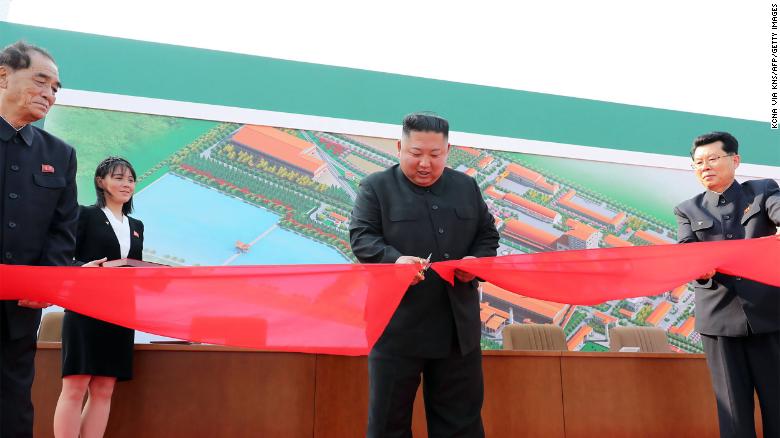 Kim Jong Un was bestowed with the award "for his great personal contribution to the commemoration of the dead and buried USSR citizens in North Korea and expressing concern about the security of the Soviet soldiers' graves and memorial sites."  TASS news agency reports that 1,375 Soviet soldiers are buried in North Korea.
Russian Ambassador Alexander Matsegora and North Korean foreign minister Ri Son Gwon held a brief sit-down following the ceremony. "They endorsed their plan to maintain existing efforts to consistently implement the agreements… aimed at further promoting and strengthening multifaceted Russian-Korean cooperation," the embassy said.
What triggered the speculation behind Kim's health was his non-appearance at the Kumsusan Palace of the Sun, a place he visits every year on April 15 to mark the birthday of his grandfather, the founder of the dynastic regime. No reporting by state media on the recent missile test launches featuring Kim Jong-un further fueled speculations.
These rumours gained traction when Daily NK, a South Korea-based online publication, and CNN, relying on anonymous sources inside the country, reported that the supreme leader's health was in 'grave danger' following a heart surgery on April 12.
Kim Jong Un – Hale and Hearty
A former senior North Korean diplomat has apologised after saying Kim Jong Un was apparently so unwell he could not stand, days before he appeared on state media smoking and walking promptly at an event.
High-profile defectors from the country speculated that Kim was suffering from a grave illness or could even be dead. North Korean media on Saturday broadcast video of Kim during a ribbon-cutting ceremony for the inauguration of a fertiliser plant.
Sky News Australia claimed that Kim could have intentionally pretended to be dead by going missing for 20 days, to evaluate his inner circle and separate friends from foes.
Anti-China 'QUAD Alliance' Between US, India, Australia & Japan Could Soon Be A Reality
The QUAD alliance could soon be a reality as India is prepared to allow Australia to join the annual trilateral Malabar naval exercise involving India-Japan-USA. With Australia joining in, this could cement the QUAD alliance which Beijing considers as an anti-China grouping.
Chinese Military Base In The Pacific Near Australia Could Be A Nightmare For The US & Allies
The latest decision to allow Australia to be a part of exercise comes at the heels of Chinese aggression in Ladakh, South China Sea (SCS) and the Strait of Taiwan. According to experts, the arrival of Australia could re-activate the Quadrilateral Alliance (QUAD) between Australia-India-Japan-USA.
Defence officials speaking to The Hindu said that while a decision to on whether to extend the invitation is expected "soon", it was unlikely to be announced during today's "virtual summit" between Prime Minister Narendra Modi and his Australian counterpart Scott Morrison.
The summit will focus on cooperation in the Indo-Pacific region and strengthening of defence ties between New Delhi and Canberra. The long-pending Mutual Logistics Support Agreement (MLSA) is also likely to be concluded as part of the measures to elevate the strategic partnership.
The signing of MLSA would allow reciprocal use of each other's military bases in exchange for fuel and provisions to simplify logistical support and improve operational turnaround. New Delhi and Canberra have been working on finalising the MLSA since last year but the deal could not go through due to unavoidable circumstances such as COVID-19.
In a bid to solidify their Indo-Pacific friendship, both countries are also working on a maritime cooperation agreement with an emphasis on Maritime Domain Awareness (MDA). Such an agreement makes sense as they share common military platforms.
The QUAD
If India does formally invite Australia, it could reshape the Indo-Pacific region. As reported by EurAsian Times earlier, QUAD was an informal security dialogue established to counter growing Chinese influence in the Indian and Pacific Ocean. Although never formalised, the group could not work since China issued all four partners a demarche after it was announced.
Experts at EurAsian Times believe that India's decision to allow Australia to participate at Malabar 2020 could lead to a re-activation of the QUAD. Since member countries were earlier hesitant to get on the wrong side of Beijing, QUAD did not really take-off. The last time Australia participated in the naval drill was in 2007 along with Singapore.
Australia did requests to India to join the Malabar drill in the past but New Delhi rejected it in a bid to not strain its ties with China. However, the recent India-China tensions at the Line of Actual Control in Ladakh may have brought more flexibility to the decision-making process.
Japan and the US are unlikely to oppose Canberra's inclusion in the exercise since Chinese aggression in the India and Pacific Ocean have only increased. Since the outbreak of COVID-19, China has made provocative moves to test the response of neighbouring countries and allies in the SCS, India Ocean region and the Strait of Taiwan.
Malabar 2020 will be held in Japan in either July or August. The exercise started in 1992 between New Delhi and Washington and was expanded to include Tokyo in 2015. The arrival of Canberra will be a welcome break and would suggest the growing seriousness and synergy among four key Indo-Pacific powers and re-activation of QUAD.
Trump's Mediation Offer 'Naive'; US Actually Wants India To Challenge Chinese Dominance: Russian Experts
As Trump's offer to mediate the India-China border conflict has publically failed, experts argue that "Washington's policy-makers, who seek to pit the Indians against the Chinese, maybe as naïve as Trump".
The fierce military standoff between China and India that has been in the headlines for over a month now started in early May when clashes erupted between the troops of both the nuclear nations, that left scores of soldiers injured from both the sides driving a steady build-up of troops in the border region.
The US President, Donald Trump had recently offered to "mediate and arbitrate" the conflict, however, the offered was duly refused by both the involved countries.
Artyom Lukin, an associate professor of international relations at Far Eastern Federal University in Russia opines that Trump's mediation offer "was perhaps inspired by his recent success in bringing about an OPEC+ deal that ended a brutal oil price war between Saudi Arabia and Russia."
In April this year, with Trump's apparent mediation, the oil giants Saudi Arabia led by Crown Prince Mohammed bin Salman and Russia led by President Vladimir Putin with 21 other countries as a part of the OPEC+ agreement collectively agreed to reduce oil output by 9.7 million barrels per day between May and June, in an attempt to combat the drop in international demand caused by the coronavirus pandemic.
The big Oil Deal with OPEC Plus is done. This will save hundreds of thousands of energy jobs in the United States. I would like to thank and congratulate President Putin of Russia and King Salman of Saudi Arabia. I just spoke to them from the Oval Office. Great deal for all!

— Donald J. Trump (@realDonaldTrump) April 12, 2020
The Pentagon on Trump's offer
It is reported that Pentagon and experts in Washington do not share the same perspective as Trump's on the issue of mediation. Lukin believes that "they understand that a rising and ambitious India is the only realistic counter-balance against China.
There are just no other candidates for this role. Russia is in cahoots with China. Japan is a declining and militarily weak power."
It is widely understood that to maintain control over the whole Eurasian region, "the US needs to keep this super-continent divided against itself, which means never allowing a true rapprochement between Asia's two biggest powers, India and China."
Trump's failure to mediate the Sino-Indian conflict
Lukin puts forward two primary reasons for Trump's failure to intervene in the Sino-Indian conflict. "Firstly, it is difficult to be an effective mediator or arbiter in international politics if you don't have leverage over the parties in question."
He believes that in the case of India and China, "it is not clear what rewards or penalties the US has in reserve for China and India. Most likely there are none."
Secondly, the scholar in international relations claims that "the best mediator is one that is perceived as unbiased and impartial. On this count, the White House has an obvious handicap, since the US views India as a crucial associate and friend, while China is considered a competitor and rival."
The Blame on China
US's rivalry with China has been taken into account by many international critics. Apart from the trade war and technology rivalry, Washington blamed Beijing for the ongoing coronavirus pandemic and has also pointed at China for playing aggressively in the disputed Himalayan region.
It is reported that Alice Wells, principal deputy assistant secretary of state for South and Central Asia, called China's behaviour "aggression, the constant attempt to shift the norms, to shift what is the status quo, that has to be resisted whether it's in the South China Sea… or whether it's in India's own backyard, both on land as well as in the Indian Ocean."
On the flip side, Indian defence experts like Lt Gen H S Panag believes that China's is ultimately protecting its own "status quo," that is continuously been threatened by India's strategic growth in the contested territories along the border.
Since New Delhi seeks to maximize its benefits from the partnerships that it shares with the US, it strategically refrains from being involved in American-led efforts to contain China. "In this sense, Washington's policy-makers, who seek to pit the Indians against the Chinese, maybe as naive as Trump with his peace-making initiatives" concludes Lukin.
Philippines wants continued, strong military partnership with the US: DFA
Manila, June 3 — Manila seeks to continue its strong military partnership with the United States as it suspends the termination of the Visiting Forces Agreement, Foreign Affairs Secretary Teodoro Locsin Jr. said Wednesday.
"We look forward to continuing our strong military partnership with US even as we continue to reach out to our regional allies in building common defense towards enduring stability and peace, and continuing economic progress and prosperity in our part of the world," he said in a speech.
The Department of Foreign Affairs (DFA), in a diplomatic note dated June 1, informed the US embassy about the suspension of abrogation for half a year. Following notification in February 2020, the accord was originally set for the termination in August.
Defending President Rodrigo Duterte's decision, Locsin said the suspension was in line with the developments in the region and the Philippines' national interest.
"In the vast and swiftly changing circumstances of the world, in a time of pandemic and heightened superpower tensions, a world leader must be quick in mind and fast on his feet for the safety of our nation and the peace of the world," he said.
He also assured that the action "alarms no country in Asia and the rest of the world" as it even "greatly assures everyone".
Covid-19, SCS among factors
In a separate interview Wednesday, Philippine Ambassador in Washington Jose Manuel Romualdez said the decision was influenced by several factors, including the coronavirus pandemic and recent developments in the South China Sea.
"Obviously, the situation as far as the pandemic is concerned is a major concern as far as the Visiting Forces Agreement. As a matter of fact, many of the Balikatan exercises had to be moved or cannot be obviously be implemented because of the pandemic so that's one," he said in an ANC interview.
"The political reason, obviously, is there's quite a number of things that are happening right now in the South China Sea, very clearly we see that and so because of security issues and many things that are happening in the world, both I think our governments have seen that it would be prudent for us to just simply suspend first any implementation of the termination," he added.
Although surrounded with "many issues", the VFA in itself is a vehicle to implement exercises between Washington and Manila under the context of the Mutual Defense Treaty.
In the long run, Romualdez said the Philippines has to find some form of mechanism to continue with the defense pact.
"The President has always said that he has no intention of abrogating our Mutual Defense Treaty which was signed in 1951, that in itself is already an indication that we have to have some mechanism on how we can continue with that defense treaty," he said.
"The VFA was obviously a vehicle for which we will be able to implement many of these exercises but it has been under review for many years even before President Duterte, there are many issues, of course, that need to be resolved… In the long run we need to have some form of agreement to be able to implement our defense treaty with the US," he said.