The entire world is gripped by the fear of war. And as it seemed earlier, it may not be the India-China theater, but the Iran-the Middle-East conflict, which has all the potential to turn into a 'third world war'.
US Navy Achieves New Milestone; Shoots Down Intercontinental Ballistic Missile (ICBM) Mid-Air
The ongoing duel between US President Donald Trump and President-elect Joseph Biden has only added to such fears.
Trump supporters have started to march to Washington to protest the allegations of 'fraud' in the elections raised by Trump, and Biden has expressed his grave concerns, for the first time, that 'more people may die' if Trump refuses to cooperate on the transition of power.
But amid all the chaos, it has come to light that Trump is mulling an attack on Iran, as BBC reported on November 17, and has called all his advisors to explore the options of a strike on the nuclear sites of Iran, against which Tehran has vowed a 'crushing' response.
Trump who is credited for not having started any fresh war, in contrast to the war-mongering image of Biden, had long been pressured by the Jewish state of Israel to start a war on Iran, in the apprehension of the Iranian nuclear program, in all these last four years.
And now, desperate to please Israel, Trump is standing on a very critical moment as a war at this juncture has every possibility to engulf the whole world.
Iran is accused of conducting a nuclear enrichment program, something the US is greatly concerned about. After all, in the wake of the hoax of weapons of mass destruction claim, Iraq was attacked by the US under the George W Bush administration as the world stood witness to millions of deaths in Iraq, followed by Afghanistan, Syria, Libya, Yemen, etc.
It is worth recalling that Trump in May 2018 had scrapped the US-Iran nuclear deal, which Israel PM Benjamin Netanyahu boasted of having got it done himself, according to a Times of Israel report on July 17, 2018.
He may have succumbed to the persuasion from Israel, but in his desperation right now, he may trigger a war with Iran in his next 65 days i.e. until he retains the same powers, or else Biden would pick from where Trump would leave.
Thus, a war on Iran, to the tunes of Israel, whether it be from Trump or Biden, is, therefore, likely to take place. As it turns out, Biden had always been a self-professed Zionist, as disclosed by Scoop.co.nz on March 17, 2020.
Trump has been overtly pro-Israel as he played an instrumental role in getting the UAE, Bahrain, Sudan to formalize their relations with Israel apart from giving status to 'Jerusalem' to be the capital of Israel.
He complied with the annexation plan of the West Bank by Israel, and it was also quite conclusive that Trump if re-elected, will supervise it to happen.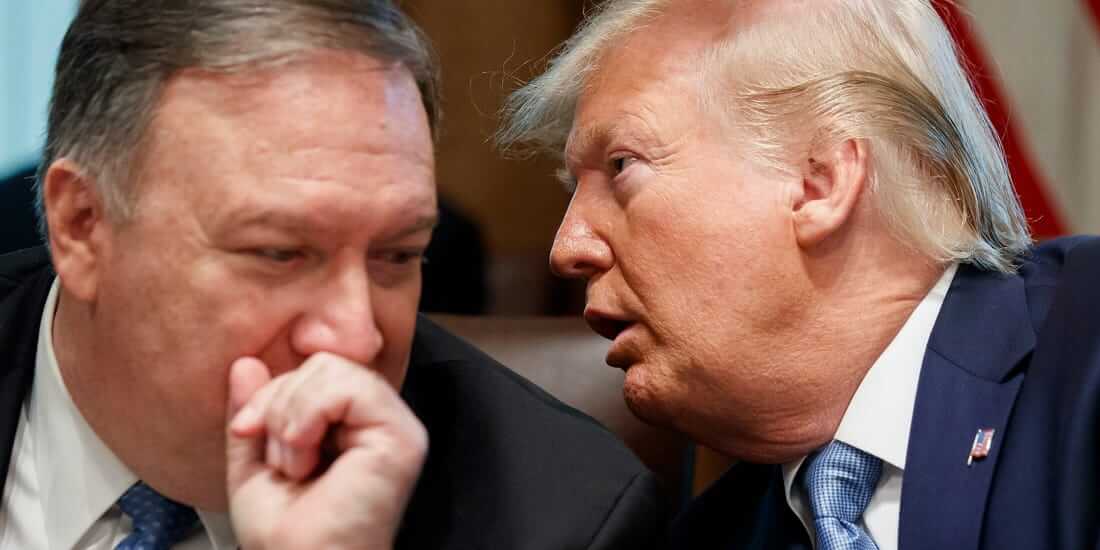 But, Trump to the liking of Israel fell dramatically short of war. Trump is, therefore, now searching for moves to placate Israel and has already deployed his Secretary of State Mike Pompeo, his highest-ranking official, who recently declared that the second term of Trump is coming, to visit the 'Israeli illegal settlements' in West Bank.
Pompeo's visit is to provide a legitimate cover and also fast-track the 'annexation plan' of Israel, although the US State Department has not confirmed Pompeo's itinerary as yet.
Iran, as part of its defense mechanism, is also moving to safeguard its boundaries, and therefore, its foreign minister Javed Zarif paid a visit to Pakistan on November 10, 2020, to coordinate a response from Pakistan. Since it's speculated the US may try to seek to use Pakistan's Shamsi airbase to bombard Iran, or obviously, from its biggest military base in Al Udeid in Qatar.
And, no wonder, the chief of Qatar air force, therefore, also paid a visit to Pakistan on November 17, 2020, to help clear the air that Qatar too would not oblige the US in its likely decision of attacking Iran. Iran would then also target the US base in Qatar, and Qatar is now firmly with Turkey, which is now in a new bloc with Iran, Pakistan, and Malaysia, supported by Russia and China.
Also, in one of the biggest deals in history, China and Iran have entered into a 25-year $400-billion 'military and trade' agreement, which has sent everything spinning in Middle-East as well as in Israel, the US, and India.
India, ironically, has been made to move out from Iran's Chabahar project. Visits by defense minister Rajnath Singh (September 5, 2020) and external affairs minister S Jaishankar (September 9, 2020), had failed to make any difference.
If Trump is to give a go-ahead against Iran, it will most certainly have a fallout on Pakistan and China, who are at daggers drawn with India over India's PM Narendra Modi's annulment of Article 370, on August 5, 2019, which gave special status to Jammu and Kashmir.
And it hasn't been long since Pakistan distanced itself from the Kingdom of Saudi Arabia, one year later, after allegations that KSA did not stand with Pakistan on the issue of Kashmir. And therefore, King Salman's response after the visit of Javed Zarif, at the behest of the US, was quite predictive as he sought a decisive stance against Iran, corroborated by Al Jazeera on November 12, 2020.
There might be a stealth fighter attack, or a missile attack from Iraq, or even a cyber-attack, as Iran had experienced mystery fires in July last when seven of its ships had caught fire. Although whatever is the outcome, it will be to Israel's advantage, and India is very firmly with Israel, which ironically has been accorded as a 'black sheep' by Russian President Vladimir Putin in the 'BRICS family' on November 17, 2020, according to Hindustan Times.
India has bid adieu to Russia by signing BECA with the US, despite around 70 percent of India's military wherewithal having a stamp of Russia.
But, despite all, if the US goes on to attack Iran, China alongside Pakistan, due to CPEC, would also be there to the defense of Iran. Perhaps, if all this happens, then surely it would be an advantage for India, even when Biden takes over in January 2021.
The writer is a former State Information Commissioner, India. He is a media analyst and writes on international politics.