Gotabhaya Rajapaksa arrived in Delhi 29 November on a three-day visit after taking over the reins of Sri Lanka. Rajapaksa's first overseas tour is a reflection of the importance he attaches to ties with India. 
China Funding Anti-India Mahinda Rajapaksa for Sri Lankan Elections 2020
Rajapaksa reached Delhi on Thursday evening for this two-day tour. Gotabhaya was invited by Indian the Prime minister Narendra Modi on his first international tour as a president which he gladly accepted over China.
Earlier on 19 November, India's Foreign Minister S Jaishankar arrived in Colombo on an unannounced two-day visit. He was the first foreign minister to meet President Rajapaksa. Sri Lankan officials said that Jaishankar had a letter from Prime Minister Narendra Modi, inviting him to the three-day visit.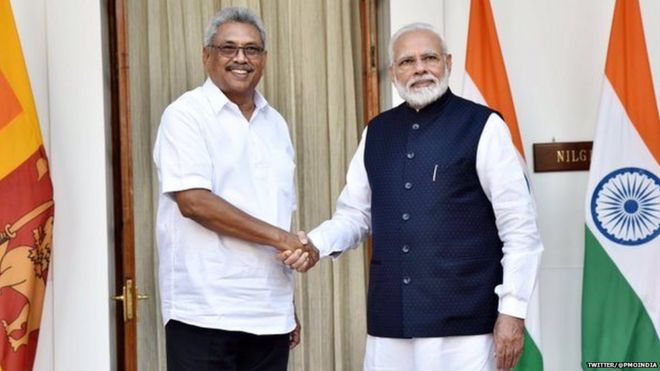 According to the sources, Indian PM made no delay to send a special invitation to Gotabhaya for the visit. The major reasons the move was to impede Gatobhaya 's inclination towards China and Pakistan which might turn out unfavourable for India's dominance in the region.
Senior journalist Nirupama Subramaniam, a delegate in Sri Lanka says, "Earlier Sri Lankan leaders used to visit India, but because of China, Gotabhaya's victory, S. Jaishankar had to tour Sri Lanka.
"When questioned about the issues India is expected to focus, Subramaniam said "Especially given the way India is believed to have played a role in the defeat of Mahinda Rajapaksa, India will have to convince Sri Lanka that what has passed has passed and now both nations can improve ties and must move-on.
The Intercontinental Ballistic Missile That Can Even Bypass The S-400 Missile Defence System
Goripal Satiri, a tamil writer commented on Gatobhaya's arrival in India, "He has claimed that he has renounced his US citizenship, but this has not yet been confirmed by the US authorities. Maybe the United States can use pressure tactics on Gotabhaya so that he thinks before he moves towards China. "
N Satyamurthy, head of the Observatory Research Foundation's Chennai Initiative, says that before Sri Lanka comes under pressure from China and Pakistan, India wants to start its dialogue avenues.He said "India was not happy even with Sirisena's reign. Sirisena did not give preference to India over China despite expectations."
India had an eye on the Trincomalee Port Project strategically but lost the opportunity to develop it during Sirisena's reign. Despite the victory of pro-China Rajapaksa camp, New Delhi is not really upset.
To boost India-Sri Lanka ties and check growing Chinese influence, India announced a line of credit of $400 million for development projects in Sri Lanka and a $50 million fund to fight terrorism during President Gotabaya Rajapaksa's two-day visit to the country.
"The $400 million line of credit to Sri Lanka will strengthen the country's infrastructure development. I am confident that this will help boost Sri Lanka's economy and the line of credit will also speed up mutually beneficial `project cooperation' between the two nations," Modi said in a statement after his bilateral meeting with Rajapaksa.
After US Pulls Out, India Would Have To Fight Terrorists In Afghanistan: Trump
PM Modi said that it was decided by the two leaders that the countries would work together to strengthen their multi-dimensional partnership and strong steps will be taken in the direction. "In line with my government's `neighbourhood first' policy and SAGAR doctrine, we give primacy to our relationship with Sri Lanka.
That is why it is natural that we are concerned about each other's defence and security needs and sensitivities," he said, adding that India will be a partner in the country's all-round development. Pm Modi also said that the two leaders had decided to utilise the $100 million credit line earlier announced for setting up solar projects in the country.