After Claiming Mount Everest, China Now Says Mount Qomolangma is located on Nepal-China Border
Where is Mount Everest located – Nepal or China? Have you ever heard of Mount Qomolangma which China claims is the world' highest mountain located in Tibet?
China made a U-turn on bizarre claims on Mount Everest also known in China as Mount Qomolangma. Authorities in China had claimed that Mount Everest was located in China's Tibet which drew sharp criticism from Nepal and India.
Upon correction, CGTN now states that Mt Qomolangma, the highest peak in the world, is located on the Nepal-China border.
The tweet on Mount Everest was actually made last week on May 2, 2020, and resurfaced after netizens in India and Nepal had been arguing over the inauguration of a new road to the Lipulekh pass along the border with China in Uttarakhand.
The original tweet read, '' An extraordinary sun halo was spotted Friday in the skies over Mount Qomolangma, also known as Mount Everest, the world's highest peak located in China's Tibet Autonomous Region.''
China drew the ire of Twitter users in Nepal and India with many users expressing their anger over the tweet and others labelling it as fake news.
China Corrects Tweet on Mount Everest
After the international outcry over social media, CGTN revised the tweet but did not apologize for its mistake. The revised tweet now reads,'' an extraordinary sun halo was spotted on May 1 in the skies over Mount Qomolangma, the world's highest peak located on the China-Nepal border".
Chinese activity on Mt Everest 
According to a 1960 border dispute agreement between China and Nepal, Mount Everest is divided into northern and southern parts. The former comes under Chinese administration while the latter is under Kathmandu's.
Srikant Kondopali, a professor of Chinese Studies at Jawaharlal University, spoke about the latest tweet to ANI and said that Chinese actions are not new in the region. According to him, Mount Qomolonga aka Everest on the Tibetan side is extremely treacherous and cannot be accessed by the Chinese or mountain climbers easily.
However, China is trying to develop the mountain on its side of the border by installing 5G towers, 6500m above sea level, in a bid to consolidate its position on Tibet and Everest. China claims that the towers allow access to the internet to climbers and scientists but there is a worry that Beijing might use the technology to snoop in on neighbours India, Nepal and even Bangladesh and Myanmar.
At the beginning of the month, China sent a team of scientists and surveyors to Mount Everest to measure the world's tallest peak amid an ongoing ban on climbing because of the coronavirus pandemic.
Tibet is a contested region which China claims and controls in its entirety. The Dalai Lama leads the exiled government of Tibet from Dharamshala, India. This puts India at odds with China as the latter accuses the former of providing refuge to people that are a threat to Chinese sovereignty and national security.
US-China ties to worsen as Trump set to block all Chinese claims in South China Sea
Ties between US and China could dramatically worsen over the South China Sea after Secretary of State Mike Pompeo said Washington now regards virtually all Chinese maritime claims outside its internationally recognised waters to be illegitimate. 
Ties between the US and China are set to further deteriorate over the South China Sea as the Trump administration is set to outrightly reject almost all of Chinese maritime claims in the contentious waterbody.
The Trump government presented the decision as an endeavour to restrain China's increasing belligerence in the region with a commitment to recognising international law. This move in the South China Sea will further enrage the Chinese, who are already countering against various US sanctions and other penalties.
Previously, US policy had been to insist that maritime spats between China and its smaller neighbours be settled peacefully through UN-backed arbitration.
But in a statement released on Monday, Secretary of State Mike Pompeo said Washington now regards virtually all Chinese maritime claims outside its internationally recognised waters to be illegitimate.
"The world will not allow Beijing to treat the South China Sea as its maritime empire," Pompeo said. "America stands with our Southeast Asian allies and partners in protecting their sovereign rights to offshore resources, consistent with their rights and obligations under international law. We stand with the international community in defence of freedom of the seas and respect for sovereignty and reject any push to impose 'might makes right' in the South China Sea or the wider region."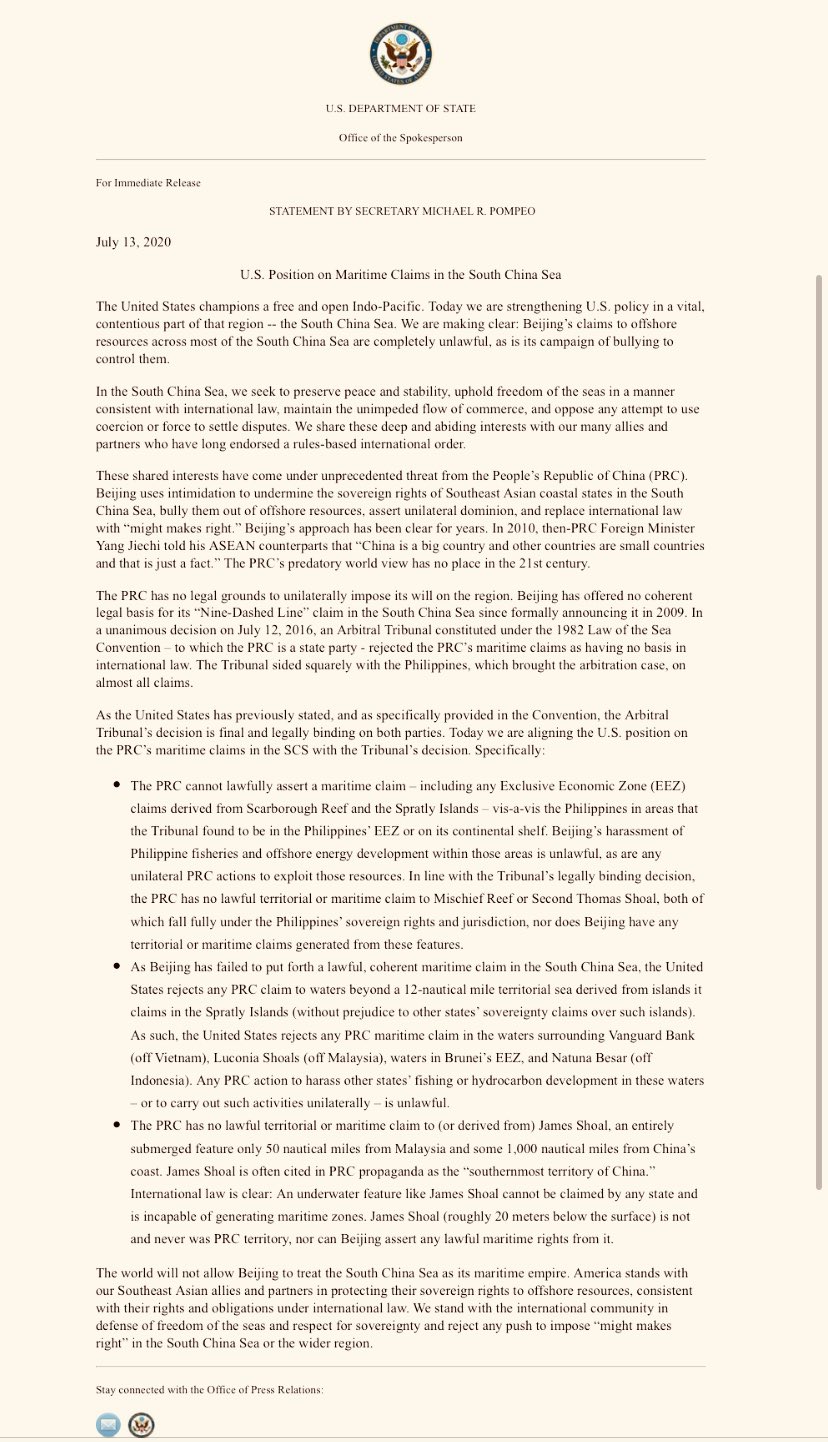 Although the US will continue to remain impartial in territorial conflicts, the announcement means Washington is now directly supporting Brunei, Indonesia, Malaysia, the Philippines and Vietnam, all of which oppose Chinese declarations of sovereignty over maritime areas surrounding disputed islands, reefs and shoals.
"There are clear cases where [China] is claiming sovereignty over areas that no country can lawfully claim," the State Department said in a fact sheet that accompanied the statement.
The announcement was released a day after the fourth anniversary of a binding decision by an arbitration panel in favour of the Philippines that discarded Chinese maritime claims around the Spratly Islands and neighbouring reefs and shoals.
China has declined to recognise that ruling, rejected it as a "sham" and withdrew from the arbitration proceedings. It has continued to oppose the decision with aggressive actions that have brought it into territorial disputes with Vietnam, the Philippines and Malaysia in recent years.
However, as a result, the administration said China has no valid maritime claims to the fish- and potentially energy-rich Scarborough Reef, Mischief Reef or Second Thomas Shoal. The US has repeatedly said areas regarded to be part of the Philippines are covered by a US-Philippines mutual defence treaty in the event of an attack on them.
In addition to reemphasising support for that decision, Pompeo said China cannot legitimately claim the James Shoal near Malaysia, waters surrounding the Vanguard Bank off Vietnam, the Luconia Shoals near Brunei and Natuna Besar off Indonesia. As such, Washington said it would regard any Chinese intimidation of fishing vessels or oil exploration in those areas as unlawful.
US-China tensions: China slaps counter sanctions on US officials over Uighur rights
Earlier, US sanctioned member of Chinese Communist Party, 3 other officials over human rights abuses of Uighurs in Xinjiang
Tensions between the US and China continue to rise after China, in a tit-for-tat move, announced sanctions on US lawmakers and an envoy over the issue of Uighur rights in Xinjiang.
China's Foreign Ministry Spokeswoman Hua Chunying said Beijing sanctioned officials at US' China Commission; Sam Brownback, Ambassador for International Religious Freedom, Florida Senator Marco Rubio, Texas Senator Ted Cruz and New Jersey Congressman Chris Smith, daily Global Times reported.
China said on Friday it would take reciprocal measures against the US for sanctioning a senior member of the Chinese Communist Party and three other officials over human rights abuses in China's Xinjiang region, home to Uighur Muslims.
"China has decided to take reciprocal measures against relevant US institutions and individuals that have behaved badly over Xinjiang," Foreign Ministry spokesman Zhao Lijian had said.
The US' China Commission is a congressional-executive commission that was created to monitor human rights and rule of law in China which submits an annual report to the US president and the Congress.
The US Treasury Department on Thursday sanctioned Chen Quanguo, Communist Party Secretary of the Xinjiang Uighur Autonomous Region.
Chen was appointed to the region in 2016, according to the US statement, with a "notorious history of intensifying security operations" in the Tibetan autonomous region to tighten control over the Tibetan ethnic minorities.
The senior government official is also known as the "architect" of mass detention camps in Xinjiang. The sanctions designations are under the Global Magnitsky Act passed by the US Congress in 2016.
Beijing calls Japan's F-35 deal with the US a big threat to China, Russia
China acknowledges that Japan is buying the US' F-35 jets out of practicality as Tokyo needs to upgrade its ageing jets but accuses the US of hunting like wolves and not like a tiger.
The US recently approved the sale of F-35 joint strike fighters to Japan at a whopping cost of $23 billion. China, a traditional foe and close neighbour of Japan has expressed concern of having such advanced jets in the region which could be detrimental to the security of both China and Russia.
The #US gives the green light to #Japan's F-35 jets purchase. Such a large-scale military expansion in Japan is worrying, especially to its neighbors. There are concerns Japan will break its peaceful constitution. https://t.co/CwgHDxSytr pic.twitter.com/VmVnZ4ovlr

— Global Times (@globaltimesnews) July 12, 2020
Rafale jets dodge all radars, air defence systems; bombs Turkish facilities in Libya
Chinese state media  – the Global Times acknowledges for once that Japan is buying the US' F-35 jets out of practicality and as Tokyo needs to upgrade its current F-2s and F-15s jets.
GT also accepts that Japan could be facing pressure from China and Russia and Tokyo has rationally opted to go for the most advanced jets in the world – the F-35s to counter the dual challenge of Beijing and Moscow.
US outraged with India for neglecting American F-21s for Russian Jets
It goes on to say – Japan has made substantial improvement in its military modernization program. The first of the Izumo-class helicopter carriers, Izumo, has marked a milestone in its transformation into Japan's first true aircraft carrier since World War II. The other Izumo-class carrier Kaga is also under transmutation. Both ships will be transformed into light aircraft carriers on which approximately 20 F-35s can be stationed.
But light aircraft carriers have restricted combat capabilities. Due to political issues, the reformations are concerning in certain quarters because they represent "the first time" that modern Japan has had fixed-wing aircraft carriers.
Trump Would Not Have Supported India In A Possible War Against China – US NSA
Japan is approving a strategy of taking rapid moves in carrier development. Of special interest will be any plan by Japan to develop real carriers over 50,000 tons. If they acquire a large number of F-35Cs, it will imply a new stage of Japanese aircraft carrier development.
Such a massive military advancement in Japan will bother its neighbours i.e. Russia and China. There are apprehensions that Japan will amend its peaceful constitution. This could turn Japan into an aggressive, hostile force and nations that suffered in World War II because of Japanese expansionist policy will be closely watching.
India refuses to review RCEP decision over China's border hostility – Reports
Japan is a key defence partner of the US. It is also part of Washington's so-called global alliance that targets China. Tokyo is also collaborating with the US by developing an anti-missile system, which will affect the strike capabilities of China and Russia and endanger its security, writes the GT.
Without self-sufficient defence capabilities, Japan is incapable of holding by itself and will only end up being commanded by the US. Although Japan has its own strategies and doesn't want to be fully commanded by Washington, the US will unquestionably tightly its grip over Tokyo and use it against China and Russia.
India-China War: China Has No 'Military Advantage' Over 'Battle-Hardened' Indian Army – CNN
GT accuses the US of hunting in a group, indirectly referring to all the alliances that Washington has all over the globe. Japan has limited military capabilities and is only capable of integrated combat with the assistance of the US, the report says.