China Has Deployed Stealth J-20 Jets Against Indian Rafales Near Ladakh Border
Two Chinese J-20 stealth fighter jets were spotted at Hotan airbase in the Uighur autonomous region of Xinjiang. With the ongoing disengagement talks between India and China, the provocative move is seen as a show of military strength by China. 
NAG Missile Carrier NAMICA-2 To Dramatically Boost Indian Army's Firepower Against China
The Hotan airbase lies about 200 miles from Ladakh where the Indian and Chinese troops were engaged in a brutal clash, killing 20 Indian soldiers and an unconfirmed number on the Chinese side. Both sides are trying to resolve the standoff through diplomatic and military means, however, the process has been excruciatingly slow. 
2 x Chengdu J-20 stealth fighters were spotted at #Hotan airbase recently, this as the #IndiaChinaFaceOff continues

— image via chinese social media pic.twitter.com/RSC4khbjaQ

— d-atis☠️ (@detresfa_) August 17, 2020
With additional troops moved to key areas of Eastern Ladakh, the Indian Army has decided to maintain its current strength of troops, tanks, and other weaponry, while the Indian Air Force (IAF) is on high alert at forward airbases along the Line of Actual Control (LAC).
Chinese Version Of US Humvees Lambasted For Poor Performance After India-China Clash At Galwan Valley?
IAF has deployed its Su-30 MKI, MiG-29, and MiG-29K fighters in the border region and could also eventually deploy newly arrived Rafale jets in the future.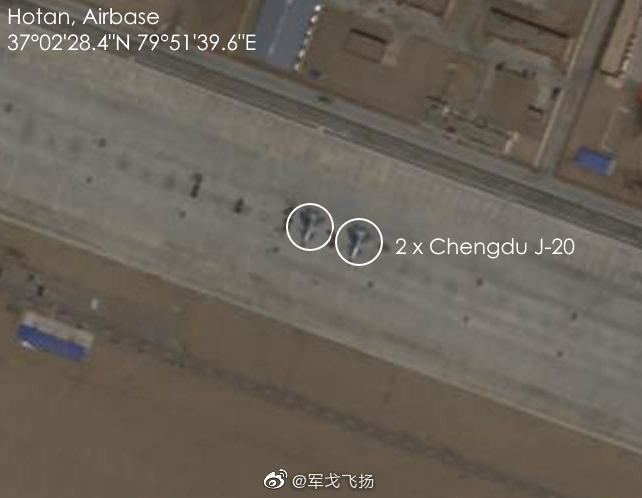 China had also deployed its at least six H-6 bombers with KD-63 cruise missiles at Kashgar airport, also in Xinjiang, around 500 miles from Ladakh. Looking at the ongoing disengagement process, experts believe that the process will take longer to reach the point of total disengagement. 
Why Has India Opted For Indigenous LCH Helicopters Over AH-64E Apache To Fight China?
As reported earlier by EurAsian Times, the Chief Designer of J-20 jets, Yang Wei, had explained the vast, unmatched capabilities of J-20 aircraft. The J-20 has been described as a revolutionary, cognition-subverting next-generation fighter jet, characterized by long-range, high capabilities in penetration, awareness, firepower, and fast decision-making.
Rafale vs Chengdu J-20: How Will Indian Rafale Jets Compete Against Chinese 'Stealth' J-20s?
In Yang's opinion, when aircraft can get more information with these advanced devices, pilots must have extensive knowledge, sharp analysis, and sound decision-making to put them to use. Yang said artificial intelligence will help pilots process the information, and help them become mission objective-oriented.
However, experts argue that such a tiny contingent of J-20s deployed is not sufficient. China possesses around 40 J-20s. "The tiny contingent of J-20s arguably is less potent than the H-6 force is.
US, Israel Readying Their Stealth F-35 Jets If Iran Procures S-400s From Russia
Two J-20s flying together probably could mount no more than a single patrol every couple of days. Double the J-20 detachment to four planes, and you might get a daily two-jet mission," wrote David Axe, an author, and a US military correspondent.
With the deployment of these stealth fighter jets along the LAC, analysts believe that the move could signal the future deployments of a wider variety of fighter jets.
China Could Use Myanmar's Airspace To Launch Surprise Attack Against India – Reports
High altitudes on the LAC with harsh weather could affect the performance of these jets. According to Axe, Chinese J-16s that routinely fly from western bases reportedly carry just a few small air-to-air missiles and must get new brake discs after every mission.