The US has reportedly deployed dozens of F-22 'Raptor' stealth fighter jets to the Indo-Pacific region. The move comes a month after Taiwan reported the largest aerial incursion involving as many as 28 Chinese combat aircraft.
Blocked For Exports: Why China's Mighty J-20 Stealth Jet That Competes With US' F-22 Raptor Is Banned For Sales?
The F-22 Raptors, considered a prized possession of the US military and the most powerful fighter jets on the planet, will be taking part in the Pacific Iron 2021 exercise, which coincides with another US-led exercise with its QUAD partners.
The Pacific Iron 2021 exercise is aimed at demonstrating the "strategic flexibility" in deploying a large fleet of combat aircraft to perform operations in forward locations, according to the US Air Force Pacific Command.
In a statement, US Indo-Pacific Command said more than 35 aircraft and around 800 Airmen from Pacific Air Forces and Air Combat Command will take part in the exercise. The exercise will include 10 F-15E Strike Eagles, approximately 25 F-22 Raptors, and two C-130 J Hercules.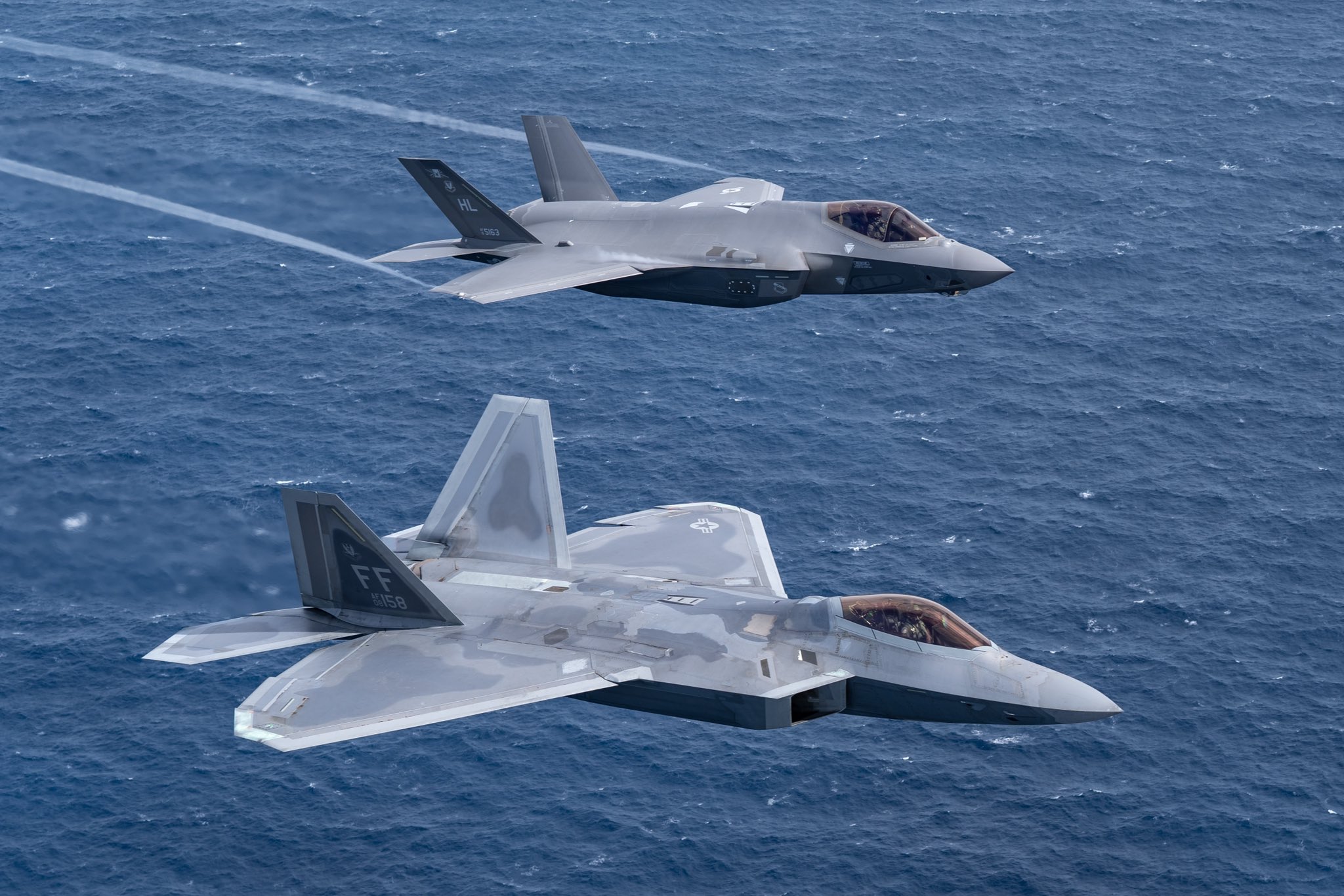 The pilots are expected to demonstrate multi-capable airmen skills, conduct simulated combat flight operations as well as Agile Combat Employment (ACE) operations.
According to USINDOPACOM, the ACE is the "use of agile operations to generate resilient airpower in a contested environment and is designed to organize, train, and equip airmen to be more agile in operation execution, strategic in deterrence, and more resilient in capabilities". 
The aircraft will use the Anderson Air Force base in Guam and the Tinian International Airport on the island of Tinian, part of the Commonwealth of the Northern Mariana Islands. Guam and Tinian islands are US territories.
US Admits Its F-35 Stealth Fighter Jets Plagued With Over 860 Defects; Flight Simulator Non-Operational
The F-22 Raptor
The F-22 Raptor is a supersonic, dual-engine fighter jet developed by the US aerospace major Lockheed Martin. Its cockpit has hands-on throttle and stick control (HOTAS) while the Kaiser Electronics projection primary multifunction display offers a plan view of the tactical situation of the air and ground, such as threat identity, threat priority and tracking information.
The head-up display (HUD) highlights the status of target and weapon, and weapon envelopes and shoot cues. Data is also recorded on a video camera located on the HUD, for post-mission analysis.
It has four hardpoints on the wings and three internal weapon bays. The main weapon bay can carry six Advanced Medium-Range Air-to-Air Missile (AMRAAM) AIM-120C missiles or two AMRAAM and two 1,000lb GBU-32 joint direct attack munitions (JDAM).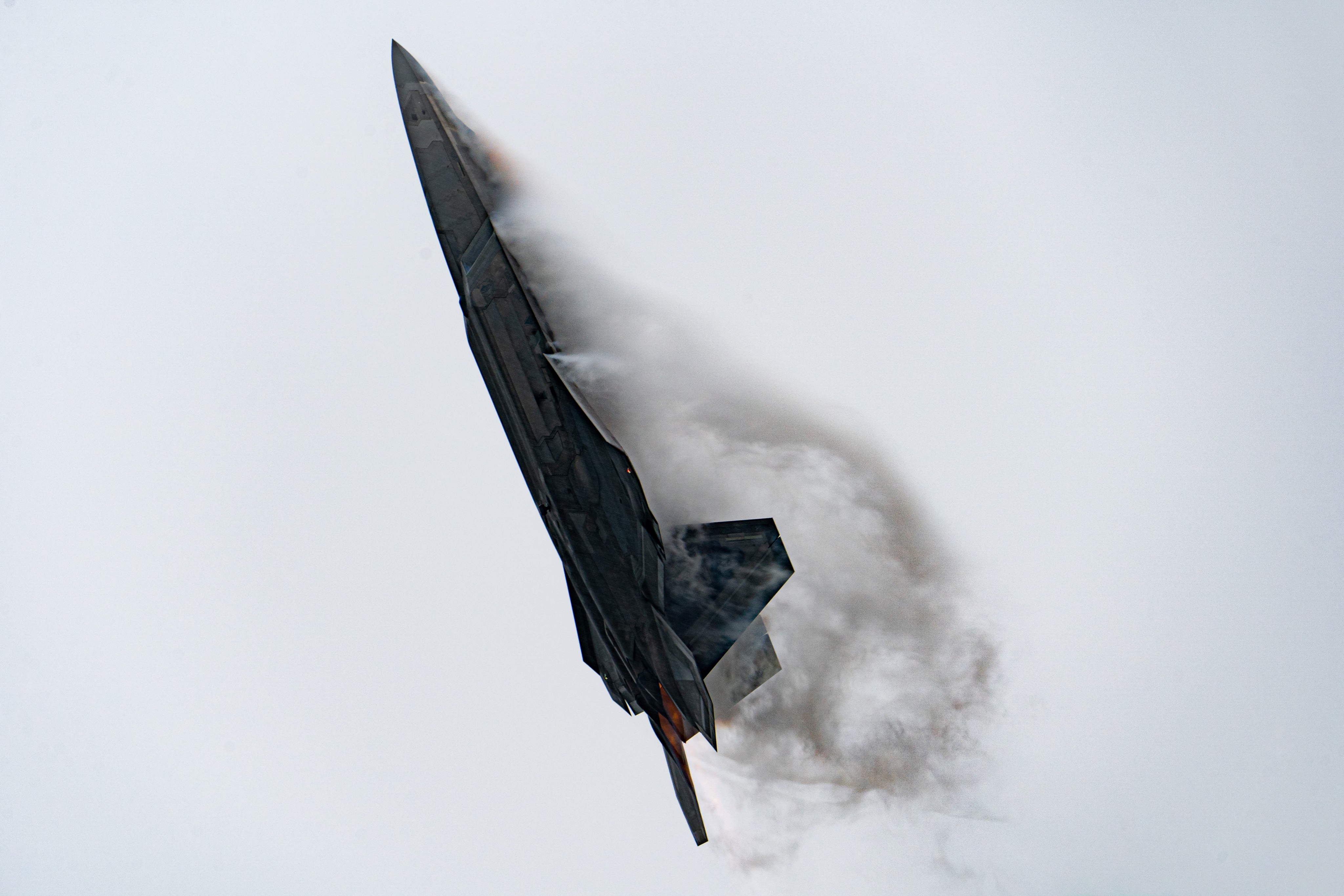 The AN/APG-77 radar uses an active electronically scanned antenna array of 2,000 transmitter/ receiver modules, which gives the fighter jet increased agility, low radar cross-section and, a wide bandwidth.
The electronic warfare system of the aircraft comprises a radar warning receiver and a BAE systems information and electronic warfare systems (IEWS) missile launch detector.
China Conducts Attack-Drills With 1960-Era J-7 Fighter Jets; Taiwan Perplexed, Experts Decode The Strategy
The F-22 Raptor is one of the most capable fighter aircraft in the US Air Force. The exercise comes at a time when the service is looking to replace the fifth-generation fighter jet with a new-generation aircraft as part of the Next Generation Air Dominance (NGAD) program.
Last year, Popular Mechanics reported that the US Air Force had "secretly designed, built and tested a new prototype fighter jet" under its NGAD program.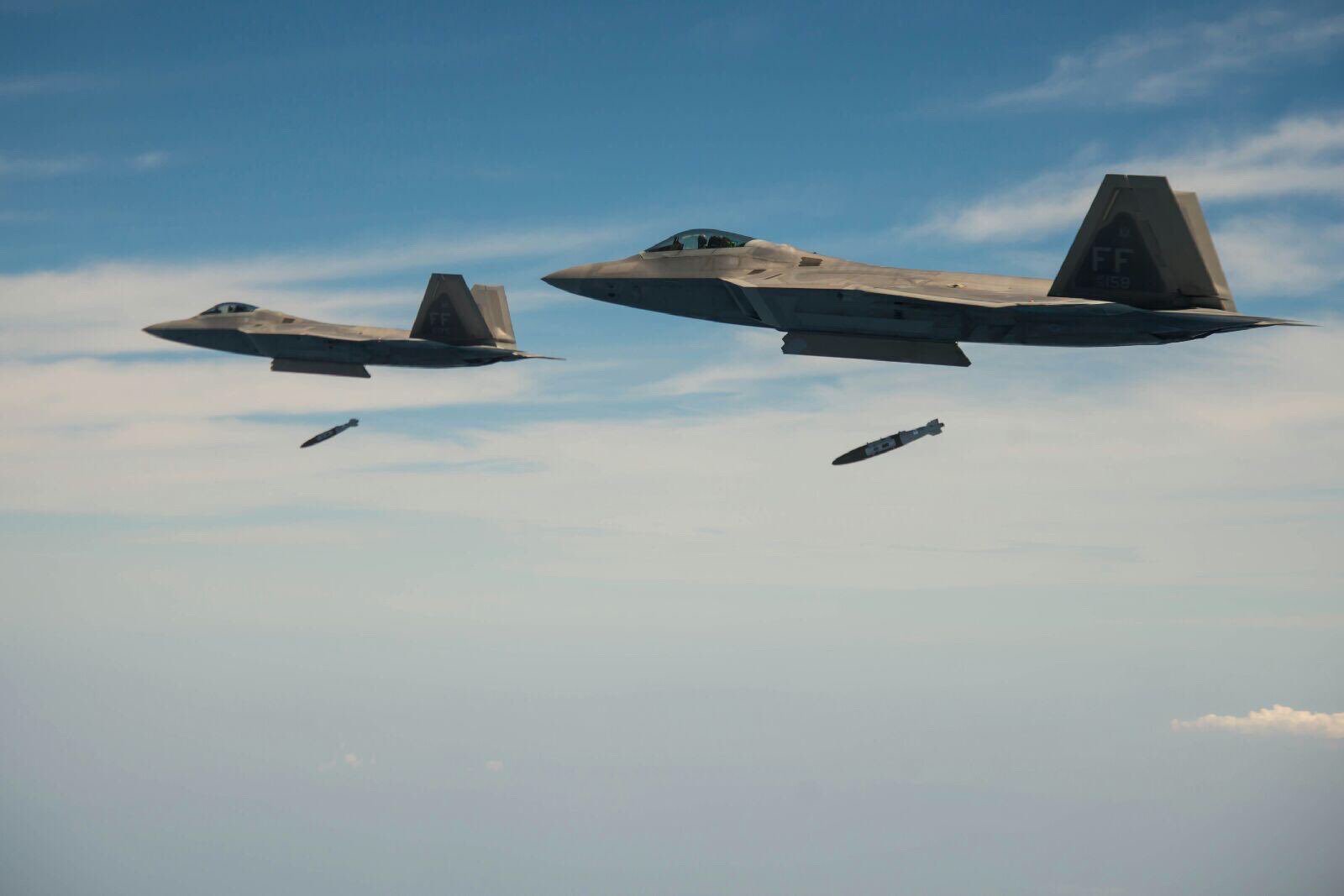 The emerging challenges in the Indo-Pacific are the reason for the development of the NGAD fighter. The EurAsian Times also reported that the fighter jet will keep a close check on the USAF operations in east Asia and Europe.
The prevalence of vast oceans in the Pacific theater necessitates more naval and aerial warfare capabilities. Currently, the US jets have to resort to aerial refueling, which is both costly and faces the risk of being shot down.
The sixth-generation jets are expected to have a "larger blended wing airframe' which will enable a larger weapons bay and a bigger fuel tank.
Indian State-Run HAL Beats Rafael, Hyundai In The World's Top Defense Firm Rankings
A Message To China?
The 'Pacific Iron' exercise is an attempt by the USAF to prepare for future conflicts in the Indo-Pacific region. The Anderson Air Force Base on Guam is an important US military base and could be a prime target in case of a conflict in the region with China, according to The War Zone.
Lt. Gen. Dan 'Fig' Leaf, a former commander of US Pacific Command, said that the F-22s have not been used in such numbers in any exercise before.
"What I would say is if I'm China, I'd pay attention to the message – whether it's intended for them or not – because this capability both in the aircraft, the F-22, and the flexibility and expeditionary nature of the US Air Force that goes back to World War I, that they (China) can't duplicate", he told Anchorage Daily News.
He also mentioned that the exercise shows US commitment to the region, and asserted that, "this is not just a statement, it's an investment in capability because it's not cheap to deploy 25 F-22s from two different bases to the Western Pacific".
Corrupt Buying Practices, Sole Sourcing Reason For US' 'Disastrous' F-35 Program – Russian Expert
China-Taiwan Tussle
Last month, in the largest reported aerial incursion to date, 28 Chinese aircraft entered Taiwan's air defense identification zone (ADIZ). The alleged incursion involved 14 J-16 and six J-11 fighters, as well as four H-6 bombers, capable of carrying nuclear weapons, anti-submarine, electronic warfare and early warning aircraft.
The Chinese aerial incursion came days after the G-7 had called out China on its belligerent actions in the Taiwan Strait.
28 PLA aircraft (Y-8 ASW, H-6*4, Y-8 EW, KJ-500 AEW&C*2, J-16*14 and J-11*6) entered #Taiwan's southwest ADIZ on June. 15, 2021. Please check our official website for more information: https://t.co/JnfN8bOwgl pic.twitter.com/MBJv2jbNMZ

— 國防部 Ministry of National Defense, R.O.C. 🇹🇼 (@MoNDefense) June 15, 2021
China and the US are locked in a tussle over Taiwan, which Beijing claims as its territory. Earlier this week, China warned of serious consequences for trespassing in its airspace, after USAF delivered diplomatic mail to the de facto US embassy in Taiwan.
The mail arrived on AC-146A Wolfhound, which is used by the Air Force Special Operations Command. The Chinese foreign ministry asserted that Taiwan is a part of China, thus any foreign military aircraft landing on Chinese territory must obtain prior permission from China. 
Last month, China had also protested against the arrival of three US Senators to Taiwan onboard a USAF C-17 Globemaster III.
Joint Exercise With QUAD Nations
Along with the Pacific Iron Exercise, the US is also participating in joint exercises in Australia and its nearby waters, reported Nikkei Asia.
The exercise is part of the biennial Exercise Talisman Sabre between the US and Australia, with Japan, the UK, Canada, South Korea, and New Zealand also part of the war games. India, Indonesia, Germany, and France are participating as observers.
F-35 Jets, F-22 Raptors Trend As China Bans US' Biggest Defence Firms Including Boeing & Lockheed Martin
The US, Australia, Japan, and India are part of the Quadrilateral Security Dialogue or QUAD, an alliance, which Beijing calls "Asian NATO".
QUAD was formed to promote what it calls a "rules-based order in the Indo-Pacific" to counter Chinese aggression in the region.
"The exercise will further strengthen our cooperation toward a free and open Indo-Pacific," noted Japanese Chief Cabinet Secretary Katsunobu Kato.
China had been skeptical of the QUAD and its activities and its surveillance ship sailed towards Australian waters prior to the exercise.
READ MORE
Watch: The Ultimate Dogfight Between US & Russian Fighter Jets Over A 'Top-Secret' Air Base In Nevada
---
30 Times Faster Than Speed Of Sound: Is China Really Winning The Hypersonic Race With Its JF-22 Wind Tunnel?