Health Benefits of Ginger & How it Cured My Sneezing
What are the Health Benefits of Ginger? I must say that Ginger did wonders to my sneezing and cold problems. I discover amazing Health Benefits of Ginger when I was looking for a herbal solution to my cold and sneezing problems.
Sneezing, especially was terrible as it would tear apart all the energy from me and made me look awkward in office and other public places. A tablet of cetirizine suppressed my sneezing, temporarily, but did not really cure it, until tried Ginger. Ginger can offer some amazing medicinal benefits and is widely used for the treatment of many diseases.
Amazing Health Benefits of Ginger
1. Enhanced Blood Circulation: Regular use of Ginger is helpful in improving the blood flow in the body. The presences of some of the important compounds like chromium, magnesium, and zinc which help prevent anxieties, fever, and extreme sweat.
2. Cures Motion Sickness: Ginger is a known to bring relief to the patients who suffer from nausea associated with motion sickness. Patients who are given ginger powder in this problem generally benefit greatly from the same.
3. Improves Absorption. The absorption and sustainability of essential nutrients tend to increase the intake of prescribed amount of ginger. This is done by stimulating gastric and pancreatic enzyme secretion.
4. Fights Cough and Cold. For thousands of years, Ginger has been used for natural treatment for cold and cough in India and other Asian countries. Ginger juice mixed with honey works wonders and help the body in fighting the cold and cough. This is one of the oldest and effective remedies to fight cough and cold. This was one of the major health benefits of ginger that I discovered.
5. Handles Gastric Trouble: Ginger is ideal in supporting digestion, thereby improving food absorption and avoiding a possible stomach ache. Ginger appears to reduce inflammation in a natural way and does not cause side effects like allopathic medicines.
6. Colon Cancer Treatment: Helpful in the prevention of Colon Cancer Recent study at University of Minnesota indicated that ginger may help in slowing down the growth of colorectal cancer cells.
7. Reduces Pain and Inflammation. Ginger has anti-inflammation properties that help contains some of the most important anti-inflammatory substances and is a natural powerful painkiller.
8. Helps to Recover Respiratory Problems: Another amazing Health Benefits of Ginger includes fighting the issues related to respiratory diseases such as a cough and cold. Ginger also aids in expanding your lungs and loosening up phlegm as it is a natural expectorant that breaks down and removes the mucus. That way you can quickly recover from difficulty in breathing.
9. Combats Morning Sickness & Hangovers: Ginger has demonstrated great success rate in curing morning sickness and hangovers. You can Drink Ginger Tea, Gingerale, or some other drink which has ginger and lemon, and the results will surprise you. This was one great benefits of ginger that I experienced, especially after the night-outs.
10. Strengthens Immunity & Fights Sneezing: Ginger helps in enhancing the immune system. Chewing a little bit ginger a day can help you keep away from the increased risk of a heart attack by inhibiting fatty deposits from the arteries. It also decreases various type of infections and helps battle a bad cough, cold, throat irritation, and most importantly sneezing, which I had been suffering from. Finally, This was the most important and significant benefit of ginger which truly saved me from tons of harassment and issues, that I had been consistently facing over the years.
Other Stories
Fact Check – Why Russia's Coronavirus Vaccine Does Not Signal an End to COVID-19 Pandemic?
Coronavirus (COVID-19) vaccine developed by Russia has been all over the media. With more than 13 million cases, 575,000 deaths globally, the Russian coronavirus vaccine has been welcomed with open arms.
However, experts at EurAsian Times present a fact-check of the claim and explain why the Russian COVID vaccine does not signal the end of the coronavirus.
News about the coronavirus vaccine being developed by Russia went viral on social media yesterday. Netizens globally welcomed the move and assumed that the world would return to the way it was before the pandemic. However, this will not be anytime soon.
What most media outlets failed to mention in their reports was that only phase-I of the clinical trials had been completed whereas phase-II and phase-III were still pending. Even after the successful completion of all three phases, it takes 12-18 months for the Russian COVID-19 vaccine to be available to the public.
A report by the TASS news agency of Russia on July 10 said the phase I clinical trials would end on July 15, while the second phase would begin on July 13. Only after phase-II is successfully completed, phase-III will be initiated.
Vaccination and immunology experts explain that in phase-I 'safety and tolerability' of a vaccine is tested, on a small group of volunteers. Since Russian volunteers from phase-I did not experience any side effects or reported any complaints, the vaccine development process has moved to phase-II.
In Phase-II efficiency and immunogenicity (generation of the immune the response)' is tested. It is in this state that researchers try to see whether the vaccine is triggering the desired immune response in humans, and what could be the suitable doses to generate this response.
This phase began yesterday after volunteers were administered by the vaccine. This step usually takes months to complete and the success is not guaranteed. The success can only be ascertained after the completion of the trials.
In Phase-III a large number of volunteers, usually numbering several thousand, are enrolled in which researchers try to ascertain whether the immune response triggered by the vaccine is able to fight the virus in real-life situations. This process also takes several months, thus taking 12-18 months in total to prepare a vaccine.
While Russia has reportedly claimed that it would launch the vaccine by mid-August, only after two-phases, the World Health Organization's protocols say that a vaccine has to go through three phases of studies before being approved for large-scale production.
In fact, no vaccine is approved for large scale production without undergoing the third phase of testing. There is absolutely no guarantee that a vaccine would effective only two phases and it would be 'naive' to believe that the end of the pandemic is here.
Race to Develop the Vaccine
The coronavirus vaccine in Russia is being developed by the Gamalei National Research Centre for Epidemiology and Microbiology, in partnership with the Russian Defence Ministry.
The first stage of the vaccine trial at the Sechenov First Moscow State Medical University was launched on June 18 in a group of 18 volunteers who were vaccinated against the virus. The second group involving 20 participants were administered the vaccine on June 23.
There are over 150 candidate vaccines for coronavirus being developed all over the world. Nearly half of these are still in pre-clinical stages, meaning they are being tried on animals or are still in the early stages of development. About 15 vaccines are in phase-I trials and about ten in phase-II trials. Three vaccines are in phase-III trials.
India is also involved in the race to develop a vaccine for the COVID-19 virus. All India Institute of Medical Studies (AIIMS) Patna will begin human trials for the 'Covaxine' shortly. 'Covaxine' will be developed by Bharat Biotech in collaboration with the National Institute of Virology (NIV).
Medical experts say that even after the completion of Phase-III, the vaccine is unlikely to be available for all at one go. Initially, it is expected to be made available only to people who are at higher risk of getting the infection, like healthcare workers. Just like it is the case with other vaccines, a universal immunisation against Coronavirus can take several years.
COVID-19: WHO experts in China to probe origins of Coronavirus
Two World Health Organization (WHO) experts are travelling to China to talk to scientists to investigate the transmission of COVID-19 or coronavirus pandemic from animals to humans, WHO chief said on Friday.
Addressing a webinar, the WHO Director-General Tedros Adhanom Ghebreyesus said the global health experts will also prepare a scientific plan with their Chinese counterparts to identify the zoonotic source of the COVID-19 virus.
"As we continue to tackle the pandemic, we are also looking into the origins of the virus," he said.
Adhanom said the scientists want to learn about the progress made in understanding the animal reservoir for COVID-19 and how the disease jumped between animals and humans.
"This will help lay the groundwork for the WHO-led international mission into finding the origins," he said.
The team comprising an epidemiologist and an animal health specialist are flying to China to try and identify the pandemic's animal source, WHO spokesperson Margaret Harris said a UN press conference in Geneva.
Harris said the aim is also to examine from which species of animal the virus originated and then transmitted to humans.
On April 20, WHO spokesperson Fadela Chaib had said that so far, all available evidence suggests the virus has an animal origin, and it was not manipulated or manufactured in a lab, or somewhere else. She was responding to allegations that the virus spread from the Wuhan Institute of Virology.
"It most probably has its ecological reservoir in bats, but how the virus came from bats to humans is still to be discovered," she said.
Missing intermediary host
"There was certainly an intermediary host or another animal that transmitted this virus from bats to this other animal, to humans, "she said.
Adhanom told international diplomats on Thursday that the member states at the 73rd World Health Assembly held in May had adopted a landmark resolution urging the WHO to initiate an independent and comprehensive evaluation of the lessons learned from the international health response to COVID-19.
"This is a time for self-reflection, to look at the world we live in and to find ways to strengthen our collaboration as we work together to save lives and bring this pandemic under control," said the chief of WHO.
"The magnitude of this pandemic, which has touched virtually everyone in the world, clearly deserves a commensurate evaluation," he said.
The WHO had waited for seven months to investigate the source of the virus and this has led to criticism of the organization and American officials accused Adhanom of being too lenient to China.
An earlier WHO mission led by a Canadian doctor Bruse Aylward that went to China in February was criticized in the US for praising China's in its fight against COVID-19.
The Curve Of Coronavirus Cases In India All Time High Despite Stern Lockdowns
The cases of coronavirus India has reported the large single-day hike with 24,879 new coronavirus cases in the last 24 hours, the Health Ministry said on Thursday.
The total tally of COVID-19 cases in India stands at 767,296 and death toll rose to 21,129 with 487 new fatalities.
Meanwhile, the tally of casualties in the financial capital Mumbai — the capital of Maharashtra — crossed 5,000 on Wednesday with 62 new casualties, said a statement by the Municipal Corporation.
Maharashtra is still the worst-affected state in the country with 6,603 news cases recorded in the last 24 hours. The west Indian now has over 223,724 coronavirus cases and 9,448 deaths.
Patna, capital of Bihar, will be put under strict lockdown from Friday due to the rising number of coronavirus cases in the city. "The state capital will be under strict lockdown for a week from July 10," said Kumar Ravi, Patna district magistrate.
India continues to remain the third worst-hit nation by the coronavirus in the world after the US and Brazil and the curve of the graph only appears to be rising.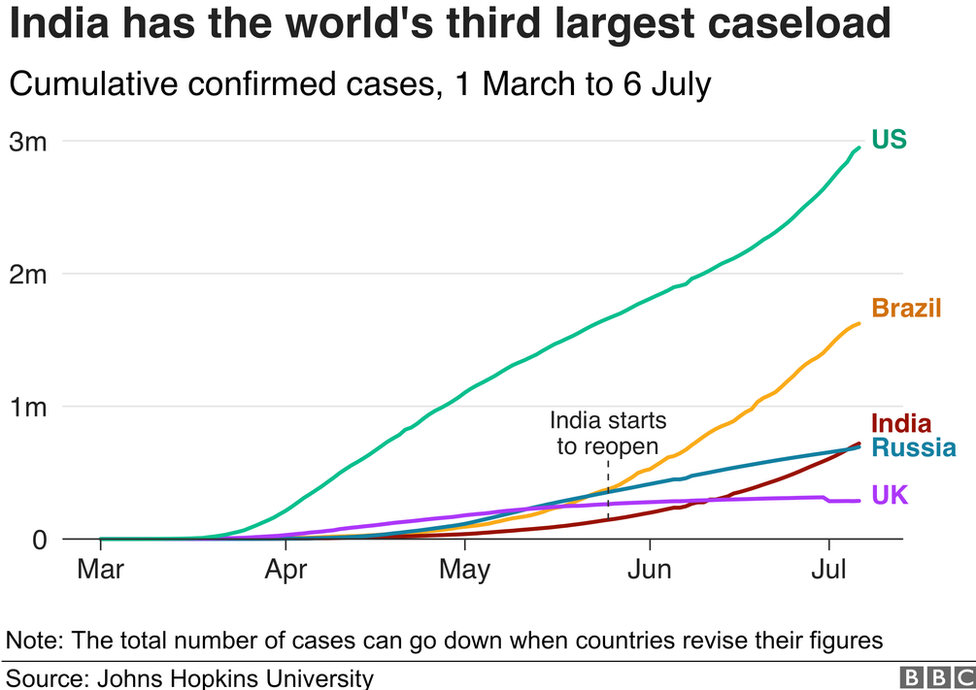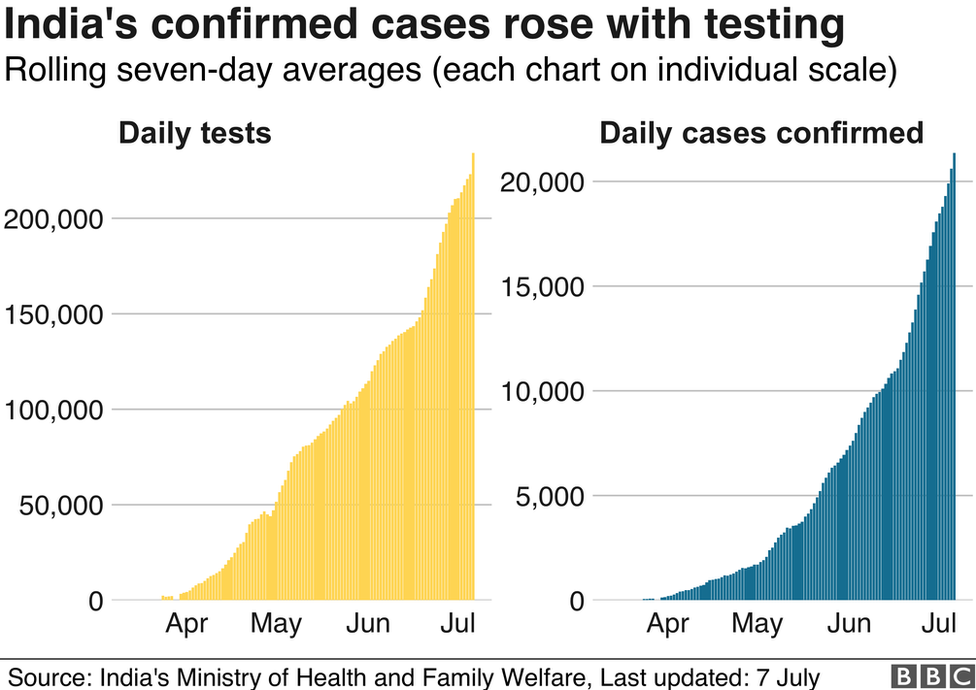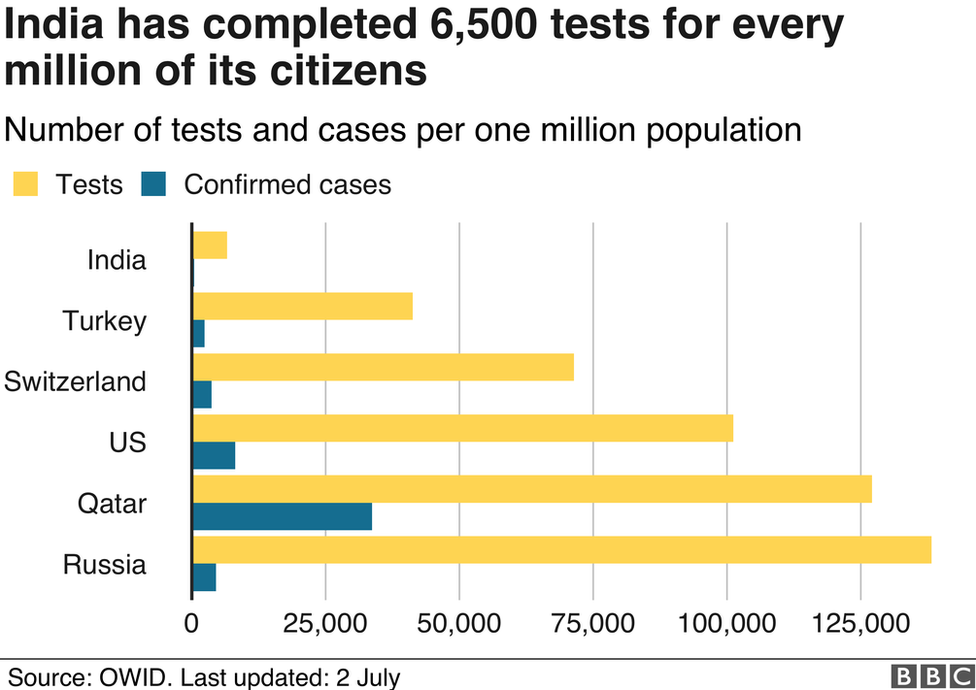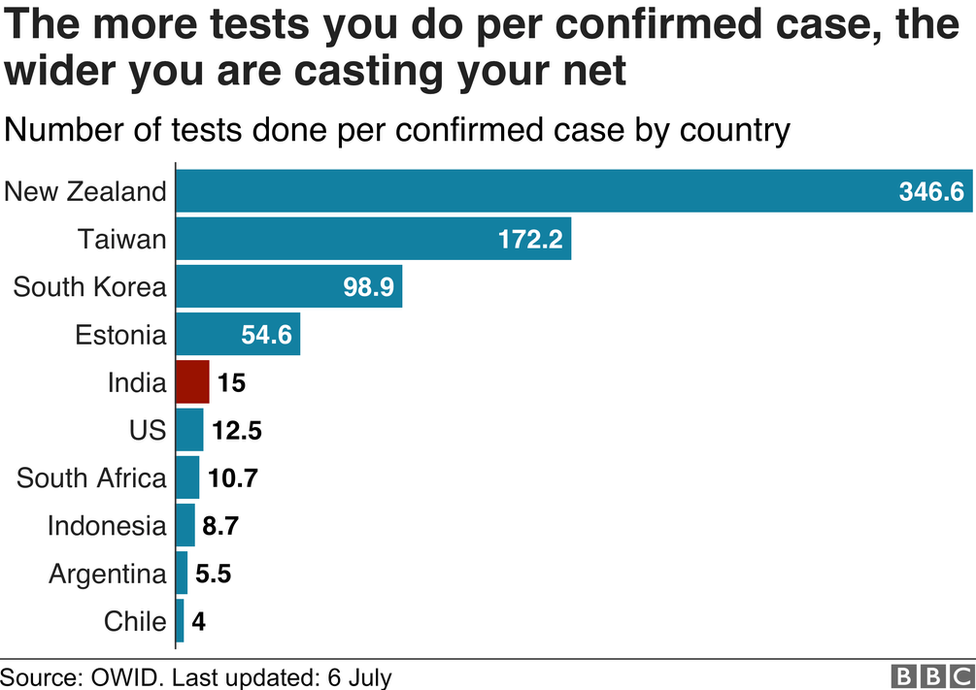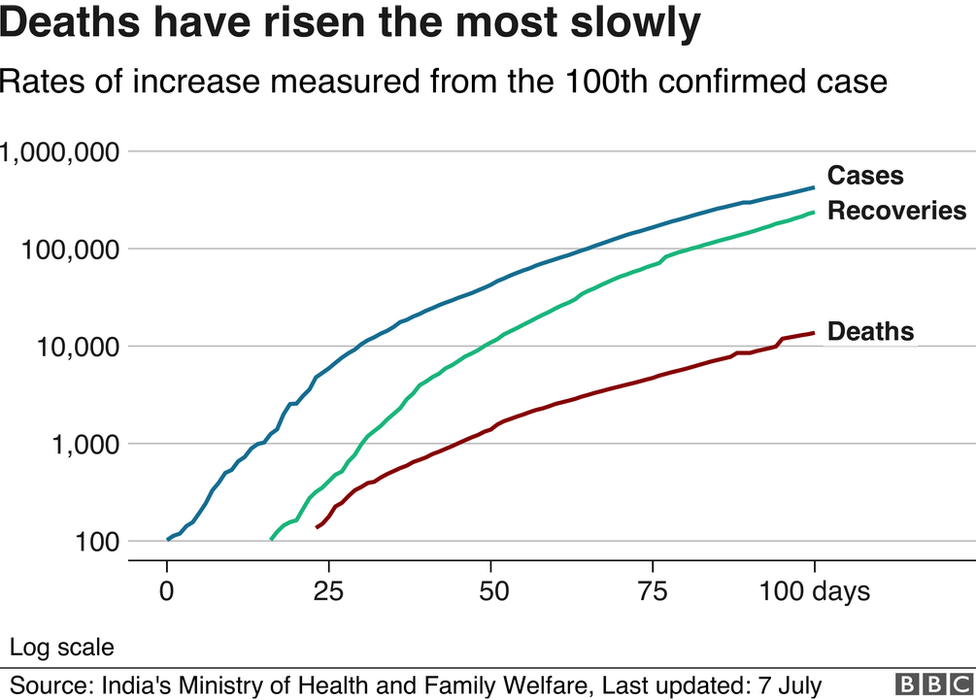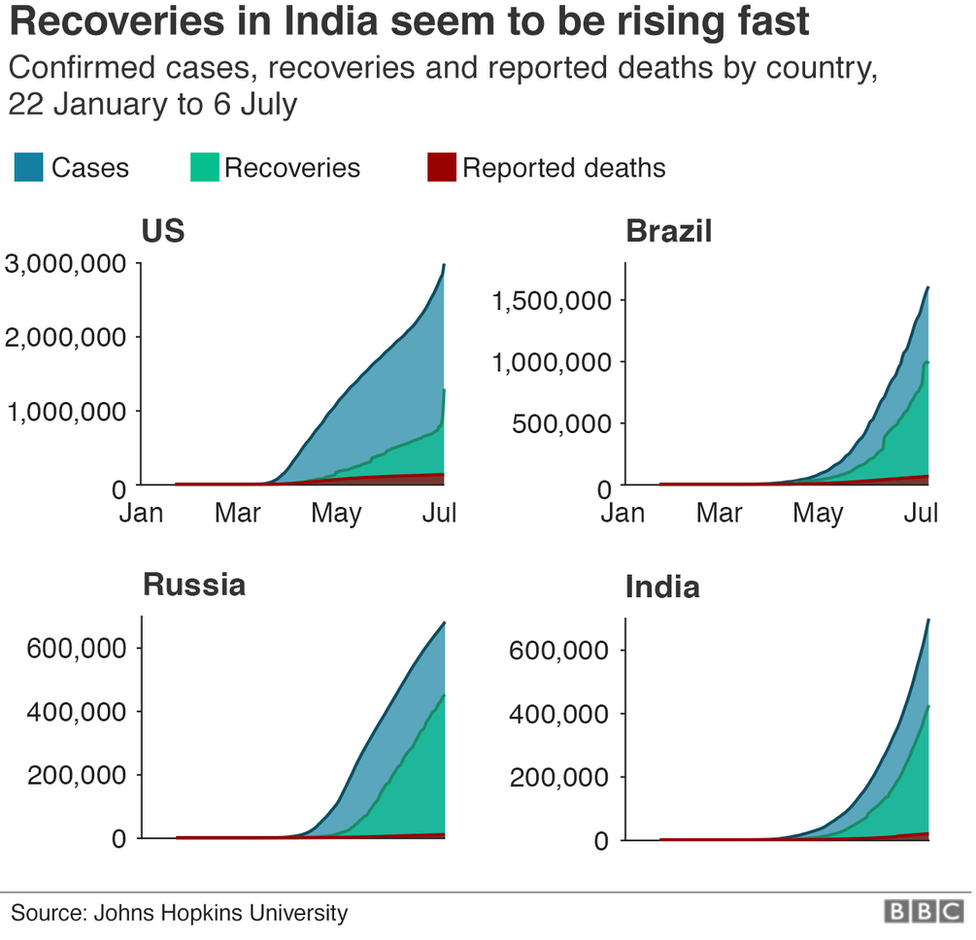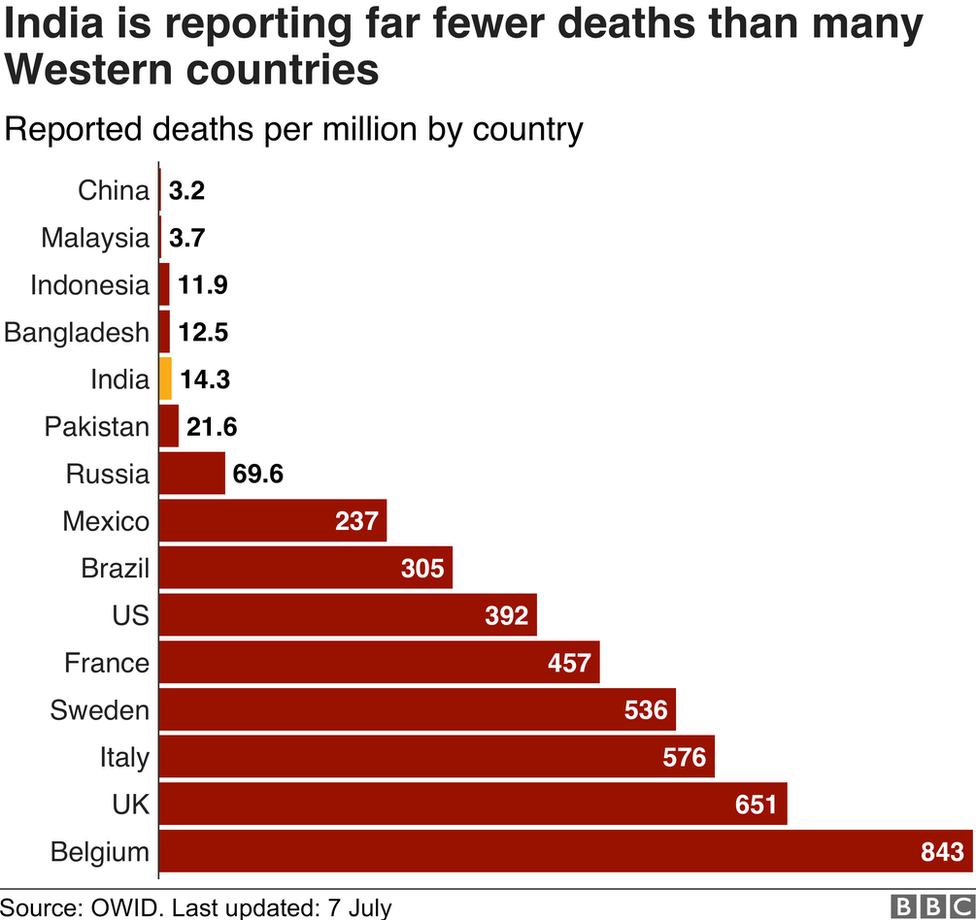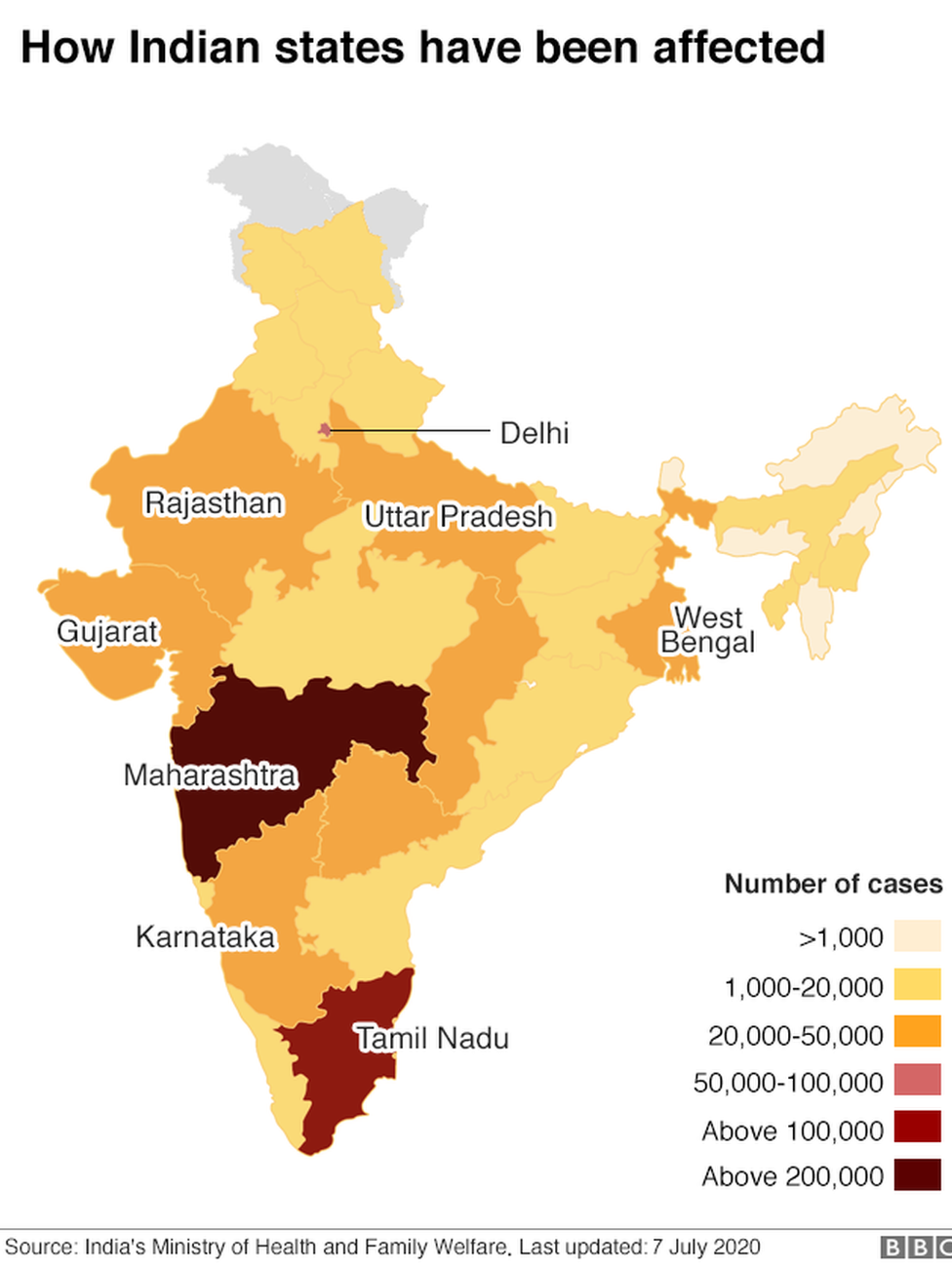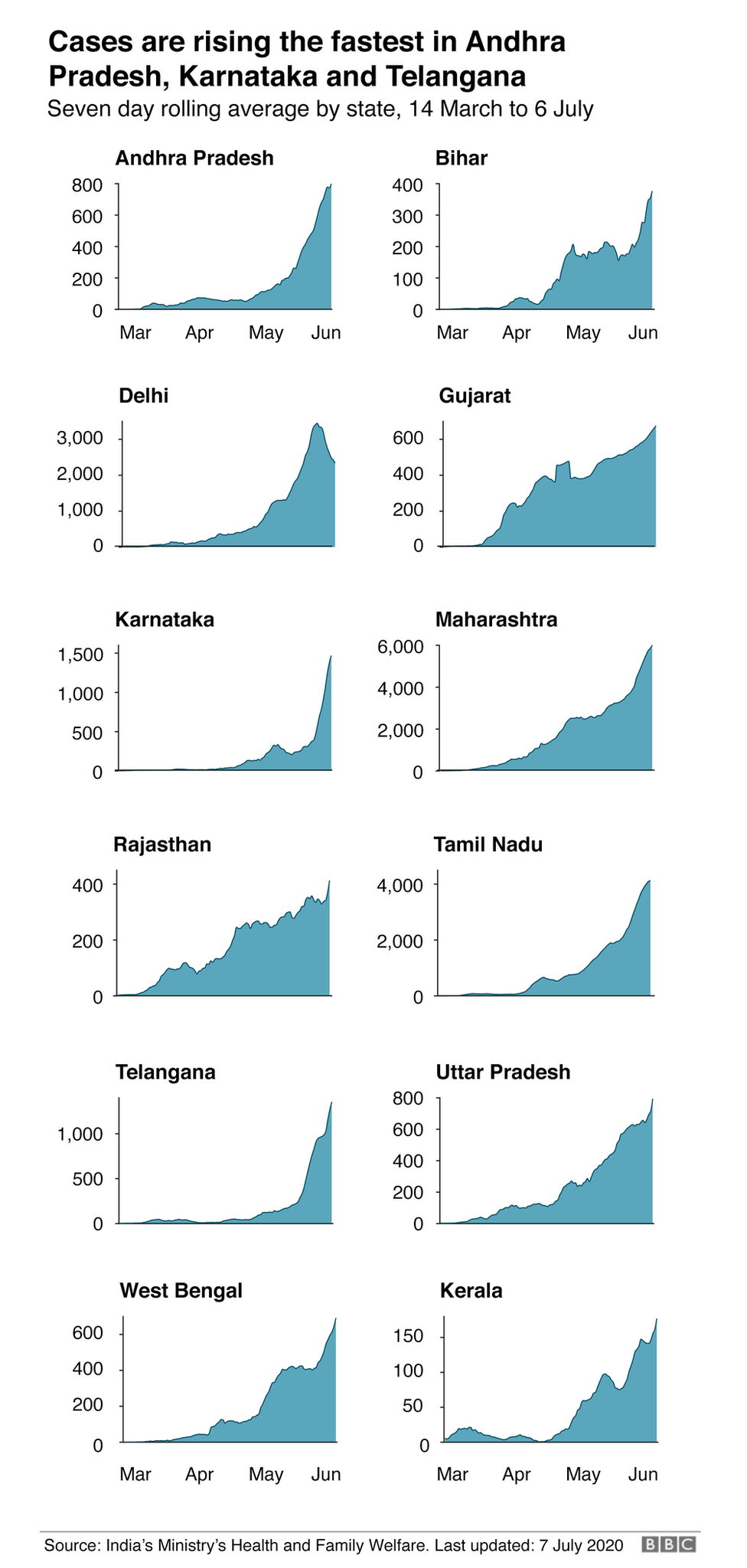 Via: BBC