While everyone's paying their tribute to the legendary actor, Sean Connery, the first actor to portray the iconic fictional British secret agent James Bond, the Israel Air Force's tribute stood out among everyone else's.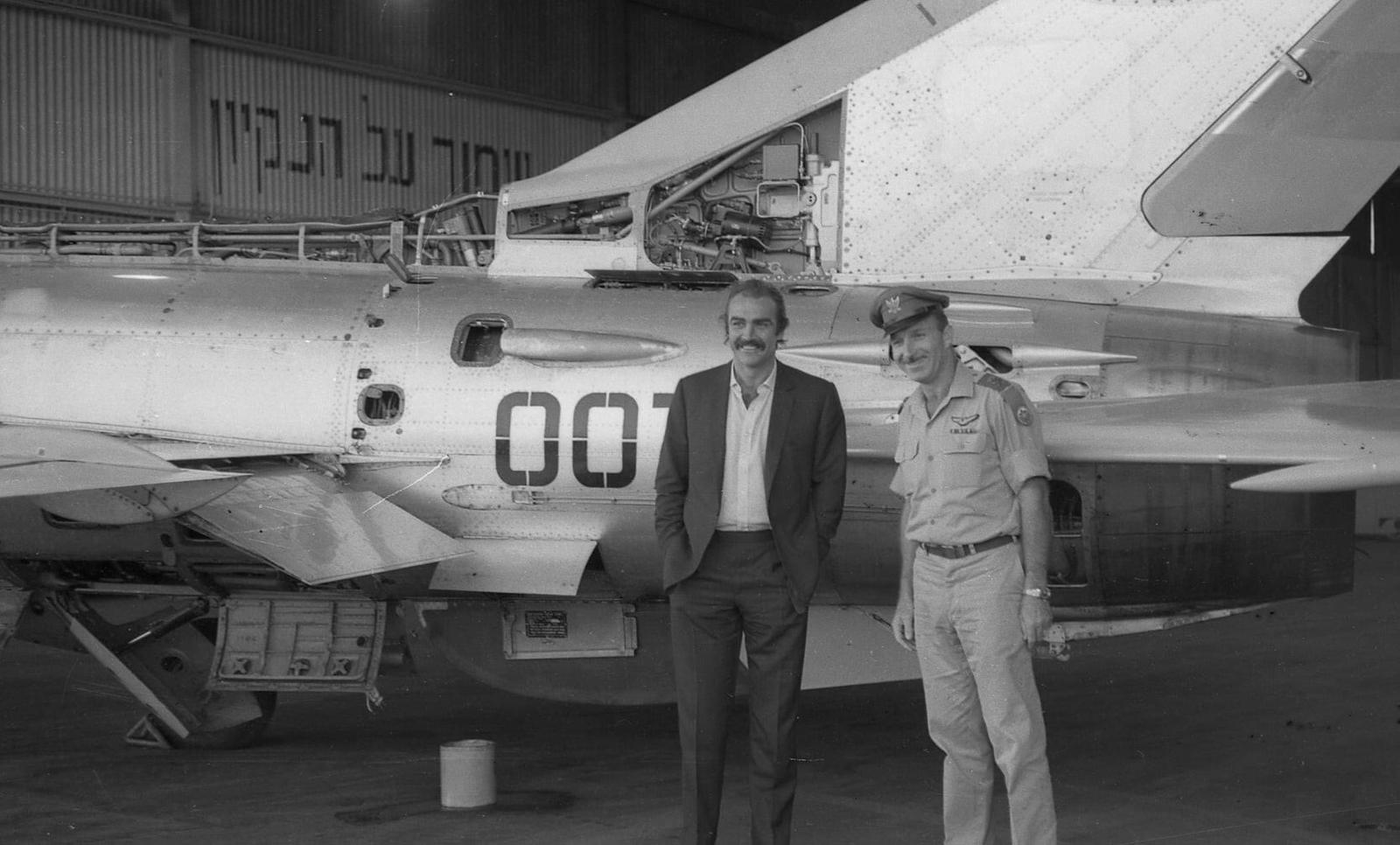 The Israeli Air Force (IAF) took to Twitter and posted a picture of Connery along with Israeli major general Moti Hod, standing in front of the Iraqi MiG-21, numbered '007' after Bond. 
Sir Sean Connery, best known for his role of James Bond, passed away today at the age of 90. In 1967, Connery visited Israel and took this historic picture with then IAF Commander Maj. Gen. Moti Hod with the background of an Iraqi MiG-21, numbered '007' after Bond. RIP. pic.twitter.com/yxdS4OQDSs

— Israeli Air Force (@IAFsite) October 31, 2020
The Scottish actor died on October 31, 2020, in his sleep in Nassau, the Bahamas. This historic photograph with MiG-21 numbered 007 was clicked a year after the IAF managed to land the Soviet jet at Hatzor Air Base in central Israel, on August 16, 1966, through an Iraqi defector.
Operation Diamond
In 1963, Mossad, the national intelligence agency of Israel, undertook an operation to acquire Soviet Union's most advanced fighter jet at the time, Mikoyan-Gurevich MiG-21, in a mission named – Operation Diamond.
Before the successful acquisition of the MiG-21, Mossad suffered failures in its first two attempts. The first attempt was carried out in Egypt when a man named Adib Hanna, who was pilot with the Egyptian Air Force, was offered a cash reward by Mossad agent Jean Thomas, to deflect and fly the plane to Israel.
However, the pilot, along with the Mossad agent was reported to the Egyptian authorities and the agent was hanged along with his father. Others suspected were sentenced to prison.
Why US' X-29 Fighter Jet Remains The Most Mesmerizing Aircraft In The History Of Aviation?
In a second attempt, Mossad managed to have a little success when another Egyptian pilot. Capt. Mohammad Abbas Helmy agreed to defect with a Yakovlev Yak-11 trainer due to his disputes with his superiors. However, before Mossad tasted any success, Helmy was assassinated, a few months after, in South America. 
As the expression, third time's the charm, Mossad finally found its luck in 1964 when an Iraqi man, codenamed "Yusuf," contacted the Israeli authorities about a tipoff. Yusuf informed the Israeli Air Force about the Iraqi Air Force pilots that were supposed to start training on staff courses at Randolph Air Force Base in Texas. 
According to War History Online, Mossad planned on "honey trapping" an Iraqi pilot, Munir Redfa, who was reportedly disgruntled because his Christian background that precluded him from promotion within the Iraqi military.
Reportedly, Redfa was also unhappy as he was sent on flying missions against Iraqi Kurds, a marginalized ethnic group in the country. To carry out the mission, Mossad sent a female agent to establish a relationship with the pilot and then invited him to meet a high-level Israeli delegation. 
Citing the Iraqi Air Force accounts, The Drive, stated that two more of these Iraqi pilots who were made defection proposals before Redfa, were killed. One of them was shot dead by a Mossad agent in a Texas bar after refusing the offer to defect and the second one was thrown off the train for demanding excessive financial rewards in exchange for his defection.
The third pilot, Munir Redfa was reportedly offered a cash reward and Israeli citizenship. Seeing, two of his colleagues dead, he agreed to defect.
Redfa was then flown to meet Major General Mordechai "Mottie" Hod, the commander of the IAF to discuss the strategy and flight path. Meanwhile, Mossad extracted Redfa's family from Iraq to avoid possible retribution. 
On August 16, 1966, Redfa defected while flying the routine navigation training mission from Habbaniyah Air Base, west of Baghdad and passed over Jordan, escaping the Royal Jordanian Air Force that reportedly sent their Hawker Hunter jet fighters to intercept, before finally entering the Israeli air space where he was escorted with IAF's Mirage IIICJ fighters landing at Hatzor.
The MiG-21's capabilities were then assessed by the IAF and the fighter jet was also used for war simulations before Israel fought the Six-Day War with the Arabs.
The fighter jet was then loaned to the US in 1968 for further evaluation in return for the sale of Phantom F-4 fighters for the IAF.