New Delhi is treading cautiously as the Indian Army and China's PLA begin the disengagement process in the Pangong Tso area in Eastern Ladakh. An Indian official has said that the process will be monitored and verified at every stage.
Why ASEAN Countries Are Wary Of China's Growing Influence & Prefer Washington To Beijing
After several months of military and diplomatic level talks, the Chinese defense ministry on Wednesday had announced that: "The Chinese and Indian frontline troops at the southern and northern bank of the Pangong Tso Lake start synchronized and organized disengagement from February 10."
The official statement said, "This move is in accordance with the consensus reached by both sides at the 9th round of China-India Corps Commander Level Meeting".
The Indian official source cited above has told The Times of India that "initial steps are positive on both the north and south banks of Pangong Tso but it will be a long haul in the sequential disengagement, de-escalation, and de-induction process, with the progress being monitored and verified at every stage".
Making an official statement in the Upper House (Rajya Sabha) of Parliament on Thursday, Defense Minister Rajnath Singh said India and China have agreed for a complete disengagement along the Line of Actual Control (LAC) in eastern Ladakh.
He said that China has agreed to move its troops to the Finger 8 area, while India will be moving its troops back till finger 3 Dhan Singh Thapa base, restoring the status quo.
The PLA troops had occupied the 8km stretch between Finger 4 and Finger 8. With the Chinese moving back troops to Finger 8 and India to Finger 3, the area may be designated as a "no-patrol zone" in near future.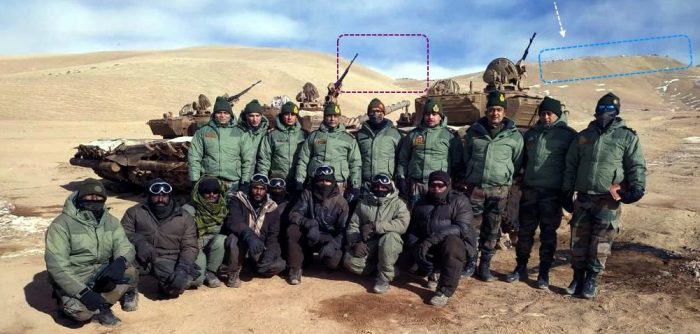 Singh said sustained talks with China have led to an agreement on disengagement on the north and south banks of Pangong Lake. After this agreement, India-China will remove forward deployments in a phased, coordinated manner, the defense minister told Parliament.
Current disengagement will comprise pulling back tanks, howitzers, and armored vehicles along the LAC. This will be followed by the withdrawal of troops from the friction points. Senior commanders from both sides will meet within 48 hours after disengagement from Pangong Tso.
As per the media reports, the mutual withdrawal of heavy weapons like tanks has begun from the south of the Pangong Tso-Kailash range in the Chushul sector. India is holding on to the tactically-advantageous positions on the ridgeline in the Chushul from Thakung to Gurung Hill, Spangur Gap, Magar Hill, Mukhpari, and Rezang La.
There are still no talks on the military build-up in the strategically-important Depsang Plains, where Chinese troops have blocked the Indian troops patrolling since May 2020. The troops from two sides have been locked in a military stand-off for nine months.
Both sides had deployed a large number of troops along the LAC, raising concerns that any inadvertent error could result in further escalation.