Over the past few years, many companies have unveiled plans for developing low or zero-emission aircraft. British luxury automaker Rolls Royce, which also joined this race, has now come out with what it calls the "fastest electric plane" on the earth.
---
Rolls Royce's fully electric plane, 'Spirit of Innovation', has completed its maiden flight. The company had announced this aircraft in 2019 as part of the Accelerating the Electrification of Flight (ACCEL) program, an initiative partly funded by the UK's Aerospace Technology Institute and government.
This all-electric aircraft is a major breakthrough in the aviation industry, which would fully eliminate the use of fossil fuel in air transport. A video of the aircraft's maiden flight was also shared by the company.
As seen in the video, the electric airplane took off from a UK Ministry of Defence test airfield in Amesbury. The aircraft had only one pilot on board and it made rounds in the air for around 15 minutes before landing safely on the airfield. The experimental flight provided enough data on its operation, which may be used to make further improvements, according to a company statement.
"The first flight of the Spirit of Innovation demonstrates how innovative technology can provide solutions to some of the world's biggest challenges," said Gary Elliott, CEO, Aerospace Technology Institute.
An All-Electric Aircraft
The Spirit of Innovation is designed in a way that it is capable of achieving maximum energy efficiency. It has a single electric motor rated at 400 kW (more than 540 horsepower), which is powered by the "highest power density battery pack ever assembled for an aircraft", the company says.
Owing to these characteristics, the aircraft can reach a speed of up to 482 kilometers per hour. For this reason, Rolls Royce claims that this is the fastest electric plane in the world.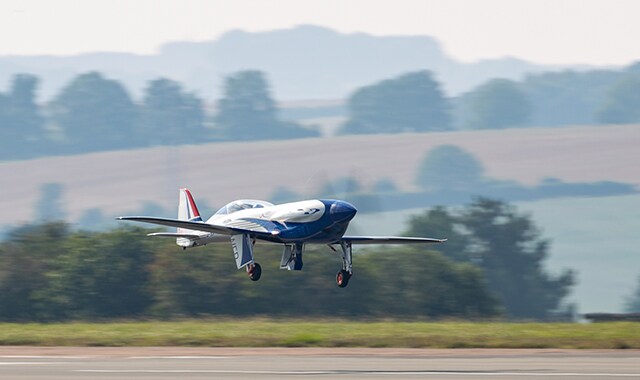 "We are focused on producing the technological advances that society needs to decarbonize transport by air, land, and sea", said Warren East, CEO of Rolls-Royce. For now, the company's first objective would be for Spirit of Innovation to function as an air taxi in the future.
However, Rolls Royce also plans to develop this technology to create a larger aircraft with an electric propulsion system, which can be used to transport passengers.
Looking ahead, Rolls-Royce said it would use and apply tech from ACCEL in products connected to the commuter aircraft and electric vertical takeoff and landing (VTOL) markets.
Alongside aircraft manufacturer Tecnam, Rolls-Royce is working with Norway-headquartered airline Wideroe on the delivery of "an all-electric passenger aircraft for the commuter market".
Written by Kashish Tandon/EurAsian Times Desk