At the end of April, almost three months after the invasion of Ukraine began, Russia used its submarines to launch cruise missiles on Ukraine. In what could usher in more such strikes, the berths where Russian submarines were located have been found empty.
The Russian Black Sea Fleet has reportedly deployed all of its seaworthy submarines from which the Russian Navy can launch missiles at Ukraine.
The ports where submarines regularly docked in Sevastopol's Southern Bay (Crimea) were empty on the afternoon of 13 May, Crimea Realities, a local media outlet, has claimed.
The Russian Black Sea Fleet consists of six submarines of the "Varshavianka" class: B-261 Novorossiysk, B-237 Rostov-na-Donu, B-262 Stary Oskol, B-265 Krasnodar, B-268 Veliky Novgorod, and B-271 Kolpino.
The 636 "Varshavianka" submarine project (NATO reporting class "Improved Kilo") is a multi-purpose diesel-electric submarine. Their maximum range is 7500 miles and they can accommodate a crew of 52, including 12 officers, with a continuous work capacity of 45 days.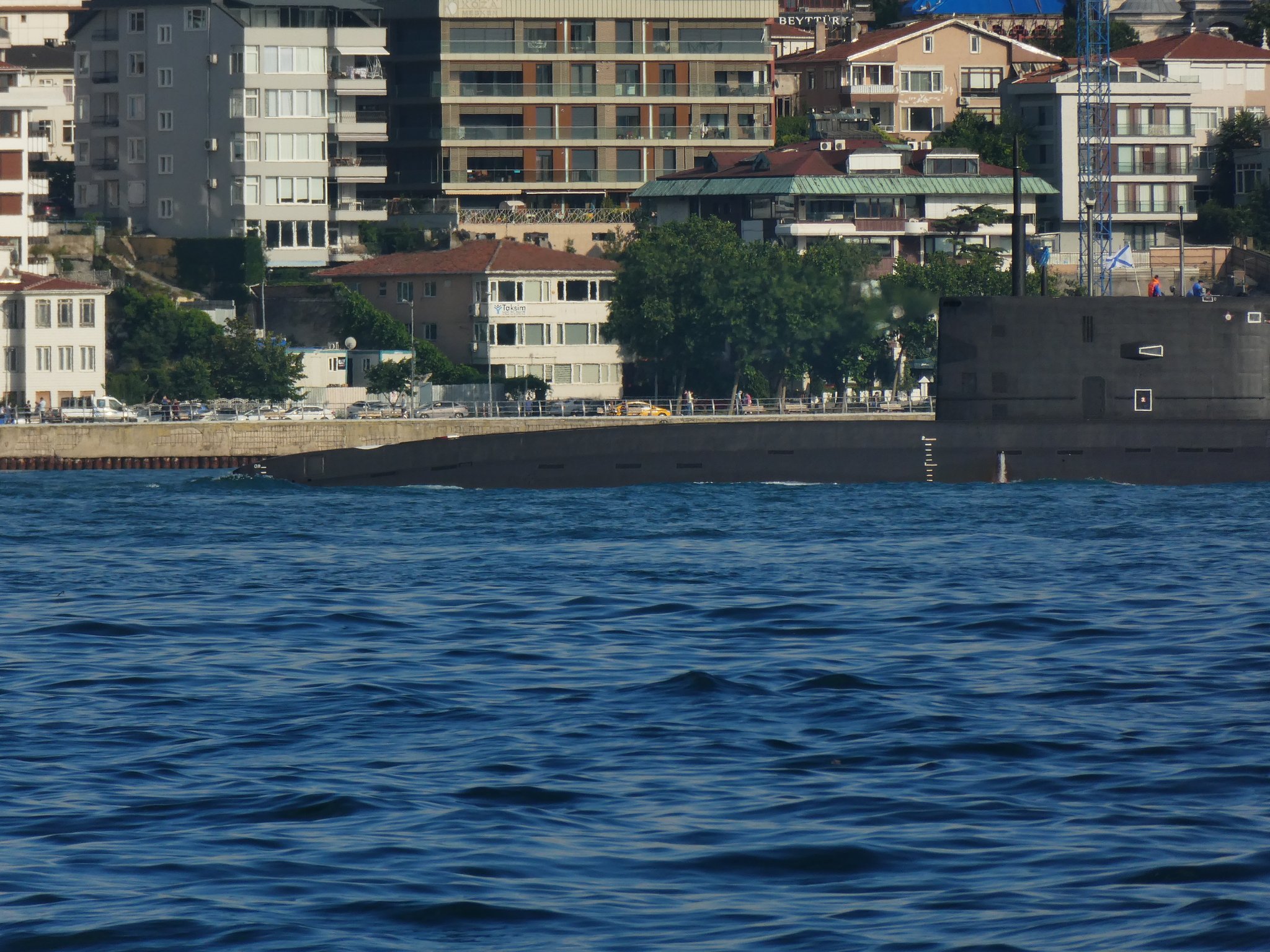 A few days before the beginning of the invasion, Russia reinforced its Black sea submarine fleet. Rostov-na-Donu transited through the Bosporus and into the Black Sea, first causing alarm among military watchers, Naval News had reported.
The presence of Russian submarines in the Black Sea could spell a change in the strategy of the Russian military as its warships have come under attack from Ukraine in recent days.
In April, its flagship cruiser Moskva was hit by Ukrainian troops, leading to its sinking. Later, a Russian patrol ship Admiral Makarov was reportedly spotted burning in the Black Sea.
The 1st video of the Moskva missile cruiser before it sank, if photos posted last night are accurate. It was listing to one side & on fire inside & out, with the area around the bridge burning intensely from what Ukraine says was 2 missile strikes pic.twitter.com/0QpI1tzOrI

— Alec Luhn (@ASLuhn) April 18, 2022
At a time when the Russians have suffered a huge loss of equipment and have had to recede to the Eastern Ukrainian region after a failed assault on Kyiv, a new spate of attacks using submarines could be in the works.
At the end of April, Moscow launched Kalibr cruise missiles from a diesel submarine in the Black Sea. The Russian defense ministry released a video of the incident, which was shared on Twitter by news organization NextaTV.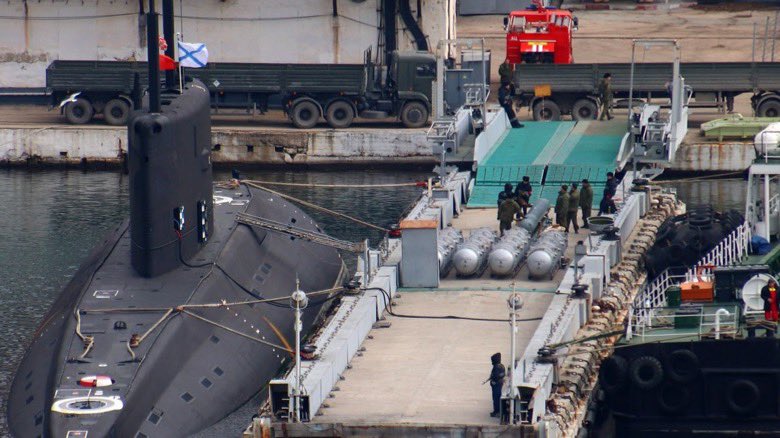 Days before the strike took place, EurAsian Times had shared chilling photographs of a Russian submarine being loaded with nuclear-capable Kalibr missiles in Crimea.
Is A Submarine Attack On The Anvil?
The improved Kilo-class submarines are the third generation of large diesel-electric submarines manufactured for the Russian Navy.
The enhanced submarines are meant to execute anti-shipping and anti-submarine missions in shallow waters. They are equipped with stealth technologies and a longer combat range to hit land, surface, and subsurface targets.
These submarines, according to Russia, are among the quietest submarines in the world. They are 74 meters long, with a displacement of over 3,900 tons and a 240-meter operational depth. They have a range of 7,500 nautical miles and can operate at a maximum depth of 300 meters.
Sevastopol, Russia. (04/26/2022).

Kalibr cruise missiles launch from a Russian improved Kilo class submarine from the "Varshavyanka" project on Ukrainian ground positions. pic.twitter.com/LxfbBUCHkR

— MEP OSINT (@MEPOSINT) April 27, 2022
In addition to torpedoes and mines, the improved Kilo submarines are equipped with cruise missiles like the Kalibr, which may be modified for naval and ground use. Four of these missiles are carried by each submarine.
According to Andrii Ryzhenko, an analyst at the Centre for Defence Strategies and Captain of the first rank of the reserves of the Armed Forces of Ukraine, Russia is firing missiles toward Ukraine from submarines.
After its prized Moskva warship was hit by a Ukrainian missile, Russia reportedly shifted several military vessels further away from Ukraine's shore. A senior US defense source had stated that some Russian seacraft had been pushed back from Ukraine's coast.
After losing the Moskva warship, Russia went on a rampage against Ukraine and struck targets from underneath the sea in what was understood to be revenge against the Ukrainian troops.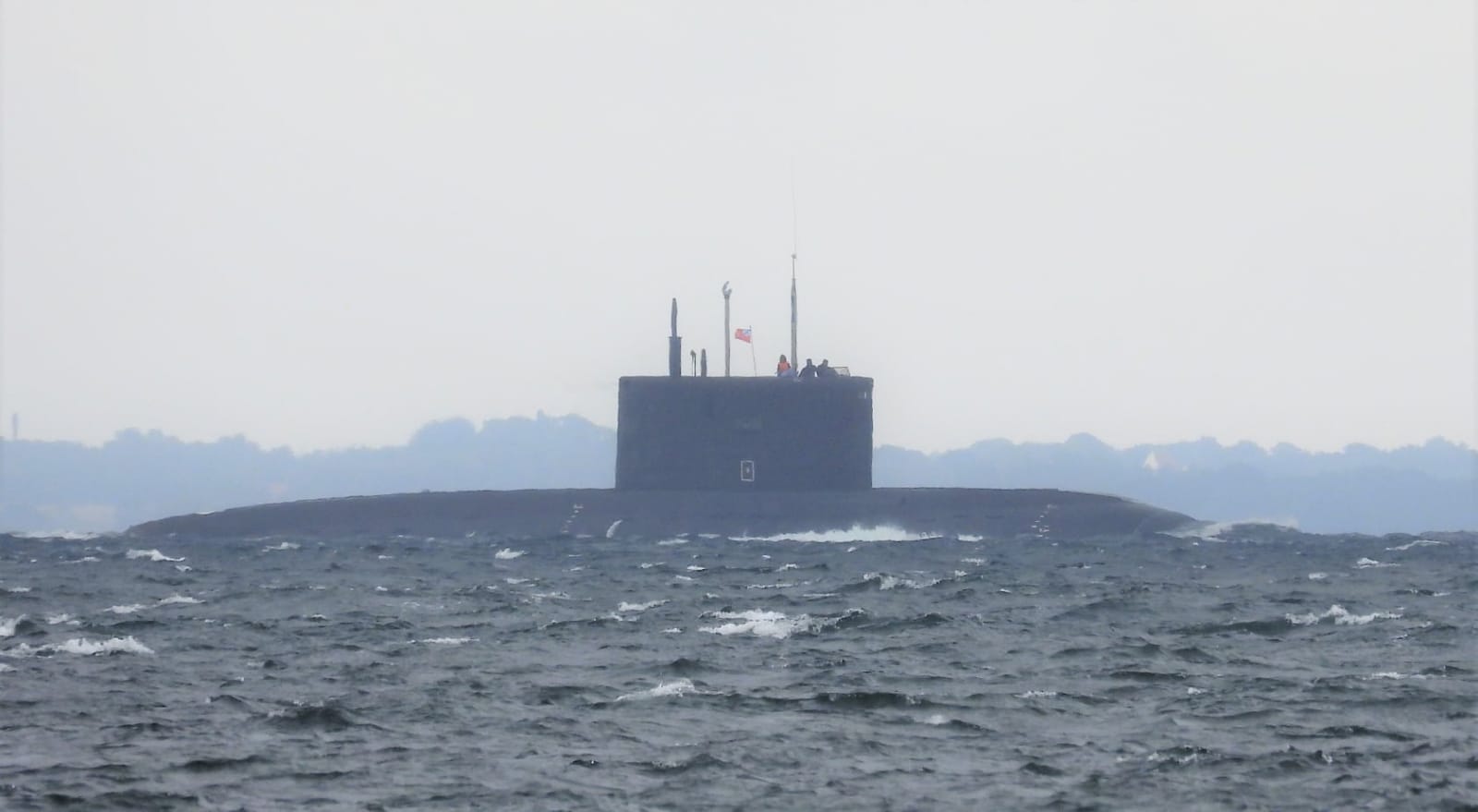 However, the Ukrainians have since been resupplied by NATO countries, with massive military aid pouring in, countering the Russian offensive.
Russia has also allegedly lost unprecedented numbers of military equipment, with the Ukrainian Defense Ministry claiming that Moscow has lost about 26,000 troops, 200 fighter jets, and hundreds and thousands of other equipment as of May 10.
Several reports in Ukrainian and Western media suggest that Russia is also facing operational difficulties. Last week, satellite photographs revealed scores of Russian tanks and armored vehicles destroyed after failing to cross the Donets River. Various reports claimed that the Russian military lost an entire battalion due to the incident.
As the battle progresses and no breakthrough in sight, the deployment of all the submarines of the Black Sea fleet could spell a change in Russian strategy.